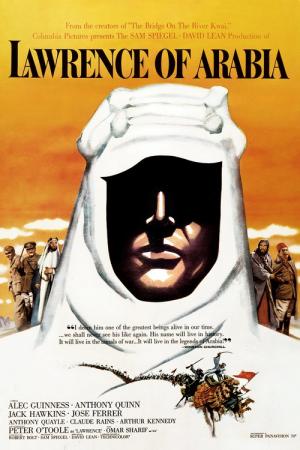 12 Best Movies Like Lawrence Of Arabia ...
If you liked this movie , you will definitely love these too! In this list we highlight some of the best films that share a very similar premise to 'Lawrence of Arabia', and are worth checking out.
In 1879, the British suffer a great loss at the Battle of Isandlwana due to incompetent leadership.
1h 57m
Director: Douglas Hickox
Screenplay: Anthony Story
Screenplay: Cy Endfield
Adventure Drama History War
In 1879, during the Anglo-Zulu War, man-of-the-people Lt. Chard and snooty Lt. Bromhead are in charge of defending the isolated and vastly outnumbered Natal outpost of Rorke's Drift from tribal hordes.
2h 18m
Director, Writer: Cy Endfield
Writer: John Prebble
Action Drama History War
4.
The Fall of the Roman Empire (1964)
Drawn from the same events that later inspired Gladiator, the film charts the power-hungry greed and father-son betrayal that led to Rome's collapse at the bloody hands of the Barbarians.
3h 8m
Author: Edward Gibbon
Director: Anthony Mann
Screenplay: Basilio Franchina
Screenplay: Ben Barzman
Screenplay: Philip Yordan
Drama History War
5.
The Lighthorsemen (1987)
Palestine, 1917. The British advance has been stopped by the Turkish line running from Gaza to Beersheba. The latest attack on Gaza has failed. The attacking forces included a regiment of Australian mounted infantry, the Light Horse... Lighthorseman Frank is wounded in a skirmish with Bedouin. He is replaced by a young soldier, Dave, who proves to be a crack shot, but reluctant to fire at the enemy. Dave proves himself during a German biplane attack. Recuperating in hospital, he meets a sympathetic nurse, Anne... The regiment is called upon for a bold flanking attack on Beersheba. But how do you convince the Turks the main attack will come at Gaza? And how do you attack across a desert without water?
2h 11m
Director: Simon Wincer
Writer: Ian Jones
War Drama History
6.
The Guns of Navarone (1961)
A team of allied saboteurs are assigned an impossible mission: infiltrate an impregnable Nazi-held island and destroy the two enormous long-range field guns that prevent the rescue of 2,000 trapped British soldiers.
2h 38m
Director: J. Lee Thompson
Novel: Alistair MacLean
Screenplay: Carl Foreman
War Action
7.
The Messenger: The Story of Joan of Arc (1999)
In 1429 a teenage girl from a remote French village stood before her King with a message she claimed came from God; that she would defeat the world's greatest army and liberate her country from its political and religious turmoil. Following her mission to reclaim god's diminished kingdom - through her amazing victories until her violent and untimely death.
2h 38m
Director, Screenplay: Luc Besson
Writer: Andrew Birkin
Adventure Drama Action History War
In the early years of the 20th century, Mohandas K. Gandhi, a British-trained lawyer, forsakes all worldly possessions to take up the cause of Indian independence. Faced with armed resistance from the British government, Gandhi adopts a policy of 'passive resistance', endeavouring to win freedom for his people without resorting to bloodshed.
3h 11m
Director: Richard Attenborough
Writer: John Briley
Drama History
9.
Cast a Giant Shadow (1966)
New York trapper Tom Dobb becomes an unwilling participant in the American Revolution after his son Ned is drafted into the Army by the villainous Sergeant Major Peasy. Tom attempts to find his son, and eventually becomes convinced that he must take a stand and fight for the freedom of the Colonies, alongside the aristocratic rebel Daisy McConnahay. As Tom undergoes his change of heart, the events of the war unfold in large-scale grandeur.
2h 6m
Director: Hugh Hudson
Screenplay: Robert Dillon
Adventure Drama History War
Enraged at the slaughter of Murron, his new bride and childhood love, Scottish warrior William Wallace slays a platoon of the local English lord's soldiers. This leads the village to revolt and, eventually, the entire country to rise up against English rule.
2h 58m
Author, Screenplay: Randall Wallace
Director: Mel Gibson
Action Drama History War
In the summer of 1863, General Robert E. Lee leads the Confederate Army of Northern Virginia into Gettysburg, Pennsylvania with the goal of marching through to Washington, D.C. The Union Army of the Potomac, under the command of General George G. Meade, forms a defensive position to confront the rebel forces in what will prove to be the decisive battle of the American Civil War.
4h 31m
Director, Screenplay: Ronald F. Maxwell
Drama History War
explore
Check out more list from our community