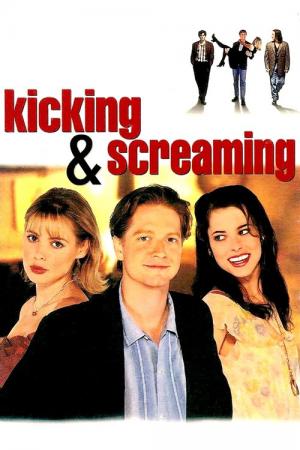 26 Best Movies Like Kicking And Screaming ...
If you liked this film , you will probably love these too! In this list we highlight some of the best films that share a very similar mood to '', and are worth checking out.
1h 36m Comedy
After 6 years together, Mike's girlfriend leaves him, so he travels to LA to be a star. Six months on, he's still not doing very well— so a few of his friends try to reconnect him to the social scene and hopefully help him forget his failed relationship.
3.
Beautiful Girls (1996)
1h 52m Comedy Drama Romance
During a snowy winter in the small fictional town of Knight's Ridge, Massachusetts, a group of lifelong buddies hang out, drink and struggle to connect with the women who affect their decisions, dreams and desires.
4.
Naked in New York (1993)
1h 35m Comedy Romance
Naked in New York begins in the car of grown up Jake, he is talking to us about his girlfriend, Joanne, and to whom you can turn to for help while facing life. From there it flashes back to his memories of his parents, college, house across from a squirrel infested peanut factory, best friend, writing career and Joanne.
1h 39m Drama Comedy Romance
A small circle of friends suffering from post-collegiate blues must confront the hard truth about life, love and the pursuit of gainful employment. As they struggle to map out survival guides for the future, the Gen-X quartet soon begins to realize that reality isn't all it's cracked up to be.
1h 39m Drama
Set in New York City in the sweltering summer, The Wackness tells the story of a troubled teenage drug dealer, who trades pot for therapy sessions with a drug-addled psychiatrist. Things get more complicated when he falls for one of his classmates, who just happens to be the doctor's daughter. This is a coming-of-age story about sex, drugs, music and what it takes to be a man.
1h 41m Comedy Drama Romance
It's New York City in 1981, and various twentysomethings are converging on a New Year's Eve party.
1h 47m Comedy Drama Romance
A New Yorker moves to Los Angeles in order to figure out his life while he housesits for his brother, and he soon sparks with his brother's assistant.
9.
The Squid and the Whale (2005)
1h 21m Comedy Drama
Based on the true childhood experiences of Noah Baumbach and his brother, The Squid and the Whale tells the touching story of two young boys dealing with their parents divorce in Brooklyn in the 1980s.
10.
Husbands and Wives (1992)
1h 48m Romance Comedy Drama
When Jack and Sally announce that they're splitting up, this comes as a shock to their best friends Gabe and Judy. Maybe mostly because they also are drifting apart and are now being made aware of it. So while Jack and Sally try to go on and meet new people, the marriage of Gabe and Judy gets more and more strained, and they begin to find themselves being attracted to other people.
2h 1m Comedy Drama
A group of suburban teenagers try to support each other through the difficult task of becoming adults.
12.
Melvin Goes to Dinner (2003)
1h 23m Comedy Drama Romance
Marital infidelity, religion, a guy in heaven wearing a Wizards jersey, anal fetishes, cigarettes and schizophrenia, ghosts, and how it's going to get worse before it gets better.
1h 34m Drama Comedy Romance
Instead of moving on to bigger and better things after college graduation, two best buddies are embarrassed to find themselves working at a pizza parlor and avoiding old classmates who come in for a slice.
1h 35m Comedy Drama Romance
The story of a college student with an "Annie Hall" addiction trying to make his new relationship work.
1h 39m Comedy Drama Romance
A radical student is adopted by a group of young New Yorkers, serves as a catalyst to alter his and their lives. Gathering in a Manhattan apartment, the group of friends meet to discuss social mobility, Fourier's socialism and play bridge in their cocoon of upper-class society - until they are joined by a man with a critical view of their way of life.
16.
The Pompatus of Love (1995)
17.
Outside Providence (1999)
1h 36m Romance Comedy Drama
In this coming-of-age comedy, Tim Dunphy is leading a go-nowhere existence, spending his days smoking pot and hanging out with his best friend, Drugs Delaney. But Tim's lazy days of getting high are jettisoned after a brush with the law convinces his blue-collar dad to send him to a Connecticut prep school. The one saving grace of the new school is Jane, a fellow student Tim falls for immediately.
1h 47m Comedy
In the summer of 1987, a college graduate takes a 'nowhere' job at his local amusement park, only to find it's the perfect course to get him prepared for the real world.
1h 36m Comedy Drama Romance
Manhattan explores how the life of a middle-aged television writer dating a teenage girl is further complicated when he falls in love with his best friend's mistress.
21.
Friends with Kids (2011)
22.
The Broken Hearts Club: A Romantic Comedy (2000)
1h 36m Comedy Drama Romance
A close-knit group of gay friends share the emotional roller coster of life, relationships, the death of friends, new beginnings, jealousy, fatherhood and professional success. At various stages of life's disarray, these young men share humorous and tragic relationships and always have each other to rely on.
23.
The Brothers McMullen (1995)
1h 38m Comedy Drama Romance
Deals with the lives of the three Irish Catholic McMullen brothers from Long Island, New York, over three months, as they grapple with basic ideas and values — love, sex, marriage, religion and family — in the 1990s. Directed, written, produced by and starring Edward Burns.
1h 35m Comedy Drama Romance
Professor Lawrence Wetherhold (Dennis Quaid) might be imperiously brilliant, monumentally self-possessed and an intellectual giant -- but when it comes to solving the conundrums of love and family, he's as downright flummoxed as the next guy.
25.
Mistress America (2015)
1h 24m Comedy
Tracy, a lonely college freshman in New York, is rescued from her solitude by her soon-to-be stepsister Brooke, an adventurous gal about town who entangles her in alluringly mad schemes.
explore
Check out more list from our community