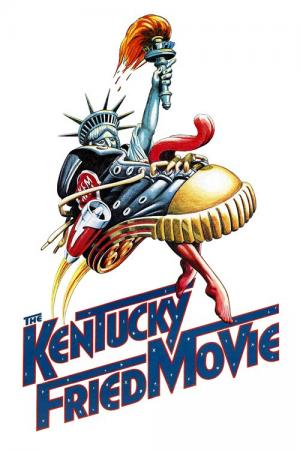 13 Best Movies Like Kentucky Fried Movie ...
If you liked this film , you will for sure love these too! In this selection we highlight some of the best films that share a very similar premise to 'The Kentucky Fried Movie', and are worth checking out.
1.
Born in East L.A. (1987)
1h 25m Comedy
Rudy, an American of Hispanic descent, whose south-of-the-border looks show him no mercy during an immigration raid in a migrant worker factory. As his luck goes, he is caught with neither money nor his ID and is deported to Mexico - without speaking a word of Spanish!
2.
Hollywood Shuffle (1987)
1h 22m Comedy
Aspiring actor and hot-dog stand employee Bobby Taylor catches the ire of his grandmother for auditioning for a role in the regrettably titled exploitation film "Jivetime Jimmy's Revenge." When Tinseltown Studios casts Taylor in the title role, he has a series of conflicted dreams satirizing African-American stereotypes in Hollywood, and must reconcile his career goals with his desire to remain a positive role model for his little brother.
1h 27m Comedy
Aspiring filmmakers Mel Funn, Marty Eggs and Dom Bell go to a financially troubled studio with an idea for a silent movie. In an effort to make the movie more marketable, they attempt to recruit a number of big name stars to appear, while the studio's creditors attempt to thwart them.
1h 39m Comedy
A pushy, narcissistic filmmaker persuades a Phoenix family to let him and his crew film their everyday lives, in the manner of the ground-breaking PBS series "An American Family".
1h 37m Comedy
On the verge of bankruptcy and desperate for his big break, aspiring filmmaker Bobby Bowfinger concocts a crazy plan to make his ultimate dream movie. Rallying a ragtag team that includes a starry-eyed ingenue, a has-been diva and a film studio gofer, he sets out to shoot a blockbuster featuring the biggest star in Hollywood, Kit Ramsey -- only without letting Ramsey know he's in the picture.
6.
Looking for Comedy in the Muslim World (2005)
1h 38m Comedy
To improve its relations with Muslim countries, the United States government sends comedian Albert Brooks to south Asia to write a report on what makes followers of Islam laugh.
7.
Young Doctors in Love (1982)
1h 36m Comedy
An 'Airplane!'-style spoof of hospital soap operas—a brilliant young trainee can't stand the sight of blood; a doctor romances the head nurse in order to get the key to the drugs cabinet; and there's a mafioso on the loose disguised as a woman.
1h 34m Comedy
Joe Young is a devout Mormon living in L.A. trying to raise enough money to go back to Utah and marry his girlfriend, Lisa. Joe is spreading the word about the church of Latter Day Saints one day when he's confronted by two burly bodyguards. A scuffle breaks out, and Joe's martial arts skills impress Maxxx Orbison, who directs pornographic movies.
9.
The Onion Movie (2008)
1h 20m Comedy
Venerable newscaster Norm Archer reports the latest news in politics, health, culture and entertainment - such as an automotive recall of decapitation-inducing "Neckbelts" and a study finding that "depression hits losers hardest". This compilation of bogus news stories, celebrity profiles, movie trailers and skits come courtesy of the ace satirists at The Onion.
10.
Police Academy (1984)
1h 37m Comedy Crime
New rules enforced by the Lady Mayoress mean that sex, weight, height and intelligence need no longer be a factor for joining the Police Force. This opens the floodgates for all and sundry to enter the Police Academy, much to the chagrin of the instructors. Not everyone is there through choice, though. Social misfit Mahoney has been forced to sign up as the only alternative to a jail sentence and it doesn't take long before he falls foul of the boorish Lieutenant Harris. But before long, Mahoney realises that he is enjoying being a police cadet and decides he wants to stay... while Harris decides he wants Mahoney out!
1h 38m Comedy
A streetwise man flees South Central Los Angeles, heading to the suburbs and his lottery-winner uncle and cousin, to avoid a neighborhood thug with a grudge who has just escaped from prison.
12.
A Very Brady Sequel (1996)
1h 30m Comedy
A man claiming to be Carol Brady's long-lost first husband, Roy Martin, shows up at the suburban Brady residence one evening. An impostor, the man is actually determined to steal the Bradys' familiar horse statue, a $20-million ancient Asian artifact.
13.
The Groove Tube (1974)
1h 15m Comedy
Chevy Chase makes his film debut in this riotous collection of live skits. Directed by Ken Shapiro and featuring Chase, Richard Belzer and others, The Groove Tube mocks TV Land and its trappings by spoofing kids' shows -- from a marijuana-smoking Koko the Clown who resides in Make Believe Land, to Safety Sam, the penis with a plan who gleefully informs the audience of the perils of casual sex.
explore
Check out more list from our community