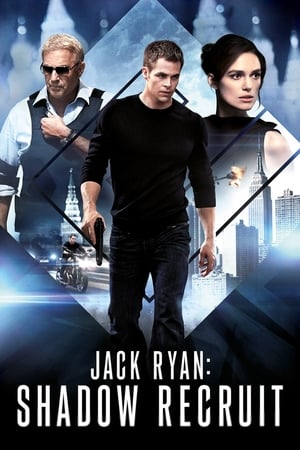 13 Best Movies Like Jack Ryan ...
If you liked this one , you will for sure love these too! In this list we highlight some of the best films that share a very similar premise to 'Jack Ryan: Shadow Recruit', and are worth checking out.
A team of U.S. government agents is sent to investigate the bombing of an American facility in the Middle East.
1h 50m
Director: Peter Berg
Screenplay: Matthew Michael Carnahan
Thriller Action Drama
2.
Tom Clancy's Jack Ryan (2018)
When CIA analyst Jack Ryan stumbles upon a suspicious series of bank transfers his search for answers pulls him from the safety of his desk job and catapults him into a deadly game of cat and mouse throughout Europe and the Middle East, with a rising terrorist figurehead preparing for a massive attack against the US and her allies.
1h
Creator: Carlton Cuse
Creator: Graham Roland
Action & Adventure Drama War & Politics
Le Chiffre, a banker to the world's terrorists, is scheduled to participate in a high-stakes poker game in Montenegro, where he intends to use his winnings to establish his financial grip on the terrorist market. M sends Bond—on his maiden mission as a 00 Agent—to attend this game and prevent Le Chiffre from winning. With the help of Vesper Lynd and Felix Leiter, Bond enters the most important poker game in his already dangerous career.
2h 24m
Director: Martin Campbell
Novel: Ian Fleming
Screenplay: Paul Haggis
Screenplay: Neal Purvis
Screenplay: Robert Wade
Adventure Action Thriller
When Bond's latest assignment goes gravely wrong and agents around the world are exposed, MI6 is attacked forcing M to relocate the agency. These events cause her authority and position to be challenged by Gareth Mallory, the new Chairman of the Intelligence and Security Committee. With MI6 now compromised from both inside and out, M is left with one ally she can trust: Bond. 007 takes to the shadows - aided only by field agent, Eve - following a trail to the mysterious Silva, whose lethal and hidden motives have yet to reveal themselves.
2h 23m
Director: Sam Mendes
Novel: Ian Fleming
Screenplay: John Logan
Screenplay: Robert Wade
Screenplay: Neal Purvis
Action Adventure Thriller
6.
Mission: Impossible (1996)
When Ethan Hunt, the leader of a crack espionage team whose perilous operation has gone awry with no explanation, discovers that a mole has penetrated the CIA, he's surprised to learn that he's the No. 1 suspect. To clear his name, Hunt now must ferret out the real double agent and, in the process, even the score.
1h 50m
Screenplay, Story: David Koepp
Director: Brian De Palma
Screenplay: Steven Zaillian
Screenplay: Robert Towne
Adventure Action Thriller
A dangerous international spy is determined to give up his high stakes life to finally build a closer relationship with his estranged wife and daughter. But first, he must complete one last mission - even if it means juggling the two toughest assignments yet: hunting down the world's most ruthless terrorist and looking after his teenage daughter for the first time in ten years, while his wife is out of town.
1h 53m
Screenplay, Story: Luc Besson
Director: McG
Screenplay: Adi Hasak
Action Drama Thriller
The most dangerous former operative of the CIA is drawn out of hiding to uncover hidden truths about his past.
2h 3m
Director, Writer: Paul Greengrass
Characters: Robert Ludlum
Writer: Christopher Rouse
Action Thriller
9.
Collateral Damage (2002)
Firefighter Gordon Brewer is plunged into the complex and dangerous world of international terrorism after he loses his wife and child in a bombing credited to Claudio 'The Wolf' Perrini.
1h 48m
Director: Andrew Davis
Screenplay: Peter Griffiths
Screenplay: David Griffiths
Screenplay: Ronald Roose
Action Thriller Drama
10.
White House Down (2013)
Capitol Policeman John Cale has just been denied his dream job with the Secret Service of protecting President James Sawyer. Not wanting to let down his little girl with the news, he takes her on a tour of the White House, when the complex is overtaken by a heavily armed paramilitary group. Now, with the nation's government falling into chaos and time running out, it's up to Cale to save the president, his daughter, and the country.
2h 11m
Director: Roland Emmerich
Writer: James Vanderbilt
Action Drama Thriller
When CIA Analyst Jack Ryan interferes with an IRA assassination, a renegade faction targets Jack and his family as revenge.
1h 57m
Author: Tom Clancy
Director: Phillip Noyce
Screenplay: Donald Stewart
Screenplay: W. Peter Iliff
Drama Action Thriller Crime
12.
Quantum of Solace (2008)
Quantum of Solace continues the adventures of James Bond after Casino Royale. Betrayed by Vesper, the woman he loved, 007 fights the urge to make his latest mission personal. Pursuing his determination to uncover the truth, Bond and M interrogate Mr. White, who reveals that the organization that blackmailed Vesper is far more complex and dangerous than anyone had imagined.
1h 46m
Director: Marc Forster
Novel: Ian Fleming
Screenplay: Paul Haggis
Screenplay: Robert Wade
Screenplay: Neal Purvis
Adventure Action Thriller Crime
13.
The Sum of All Fears (2002)
When the president of Russia suddenly dies, a man whose politics are virtually unknown succeeds him. The change in political leaders sparks paranoia among American CIA officials, so CIA director Bill Cabot recruits a young analyst to supply insight and advice on the situation. Then the unthinkable happens: a nuclear bomb explodes in a U.S. city, and America is quick to blame the Russians.
2h 4m
Director: Phil Alden Robinson
Screenplay: Paul Attanasio
Screenplay: Daniel Pyne
Screenplay: Tom Clancy
Thriller Action Drama
explore
Check out more list from our community