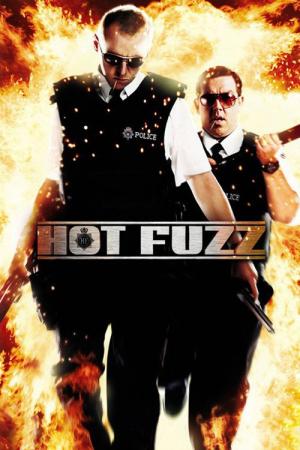 29 Best Movies Like Hot Fuzz ...
If you liked this movie , you will probably love these too! In this collection we highlight some of the best films that share a very similar mood to '', and are worth checking out.
1.
Shaun of the Dead (2004)
1h 39m Horror Comedy
Shaun lives a supremely uneventful life, which revolves around his girlfriend, his mother, and, above all, his local pub. This gentle routine is threatened when the dead return to life and make strenuous attempts to snack on ordinary Londoners.
2.
The World's End (2013)
1h 52m Action Adventure Fantasy
Thor fights to restore order across the cosmos… but an ancient race led by the vengeful Malekith returns to plunge the universe back into darkness. Faced with an enemy that even Odin and Asgard cannot withstand, Thor must embark on his most perilous and personal journey yet, one that will reunite him with Jane Foster and force him to sacrifice everything to save us all.
1h 44m Adventure Comedy Science Fiction
For the past 60 years, a space-traveling smart-ass named Paul has been locked up in a top-secret military base, advising world leaders about his kind. But when he worries he's outlived his usefulness and the dissection table is drawing uncomfortably close, Paul escapes on the first RV that passes by his compound in Area 51. Fortunately, it contains the two earthlings who are most likely to rescue and harbor an alien on the run.
1h 47m Comedy Action Crime
Unlike their heroic counterparts on the force, desk-bound NYPD detectives Gamble and Hoitz garner no headlines as they work day to day. When a seemingly minor case turns out to be a big deal, the two cops get the opportunity to finally prove to their comrades that they have the right stuff.
1h 49m Action Comedy Crime
In high school, Schmidt was a dork and Jenko was the popular jock. After graduation, both of them joined the police force and ended up as partners riding bicycles in the city park. Since they are young and look like high school students, they are assigned to an undercover unit to infiltrate a drug ring that is supplying high school students synthetic drugs.
1h 52m Crime Comedy Action
After making their way through high school (twice), big changes are in store for officers Schmidt and Jenko when they go deep undercover at a local college. But when Jenko meets a kindred spirit on the football team, and Schmidt infiltrates the bohemian art major scene, they begin to question their partnership. Now they don't have to just crack the case - they have to figure out if they can have a mature relationship. If these two overgrown adolescents can grow from freshmen into real men, college might be the best thing that ever happened to them.
7.
Scott Pilgrim vs. the World (2010)
8.
Beverly Hills Cop (1984)
1h 45m Action Comedy Crime
The heat is on in this fast paced action-comedy starring Eddie Murphy as Axel Foley, a street smart Detroit cop tracking down his best friend's killer in Beverly Hills. Axel quickly learns that his wild style doesn't fit in with the Beverly Hills Police Department, which assigns two officers (Judge Reinhold & John Ashton) to make sure things don't get out of hand. Dragging the stuffy detectives along for the ride, Axel smashes through a huge culture clash in his hilarious, high-speed pursuit of justice. Featuring cameos by Paul Reiser, Bronson Pinchot and Damon Wayans, Beverly Hills Cop is an exhilarating, sidesplitting adventure.
9.
Attack the Block (2011)
1h 22m Action Comedy Science Fiction
A teen gang in a South London housing estate must team up with the other residents to protect their neighbourhood from a terrifying alien invasion.
10.
Pineapple Express (2008)
1h 51m Action Comedy Crime
A stoner and his dealer are forced to go on the run from the police after the pothead witnesses a cop commit a murder.
1h 26m Action Comedy
In Marseilles (France), skilled pizza delivery boy Daniel who drives a scooter finally has his dreams come true. He gets a taxi license. Caught by the police for a huge speed infraction, he will help Emilien, a loser inspector who can't drive, on the track of German bank robbers, so he doesn't lose his license and his dream job.
1h 38m Action Comedy Crime
When Hong Kong Inspector Lee is summoned to Los Angeles to investigate a kidnapping, the FBI doesn't want any outside help and assigns cocky LAPD Detective James Carter to distract Lee from the case. Not content to watch the action from the sidelines, Lee and Carter form an unlikely partnership and investigate the case themselves.
13.
Let's Be Cops (2014)
1h 32m Thriller Horror
Rachel, a rookie cop, is about to begin her first night shift in a neglected police station in a Scottish, backwater town. The kind of place where the tide has gone out and stranded a motley bunch of the aimless, the forgotten, the bitter-and-twisted who all think that, really, they deserve to be somewhere else. They all think they're there by accident and that, with a little luck, life is going to get better. Wrong, on both counts. Six is about to arrive - and All Hell Will Break Loose!
1h 59m Action Comedy Crime Thriller
Marcus Burnett is a hen-pecked family man. Mike Lowry is a foot-loose and fancy free ladies' man. Both are Miami policemen, and both have 72 hours to reclaim a consignment of drugs stolen from under their station's nose. To complicate matters, in order to get the assistance of the sole witness to a murder, they have to pretend to be each other.
15.
Loaded Weapon 1 (1993)
1h 24m Comedy Crime Action
An LA detective is murdered because she has microfilm with the recipe to make cocaine cookies. Two cops partner to find and stop the fiends before they can dope the nation by distributing their wares via the 'Wilderness Girls' cookie drive.
16.
Kingsman: The Secret Service (2014)
2h 9m Crime Comedy Action Adventure
The story of a super-secret spy organization that recruits an unrefined but promising street kid into the agency's ultra-competitive training program just as a global threat emerges from a twisted tech genius.
17.
The Brothers Grimsby (2016)
1h 23m Action Comedy
Wrongfully accused and on the run, a top MI6 assassin joins forces with his long-lost, football hooligan brother to save the world from a sinister plot.
1h 57m Action Comedy Crime
Uptight and straight-laced, FBI Special Agent Sarah Ashburn is a methodical investigator with a reputation for excellence--and hyper-arrogance. Shannon Mullins, one of Boston P.D.'s "finest," is foul-mouthed and has a very short fuse, and uses her gut instinct and street smarts to catch the most elusive criminals. Neither has ever had a partner, or a friend for that matter. When these two wildly incompatible law officers join forces to bring down a ruthless drug lord, they become the last thing anyone expected: Buddies.
20.
Kill Me Three Times (2014)
21.
Beverly Hills Cop II (1987)
1h 43m Action Comedy Crime
Axel heads for the land of sunshine and palm trees to find out who shot police Captain Andrew Bogomil. Thanks to a couple of old friends, Axel's investigation uncovers a series of robberies masterminded by a heartless weapons kingpin—and the chase is on.
1h Drama
Danny is a gregarious, hedonistic romantic who gets drawn into the dangerous world of British espionage in this contemporary, emotional thriller. He falls for the anti-social but enigmatic Alex, both from opposite worlds, and they soon realise they're perfect for each other. But when Alex suddenly disappears, Danny is utterly ill-equipped to take on his complex and codified world. Young, innocent and adrift he needs to decide whether he's prepared to fight for the truth?
1h 41m Action Thriller Crime Mystery
After Washington DC detective Alex Cross is told that a family member has been murdered, he vows to track down the killer. He soon discovers that she was not his first victim and that things are not what they seem.
24.
Wrongfully Accused (1998)
1h 27m Action Adventure Comedy
Ryan Harrison, a violin god, superstar and sex symbol does not want to cheat on sexy Lauren Goodhue's husband with her. Mr. Goodhue is found murdered and Ryan suddenly finds himself being the main suspect. After being sentenced to death he manages to flee while being transferred to his execution site. Now, all the world is after him as he stumbles from one unfortunate incident to the next in order to prove himself innocent - by finding a mysterious one-eyed, one-armed, one-legged man...
2h 27m Adventure Action Comedy Thriller Crime
Out-of-control, trash-talking buddy cops Marcus Burnett and Mike Lowrey of the Miami Narcotics Task Force reunite, and bullets fly, cars crash and laughs explode as they pursue a whacked-out drug lord from the streets of Miami to the barrios of Cuba. But the real fireworks result when Marcus discovers that playboy Mike is secretly romancing Marcus' sexy sister.
26.
Live Free or Die Hard (2007)
2h 8m Action Thriller
John McClane is back and badder than ever, and this time he's working for Homeland Security. He calls on the services of a young hacker in his bid to stop a ring of Internet terrorists intent on taking control of America's computer infrastructure.
1h 43m Action Adventure Crime
After Kick-Ass' insane bravery inspires a new wave of self-made masked crusaders, he joins a patrol led by the Colonel Stars and Stripes. When these amateur superheroes are hunted down by Red Mist — reborn as The Mother Fucker — only the blade-wielding Hit-Girl can prevent their annihilation.
1h 33m Action Crime
The Canadian policeman Louis Burke is assigned in a jail to investigate the murders of prisoners and jailors. When in jail, Louis, using his outstandings martial arts skills, is able to save his life and make himself respected in that violent world. At least, helped by two another prisoners, he succeded in finding the truth about the dreadful crimes. In a violent and corrupt prison, decorated cop Louis Burke must infiltrate the jail to find answers to a number of inside murders. What he finds is a struggle of life and death tied in to his own past.
explore
Check out more list from our community