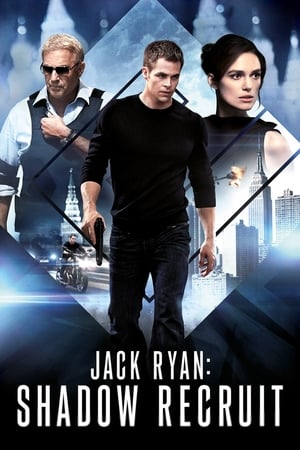 12 Best Movies Like Jack Ryan ...
If you liked this one , you will for sure love these too! In this list we highlight some of the best films that share a very similar premise to 'Jack Ryan: Shadow Recruit', and are worth checking out.
2h 28m Action Adventure Thriller
A cryptic message from Bond's past sends him on a trail to uncover a sinister organization. While M battles political forces to keep the secret service alive, Bond peels back the layers of deceit to reveal the terrible truth behind SPECTRE.
1h 57m Drama Action Thriller Crime
When CIA Analyst Jack Ryan interferes with an IRA assassination, a renegade faction targets Jack and his family as revenge.
3.
London Has Fallen (2016)
1h 39m Action Thriller
In London for the Prime Minister's funeral, Mike Banning discovers a plot to assassinate all the attending world leaders.
4.
Tom Clancy's Jack Ryan (2018)
1h Action & Adventure Drama War & Politics
When CIA analyst Jack Ryan stumbles upon a suspicious series of bank transfers his search for answers pulls him from the safety of his desk job and catapults him into a deadly game of cat and mouse throughout Europe and the Middle East, with a rising terrorist figurehead preparing for a massive attack against the US and her allies.
5.
Mission: Impossible - Ghost Protocol (2011)
2h 13m Action Thriller Adventure
Ethan Hunt and his team are racing against time to track down a dangerous terrorist named Hendricks, who has gained access to Russian nuclear launch codes and is planning a strike on the United States. An attempt to stop him ends in an explosion causing severe destruction to the Kremlin and the IMF to be implicated in the bombing, forcing the President to disavow them. No longer being aided by the government, Ethan and his team chase Hendricks around the globe, although they might still be too late to stop a disaster.
6.
Quantum of Solace (2008)
1h 46m Adventure Action Thriller Crime
Quantum of Solace continues the adventures of James Bond after Casino Royale. Betrayed by Vesper, the woman he loved, 007 fights the urge to make his latest mission personal. Pursuing his determination to uncover the truth, Bond and M interrogate Mr. White, who reveals that the organization that blackmailed Vesper is far more complex and dangerous than anyone had imagined.
7.
White House Down (2013)
2h 11m Action Drama Thriller
Capitol Policeman John Cale has just been denied his dream job with the Secret Service of protecting President James Sawyer. Not wanting to let down his little girl with the news, he takes her on a tour of the White House, when the complex is overtaken by a heavily armed paramilitary group. Now, with the nation's government falling into chaos and time running out, it's up to Cale to save the president, his daughter, and the country.
1h 50m Thriller Action Drama
A team of U.S. government agents is sent to investigate the bombing of an American facility in the Middle East.
9.
Mission: Impossible (1996)
1h 50m Adventure Action Thriller
When Ethan Hunt, the leader of a crack espionage team whose perilous operation has gone awry with no explanation, discovers that a mole has penetrated the CIA, he's surprised to learn that he's the No. 1 suspect. To clear his name, Hunt now must ferret out the real double agent and, in the process, even the score.
1h 40m Action Mystery Thriller
As a CIA officer, Evelyn Salt swore an oath to duty, honor and country. Her loyalty will be tested when a defector accuses her of being a Russian spy. Salt goes on the run, using all her skills and years of experience as a covert operative to elude capture. Salt's efforts to prove her innocence only serve to cast doubt on her motives, as the hunt to uncover the truth behind her identity continues and the question remains: "Who is Salt?"
11.
The Peacemaker (1997)
2h 4m Action Thriller
When a train carrying atomic warheads mysteriously crashes in the former Soviet Union, a nuclear specialist discovers the accident is really part of a plot to cover up the theft of the weapons. Assigned to help her recover the missing bombs is a crack Special Forces Colonel.
1h 54m Drama Action Thriller Crime
When straight arrow FBI agent Roy Clayton heads up the investigation into a dangerous international conspiracy, all clues seem to lead back to former U.S. Special Operations officer, Samir Horn.
explore
Check out more list from our community