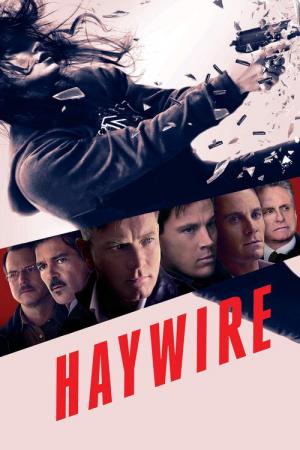 14 Best Movies Like Haywire ...
If you liked this movie , you will definitely love these too! In this list we highlight some of the best films that share a very similar premise to 'Haywire', and are worth checking out.
1h 40m Action Thriller
A former agent of the CIA and his estranged daughter go on the run after his employers target them for assassination.
2.
Contract Killers (2008)
1h 26m Action
A CIA assassin attempts to break out of the contract killing business to try to lead a normal life. But when "the system" tracks her down and frames her for the death of her husband, she embarks on a path of revenge that leads her back into the life she tried to hard to abandon.
1h 55m Action Drama Crime
Eight years after fleeing the Congo following his assassination of that country's minister of mining, former assassin Jim Terrier is back, suffering from PTSD and digging wells to atone for his violent past. After an attempt is made on his life, Terrier flies to London to find out who wants him dead -- and why. Terrier's search leads him to a reunion with Annie, a woman he once loved, who is now married to an oily businessman with dealings in Africa.
1h 48m Action Crime Thriller
When her husband goes missing during their Caribbean vacation, a woman sets off on her own to take down the men she thinks are responsible.
5.
Jack Ryan: Shadow Recruit (2014)
1h 45m Action Drama Thriller
Jack Ryan, as a young covert CIA analyst, uncovers a Russian plot to crash the U.S. economy with a terrorist attack.
6.
Mercenary for Justice (2006)
1h 31m Action Thriller
Mercenary John Seeger is one of the best in the business. John and his crew battle some soldiers on Galmoral Island in Southern Africa as they're trying to rescue the French Ambassador -- there's a coup going on. Some of John's soldiers unload their machine guns into the Ambassador and his family, blowing the mission and getting his best friend Radio Jones killed. He heads back to the US and visits Radio's wife Shondra to tells her the news, and then promises that he'll take care of her and her son Eddie. But shortly after he makes that vow, Shondra and Eddie get kidnapped.
7.
Fire Down Below (1997)
1h 45m Action Adventure Crime Thriller Drama
When an EPA representative is murdered in a small Appalachian community, EPA undercover agent Jack Taggart is sent in—posing as a handyman working with a Christian relief agency—to determine what happened.
1h 45m Action Adventure Drama Thriller
Former CIA Operative, James Dial is coaxed back into action to kill a terrorist in London, but it all goes wrong and he is forced into hiding, where he meets and befriends a 12 year old girl.
1h 51m Action Thriller Adventure
Raised by her father, an ex-CIA agent, in the wilds of Finland, Hanna's upbringing has been geared to making her the perfect assassin. Sent into the world by her father on a mission, Hanna journeys across Europe, eluding agents dispatched after her by a ruthless intelligence operative. As she nears her ultimate target, Hanna faces startling revelations about her existence.
1h 55m Action Drama Mystery Thriller
U.S. Marshall John Kruger erases the identities of people enrolled in the Witness Protection Program. His current assignment is to protect Lee Cullen, who's uncovered evidence that the weapons manufacturer she works for has been selling to terrorist groups. When Kruger discovers that there's a corrupt agent within the program, he must guard his own life while trying to protect Lee's.
1h 43m Action Thriller
Agent Neil Shaw is called out of retirement and finds himself in the midst of a plot to assassinate several leading Senators with himself set-up to take the rap for a recent killing
12.
Point of No Return (1993)
1h 48m Crime Thriller Action
Hardened criminal Maggie Hayward's consistent violence, even in police custody, ends in the execution chamber. However, top-secret US government agent 'Bob' arranges a staged death, so Maggie can be elaborately trained as a phantom killer and subdued into obedience.
13.
The November Man (2014)
1h 48m Crime Action Thriller
An ex-CIA operative is brought back in on a very personal mission and finds himself pitted against his former pupil in a deadly game involving high level CIA officials and the Russian president-elect.
1h 37m Action Adventure Crime Thriller Drama
When a woman's father goes missing, she enlists a local to aid in her search. The pair soon discover that her father has died at the hands of a wealthy sportsman who hunts homeless men as a form of recreation.
explore
Check out more list from our community