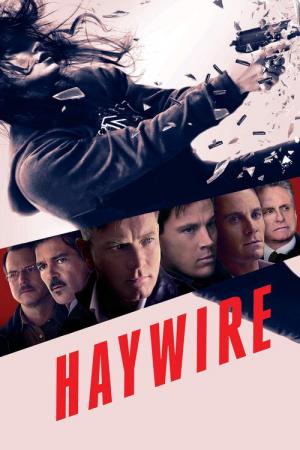 14 Best Movies Like Haywire ...
If you liked this movie , you will for sure love these too! In this collection we highlight some of the best films that share a very similar mood to 'Haywire', and are worth checking out.
1h 55m Action Drama Mystery Thriller
U.S. Marshall John Kruger erases the identities of people enrolled in the Witness Protection Program. His current assignment is to protect Lee Cullen, who's uncovered evidence that the weapons manufacturer she works for has been selling to terrorist groups. When Kruger discovers that there's a corrupt agent within the program, he must guard his own life while trying to protect Lee's.
1h 43m Action
Nick Gunar is a burnt-out, jaded and hard-up former mercenary who is having a difficult time adjusting to civilian life. At the end of his rope, he is hired by the Nitro Mine Corporation to strong-arm the natives of a South China Sea island into giving up their rights to its valuable mineral resources. Nick loathes the thought of another mission, but this seemingly easy job will earn him enough money to get back with his estranged family. He recruits some of his former mercenary buddies to help him with the job. The island people refuse to give up their land and Nick decides to help them fight the greedy corporation that hired him. As greed and treachery begin to unravel, Nick's band of mercenaries choose sides.
1h 38m Crime Drama Action Thriller
After 10 years in prison, Driver is now a free man with a single focus - hunting down the people responsible for brutally murdering his brother.
4.
The Killing Machine (2010)
1h 34m Action Science Fiction
A plane containing a highly classified government project crashes outside of a small town in the US. Realizing the level of danger, the government tries to secretly fix the problem. As tensions grow, the situation gets out of control, and civilians from the town find themselves facing their worst nightmare: a genetically enhanced killing machine that doesn't know how to stop.
2h 4m Action Drama Mystery Thriller Crime
A marksman living in exile is coaxed back into action after learning of a plot to kill the president. Ultimately double-crossed and framed for the attempt, he goes on the run to track the real killer and find out who exactly set him up, and why??
1h 49m Thriller Action Drama Crime
When his brother-in-law runs afoul of a drug lord, family man Chris Farraday turns to a skill he abandoned long ago—smuggling—to repay the debt. But the job goes wrong, and Farraday finds himself wanted by cops, crooks and killers alike.
1h 57m Drama Action Thriller Crime
When CIA Analyst Jack Ryan interferes with an IRA assassination, a renegade faction targets Jack and his family as revenge.
1h 51m Thriller Action Adventure
A hit man looks to protect the daughter of one of his victims against CIA assassins.
1h 56m Action Adventure Thriller
Based on a shocking true story, Killer Elite pits two of the world's most elite operatives—Danny, an ex-special ops agent and Hunter, his longtime mentor—against the cunning leader of a secret military society. Covering the globe from Australia to Paris, London and the Middle East, Danny and Hunter are plunged into a highly dangerous game of cat and mouse—where the predators become the prey.
1h 37m Action Adventure Crime Thriller Drama
When a woman's father goes missing, she enlists a local to aid in her search. The pair soon discover that her father has died at the hands of a wealthy sportsman who hunts homeless men as a form of recreation.
11.
Point of No Return (1993)
1h 48m Crime Thriller Action
Hardened criminal Maggie Hayward's consistent violence, even in police custody, ends in the execution chamber. However, top-secret US government agent 'Bob' arranges a staged death, so Maggie can be elaborately trained as a phantom killer and subdued into obedience.
12.
Fire Down Below (1997)
1h 45m Action Adventure Crime Thriller Drama
When an EPA representative is murdered in a small Appalachian community, EPA undercover agent Jack Taggart is sent in—posing as a handyman working with a Christian relief agency—to determine what happened.
1h 51m Action Thriller Adventure
Raised by her father, an ex-CIA agent, in the wilds of Finland, Hanna's upbringing has been geared to making her the perfect assassin. Sent into the world by her father on a mission, Hanna journeys across Europe, eluding agents dispatched after her by a ruthless intelligence operative. As she nears her ultimate target, Hanna faces startling revelations about her existence.
14.
The Specialist (1994)
1h 50m Action Thriller
May Munro is a woman obsessed with getting revenge on the people who murdered her parents when she was still a girl. She hires Ray Quick, a retired explosives expert to kill her parent's killers. When Ned Trent, embittered ex-partner of Quick's is assigned to protect one of Quick's potential victims, a deadly game of cat and mouse ensues.
explore
Check out more list from our community