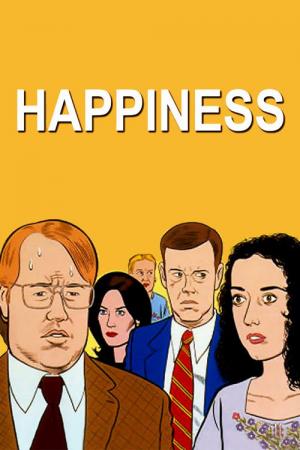 10 Best Movies Like Happiness ...
If you liked this movie , you will probably love these too! In this selection we highlight some of the best films that share a very similar mood to 'Happiness', and are worth checking out.
1h 20m Comedy Drama
After 11-year-old Zachary Cowan strikes his classmate across the face with a stick after an argument, the victim's parents invite Zachary's parents to their Brooklyn apartment to deal with the incident in a civilized manner.
2h 11m Drama Comedy
An unemployed Brit vents his rage on unsuspecting strangers as he embarks on a nocturnal London odyssey.
1h 31m Comedy Drama Romance
After failing to find success as a writer in New York City, Jim slinks back to his family's home in the Midwest to lick his wounds. But his visit is quickly complicated when his angst spreads to his brother, Tim, who promptly decides to drive his car straight into a tree. Under the shadow of his sibling's injurious actions, Jim strikes up an unlikely friendship with Anika, whose centered small-town wisdom gradually rubs off on him.
1h 39m Comedy
A rich cross-section of urban USA find their lives changed when their fates collide at gunpoint. At the centre of it all are Helen and Warren Harding, an up-scale couple on the brink of divorce, whose awakening in the night by a burglar sets off a catastrophic series of events.
5.
American Beauty (1999)
2h 2m Drama
Lester Burnham, a depressed suburban father in a mid-life crisis, decides to turn his hectic life around after developing an infatuation with his daughter's attractive friend.
1h 52m Comedy Drama
Peter and Katherine Witner are Southern California super-yuppies with great jobs but no center to their lives. When they both lose their jobs and begin marital infidelities, their solution is to start their own business together. In order to find meaning to their empty lives, they follow various New Age gurus and other such groups. Eventually, they hit rock bottom and have to make some hard decisions
1h 27m Comedy Drama
College and high school serve as the backdrop for two stories about dysfunction and personal turmoil.
8.
The Daytrippers (1996)
1h 27m Comedy Drama Mystery
Eliza D'Amico thinks her marriage to Louis is going great, until she finds a mysterious love note to her husband. Concerned, she goes to her mother for advice. Eliza, her parents, her sister Jo and Jo's boyfriend all pile into a station wagon, to go to the city to confront Louis with the letter. On the way, the five explore their relations with each other, and meet many interesting people.
9.
Life During Wartime (2009)
1h 37m Comedy Drama
Friends, family, and lovers struggle to find love, forgiveness, and meaning in an almost war-torn world riddled with comedy and pathos. Follows Solondz's film Happiness (1998).
1h 55m Comedy Crime Drama
Nicolas Cage is Charlie Kaufman, a confused L.A. screenwriter overwhelmed by feelings of inadequacy, sexual frustration, self-loathing, and by the screenwriting ambitions of his freeloading twin brother Donald. While struggling to adapt "The Orchid Thief," by Susan Orlean, Kaufman's life spins from pathetic to bizarre. The lives of Kaufman, Orlean's book, become strangely intertwined as each one's search for passion collides with the others'.
explore
Check out more list from our community