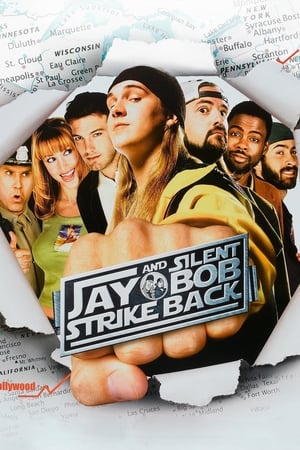 13 Best Movies Like Jay And Silent Bob ...
If you liked this film , you will definitely love these too! In this collection we highlight some of the best films that share a very similar mood to 'Jay and Silent Bob Strike Back', and are worth checking out.
1h 28m Comedy
Three friends attempt to recapture their glory days by opening up a fraternity near their alma mater.
3.
Jay and Silent Bob Reboot (2019)
1h 45m Comedy
Jay and Silent Bob embark on a cross-country mission to stop Hollywood from rebooting the film based on their comic book counterparts Bluntman and Chronic.
1h 37m Comedy
On the verge of bankruptcy and desperate for his big break, aspiring filmmaker Bobby Bowfinger concocts a crazy plan to make his ultimate dream movie. Rallying a ragtag team that includes a starry-eyed ingenue, a has-been diva and a film studio gofer, he sets out to shoot a blockbuster featuring the biggest star in Hollywood, Kit Ramsey -- only without letting Ramsey know he's in the picture.
5.
Where the #$&% Is Santa? (2008)
1h 33m Comedy
In the midst of a trip to Finland to find the perfect Christmas gift for his wife, Missy, skateboarding superstar MTV personality Bam Margera is struck by inspiration to find the elusive Santa clause.
1h 47m Comedy Fantasy
John Bennett, a man whose childhood wish of bringing his teddy bear to life came true, now must decide between keeping the relationship with the bear or his girlfriend, Lori.
2h 10m Fantasy Comedy Adventure
The latest battle in the eternal war between Good and Evil has come to New Jersey in the late, late 20th Century. Angels, demons, apostles and prophets (of a sort) walk among the cynics and innocents of America and duke it out for the fate of humankind.
1h 24m Comedy
Jane, a struggling but perpetually stoned actress, has a busy day ahead. She has several important tasks on her list, including buying more marijuana. Even though she already has a good start on the day's planned drug use, she eats her roommate's pot-laced cupcakes and embarks on a series of misadventures all over Los Angeles.
9.
Pineapple Express (2008)
1h 51m Action Comedy Crime
A stoner and his dealer are forced to go on the run from the police after the pothead witnesses a cop commit a murder.
10.
A Very Harold & Kumar 3D Christmas (2011)
1h 48m Comedy
Six years have elapsed since Guantanamo Bay, leaving Harold and Kumar estranged from one another with very different families, friends and lives. But when Kumar arrives on Harold's doorstep during the holiday season with a mysterious package in hand, he inadvertently burns down Harold's father-in-law's beloved Christmas tree. To fix the problem, Harold and Kumar embark on a mission through New York City to find the perfect Christmas tree, once again stumbling into trouble at every single turn.
1h 33m Comedy Adventure
From the director of the Hangover trilogy and Joker, Road Trip is a raunchy college comedy classic. After an Ithaca college student films his one-night stand with a beautiful sorority girl, he discovers one of his friends has accidentally mailed the homemade porn tape to his girlfriend. In a frenzy, he must borrow a car and hit the road in a desperate bid to intercept the tape. Featuring a talented cast that includes Breckin Meyer, Rachel Blanchard, Seann William Scott, Amy Smart, Fred Ward, Tom Green, Anthony Rapp, Andy Dick, and Ethan Suplee.
12.
Harold & Kumar Go to White Castle (2004)
1h 28m Comedy Adventure
Nerdy accountant Harold and his irrepressible friend, Kumar, get stoned watching television and find themselves utterly bewitched by a commercial for White Castle. Convinced there must be one nearby, the two set out on a late-night odyssey that takes them deep into New Jersey. Somehow, the boys manage to run afoul of rednecks, cops and even a car-stealing Neil Patrick Harris before getting anywhere near their beloved sliders.
1h 37m Comedy
A calamity at Dante and Randall's shops sends them looking for new horizons - but they ultimately settle at Mooby's, a fictional Disney-McDonald's-style fast-food empire.
explore
Check out more list from our community