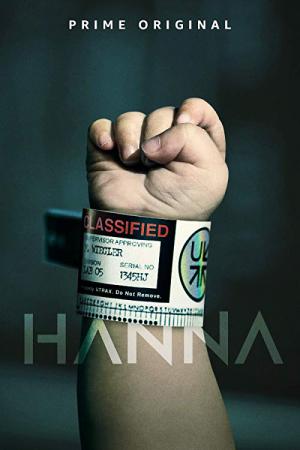 31 Best Movies Like Hanna ...
If you liked this one , you will definitely love these too! In this list we highlight some of the best films that share a very similar mood to '', and are worth checking out.
1h 51m Action Thriller Adventure
Raised by her father, an ex-CIA agent, in the wilds of Finland, Hanna's upbringing has been geared to making her the perfect assassin. Sent into the world by her father on a mission, Hanna journeys across Europe, eluding agents dispatched after her by a ruthless intelligence operative. As she nears her ultimate target, Hanna faces startling revelations about her existence.
1h 40m Action Mystery Thriller
As a CIA officer, Evelyn Salt swore an oath to duty, honor and country. Her loyalty will be tested when a defector accuses her of being a Russian spy. Salt goes on the run, using all her skills and years of experience as a covert operative to elude capture. Salt's efforts to prove her innocence only serve to cast doubt on her motives, as the hunt to uncover the truth behind her identity continues and the question remains: "Who is Salt?"
1h 48m Action Thriller Crime Drama
After witnessing her parents' murder as a child in Bogota, Cataleya Restrepo grows up to be a stone-cold assassin. She works for her uncle as a hitman by day, but her personal time is spent engaging in vigilante murders that she hopes will lead her to her ultimate target: the mobster responsible for her parents' death.
5.
Violet & Daisy (2011)
1h 28m Thriller Crime Drama Action Comedy
Two teenage assassins accept what they think will be a quick-and-easy job, until an unexpected target throws them off their plan.
2h 20m Mystery Thriller
Prima ballerina, Dominika Egorova faces a bleak and uncertain future after she suffers an injury that ends her career. She soon turns to Sparrow School, a secret intelligence service that trains exceptional young people to use their minds and bodies as weapons. Dominika emerges as the most dangerous Sparrow after completing the sadistic training process. As she comes to terms with her new abilities, she meets a CIA agent who tries to convince her that he is the only person she can trust.
7.
Quantum of Solace (2008)
1h 46m Adventure Action Thriller Crime
Quantum of Solace continues the adventures of James Bond after Casino Royale. Betrayed by Vesper, the woman he loved, 007 fights the urge to make his latest mission personal. Pursuing his determination to uncover the truth, Bond and M interrogate Mr. White, who reveals that the organization that blackmailed Vesper is far more complex and dangerous than anyone had imagined.
1h 46m Thriller Action Mystery
A young man sets out to uncover the truth about his life after finding his baby photo on a missing persons website.
42m Drama Action & Adventure
Nikita will stop at nothing to expose and destroy Division, the secret U.S. agency who trained her as a spy and assassin.
10.
Mission: Impossible - Rogue Nation (2015)
2h 11m Action Adventure
Ethan and team take on their most impossible mission yet—eradicating 'The Syndicate', an International and highly-skilled rogue organisation committed to destroying the IMF.
11.
The November Man (2014)
1h 48m Crime Action Thriller
An ex-CIA operative is brought back in on a very personal mission and finds himself pitted against his former pupil in a deadly game involving high level CIA officials and the Russian president-elect.
1h 30m Action Drama Thriller
A mysterious woman, known as Madame M, kidnaps forty pre-teen girls and transports them to a remote island to train them as the most deadly assassins. CIA operative Jack Chen follows the case for 6 years with no leads, but when a series of assassinations begin to occur, Jack suspects that Madame M is back in business.
13.
Mission: Impossible II (2000)
2h 3m Adventure Action Thriller
With computer genius Luther Stickell at his side and a beautiful thief on his mind, agent Ethan Hunt races across Australia and Spain to stop a former IMF agent from unleashing a genetically engineered biological weapon called Chimera. This mission, should Hunt choose to accept it, plunges him into the center of an international crisis of terrifying magnitude.
14.
Knight and Day (2010)
1h 49m Action Comedy
A fugitive couple goes on a glamorous and sometimes deadly adventure where nothing and no one – even themselves – are what they seem. Amid shifting alliances and unexpected betrayals, they race across the globe, with their survival ultimately hinging on the battle of truth vs. trust.
15.
Mission: Impossible - Ghost Protocol (2011)
2h 13m Action Thriller Adventure
Ethan Hunt and his team are racing against time to track down a dangerous terrorist named Hendricks, who has gained access to Russian nuclear launch codes and is planning a strike on the United States. An attempt to stop him ends in an explosion causing severe destruction to the Kremlin and the IMF to be implicated in the bombing, forcing the President to disavow them. No longer being aided by the government, Ethan and his team chase Hendricks around the globe, although they might still be too late to stop a disaster.
2h 24m Adventure Action Thriller
Le Chiffre, a banker to the world's terrorists, is scheduled to participate in a high-stakes poker game in Montenegro, where he intends to use his winnings to establish his financial grip on the terrorist market. M sends Bond—on his maiden mission as a 00 Agent—to attend this game and prevent Le Chiffre from winning. With the help of Vesper Lynd and Felix Leiter, Bond enters the most important poker game in his already dangerous career.
17.
The Numbers Station (2013)
1h 30m Action Thriller
When the moral values of a longtime wetwork black ops agent is tested during his last operation, he receives an unfavorable psych evaluation. Now he is given a break and a seemingly uncomplicated assignment of simply protecting the security of a young female code announcer, code resources and remote station they are assigned to. After an ambush and one phone call later, it becomes a complicated fight for their survival.
18.
Jack Ryan: Shadow Recruit (2014)
1h 45m Action Drama Thriller
Jack Ryan, as a young covert CIA analyst, uncovers a Russian plot to crash the U.S. economy with a terrorist attack.
19.
Tomorrow Never Dies (1997)
1h 59m Adventure Action Thriller
A deranged media mogul is staging international incidents to pit the world's superpowers against each other. Now James Bond must take on this evil mastermind in an adrenaline-charged battle to end his reign of terror and prevent global pandemonium.
20.
Point of No Return (1993)
1h 48m Crime Thriller Action
Hardened criminal Maggie Hayward's consistent violence, even in police custody, ends in the execution chamber. However, top-secret US government agent 'Bob' arranges a staged death, so Maggie can be elaborately trained as a phantom killer and subdued into obedience.
21.
For Your Eyes Only (1981)
2h 7m Adventure Action Thriller
A British spy ship has sunk and on board was a hi-tech encryption device. James Bond is sent to find the device that holds British launching instructions before the enemy Soviets get to it first.
2h 28m Action Adventure Thriller
A cryptic message from Bond's past sends him on a trail to uncover a sinister organization. While M battles political forces to keep the secret service alive, Bond peels back the layers of deceit to reveal the terrible truth behind SPECTRE.
23.
Kingsman: The Secret Service (2014)
2h 9m Crime Comedy Action Adventure
The story of a super-secret spy organization that recruits an unrefined but promising street kid into the agency's ultra-competitive training program just as a global threat emerges from a twisted tech genius.
1h 56m Action Adventure Thriller
Based on a shocking true story, Killer Elite pits two of the world's most elite operatives—Danny, an ex-special ops agent and Hunter, his longtime mentor—against the cunning leader of a secret military society. Covering the globe from Australia to Paris, London and the Middle East, Danny and Hunter are plunged into a highly dangerous game of cat and mouse—where the predators become the prey.
2h 3m Action Thriller
The most dangerous former operative of the CIA is drawn out of hiding to uncover hidden truths about his past.
1h 57m Drama Action Thriller Crime
When CIA Analyst Jack Ryan interferes with an IRA assassination, a renegade faction targets Jack and his family as revenge.
2h 44m Drama Action History Thriller
During the 1972 Olympic Games in Munich, eleven Israeli athletes are taken hostage and murdered by a Palestinian terrorist group known as Black September. In retaliation, the Israeli government recruits a group of Mossad agents to track down and execute those responsible for the attack.
28.
Licence to Kill (1989)
2h 13m Adventure Action Thriller
After capturing the notorious drug lord Franz Sanchez, Bond's close friend and former CIA agent Felix Leiter is left for dead and his wife is murdered. Bond goes rogue and seeks vengeance on those responsible, as he infiltrates Sanchez's organization from the inside.
1h 37m Action Adventure Crime Thriller Drama
When a woman's father goes missing, she enlists a local to aid in her search. The pair soon discover that her father has died at the hands of a wealthy sportsman who hunts homeless men as a form of recreation.
1h 38m Adventure Action Thriller
CIA agent Marcus is sent undercover to Detroit to take out an arms dealer and the head of the hedge fund that is financing him. His CIA backup has other plans and turns on him, and it's a fight to survive in a hospital and into the hedge fund vault.
explore
Check out more list from our community