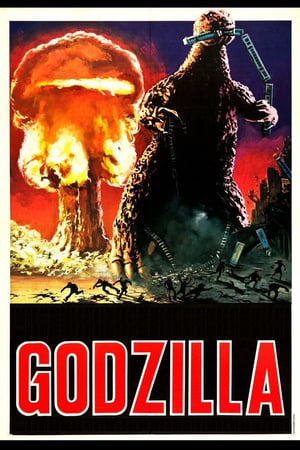 31 Best Movies Like Godzilla ...
If you liked this movie , you will definitely love these too! In this list we highlight some of the best films that share a very similar mood to '', and are worth checking out.
1.
Godzilla: King of the Monsters (2019)
2h 12m Science Fiction Action
Follows the heroic efforts of the crypto-zoological agency Monarch as its members face off against a battery of god-sized monsters, including the mighty Godzilla, who collides with Mothra, Rodan, and his ultimate nemesis, the three-headed King Ghidorah. When these ancient super-species, thought to be mere myths, rise again, they all vie for supremacy, leaving humanity's very existence hanging in the balance.
2h 11m Action Science Fiction Adventure
A ragtag band of humans band together in the year 2025 to fight legions of monstrous creatures rising from the sea. Using massive piloted robots to combat the alien threat, earth's survivors take the fight to the invading alien force lurking in the depths of the Pacific Ocean. Nearly defenseless in the face of the relentless enemy, the forces of mankind have no choice but to turn to two unlikely heroes -- a washed up former pilot and an untested trainee -- who now stand as earth's final hope against the mounting apocalypse.
3.
Godzilla vs. Kong (2021)
1h 53m Action Science Fiction
In a time when monsters walk the Earth, humanity's fight for its future sets Godzilla and Kong on a collision course that will see the two most powerful forces of nature on the planet collide in a spectacular battle for the ages.
2h 19m Science Fiction Action Thriller
When a freighter is viciously attacked in the Pacific Ocean, a team of experts -- including biologist Niko Tatopoulos and scientists Elsie Chapman and Mendel Craven -- concludes that an oversized reptile is the culprit. Before long, the giant lizard is loose in Manhattan, destroying everything within its reach. The team chases the monster to Madison Square Garden, where a brutal battle ensues.
1h 47m Action
Primatologist Davis Okoye shares an unshakable bond with George, the extraordinarily intelligent, silverback gorilla who has been in his care since birth. But a rogue genetic experiment gone awry mutates this gentle ape into a raging creature of enormous size. To make matters worse, it's soon discovered there are other similarly altered animals. As these newly created alpha predators tear across North America, destroying everything in their path, Okoye teams with a discredited genetic engineer to secure an antidote, fighting his way through an ever-changing battlefield, not only to halt a global catastrophe but to save the fearsome creature that was once his friend.
6.
Godzilla Resurgence (2016)
7.
Jurassic Park III (2001)
1h 32m Adventure Action Thriller Science Fiction
In need of funds for research, Dr. Alan Grant accepts a large sum of money to accompany Paul and Amanda Kirby on an aerial tour of the infamous Isla Sorna. It isn't long before all hell breaks loose and the stranded wayfarers must fight for survival as a host of new -- and even more deadly -- dinosaurs try to make snacks of them.
2h 11m Thriller Action Adventure Science Fiction
When mankind beams a radio signal into space, a reply comes from 'Planet G', in the form of several alien crafts that splash down in the waters off Hawaii. Lieutenant Alex Hopper is a weapons officer assigned to the USS John Paul Jones, part of an international naval coalition which becomes the world's last hope for survival as they engage the hostile alien force of unimaginable strength. While taking on the invaders, Hopper must also try to live up to the potential that his brother, and his fiancée's father—an Admiral—expect of him.
1h 52m Science Fiction Adventure Action
16-year-old Cassie Sullivan tries to survive in a world devastated by the waves of an alien invasion that has already decimated the population and knocked mankind back to the Stone Age.
10.
Kong: Skull Island (2017)
1h 58m Action Adventure Fantasy
Explore the mysterious and dangerous home of the king of the apes as a team of explorers ventures deep inside the treacherous, primordial island.
11.
Godzilla, Mothra and King Ghidorah: Giant Monsters All-Out Attack (2001)
1h 25m Action Thriller Science Fiction
From visionary producer J.J. Abrams (Lost) and director Matt Reeves comes the worldwide sensation of non-stop terror and suspense everyone is talking about.
1h 35m Action Horror Science Fiction Thriller
After an earthquake destroys their underwater station, six researchers must navigate two miles along the dangerous, unknown depths of the ocean floor to make it to safety in a race against time.
14.
Pacific Rim: Uprising (2018)
1h 51m Action Fantasy Science Fiction Adventure
It has been ten years since The Battle of the Breach and the oceans are still, but restless. Vindicated by the victory at the Breach, the Jaeger program has evolved into the most powerful global defense force in human history. The PPDC now calls upon the best and brightest to rise up and become the next generation of heroes when the Kaiju threat returns.
2h 7m Adventure Science Fiction
A wealthy entrepreneur secretly creates a theme park featuring living dinosaurs drawn from prehistoric DNA. Before opening day, he invites a team of experts and his two eager grandchildren to experience the park and help calm anxious investors. However, the park is anything but amusing as the security systems go off-line and the dinosaurs escape.
1h 54m Action Drama Thriller
In the aftermath of a massive earthquake in California, a rescue-chopper pilot makes a dangerous journey across the state in order to rescue his estranged daughter.
17.
Godzilla Against MechaGodzilla (2002)
18.
AVP: Alien vs. Predator (2004)
1h 41m Adventure Science Fiction Action Horror
When scientists discover something in the Arctic that appears to be a buried Pyramid, they send a research team out to investigate. Little do they know that they are about to step into a hunting ground where Aliens are grown as sport for the Predator race.
19.
Battle Los Angeles (2011)
1h 56m Action Science Fiction
When once distant UFOs become a terrifying threat attacking Earth, a Marine staff sergeant and his team take it upon themselves to face the enemy and protect what remains of the planet.
2h 38m Action Adventure Science Fiction
Dr. Adrian Helmsley, part of a worldwide geophysical team investigating the effect on the earth of radiation from unprecedented solar storms, learns that the earth's core is heating up. He warns U.S. President Thomas Wilson that the crust of the earth is becoming unstable and that without proper preparations for saving a fraction of the world's population, the entire race is doomed. Meanwhile, writer Jackson Curtis stumbles on the same information. While the world's leaders race to build "arks" to escape the impending cataclysm, Curtis struggles to find a way to save his family. Meanwhile, volcanic eruptions and earthquakes of unprecedented strength wreak havoc around the world.
1h 49m Thriller Action Science Fiction
A special-ops team is dispatched to fight supernatural beings that have taken over a European city.
23.
Godzilla: Tokyo S.O.S. (2003)
24.
40 Days and Nights (2012)
1h 30m Action Science Fiction Adventure Thriller
When a colossal tectonic shift causes the sea level to start rising, a microbiologist gathers the DNA of as many species as she can, while the military creates an "ark" in a desperate attempt to preserve life on Earth.
25.
Destroy All Monsters (1968)
26.
Transformers: Revenge of the Fallen (2009)
2h 29m Science Fiction Action Adventure
Sam Witwicky leaves the Autobots behind for a normal life. But when his mind is filled with cryptic symbols, the Decepticons target him and he is dragged back into the Transformers' war.
27.
G.I. Joe: The Rise of Cobra (2009)
1h 58m Adventure Action Thriller Science Fiction
From the Egyptian desert to deep below the polar ice caps, the elite G.I. JOE team uses the latest in next-generation spy and military equipment to fight the corrupt arms dealer Destro and the growing threat of the mysterious Cobra organization to prevent them from plunging the world into chaos.
28.
Godzilla vs. King Ghidorah (1991)
29.
Godzilla vs. the Sea Monster (1966)
1h 27m Science Fiction Action Fantasy
Searching for his brother, Ryota stows away on a boat belonging to a criminal alongside two other teenagers. The group shipwrecks on Letchi island and discover the Infant Island natives have been enslaved by a terrorist organization controlling a crustacean monster. Finding a sleeping Godzilla, they decide to awaken him to defeat the terrorists and liberate the natives.
30.
Gamera vs. Monster X (1970)
explore
Check out more list from our community