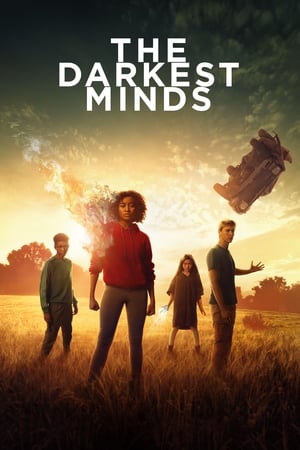 12 Best Movies Like The Darkest Minds ...
If you liked this film , you will probably love these too! In this list we highlight some of the best films that share a very similar mood to 'The Darkest Minds', and are worth checking out.
1h 59m Action Adventure Science Fiction Thriller
Beatrice Prior must confront her inner demons and continue her fight against a powerful alliance which threatens to tear her society apart.
1h 36m Mystery Adventure Crime
Industrious high school senior Vee Delmonico has had it with living life on the sidelines. When pressured by friends to join the popular online game Nerve, Vee decides to sign up for just one dare in what seems like harmless fun. But as she finds herself caught up in the thrill of the adrenaline-fueled competition partnered with a mysterious stranger, the game begins to take a sinister turn with increasingly dangerous acts, leading her into a high stakes finale that will determine her entire future.
2h 5m Action Adventure Romance Science Fiction Thriller
A parasitic alien soul is injected into the body of Melanie Stryder. Instead of carrying out her race's mission of taking over the Earth, "Wanda" (as she comes to be called) forms a bond with her host and sets out to aid other free humans.
4.
The Hunger Games: Catching Fire (2013)
2h 26m Adventure Action Science Fiction
Katniss Everdeen has returned home safe after winning the 74th Annual Hunger Games along with fellow tribute Peeta Mellark. Winning means that they must turn around and leave their family and close friends, embarking on a "Victor's Tour" of the districts. Along the way Katniss senses that a rebellion is simmering, but the Capitol is still very much in control as President Snow prepares the 75th Annual Hunger Games (The Quarter Quell) - a competition that could change Panem forever.
2h Adventure Science Fiction Action Mystery
Beatrice Prior and Tobias Eaton venture into the world outside of the fence and are taken into protective custody by a mysterious agency known as the Bureau of Genetic Welfare.
6.
The Incredible Hulk (2008)
1h 54m Science Fiction Action Adventure
Scientist Bruce Banner scours the planet for an antidote to the unbridled force of rage within him: the Hulk. But when the military masterminds who dream of exploiting his powers force him back to civilization, he finds himself coming face to face with a new, deadly foe.
2h 9m Adventure Science Fiction
Many thousands of years in the future, Earth's cities roam the globe on huge wheels, devouring each other in a struggle for ever diminishing resources. On one of these massive traction cities, the old London, Tom Natsworthy has an unexpected encounter with a mysterious young woman from the wastelands who will change the course of his life forever.
8.
The Tomorrow People (2013)
1h Drama Sci-Fi & Fantasy
The story of several young people from around the world who represent the next stage in human evolution, possessing special powers, including the ability to teleport and communicate with each other telepathically. Together they work to defeat the forces of evil.
1h 39m Science Fiction Action Crime Thriller Drama
In Lincoln City, some inhabitants have extraordinary abilities. Most live below the poverty line, under the close surveillance of a heavily militarized police force. Connor, a construction worker with powers, involves with a criminal gang to help his ailing mother. (Based on the short film "Code 8," 2016.)
10.
I Am Number Four (2011)
1h 49m Action Thriller Science Fiction Adventure
A teenage fugitive with an incredible secret races to stay one step ahead of the mysterious forces seeking destroy him in this sci-fi action thriller. With three dead and one on the run, the race to find the elusive Number Four begins. Outwardly normal teen John Smith never gets too comfortable in the same identity, and along with his guardian, Henri, he is constantly moving from town to town. With each passing day, John gains a stronger grasp on his extraordinary new powers, and his bond to the beings that share his fantastic fate grows stronger.
11.
The Hunger Games: Mockingjay - Part 1 (2014)
2h 3m Science Fiction Adventure Thriller
Katniss Everdeen reluctantly becomes the symbol of a mass rebellion against the autocratic Capitol.
12.
Alita: Battle Angel (2019)
2h 2m Action Science Fiction Adventure
When Alita awakens with no memory of who she is in a future world she does not recognize, she is taken in by Ido, a compassionate doctor who realizes that somewhere in this abandoned cyborg shell is the heart and soul of a young woman with an extraordinary past.
explore
Check out more list from our community