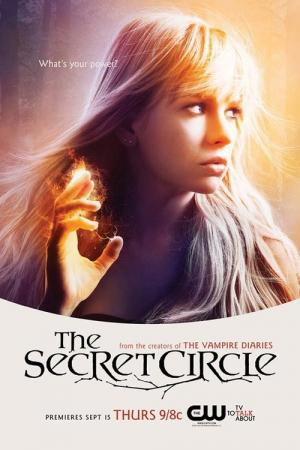 14 Best Tv Shows Like The Secret Circle ...
If you liked this one , you will for sure love these too! In this selection we highlight some of the best films that share a very similar mood to 'The Secret Circle', and are worth checking out.
1.
Beautiful Creatures (2013)
Ethan Wate just wants to get to know Lena Duchannes better, but unbeknownst to him, Lena has strange powers. As Lena's 16th birthday approaches she might decide her fate, to be good or evil. A choice which will impact her relationship forever.
2h 4m
Director, Screenplay: Richard LaGravenese
Novel: Margaret Stohl
Novel: Kami Garcia
Fantasy Drama Romance
When Emery was 6 years old, an alien spacecraft crash-landed in her small town. Whether they came in peace or with more sinister intentions didn't matter: a fierce battle erupted as humans fought for control over their new rivals, an alien species called the Atrians. In the midst of the conflict, Roman, a 6-year-old Atrian boy, found his way to a shed behind Emery's house, where she temporarily protected him from harm, bringing him food, comfort - and friendship. Ten years later, the Atrians have been acclimated to life on Earth, but they are interned in a heavily-guarded camp known as the Sector to keep them separate from humans. Now, for the first time, a group of Atrian teens will enroll in a suburban human high school, with the goal of testing the feasibility of human/alien integration. Emery and Roman find each other again in a school and a society that distrusts everything about the Atrians. While the world around them rages with anger and prejudice, their bond becomes increasingly strong and increasingly dangerous.
42m
Creator: Meredith Averill
Sci-Fi & Fantasy
3.
Every Witch Way (2014)
The series follows 14-year-old Emma Alonso, as she moves to Miami and her life turns upside-down. Not only does she discover that she is a witch, she also has a crush on the boy next door, Daniel. But Daniel's ex-girlfriend Maddie, who is an 'evil witch' and leader of the school clique the 'Panthers', is still willing to fight for the boy she loves.
30m
Creator: Mariela Romero
Creator: Catharina Ledeboer
Comedy Sci-Fi & Fantasy
The town of Rosewood has been suffering from a curse for generations. Five strangers suddenly feel connected by this fatal curse and feel the need to dig in the town's mysterious and horrible history before it's to late for each one of them.
45m
Creator: I. Marlene King
Creator: Oliver Goldstick
Creator: Joseph Dougherty
Drama Mystery Sci-Fi & Fantasy
5.
H2O: Just Add Water (2006)
H2O: Just Add Water revolves around three teenage girls facing everyday teen problems with an added twist: they cope with the burden of growing a giant fin and transforming into mermaids whenever they come in contact with water.
24m
Creator: Jonathan M. Shiff
Drama Family Sci-Fi & Fantasy
Gwendolyn Shepherd is a normal 16-year-old, but her family holds a secret: A time-travel gene is expressed in the clan inherited, but not every member of the family is blessed with. Everyone is certain that Gwen's cousin Charlotte has the gene. However, someday Gwendolyn suddenly finds herself in London at the end of the 19th century and realizes that it her, who was born a time traveler. While she is not very enthusiastic about it she will do everything possible to solve the ancient mysteries of the red ruby.
2h 2m
Director: Felix Fuchssteiner
Novel: Kerstin Gier
Screenplay: Katharina Schöde
Fantasy Adventure Family Drama Science Fiction Romance
7.
Pretty Little Liars (2010)
Based on the Pretty Little Liars series of young adult novels by Sara Shepard, the series follows the lives of four girls — Spencer, Hanna, Aria, and Emily — whose clique falls apart after the disappearance of their queen bee, Alison. One year later, they begin receiving messages from someone using the name "A" who threatens to expose their secrets — including long-hidden ones they thought only Alison knew.
41m
Drama Mystery
Scott McCall, a high school student living in the town of Beacon Hills has his life drastically changed when he's bitten by a werewolf, becoming one himself. He must henceforth learn to balance his problematic new identity with his day-to-day teenage life. The following characters are instrumental to his struggle: Stiles, his best friend; Allison, his love interest who comes from a family of werewolf hunters; and Derek, a mysterious werewolf with a dark past. Throughout the series, he strives to keep his loved ones safe while maintaining normal relationships with them.
43m
Sci-Fi & Fantasy Drama
When Bella Swan moves to a small town in the Pacific Northwest, she falls in love with Edward Cullen, a mysterious classmate who reveals himself to be a 108-year-old vampire. Despite Edward's repeated cautions, Bella can't stay away from him, a fatal move that endangers her own life.
2h 2m
Director: Catherine Hardwicke
Novel: Stephenie Meyer
Screenplay: Melissa Rosenberg
Fantasy Drama Romance
10.
The Nine Lives of Chloe King (2011)
Chloe King is looking forward to celebrating her birthday with her friends and single mother, just like every other year... that is until she starts developing heightened abilities and discovers she's being pursued by a mysterious figure. Chloe soon learns she's part of an ancient race which has been hunted by human assassins for millennia —and that she may be their only hope for ultimate survival.
42m
Action & Adventure Drama Sci-Fi & Fantasy
When Clary Fray's mother has disappeared, Clary joins a band of Shadowhunters; demon killing hunters, and gets caught up in a plan to save the world.
42m
Action & Adventure Drama Sci-Fi & Fantasy
12.
The Mortal Instruments: City of Bones (2013)
In New York City, Clary Fray, a seemingly ordinary teenager, learns that she is descended from a line of Shadowhunters — half-angel warriors who protect humanity from evil forces. After her mother disappears, Clary joins forces with a group of Shadowhunters and enters Downworld, an alternate realm filled with demons, vampires, and a host of other creatures. Clary and her companions must find and protect an ancient cup that holds the key to her mother's future.
2h 10m
Director: Harald Zwart
Novel: Cassandra Clare
Screenplay: I. Marlene King
Screenplay: Jessica Postigo
Fantasy Action Mystery
13.
Chilling Adventures of Sabrina (2018)
As her 16th birthday nears, Sabrina must choose between the witch world of her family and the human world of her friends. Based on the Archie comic.
1h
Creator: Roberto Aguirre-Sacasa
Mystery Sci-Fi & Fantasy Drama
14.
A Discovery of Witches (2018)
Closet witch Teresa Palmer and centuries-old vampire Matthew Goode are drawn into a deadly mystery and forbidden romance when a magical book shows up in an Oxford library.
43m
Sci-Fi & Fantasy Drama
explore
Check out more list from our community