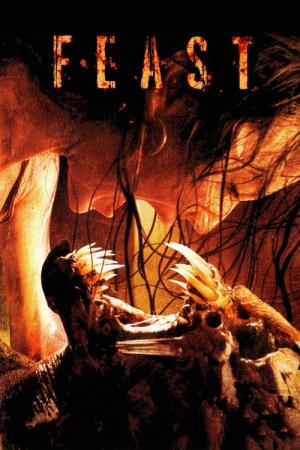 14 Best Movies Like Feast ...
If you liked this movie , you will for sure love these too! In this list we highlight some of the best films that share a very similar premise to 'Feast', and are worth checking out.
1.
Survival of the Dead (2009)
1h 22m Horror Comedy Action Science Fiction Thriller
When a man is eaten alive by an unknown creature, the local Game Warden teams up with a paleontologist from New York to find the beast. Add to the mix an eccentric philanthropist with a penchant for "Crocs", and here we go! This quiet, remote lake is suddenly the focus of an intense search for a crocodile with a taste for live animals...and people!
1h 24m Horror
When the body of a man is found completely destroyed in the swamps in Louisiana, the medical investigator Sam Rivers is assigned to investigate the murder. He travels with the biologist Mary Callahan to the location where the victim lived in a floating house and he meets his family and friends. They find that Chinese snake-heads genetically engineered that belong to a wealthy hunter are attacking and killing the locals. While the group fights to survive, the hunter Jeff arrives with his team to hunt the predators.
1h 34m Science Fiction Comedy Thriller Horror Mystery
Something sinister has come to the shores of Erin Island, unbeknownst to the quaint population of this sleepy fishing village resting somewhere off Ireland's coast. First, some fishermen go missing. Then there is the rash of whale carcasses suddenly washing up on the beach. When the murders start, it's up to two mismatched cops – an irresponsible alcoholic and his new partner, a by-the-book woman from the mainland – to protect the townsfolk from the giant, bloodsucking, tentacled aliens that prey upon them. Their only weapon, they discover, is booze. If they want to survive the creatures' onslaught, everyone will have to get very, very drunk!
6.
30 Days of Night (2007)
1h 53m Horror Thriller
This is the story of an isolated Alaskan town that is plunged into darkness for a month each year when the sun sinks below the horizon. As the last rays of light fade, the town is attacked by a bloodthirsty gang of vampires bent on an uninterrupted orgy of destruction. Only the small town's husband-and-wife Sheriff team stand between the survivors and certain destruction.
1h 45m Horror Action Thriller
A squad of British soldiers on training in the lonesome Scottish wilderness find a wounded Special Forces captain and the remains of his team. As they encounter zoologist Megan, it turns out that werewolves are active in the region. They have to prepare for some action as the there will be a full moon tonight...
9.
The Hills Have Eyes II (2007)
1h 29m Horror Thriller
A group of National Guard trainees find themselves battling against a vicious group of mutants on their last day of training in the desert.
11.
Flu Bird Horror (2008)
12.
Mongolian Death Worm (2010)
1h 30m Horror Science Fiction TV Movie
When an American oil company sets up an experimental drilling plant out in the vast deserts of Mongolia, they awaken a nest. The deadly creatures begin to breed and spread, devouring everyone in their path. The only person who can stop them is treasure hunter and adventure seeker who spent his life searching for a legendary tomb, fabled to be protected by the Death Worms. He knows he must do what he can to kill the creatures, but stopping these monsters may mean destroying his life's work forever!
13.
Tremors II: Aftershocks (1996)
1h 40m Action Horror Comedy Science Fiction Thriller
Those supersucking desert creatures are back --- and this time they're south of the border. As the creatures worm their way through the oil fields of Mexico, the only people who can wrangle them are veteran Earl Bassett and survivalist Burt Gummer. Add to that team a young punk out for cash and a fearless scientist, and the critters don't stand a chance.
1h 24m Horror Thriller
Chris crashes into a carload of other young people, and the group of stranded motorists is soon lost in the woods of West Virginia, where they're hunted by three cannibalistic mountain men who are grossly disfigured by generations of inbreeding.
explore
Check out more list from our community