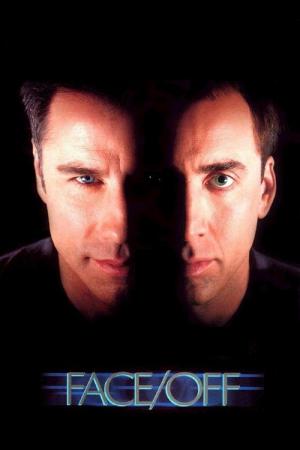 29 Best Movies Like Face Off ...
If you liked this film , you will for sure love these too! In this list we highlight some of the best films that share a very similar mood to '', and are worth checking out.
2h 2m Action Thriller Crime
In Los Angeles, a gang of bank robbers who call themselves The Ex-Presidents commit their crimes while wearing masks of Reagan, Carter, Nixon and Johnson. Believing that the members of the gang could be surfers, the F.B.I. sends young agent Johnny Utah to the beach undercover to mix with the surfers and gather information.
1h 56m Action Thriller Crime
When the government puts all its rotten criminal eggs in one airborne basket, it's asking for trouble. Before you can say, "Pass the barf bag," the crooks control the plane, led by creepy Cyrus "The Virus" Grissom. Watching his every move is the just-released Cameron Poe, who'd rather reunite with his family.
1h 48m Action
When rogue stealth-fighter pilot Vic Deakins deliberately drops off the radar while on maneuvers, the Air Force ends up with two stolen nuclear warheads -- and Deakins's co-pilot, Riley Hale, is the military's only hope for getting them back. Traversing the deserted canyons of Utah, Hale teams with park ranger Terry Carmichael to put Deakins back in his box.
2h 17m Action Adventure Thriller
FBI chemical warfare expert Stanley Goodspeed is sent on an urgent mission with a former British spy, John Patrick Mason, to stop Gen. Francis X. Hummel from launching chemical weapons on Alcatraz Island into San Francisco. Gen. Hummel demands $100 million in war reparations to be paid to the families of slain servicemen who died on covert operations. After their SEAL team is wiped out, Stanley and John deal with the soldiers on their own.
1h 46m Action Crime Thriller
Mark Kaminsky is kicked out of the FBI for his rough treatment of a suspect. He winds up as the sheriff of a small town in North Carolina. FBI Chief Harry Shannon, whose son has been killed by a mobster named Patrovina, enlists Kaminsky in a personal vendetta with a promise of reinstatement into the FBI if Patrovina is taken down. To accomplish this, he must go undercover and join Patrovina's gang.
1h 55m Crime Action Science Fiction
Simon Phoenix, a violent criminal cryogenically frozen in 1996, escapes during a parole hearing in 2032 in the utopia of San Angeles. Police are incapable of dealing with his violent ways and turn to his captor, who had also been cryogenically frozen after being wrongfully accused of killing 30 innocent people while apprehending Phoenix.
1h 38m Action Comedy Crime
When Hong Kong Inspector Lee is summoned to Los Angeles to investigate a kidnapping, the FBI doesn't want any outside help and assigns cocky LAPD Detective James Carter to distract Lee from the case. Not content to watch the action from the sidelines, Lee and Carter form an unlikely partnership and investigate the case themselves.
2h 11m Action Thriller
NYPD cop John McClane's plan to reconcile with his estranged wife is thrown for a serious loop when, minutes after he arrives at her office, the entire building is overtaken by a group of terrorists. With little help from the LAPD, wisecracking McClane sets out to single-handedly rescue the hostages and bring the bad guys down.
1h 29m Thriller Action
While attempting to flee from the FBI, the criminal Frank Dallio kills Detective McKenna's wife, Rachel. McKenna himself is shot in the face by the professional killer Lyle Mason, who dies in a car crash shortly thereafter. The FBI persuades McKenna to undergo facial surgery and take the place of Lyle Mason in order to find Dallio and a valuable microchip.
1h 32m Drama Action Crime Thriller
Red is an aging scam-artist who's just been released from prison together with Ronnie, a young and not-so-bright hoodlum who is easily manipulated. Their new business is to organize fake-money sales and then kill the buyer to take his money; but when Ronnie kills an undercover secret service agent, his partner Jimmy Mercer vows revenge and is given one week to catch the killers before being transferred. Written by Giancarlo Cairella
2h 30m Action Crime Thriller
After fighting his way through an apartment building populated by an army of dangerous criminals and escaping with his life, SWAT team member Rama goes undercover, joining a powerful Indonesian crime syndicate to protect his family and uncover corrupt members of his own force.
1h 39m Action Crime Thriller
Rogue agent Gabriel Shear is determined to get his mitts on $9 billion stashed in a secret Drug Enforcement Administration account. He wants the cash to fight terrorism, but lacks the computer skills necessary to hack into the government mainframe. Enter Stanley Jobson, a n'er-do-well encryption expert who can log into anything.
1h 35m Action Crime Thriller
After surviving an attempt on his life by his former partner, officer Cliff Garrett (Norris) exacts revenge on those who wronged him by going undercover as a hit man. He works to gain the reputation and trust needed in order to be accepted by the burgeoning Seattle-area criminal underworld, but it is all done in order to take it down from within.
14.
Fire with Fire (2012)
1h 37m Action Crime Drama Thriller
A fireman takes an unexpected course of action when a man whom he's been ordered to testify against—after being held up at a local convenience store—threatens him.
1h 24m Action Thriller Science Fiction
Set in the ghettos of Paris in 2010, an undercover cop and ex-thug try to infiltrate a gang in order to defuse a neutron bomb.
1h 57m Drama Action Thriller Crime
When CIA Analyst Jack Ryan interferes with an IRA assassination, a renegade faction targets Jack and his family as revenge.
1h 33m Action Crime
The Canadian policeman Louis Burke is assigned in a jail to investigate the murders of prisoners and jailors. When in jail, Louis, using his outstandings martial arts skills, is able to save his life and make himself respected in that violent world. At least, helped by two another prisoners, he succeded in finding the truth about the dreadful crimes. In a violent and corrupt prison, decorated cop Louis Burke must infiltrate the jail to find answers to a number of inside murders. What he finds is a struggle of life and death tied in to his own past.
18.
Assault on Precinct 13 (1976)
1h 31m Thriller Action Crime
The lone inhabitants of an abandoned police station are under attack by the overwhelming numbers of a seemingly unstoppable street gang.
1h 46m Action Crime Science Fiction Thriller
The Law Enforcement Technology Advancement Centre (LETAC) has developed SID version 6.7: a Sadistic, Intelligent, and Dangerous virtual reality entity which is synthesized from the personalities of more than 150 serial killers, and only one man can stop him.
20.
From Paris with Love (2010)
1h 32m Action Crime Thriller
James Reese has a good job as an ambassador's aid in France, but his real passion is a side gig—working in a minor role in the CIA. He would love to be a full-fledged agent and can't believe his luck when he lands an assignment with Charlie Wax. Trigger-happy Charlie soon has James crying for his desk job, but when he learns that the same guys they're trying to catch are after him, James realises that Charlie may be his only hope of survival.
1h 43m Action Thriller
FBI agent Jack Crawford is out for revenge when his partner is killed and all clues point to the mysterious assassin Rogue. But when Rogue turns up years later to take care of some unfinished business, he triggers a violent clash of rival gangs. Will the truth come out before it's too late? And when the dust settles, who will remain standing?
22.
The Replacement Killers (1998)
1h 27m Action Drama Crime Thriller Mystery
Hired assassin John Lee is asked by Chinatown crime boss Terence Wei to murder the young son of policeman Stan Zedkov. Lee has the boy in his sights, but his conscience gets the better of him, and he spares the child's life. Afraid that Wei will take revenge on his family in China, Lee seeks out expert forger Meg Coburn to obtain the passport he needs to get out of the country, but a band of replacement killers is soon on his trail.
2h 13m Crime Thriller Action
A man is released from prison to help American and Chinese authorities pursue a mysterious cyber criminal. The dangerous search leads them from Chicago to Hong Kong.
24.
Gone in Sixty Seconds (2000)
1h 58m Action Crime Thriller
Upon learning that he has to come out of retirement to steal 50 cars in one night to save his brother Kip's life, former car thief Randall "Memphis" Raines enlists help from a few "boost happy" pals to accomplish a seemingly impossible feat. From countless car chases to relentless cops, the high-octane excitement builds as Randall swerves around more than a few roadblocks to keep Kip alive.
2h 1m Thriller Action Crime Drama
Blown Away tells the story of Jimmy Dove who works for the Boston bomb squad. Shortly after Dove leaves the force his partner is killed by a bomb that Dove thinks might have been made by someone he knows.
2h 4m Action Crime Drama
When undercover FBI agent Frank Castle's wife and son are slaughtered, he becomes 'the Punisher' -- a ruthless vigilante willing to go to any length to avenge his family.
27.
Black Moon Rising (1986)
1h 40m Action
An FBI free-lancer stashes a stolen Las Vegas-crime tape in a high-tech car stolen by someone else.
1h 31m Action Thriller Science Fiction Crime Horror
Jack Caine is a Houston vice cop who's forgotten the rule book. His self-appointed mission is to stop the drugs trade and the number one supplier Victor Manning. Whilst involved in an undercover operation to entrap Victor Manning, his partner gets killed, and a sinister newcomer enters the scene...
explore
Check out more list from our community