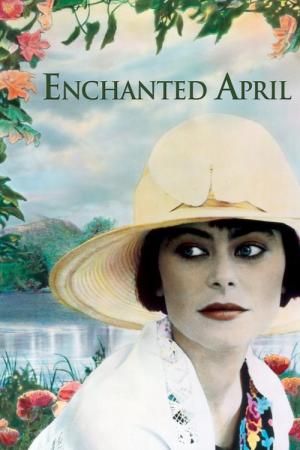 23 Best Movies Like Enchanted April ...
If you liked this film , you will for sure love these too! In this list we highlight some of the best films that share a very similar mood to '', and are worth checking out.
1.
A Month by the Lake (1995)
1h 42m Comedy Drama Romance
No sooner does Italian-American widow Loretta accept a marriage proposal from her doltish boyfriend, Johnny, than she finds herself falling for his younger brother, Ronny. She tries to resist, but Ronny lost his hand in an accident he blames on his brother, and has no scruples about aggressively pursuing her while Johnny is out of the country. As Loretta falls deeper in love, she comes to learn that she's not the only one in her family with a secret romance.
4.
Mrs. Palfrey at the Claremont (2005)
5.
A Room with a View (1985)
1h 57m Drama Romance
When Lucy Honeychurch and chaperon Charlotte Bartlett find themselves in Florence with rooms without views, fellow guests Mr Emerson and son George step in to remedy the situation. Meeting the Emersons could change Lucy's life forever but, once back in England, how will her experiences in Tuscany affect her marriage plans?
6.
Rich and Famous (1981)
1h 55m Drama
Two literary women compete for 20 years: one writes for the critics; the other one, to get rich.
1h 47m Drama
During a long, hot summer in seventies London, young neighbors Holly and Marina make a childhood pact to be friends forever. For Marina, troubled, fiercely independent, determined to try everything, Holly stays the only constant in a life of divorcing parents, experimental drugs and fashionable self-destruction. But for Holly, a friendship that has never been equal gradually starts to feel like a trap.
8.
The Four Seasons (1981)
1h 47m Comedy Drama Romance
Three middle-aged wealthy couples take vacations together in Spring, Summer, Autumn and Winter. Along the way we are treated to mid-life, marital, parental and other crises.
9.
Pride & Prejudice (2005)
2h 7m Drama Romance
A story of love and life among the landed English gentry during the Georgian era. Mr. Bennet is a gentleman living in Hertfordshire with his overbearing wife and five daughters, but if he dies their house will be inherited by a distant cousin whom they have never met, so the family's future happiness and security is dependent on the daughters making good marriages.
2h 1m Comedy Drama Romance
Emma Woodhouse is a congenial young lady who delights in meddling in other people's affairs. She is perpetually trying to unite men and women who are utterly wrong for each other. Despite her interest in romance, Emma is clueless about her own feelings, and her relationship with gentle Mr. Knightly.
11.
Nelly & Monsieur Arnaud (1995)
12.
How to Make an American Quilt (1995)
1h 56m Drama Romance
Soon-to-be-wed graduate student Finn Dodd develops cold feet when she suspects her fiancé is cheating on her. In order to clear her head, Finn visits her grandmother, Hy, and great aunt, Glady Joe Cleary, in Grasse, Calif. There, Finn learns that Hy and Glady Joe are members of a group of passionate quilters, and over the course of her visit she is regaled with tales of love and life by women who have collected rich experiences and much wisdom.
13.
The Importance of Being Earnest (2002)
1h 37m Comedy Drama History Romance
Two young gentlemen living in 1890s England use the same pseudonym ("Ernest") on the sly, which is fine until they both fall in love with women using that name, which leads to a comedy of mistaken identities...
14.
Educating Rita (1983)
1h 50m Drama Comedy
Rita, a witty 26-year-old hairdresser, wants to 'discover' herself so she joins an Open University where she meets the disillusioned professor of literature, Dr. Frank Bryant. His marriage has failed, his new girlfriend is having an affair with his best friend and he can't get through the day without downing a bottle or two of whisky. What Frank needs is a challenge... and along comes Rita.
15.
Between Two Women (2004)
1h 32m Drama Romance
Set in a Yorkshire milltown in 1957, Ellen Hardy is unhappily married but is close to her ten-year-old son, Victor. The family has recently moved house and Victor has started at a new school where Ellen has become friendly with his teacher, Kathy Thompson, who is keen to encourage him at art. As the friendship between the two women grows, Ellen's millworker husband, Hardy, feels increasingly alienated at home.
16.
Fried Green Tomatoes (1991)
2h 10m Drama Comedy
Amidst her own personality crisis, southern housewife Evelyn Couch meets Ninny, an outgoing old woman who tells her the story of Idgie Threadgoode and Ruth Jamison, two young women who experienced hardships and love in Whistle Stop, Alabama in the 1920s.
1h 40m Drama Romance
Despite her sheltered upbringing, Jenny is a teen with a bright future; she's smart, pretty, and has aspirations of attending Oxford University. When David, a charming but much older suitor, motors into her life in a shiny automobile, Jenny gets a taste of adult life that she won't soon forget.
19.
Circle of Friends (1995)
1h 43m Drama Romance
Three girlhood friends now at college share first loves, first kisses and first betrayals. At the center of it all is the best-looking boy on campus. Can a self-conscious dreamer hook the biggest fish in the pond?
1h 48m Comedy Drama Romance
Simple Italian postman learns to love poetry while delivering mail to a famous poet; he uses this to woo local beauty Beatrice.
1h 42m Comedy Drama Romance
Caroline, a young waitress who seems to have bad taste in men, is on her way home one night when thugs attempt to rape her. Adam, the mysterious busboy who works at the same diner, helps fight off the assailants, and she begins a relationship with him -- but not all their fellow Minnesotans are happy for them. Meanwhile, the couple face their own difficulties when Caroline finds about Adam's past, including his unique health condition.
1h 47m Drama Romance
A romantic comedy centered on Dexter and Emma, who first meet during their graduation in 1988 and proceed to keep in touch regularly. The film follows what they do on July 15 annually, usually doing something together.
explore
Check out more list from our community