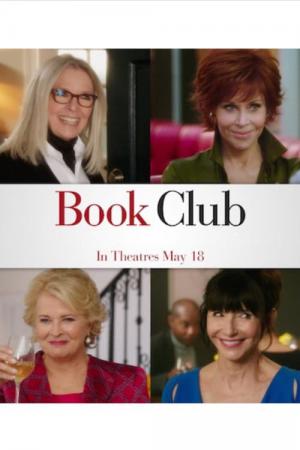 13 Best Movies Like Book Club ...
If you liked this movie , you will probably love these too! In this list we highlight some of the best films that share a very similar premise to 'Book Club', and are worth checking out.
1h 39m Comedy Romance
Henry is a player skilled at seducing women. But when this veterinarian meets Lucy, a girl with a quirky problem when it comes to total recall, he realizes it's possible to fall in love all over again…and again, and again. That's because the delightful Lucy has no short-term memory, so Henry must woo her day after day until he finally sweeps her off her feet.
3.
Sex and the City 2 (2010)
2h 26m Comedy Drama Romance
Carrie, Charlotte, and Miranda are all married now, but they're still up for a little fun in the sun. When Samantha gets the chance to visit one of the most extravagant vacation destinations on the planet and offers to bring them all along, they surmise that a women-only retreat may be the perfect excuse to eschew their responsibilities and remember what life was like before they decided to settle down.
4.
How to Make an American Quilt (1995)
1h 56m Drama Romance
Soon-to-be-wed graduate student Finn Dodd develops cold feet when she suspects her fiancé is cheating on her. In order to clear her head, Finn visits her grandmother, Hy, and great aunt, Glady Joe Cleary, in Grasse, Calif. There, Finn learns that Hy and Glady Joe are members of a group of passionate quilters, and over the course of her visit she is regaled with tales of love and life by women who have collected rich experiences and much wisdom.
6.
Jane Wants a Boyfriend (2015)
1h 41m Romance Drama
A young woman with Asperger's tries to find her first boyfriend with a little help from her older sister.
7.
Steel Magnolias (1989)
1h 59m Comedy Drama Romance
This heart wrenching drama is about a beauty shop, in Louisana owned by Truvy, and the tragedies of all of her clients.
8.
It Could Happen to You (1994)
1h 41m Comedy Drama Romance
Charlie Lang is a simple, kindhearted New York City cop. When he realizes he has no money to tip waitress Yvonne Biasi, Lang offers her half the winnings of his lottery ticket. Amazingly, the ticket happens to be a winner, in the sum of $4 million. True to his word, Lang proceeds to share the prize money with Biasi, which infuriates his greedy wife, Muriel. Not content with the arrangement, Muriel begins scheming to take all the money.
1h 40m Romance Comedy
Maya, a 40-year-old woman struggling with frustrations from unfulfilled dreams. Until that is, she gets the chance to prove to Madison Avenue that street smarts are as valuable as book smarts, and that it is never too late for a second act.
1h 37m Comedy Drama Romance
Publishing assistant Brett Eisenberg wants to be a big-time editor. However, she lacks self-confidence, a problem that isn't helped by her new, overbearing boss. Brett soon enters into a relationship with Archie, an older man who has plenty of his own issues, including alcoholism, diabetes and a difficult relationship with his daughter. Intent on helping Archie get past his problems, she turns to her dying father for advice.
1h 35m Romance Comedy
A 29-year-old lawyer and her lesbian best friend experience a dramatic shift in their longtime bond after one enters a serious relationship.
1h 41m Comedy Romance Drama
An unmarried 40-year-old woman turns to a turkey baster in order to become pregnant. Seven years later, she reunites with her best friend, who has been living with a secret: he replaced her preferred sperm sample with his own.
13.
Sex and the City (2008)
2h 25m Comedy Drama Romance
A New York writer on sex and love is finally getting married to her Mr. Big. But her three best girlfriends must console her after one of them inadvertently leads Mr. Big to jilt her.
explore
Check out more list from our community