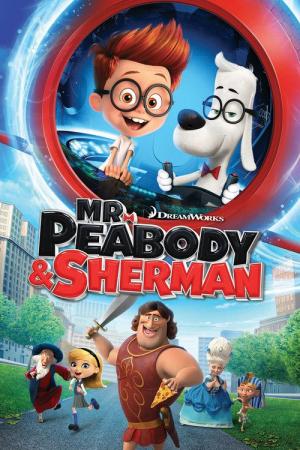 26 Best Movies Like Mr Peabody And Sherman ...
If you liked this film , you will for sure love these too! In this collection we highlight some of the best films that share a very similar premise to '', and are worth checking out.
1.
Meet the Robinsons (2007)
1h 35m Animation Comedy Family
Lewis, a brilliant young inventor, is keen on creating a time machine to find his mother, who abandoned him in an orphanage. Things take a turn when he meets Wilbur Robinson and his family.
1h 42m Adventure Family Animation Action Comedy
The special bond that develops between plus-sized inflatable robot Baymax, and prodigy Hiro Hamada, who team up with a group of friends to form a band of high-tech heroes.
3.
Cloudy with a Chance of Meatballs (2009)
1h 30m Animation Comedy Family
Inventor Flint Lockwood creates a machine that makes clouds rain food, enabling the down-and-out citizens of Chewandswallow to feed themselves. But when the falling food reaches gargantuan proportions, Flint must scramble to avert disaster. Can he regain control of the machine and put an end to the wild weather before the town is destroyed?
4.
Alvin and the Chipmunks: Chipwrecked (2011)
1h 27m Comedy Fantasy Family Music Animation
Playing around while aboard a cruise ship, the Chipmunks and Chipettes accidentally go overboard and end up marooned in a tropical paradise. They discover their new turf is not as deserted as it seems.
5.
Jimmy Neutron: Boy Genius (2001)
1h 23m Action Adventure Animation Comedy Family Fantasy Science Fiction
Jimmy Neutron is a boy genius and way ahead of his friends, but when it comes to being cool, he's a little behind. All until one day when his parents, and parents all over Earth are kidnapped by aliens, it's up to him to lead all the children of the world to rescue their parents.
1h 26m Animation Family
A 12-year-old boy searches for the one thing that will enable him to win the affection of the girl of his dreams. To find it he must discover the story of the Lorax, the grumpy yet charming creature who fights to protect his world.
7.
Stitch! The Movie (2003)
1h Comedy Adventure Family Animation
The continuing adventures of Lilo, a little Hawaiian girl, and Stitch, the galaxy's most wanted extraterrestrial. Stitch, Pleakley, and Dr. Jumba are all part of the household now. But what Lilo and Stitch don't know is that Dr. Jumba brought one of his alien "experiments" to Hawaii.
1h 21m Animation Family Comedy
When the sky really is falling and sanity has flown the coop, who will rise to save the day? Together with his hysterical band of misfit friends, Chicken Little must hatch a plan to save the planet from alien invasion and prove that the world's biggest hero is a little chicken.
9.
Phineas and Ferb the Movie: Across the 2nd Dimension (2011)
1h 18m Animation Comedy Family TV Movie Music Mystery Adventure
Perry's worst fear comes true when Phineas and Ferb finds out that he is in fact Secret Agent P, but that soon pales in comparison during a trip to the 2nd dimension where Perry finds out that Dr. Doofenshmirtz is truly evil and successful.
1h 25m Animation Adventure Comedy Family
When a daredevil kid named Ernie, his sister Julia, and his best friend Max are horsing around in Max's inventor father's workshop, they accidentally trip a time-machine into operation and find themselves transported back in time 65 million years, where they meet a T-Rex named Tyra and her rambunctious dinosaur son Dodger. The unlikely group find themselves on an amazing adventure exploring the lush prehistoric jungle, despite Tyra's evil dinosaur rivals conspiring against them - while, back in the present day, Max's dad and Ernie and Julia's overprotective mom plot their rescue.
1h 31m Animation Comedy Family
Two turkeys from opposite sides of the tracks must put aside their differences and team up to travel back in time to change the course of history—and get turkey off the holiday menu for good.
1h 38m Animation Family Adventure Comedy
Bolt is the star of the biggest show in Hollywood. The only problem is, he thinks it's real. After he's accidentally shipped to New York City and separated from Penny, his beloved co-star and owner, Bolt must harness all his "super powers" to find a way home.
1h 36m Comedy Adventure Family
A young Peruvian bear travels to London in search of a new home. Finding himself lost and alone at Paddington Station, he meets the kindly Brown family.
14.
The SpongeBob Movie: Sponge Out of Water (2015)
1h 32m Adventure Comedy Family Fantasy Animation
Burger Beard is a pirate who is in search of the final page of a magical book that makes any evil plan he writes in it come true, which happens to be the Krabby Patty secret formula. When the entire city of Bikini Bottom is put in danger, SpongeBob, Patrick, Mr. Krabs, Squidward, Sandy, and Plankton need to go on a quest that takes them to the surface. In order to get back the recipe and save their city, the gang must retrieve the book and transform themselves into superheroes.
1h 45m Fantasy Family Comedy Animation
The evil wizard Gargamel creates a couple of mischievous Smurf-like creatures called the Naughties that he hopes will let him harness the all-powerful, magical Smurf-essence. But when he discovers that only a real Smurf can give him what he wants, and only a secret spell that Smurfette knows can turn the Naughties into real Smurfs, Gargamel kidnaps Smurfette and brings her to Paris, where he has been winning the adoration of millions as the world¹s greatest sorcerer. It's up to Papa, Clumsy, Grouchy, and Vanity to return to our world, reunite with their human friends Patrick and Grace Winslow, and rescue her! Will Smurfette, who has always felt different from the other Smurfs, find a new connection with the Naughties Vexy and Hackus or will the Smurfs convince her that their love for her is True Blue?
16.
The Mitchells vs. The Machines (2021)
1h 54m Animation Adventure Comedy Family Science Fiction
A quirky, dysfunctional family's road trip is upended when they find themselves in the middle of the robot apocalypse and suddenly become humanity's unlikeliest last hope.
17.
Planes: Fire & Rescue (2014)
1h 23m Animation Comedy Adventure Family
When world-famous air racer Dusty learns that his engine is damaged and he may never race again, he must shift gears and is launched into the world of aerial firefighting. Dusty joins forces with veteran fire and rescue helicopter Blade Ranger and his team, a bunch of all-terrain vehicles known as The Smokejumpers. Together, the fearless team battles a massive wildfire, and Dusty learns what it takes to become a true hero.
18.
Yona Yona Penguin (2009)
1h 25m Family Animation Adventure
Rintaro directs a tale of three children who visit a land of wonder. This is the first "3D anime" that Madhouse has produced. Oh, and there are penguins.
1h 21m Animation Family Adventure Comedy Science Fiction
Three chimps are sent into space to explore the possibility of alien life when an unmanned space shuttle crash lands on an uncharted planet.
20.
Digimon: The Movie (2000)
1h 22m Fantasy Animation Science Fiction Family
The first story focused on Tai and Kari Kamiya four years before their adventure in the Digital World. It shows their first encounter with Digimon and what happened to them (as well as the other children). Tai and Kari wake one morning to find a Digi-Egg that came out of their computer the night before and the egg soon hatches, revealing a Botamon. The Digimon then evolves into Koromon and then Agumon (not the same one that became friends with Tai in the series, and yet, somehow, both Koromon and Kari remember each other), who then goes out and unintentionally destroys a good part of the neighborhood with Kari riding on his back. A second Digi-Egg appears in the sky to reveal an evil digimon, Parrotmon. Agumon then Digivolves to Greymon but isn't strong enough to beat Parrotmon and is knocked out. Tai grabs Kari's whistle and wakes up Greymon, who defeats Parrotmon and disappears with him.
21.
The Adventures of Rocky & Bullwinkle (2000)
1h 28m Family Adventure Animation Comedy Fantasy
Rocky and Bullwinkle have been living off the finances made from the reruns of their cartoon show. Boris and Natasha somehow manage to crossover into reality and team up with Fearless Leader, an evil criminal turned media mogul with some evil plans up his sleeve. Rocky and Bullwinkle must stop the three of them before they wreak havoc.
22.
Cloudy with a Chance of Meatballs 2 (2013)
1h 35m Animation Family Comedy
After the disastrous food storm in the first film, Flint and his friends are forced to leave the town. Flint accepts the invitation from his idol Chester V to join The Live Corp Company, which has been tasked to clean the island, and where the best inventors in the world create technologies for the betterment of mankind. When Flint discovers that his machine still operates and now creates mutant food beasts like living pickles, hungry tacodiles, shrimpanzees and apple pie-thons, he and his friends must return to save the world.
23.
Scooby-Doo! Frankencreepy (2014)
1h 14m Mystery Animation Family Comedy
Scooby-Doo and those "meddling kids" Shaggy, Fred, Daphne and Velma are back in this all-new original movie! Velma discovers she's inherited her great-great-uncle Dr. Von Dinkenstein's cursed castle in the terrifying town of Transylvania…Pennsylvania, that is. Just when the Gang persuades Velma to go claim her inheritance, the ghost of Dinkenstein Castle blows up the Mystery Machine as a warning! Now the Crew must spring back into action, but this time it's personal! Who's responsible for the Dinkenstein monster? What family secret has Velma been hiding? Will Fred recover from the loss of his beloved Mystery Machine? Can any helpless snack survive Scooby and Shaggy's monster-sized appetites? This Scooby-Doo adventure has enough spooky fun to make the whole family come alive!
1h 28m Fantasy Adventure Animation Comedy Family
Fed up with being targeted by the neighborhood bully, 10-year-old Lucas Nickle vents his frustrations on the anthill in his front yard ... until the insects shrink him to the size of a bug with a magic elixir. Convicted of "crimes against the colony," Lucas can only regain his freedom by living with the ants and learning their ways.
25.
Curious George (2006)
1h 27m Adventure Animation Comedy Family
When The Man in the Yellow Hat befriends Curious George in the jungle, they set off on a non-stop, fun-filled journey through the wonders of the big city toward the warmth of true friendship.
explore
Check out more list from our community