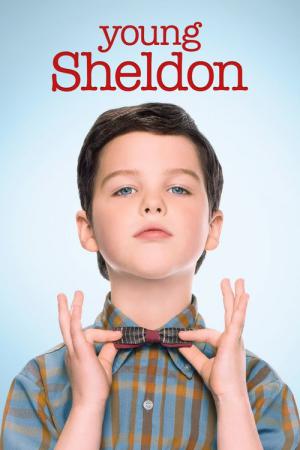 18 Best Shows Like Young Sheldon ...
If you liked this one , you will probably love these too! In this selection we highlight some of the best films that share a very similar mood to '', and are worth checking out.
1.
The Big Bang Theory (2007)
22m Comedy
The sitcom is centered on five characters living in Pasadena, California: roommates Leonard Hofstadter and Sheldon Cooper; Penny, a waitress and aspiring actress who lives across the hall; and Leonard and Sheldon's equally geeky and socially awkward friends and co-workers, mechanical engineer Howard Wolowitz and astrophysicist Raj Koothrappali. The geekiness and intellect of the four guys is contrasted for comic effect with Penny's social skills and common sense.
22m Comedy
The daily mishaps of a married woman and her semi-dysfunctional family and their attempts to survive life in general in the city of Orson, Indiana.
3.
Fresh Off the Boat (2015)
22m Comedy
A '90s-set single-camera comedy about a hip-hop-loving Asian kid growing up in suburban Orlando, being raised by an immigrant father obsessed with all things American and an immigrant mother often bewildered by white culture.
23m Comedy
Mackenzie "Mickey" Murphy is a hard-living, foul-mouthed, cigarette-smoking woman who moves to affluent Greenwich, CT to raise the spoiled kids of her wealthy sister who fled the country to avoid a federal indictment. She quickly learns what the rest of us already know - other people's children are awful.
6.
American Housewife (2016)
21m Comedy
A family comedy narrated by Katie, a strong-willed mother, raising her flawed family in a wealthy town filled with perfect wives and their perfect offspring.
7.
The Fresh Prince of Bel-Air (1990)
Will, a street-smart teenager, moves from the tough streets of West Philly to posh Bel-Air to live with his Uncle Philip, Aunt Vivian, his cousins — spoiled Hilary, preppy Carlton and young Ashley — and their sophisticated British butler, Geoffrey. Though Will's antics and upbringing contrast greatly with the upper-class lifestyle of his extended relatives, he soon finds himself right at home as a loved part of the family.
8.
The Expanding Universe of Ashley Garcia (2020)
30m Comedy
15-year-old scientist Ashley Garcia explores the great unknown of modern teendom after moving across the country to pursue a career in robotics.
9.
The Kids Are Alright (2018)
10.
Malcolm in the Middle (2000)
A gifted young teen tries to survive life with his dimwitted, dysfunctional family.
30m Comedy
Middle school as it really happened. Maya Erskine and Anna Konkle star in this adult comedy, playing versions of themselves as thirteen-year-old outcasts in the year 2000, surrounded by actual thirteen-year-olds, where the best day of your life can turn into your worst with the stroke of a gel pen.
12.
Dickie Roberts: Former Child Star (2003)
1h 38m Comedy
TV child star of the '70s, Dickie Roberts is now 35 and parking cars. Craving to regain the spotlight, he auditions for a role of a normal guy, but the director quickly sees he is anything but normal. Desperate to win the part, Dickie hires a family to help him replay his childhood and assume the identity of an average, everyday kid.
13.
Arrested Development (2003)
22m Comedy
The story of a wealthy family that lost everything, and the one son who had no choice but to keep them all together.
14.
Last Man Standing (2011)
21m Comedy
A married father of three tries to maintain his manliness in a world increasingly dominated by women.
23m Comedy
A family man struggles to gain a sense of cultural identity while raising his kids in a predominantly white, upper-middle-class neighborhood.
17.
The Jim Gaffigan Show (2015)
23m Comedy
Comedy about a husband and wife trying to raise their five kids in a New York two-bedroom apartment.
explore
Check out more list from our community