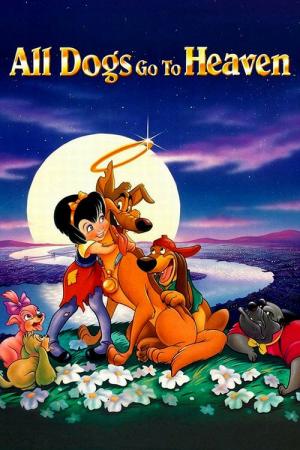 11 Best Movies Like All Dogs Go To Heaven ...
If you liked this movie , you will definitely love these too! In this list we highlight some of the best films that share a very similar mood to 'All Dogs Go to Heaven', and are worth checking out.
1.
The Emperor's New Groove (2000)
1h 18m Adventure Animation Comedy Family Fantasy
Kuzco is a self-centered emperor who summons Pacha from a village and to tell him that his home will be destroyed to make room for Kuzco's new summer home. Kuzco's advisor, Yzma, tries to poison Kuzco and accidentally turns him into a llama, who accidentally ends up in Pacha's village. Pacha offers to help Kuzco if he doesn't destroy his house, and so they form an unlikely partnership.
2.
The Rescuers Down Under (1990)
1h 17m Adventure Animation Family Fantasy
A lawless poacher wants to capture a majestic and rare golden eagle, so he kidnaps the boy who knows where to find the bird. Not to worry -- the Rescue Aid Society's top agents, heroic mice Miss Bianca and Bernard, fly to Australia to save the day. Accompanying the fearless duo are bumbling albatross Wilbur and local field operative Jake the Kangaroo Rat.
3.
The Fox and the Hound (1981)
1h 22m Adventure Animation Drama Family
When a feisty little fox named Tod is adopted into a farm family, he quickly becomes friends with a fun and adorable hound puppy named Copper. Life is full of hilarious adventures until Copper is expected to take on his role as a hunting dog -- and the object of his search is his best friend!
4.
The Secret of NIMH (1982)
1h 22m Animation Family Fantasy Adventure
A widowed field mouse must move her family -- including an ailing son -- to escape a farmer's plow. Aided by a crow and a pack of superintelligent, escaped lab rats, the brave mother struggles to transplant her home to firmer ground.
1h 18m Fantasy Family Animation Adventure
What can two little mice possibly do to save an orphan girl who's fallen into evil hands? With a little cooperation and faith in oneself, anything is possible! As members of the mouse-run International Rescue Aid Society, Bernard and Miss Bianca respond to orphan Penny's call for help. The two mice search for clues with the help of an old cat named Rufus.
6.
Charlotte's Web (1973)
1h 34m Family Music Animation Drama Comedy
Wilbur the pig is scared of the end of the season, because he knows that come that time, he will end up on the dinner table. He hatches a plan with Charlotte, a spider that lives in his pen, to ensure that this will never happen.
1h 25m Adventure Animation Family
When an impulsive boy named Kenai is magically transformed into a bear, he must literally walk in another's footsteps until he learns some valuable life lessons. His courageous and often zany journey introduces him to a forest full of wildlife, including the lovable bear cub Koda, hilarious moose Rutt and Tuke, woolly mammoths and rambunctious rams.
1h 26m Animation Family
A 12-year-old boy searches for the one thing that will enable him to win the affection of the girl of his dreams. To find it he must discover the story of the Lorax, the grumpy yet charming creature who fights to protect his world.
1h 21m Animation Comedy Family Adventure
With the impending ice age almost upon them, a mismatched trio of prehistoric critters – Manny the woolly mammoth, Diego the saber-toothed tiger and Sid the giant sloth – find an orphaned infant and decide to return it to its human parents. Along the way, the unlikely allies become friends but, when enemies attack, their quest takes on far nobler aims.
10.
Bedknobs and Broomsticks (1971)
1h 57m Adventure Fantasy Comedy Family Music Mystery
Three children evacuated from London during World War II are forced to stay with an eccentric spinster (Eglantine Price). The children's initial fears disappear when they find out she is in fact a trainee witch.
11.
Pooh's Heffalump Movie (2005)
1h 8m Family Animation Comedy Fantasy
Who or what exactly is a Heffalump? The lovable residents of the Hundred Acre Wood -- Winnie the Pooh, Rabbit, Tigger, Eeyore, Kanga and the rest of the pack -- embark on a journey of discovery in search of the elusive Heffalump. But as is always the case, this unusual road trip opens their eyes to so much more than just the creature they're seeking.
explore
Check out more list from our community