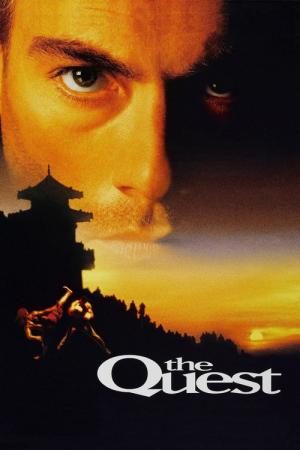 11 Best Movies About Quests ...
If you liked this movie , you will definitely love these too! In this collection we highlight some of the best films that share a very similar mood to 'The Quest', and are worth checking out.
1.
Missing in Action (1984)
2.
The Count of Monte Cristo (2002)
2h 11m Adventure
Edmond Dantés's life and plans to marry the beautiful Mercedes are shattered when his best friend, Fernand, deceives him. After spending 13 miserable years in prison, Dantés escapes with the help of a fellow inmate and plots his revenge, cleverly insinuating himself into the French nobility.
3.
Best of the Best II (1993)
1h 32m Action Adventure Thriller
An earthquake destroys a Russian Nuclear Power plant.
5.
DOA: Dead or Alive (2006)
1h 29m Action Thriller
Former LAPD cop, Dakota Varley, enters a power boat race seeking the prize of $250,000, but immediately discovers, first hand, that this race's risk matches the prize: one racer is killed, 3 others seriously injured in multiple action-packed crashes and explosions. Varley tries to leave the lake and collect his prize money but is drugged and kidnapped by Dawson and thrown into a different world: a world where survival means everything and no-one follows the rules. Surrounded by heavily-armed men, he soon learns that he and six other victims have been assembled to be contestants in the ultimate survival game: they will be hunted nightly by hunters with rifles until there is one remaining survivor, who will win a $10,000,000 cash prize!
1h 43m Action
Nick Gunar is a burnt-out, jaded and hard-up former mercenary who is having a difficult time adjusting to civilian life. At the end of his rope, he is hired by the Nitro Mine Corporation to strong-arm the natives of a South China Sea island into giving up their rights to its valuable mineral resources. Nick loathes the thought of another mission, but this seemingly easy job will earn him enough money to get back with his estranged family. He recruits some of his former mercenary buddies to help him with the job. The island people refuse to give up their land and Nick decides to help them fight the greedy corporation that hired him. As greed and treachery begin to unravel, Nick's band of mercenaries choose sides.
1h 45m Action
Lyon Gaultier is a deserter in the Foreign Legion arriving in the USA entirely hard up. He finds his brother between life and death and his sister-in-law without the money needed to heal her husband and to maintain her child. To earn the money needed, Gaultier decides to take part in some very dangerous clandestine fights.
1h 45m Action Drama
In Beijing, a young martial artist's skill places him in position to experience opportunities and sacrifices.
10.
The Wild Geese (1978)
2h 14m Action War
A British multinational company seeks to overthrow a vicious dictator in central Africa. It hires a band of (largely aged) mercenaries in London and sends them in to save the virtuous but imprisoned opposition leader who is also critically ill and due for execution. Just when the team has performed a perfect rescue, the multinational does a deal with the vicious dictator leaving the mercenary band to escape under their own steam and exact revenge.
11.
Mortal Kombat: Annihilation (1997)
1h 35m Action Fantasy Science Fiction
A group of heroic warriors has only six days to save the planet in "Mortal Kombat Annihilation." To succeed they must survive the most spectacular series of challenges any human, or god, has ever encountered as they battle an evil warlord bent on taking control of Earth. Sequel to the film "Mortal Kombat," and based on the popular video game.
explore
Check out more list from our community