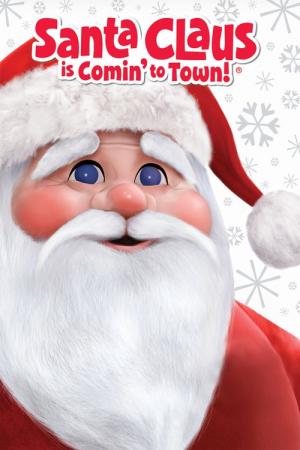 12 Best Miser Brothers Movies ...
If you liked this one , you will probably love these too! In this selection we highlight some of the best films that share a very similar mood to 'Santa Claus Is Comin' to Town', and are worth checking out.
1h 23m Animation Comedy Family
A lowly stable elf finds that he is the only one who can stop an invasion of the North Pole by using the secret of Santa's Sleigh, a TimeGlobe, to travel back in time to Save Santa - twice.
2.
How Murray Saved Christmas (2014)
42m Animation Adventure Comedy
One-hour animated special surrounding a surly deli owner Murray Weiner, who is forced to step into Santa's shoes for one Christmas and bumbles his way into doing a great job.
3.
Little Nemo: Adventures in Slumberland (1989)
1h 35m Adventure Animation Family Fantasy
A little boy whose dreams transcend reality is sucked into his own fantasy, which is everything he has dreamed of, until he unleashes an old secret that may not only destroy this perfect dream world but reality itself.
4.
The Adventures of Brer Rabbit (2006)
1h 11m Family Animation
Get ready for all of the laughs, adventure and hip-hopping good times in this all-new imaginative and modern retelling of Uncle Remus' best-loved tales. Parents and kids alike will delight in the escapades of the most mischievous and clever Brer Rabbit as he gleefully outwits Brer Fox, Brer Bear and a whole cast of other critters!
5.
Elf: Buddy's Musical Christmas (2014)
43m Animation Family Fantasy TV Movie
Santa narrates the story of Buddy's travels to New York City to meet the father he never knew he had. Along the way his unrelenting cheer transforms the lives of everyone he meets and opens his father's eyes to the magic of Christmas.
6.
The Pirates Who Don't Do Anything: A VeggieTales Movie (2008)
1h 26m Adventure Animation Comedy Science Fiction Family
A boatload of beloved VeggieTales pals embark on a fun and fresh pirate adventure with their trademark humor and silly songs in The Pirates Who Don't Do Anything - A VeggieTales Movie! Larry the Cucumber, Mr. Lunt and Pa Grape find themselves on the ride of their lives when they are mysteriously whisked back to the time when pirates ruled the high seas.
7.
The Tigger Movie (2000)
1h 17m Family Animation Comedy
Winnie the Pooh, Piglet, Owl, Kanga, Roo, and Rabbit are preparing a suitable winter home for Eeyore, the perennially dejected donkey, but Tigger's continual bouncing interrupts their efforts. Rabbit suggests that Tigger go find others of his kind to bounce with, but Tigger thinks "the most wonderful thing about tiggers is" he's "the only one!" Just in case though, the joyously jouncy feline sets out to see if he can find relatives.
8.
Care Bears: Journey to Joke-a-Lot (2004)
1h 20m Comedy Family Animation
Funshine Bear travels to Joke-a-lot where the people there crown him king.
9.
The Sandman and the Lost Sand of Dreams (2010)
1h 23m Animation Family
Each night, like every other child in the world, Miko goes to Dreamland thanks to magic sand dispersed by the Sandman. But one night, the evil dream Habumar steals the Sand of Dreams and takes control of Dreamland. The Sandman and his faithful sheep Neopomuk ask Miko to help them get back the precious sand, and to hence foil the plans of terrifying Habumar. So begins a great adventure in a world where all is possible.
10.
Winnie the Pooh: A Very Merry Pooh Year (2002)
1h 5m Animation Family
It's Christmastime in the Hundred Acre Wood and all of the gang is getting ready with presents and decorations. The gang makes a list of what they want for Christmas and send it to Santa Claus - except that Pooh forgot to ask for something. So he heads out to retrieve the letter and get it to Santa by Christmas...which happens to be tomorrow!
11.
A Fairly Odd Christmas (2012)
12.
Care Bears: Oopsy Does It! (2007)
1h 11m Adventure Animation Family
While villain Grizzle plots against the Care Bears, it is up to Oopsy Bear to come to their rescue.
explore
Check out more list from our community