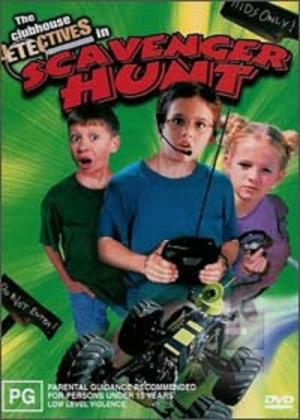 12 Best Clubhouse Detectives In Search Of A Lost Princess ...
If you liked this movie , you will probably love these too! In this selection we highlight some of the best films that share a very similar mood to '', and are worth checking out.
1h 29m Comedy Family Adventure
When an entire town in upstate New York is closed down by an unexpected snowfall, a "snow day" begins when a group of elementary school kids, led by Natalie Brandston, try to ensure that the schools stay closed by stopping a mechanical snowplow driver by trying to hijack his plow truck. Meanwhile, Natalie's big brother Hal is using this day to try to win the affections of Claire Bonner, the most popular girl in his high school, while Hal and Natalie's father Tom, a TV meteorologist, faces off against a rival meteorologist for weather coverage of the day's events.
2.
Caddie Woodlawn (1989)
The exciting adventures of an 11-year-old tomboy growing up in the Wisconsin frontier of the 1860s. Based on the children's book.
25m Animation
Dr. Zitbag's Transylvania Pet Shop was an animated television series created by Tony Barnes and produced by PMMP. The show originally aired on TF1 and it was later dubbed for English audiences as well; even the show's title got a name change. It aired in the United Kingdom on ITV; starting June 16, 1994 and finishing August 27, 1998, the show ran for five seasons. The show also aired on Bulgarian National Television from 1997 until 2000, and became very popular.A comic strip version of the show was included in Buster magazine from September 1994 to November 1996. The series was later repeated on Nickelodeon in the early 2000s until 2004, and had sporadic reruns on ordinary TV from 1999 until 2001.
4.
College Road Trip (2008)
When an overachieving high school student decides to travel around the country to choose the perfect college, her overprotective cop father also decides to accompany her in order to keep her on the straight and narrow.
5.
Grand-Daddy Day Care (2019)
A man has to figure out a way to make extra money when his father-in-law moves in.
6.
Dunston Checks In (1996)
1h 28m Family Comedy Adventure
Hotel manager Robert Grant is forced by his boss to postpone his family vacation when a hotel critic checks in. Trouble is, the critic is really a villainous jewel thief with an orangutan assistant named Dunston. When Dunston gets loose and tries to escape a life of crime -- aided by Robert's sons -- havoc, hijinks and lots of laughs abound!
7.
Stella und der Stern des Orients (2008)
8.
Cheaper by the Dozen 2 (2005)
1h 34m Comedy Family Adventure
Steve Martin and Bonnie Hunt return as heads of the Baker family who, while on vacation, find themselves in competition with a rival family of eight children, headed by Eugene Levy,
9.
Alternate Weeks (2009)
A 12 year old girl and her 8 year old brother live one week with their mother and the next week with their father. The girl blamers her mother, a super businesswoman for the divorce and turns all her anger on her. She prefers the weeks with her father who is flat broke after leaving his bank job to give people free hugs on street corners. Her brother channels his sense of injustice into the battle to save the planet. As the school year progresses and her parents struggle to mend their lives and as the girl approaches her 13th birthday, she learns to see the world in a new way.
10.
Shredderman Rules (2007)
1h 36m Action Adventure Comedy Family
Nolan Byrd (Devon Werkheiser) is a scrawny and shy 9th grader who, like all the other kids, is bullied by Bubba Bixby (Andrew Caldwell). When their teacher, Mr. Green (Tim Meadows), allows the students to do a computer project, Nolan, who has a particular knack with technology, decides to catch Bubba in action.
Climbing aboard their mammoth recreational vehicle for a cross-country road trip to the Colorado Rockies, the McNeive family – led by dysfunctional patriarch, Bob – prepares for the adventure of a lifetime. But spending two weeks together in one seriously small space has a way of cramping their style.
explore
Check out more list from our community