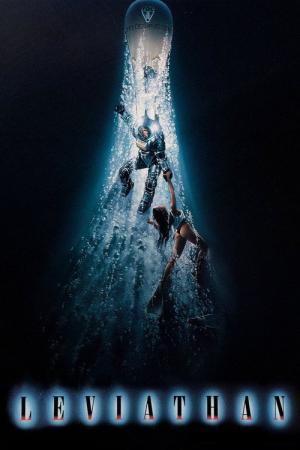 13 Best Movies Like Leviathan ...
If you liked this film , you will definitely love these too! In this selection we highlight some of the best films that share a very similar premise to 'Leviathan', and are worth checking out.
1h 50m Horror Mystery Thriller
A homicide detective teams up with an evolutionary biologist to hunt a giant creature that is killing people in a Chicago museum.
1h 31m Horror Thriller
Genetically mutated bats escape and it's up to a bat expert and the local sheriff to stop them.
1h 31m Horror Science Fiction
Amanda's deathbed request to her son, John, was for him to destroy all the lab notes etc. from her last experiment. She also blurts out he had a brother. At the funeral John meets Melissa, who claims to be his mothers biggest fan. Together with some of John's friends they go to Amanda's house, but none are prepared for what they find there.
1h 43m Horror Science Fiction Mystery Thriller
When paleontologist Kate Lloyd travels to an isolated outpost in Antarctica for the expedition of a lifetime, she joins an international team that unearths a remarkable discovery. Their elation quickly turns to fear as they realize that their experiment has freed a mysterious being from its frozen prison. Paranoia spreads like an epidemic as a creature that can mimic anything it touches will pit human against human as it tries to survive and flourish in this spine-tingling thriller.
1h 39m Horror Action Science Fiction
When the crew of an American tugboat boards an abandoned Russian research vessel, the alien life form aboard regards them as a virus which must be destroyed.
7.
2-Headed Shark Attack (2012)
1h 30m Horror Action Thriller Science Fiction
A Semester at Sea ship is attacked and sunk by a mutated two-headed shark, and the survivors seek refuge on a deserted atoll. The coeds, however, are no longer safe when the atoll starts flooding.
1h 45m Action Horror Thriller Science Fiction
The crew of an experimental underwater nuclear base are forced to struggle for their lives when their explorations disturb a creature who threatens to destroy their base.
1h 32m Action Horror Science Fiction Thriller
In a top secret Cold War military project an unstoppable, malignant organism who feeds on light and energy is unleashed threatening to destroy everything in its path.
1h 46m Adventure Action Horror Science Fiction
A group of heavily armed hijackers board a luxury ocean liner in the South Pacific Ocean to loot it, only to do battle with a series of large-sized, tentacled, man-eating sea creatures who have taken over the ship first.
1h 35m Action Horror Science Fiction Thriller
After an earthquake destroys their underwater station, six researchers must navigate two miles along the dangerous, unknown depths of the ocean floor to make it to safety in a race against time.
1h 35m Adventure Horror Science Fiction
Arachnid is a 2001 film directed by Jack Sholder. In this movie, giant killer spiders menace survivors of a plane crash.
13.
Shark Attack 2 (2000)
explore
Check out more list from our community