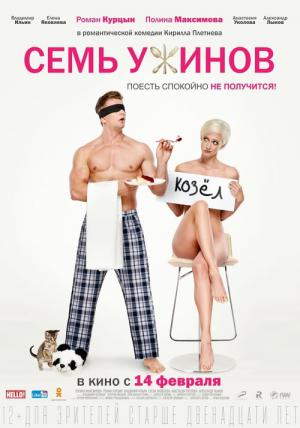 12 Best I Am Losing Weight ...
If you liked this movie , you will probably love these too! In this selection we highlight some of the best films that share a very similar mood to 'Seven Dinners', and are worth checking out.
1.
Happy Anniversary (2018)
1h 18m Romance Comedy
A quirky couple spends their three-year dating anniversary looking back at their relationship and contemplating whether they should break up.
2.
Ex 2: Still Friends (2011)
1h 38m Comedy
Marco encounters his ex-girlfriend Consueloand starts seeing her without telling that he has just married. Antonio is an MP and during his European trip he has a love affair with elegant Olga who has a big secret to hide. Recently-jilted Fabio is mistaken for psychiatrist by a beautiful girl Valentina with whom he falls in love. A divorce lawyer Sandra is romantically attracted to her client's husband Massimo.
32m News
We don't have an overview translated in English. Help us expand our database by adding one.
4.
Our Happy Holiday (2018)
5.
From 180 & Taller (2005)
1h 33m Comedy Romance
Administrator of a Fitness-Club Kostya thinks that having a woman taller than 180sm by a man's side is a symbol of his prosperity and success. But he can only dream of having a 180sm beauty by his side. One day he decides to go on a date with one of his 180sm tall Fitness-Club members, after calling almost all the women he doesn't get a single acceptation : each of them has her own problems with men. However, accidentally it happens that way that he happens to be on a date with all of his dream ladies...
7.
Some Kind Of Beautiful (2014)
8.
Kidnapping, Caucasian Style (2014)
9.
Finding Mr. Destiny (2010)
1h 39m Comedy Romance
Two large women struggle to find love and acceptance in a culture where thin is in. Their lives take a dramatic turn when they meet the men of their dreams in completely unexpected ways.
11.
The Truth About Cats & Dogs (1996)
1h 33m Comedy Romance
A successful veterinarian and radio show host with low self-esteem asks her model friend to impersonate her when a handsome man wants to see her.
12.
A Woman as a Friend (2014)
1h 28m Romance Comedy
Francis and Claudia are good friends . He is a lawyer, she is veterinary doctor. Among them there are no secrets , until John arrives. Claudia decides to marry him. Francis realizes that friendship between man and women is more complicated.
explore
Check out more list from our community