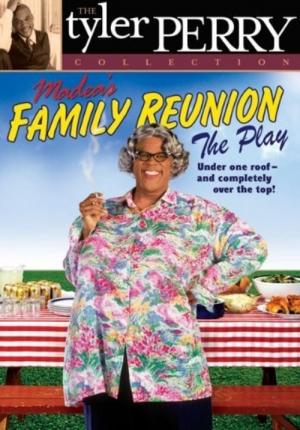 10 Best Family Reunion Movies List ...
If you liked this one , you will probably love these too! In this collection we highlight some of the best films that share a very similar mood to 'Madea's Family Reunion', and are worth checking out.
1.
Something to Talk About (1995)
1h 46m Comedy Drama
Grace Bichon, who is managing her father's riding-stable, discovers that her husband Eddie is deceiving her with another woman. After confronting him in the middle of the night on the streets of their small home town, she decides to stay at her sister Emma Rae's house for a while to make up her mind. Breaking out of her everyday life, she starts to question the authority of everyone.
2.
The Family Stone (2005)
1h 43m Comedy Drama Romance
An uptight, conservative businesswoman accompanies her boyfriend to his eccentric and outgoing family's annual Christmas celebration and finds that she's a fish out of water in their free-spirited way of life.
3.
Nothing Like the Holidays (2008)
1h 38m Comedy Drama Romance
It's Christmastime and the far-flung members of the Rodriguez family are converging at their parents' home in Chicago to celebrate the season and rejoice in their youngest brother's safe return from combat overseas.
4.
I Can Do Bad All by Myself (2009)
1h 53m Drama Comedy
When Madea catches sixteen-year-old Jennifer and her two younger brothers looting her home, she decides to take matters into her own hands and delivers the young delinquents to the only relative they have: their aunt April. A heavy-drinking nightclub singer who lives off of Raymond, her married boyfriend, April wants nothing to do with the kids.
5.
The Evening Star (1996)
2h 9m Drama Romance Family Comedy
Continuing the story of Aurora Greenway in her latter years. After the death of her daughter, Aurora struggled to keep her family together, but has one grandson in jail, a rebellious granddaughter, and another grandson living just above the poverty line.
6.
Meet the Browns (2008)
1h 40m Comedy Drama Romance
A single mother living in inner city Chicago, Brenda has been struggling for years to make ends meet and keep her three kids off the street.But when she's laid off with no warning, she starts losing hope for the first time - until a letter arrives announcing the death of a father she's never met.Desperate for any kind of help, Brenda takes her family to Georgia for the funeral. But nothing could have prepared her for the Browns, her father's fun-loving, crass Southern clan. In a small-town world full of long afternoons and country fairs, Brenda struggles to get to know the family she never knew existed...and finds a brand new romance that just might change her life.The story is adapted by Tyler Perry from his stage play "Meet the Browns." Perry will portray Madea and Uncle Joe in the film.
7.
The Other Sister (1999)
2h 10m Comedy Drama Romance
A mentally challenged girl proves herself to be every bit as capable as her "perfect" sister when she moves into an apartment and begins going to college.
8.
What's Cooking? (2000)
2h 10m Drama Horror Mystery Thriller
When Claire Spencer starts hearing ghostly voices and seeing spooky images, she wonders if an otherworldly spirit is trying to contact her. All the while, her husband tries to reassure her by telling her it's all in her head. But as Claire investigates, she discovers that the man she loves might know more than he's letting on.
9.
Diary of a Mad Black Woman (2005)
1h 56m Comedy Drama Romance
Charles McCarter and his wife Helen are about to celebrate their 18th-wedding anniversary when Helen comes home to find her clothes packed up in a U-Haul van parked in the driveway. Charles is divorcing Her. Helen moves in with her grandmother Madea, an old woman who doesn't take any lip from anyone. Madea helps Helen through these tough times by showing her what is really important in life.
10.
The Year of Getting to Know Us (2008)
1h 30m Comedy Drama
A commitment-phobic man reunites with his estranged, ailing father and comes to terms with his own childhood.
explore
Check out more list from our community