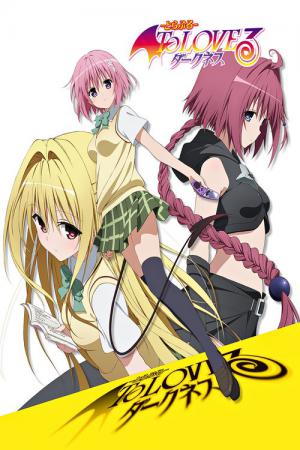 10 Best Animes Like To Love Ru ...
If you liked this film , you will for sure love these too! In this collection we highlight some of the best films that share a very similar mood to 'To Love-Ru', and are worth checking out.
1.
Yamada's First Time: B Gata H Kei (2010)
25m Animation Comedy
OMG! There's this girl at school, Yamada, who wants to make like a hundred sex friends. She totally thinks she can devirginize one hundred different boys! Can you believe that? That's like every boy in the school. Who does she think she is? I heard from my friend's neighbor's cousin's lab partner that Yamada's never even been kissed. Oh. My. God. I would totally die. That's like burn all your makeup and shave off your eyebrows embarrassing. I can't even think about it. Today at lunch I saw Yamada flirting, like for reals flirting, with that geek Kosuda. You know the guy. Photography club, no muscles, boring face, kind of reminds you of a black-and-white movie. Super lame. If Yamada can't even make the sex with him, she'll never score a hundred cherry boys. She needs to take like Sex Ed or something because I heard she can't give it away!
24m Animation Comedy Drama Sci-Fi & Fantasy
Tokyo is abuzz with persocoms – humanoid computers that are virtually perfect. The socially and technologically inept Hideki is dying to get his hands on one. When he finds Chii abandoned in the trash, she's cuter than any current model he's ever seen before. But when he gets her home and turns her on, she has no data and only a single learning program installed. While Hideki puts his whole heart into teaching Chii the ins and outs of humanity, a mystery unfolds as a dark secret within her awakens.
3.
Love, Chunibyo & Other Delusions (2012)
24m Animation Comedy Drama
As one of the thousands of Japanese students afflicted with "chunibyo," a state where they're so desperate to stand out that they've convinced themselves that they have secret knowledge and hidden powers, Yuta spent most of his middle school years living in a complete fantasy world. He's finally managing to overcome his delusions but his chunibyo have attracted the attentions of another sufferer, and she's decided that this makes him her soul mate.
25m Animation Kids
Rin Tsuchimi, a normal seventeen-year-old second-year high school student finds himself sought after by a variety of girls. Eight years prior, he lost his parents in a car accident that also took the life of Kaede Fuyou's mother. From that point onwards, he began living with her. At around the same time he lost his parents, he met Lisianthus and Nerine at different times who each were accompanying their fathers on a diplomatic business in the human world. Each girl became lost after wandering through the human world. During that time, Rin befriended each girl after playing with them for a day. As a result of his kindness, Rin finds himself as the potential marriage candidate for both Lisianthus and Nerine, the daughters of the king of the gods and king of the demon worlds, who recently transfer to Rin's school.
25m Animation Comedy Drama
Maiku Kamishiro grew up in an orphanage with no history of his family or of his past. Left with only a childhood picture of himself and another person in front of a house, he believes that the other person in the picture is his long lost twin sister. Upon discovering his old home, two young girls show up on his doorstep one day both claiming to be his long lost sister.
6.
My Teen Romantic Comedy SNAFU (2013)
24m Animation Comedy Drama
So exactly what's going to happen when Hachiman Hikigaya, an isolated high school student with no friends, no interest in making any and a belief that everyone else's supposedly great high school experiences are either delusions or outright lies, is coerced by a well meaning faculty member into joining the one member "Volunteer Services Club" run by Yukino Yukinoshita, who's smart, attractive and generally considers everyone in her school to be her complete inferior?
25m Animation Comedy Romance
Sakamachi Kinjiro discovers that the most popular student in their school, Subaru Konoe—the butler of the headmaster's daughter, Kanade Suzutsuki—is actually a girl.
8.
Eromanga Sensei (2017)
23m Animation Comedy Drama
This "sibling romantic comedy" revolves around Masamune Izumi, a light novel author in high school. Masamune's little sister is Sagiri, a shut-in girl who hasn't left her room for an entire year. She even forces her brother to make and bring her meals when she stomps the floor. Masamune wants his sister to leave her room, because the two of them are each other's only family.Masamune's novel illustrator, pen name "Eromanga," draws extremely perverted drawings, and is very reliable. Masamune had never met his illustrator, and figured he was just a disgusting, perverted otaku. However, the truth is revealed… that his "Eromanga-sensei" is his own younger sister! To add to the chaos that erupts between the siblings, a beautiful, female, best-selling shoujo manga creator becomes their rival!
13m Animation Comedy
At first glance Yukishiro Nanako seems like a normal high school girl, but she has a notable eccentricity: instead of speaking, she communicates only through written senryu poetry! This means she expresses herself only in 5-7-5 syllables. To most this might seem like an inconvenience, but for Nanako and her ex-delinquent bestie, Busujima Eiji, it adds to the experience of their high school lives as they run the Literature Club.
10.
A Place Further Than the Universe (2018)
24m Animation Comedy Drama
Scenery that we have never seen. Sounds that we have never heard. Scent that we have never smelled. Food that we have never tasted. And the surge of emotion that we have never experienced. This is the expedition of recollecting the pieces torn apart and sensation left alone. When we reach that place, what will we think? Howling, 40 degree angle. Raging, 50 degree angle. Shouting, 60 degree angle. A wilderness beyond the heavy sea. The furthest south, far from civilization. At the top of the Earth. We will find lights through the girls' eyes to live tomorrow.
explore
Check out more list from our community