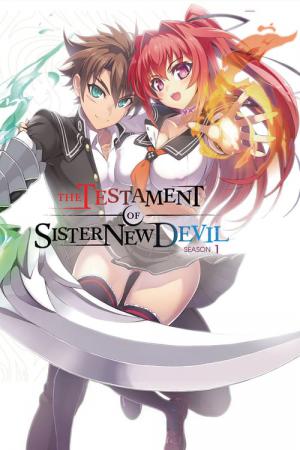 24 Best Anime Like The Testament Of Sister New Devil ...
If you liked this one , you will probably love these too! In this collection we highlight some of the best films that share a very similar premise to '', and are worth checking out.
1.
High School DxD (2012)
24m Animation Action & Adventure Comedy Sci-Fi & Fantasy
The story follows Issei Hyōdō, a dim-witted, lecherous second-year high school student who is killed by a girl on his first date ever. Issei is reincarnated as a devil, and from that day forward, he serves as an underling of Riasu, a high-level devil who is also the prettiest girl on Issei's campus.
2.
Aesthetica of a Rogue Hero (2012)
24m Animation Action & Adventure Comedy Sci-Fi & Fantasy
Since the discovery of "Samon Syndrome," thousands of young people have traveled to fantasy worlds, the few returnees managing to keep the special abilities they acquired there.Akatsuki Ousawa, known as the "Rogue Hero," discards his peaceful life in the fantasy world Alayzard to face new challenges upon returning to Earth. He comes back with Miu, the daughter of the Demon King he defeated, and is now forced to hide her true identity by having her pose as his little sister. The two soon join Babel, a special school designed for those who have acquired special abilities and magical powers through their journey to a fantasy world.Babel was seemingly founded to train young interdimensional travelers and "guide them to the right path for the sake of humanity and themselves," but its true purpose remains unclear to the pseudo-siblings. Will Akatsuki and Miu be able to overcome the hostile, powerful student council and uncover the forces at play behind the scenes?
24m Animation Comedy Sci-Fi & Fantasy
The story is about Yuuki Rito, a high-school boy who cannot confess to the girl of his dreams, Sairenji Haruna. One day when coming home and sulking in the bath-tub a mysterious, nude girl, appears out of nowhere. Her name is Lala and she comes from the planet Deviluke, where she is the heir to the throne. Her father wants her to return to her home planet so she can marry one of the husband candidates, but she decides that she wants to marry Rito in order to stay on Earth.
4.
In Another World With My Smartphone (2017)
24m Action & Adventure Animation Comedy Sci-Fi & Fantasy
Touya Mochizuki was accidentally killed, and as an apology, God allows him to be reborn in a fantasy world and will grant him any one wish he desires. And so, Touya chooses to keep his smartphone in the next world. In his second chance at life, he befriends many important figures and comes across the world's secret. He inherits the legacy of an ancient civilization and travels around nonchalantly while possessing powers that rival this world's kings.
24m Animation Comedy Action & Adventure
This is the story of Tooru Kokonoe who has enrolled at Kouryou Academy, a school which trains students in wielding Blaze, soul powered weapons to prepare them for the Dorn Agency's special peacekeeping corps. When Tooru is partnered with a mysterious girl: Julie Sigtuna, he finds he has to overcome many hurdles to ensure their teamwork and fighting skills are up to par for the duration of their training.
6.
Death March to the Parallel World Rhapsody (2018)
25m Animation Sci-Fi & Fantasy Comedy Action & Adventure
29-year-old programmer Suzuki Ichirou finds himself transported into a fantasy RPG. Within the game, he's a 15-year-old named Satou. At first he thinks he's dreaming, but his experiences seem very real. Due to a powerful ability he possesses with limited use, he ends up wiping out an army of lizard men and becomes a high leveled adventurer. Satou decides to hide his level, and plans to live peacefully and meet new people. However, developments in the game's story, such as the return of a demon king, may cause a nuisance to Satou's plans.
7.
The Asterisk War (2015)
24m Animation Action & Adventure Sci-Fi & Fantasy
Invertia was a meteor storm that caused an unprecedented disaster during the 20th century. Because of this disaster, numerous cities around the world were destroyed. However, within the meteor, an unknown element called mana was discovered. It allowed human technology to make rapid strides giving rise to a new species of super-powered humans, the Star Pulse Generation (Genestella). The Festas (Star Warrior Festivals) host battles between Genestella at a city of six academies called "Rikka," also commonly known as "Asterisk."Scholarship student Ayato Amagiri transferred into Seidoukan Academy in order to fulfill his own wish, swearing he too will fight in this city.
8.
Highschool of the Dead (2010)
24m Action & Adventure Animation
When the world is struck by a deadly pandemic that turns humans into zombies, Takashi Komuro and several of his classmates at Fujimi High School try to survive the apocalypse.
24m Action & Adventure Animation Comedy Sci-Fi & Fantasy
Tsuchimikado Harutora was born into a prestigious Onmyoji family, but he can't see "spirit energy". Therefore, he's been enjoying a peaceful daily life with his friends at an Onmyo branch school. One day, his childhood friend Tsuchimikado Natsume, heir to the head family, suddenly appears. Will this cause his destiny spring into motion!?
24m Animation Comedy Sci-Fi & Fantasy Mystery
Humans live in the world of Assiah, demons in Gehenna. The two dimensions are not meant to interfere with each other, but demons still possess creatures in Assiah in spite of this. The humans who can fight these demons are known as exorcists. Rin Okumura is a boy who bears the curse of being Satan's illegitimate son. His foster father sacrificed himself to save him from demons. To avenge his foster father's death as well as to prove himself, Rin decides to follow the path of an exorcist and defeat his own father, Satan. To hone his raw skills, Rin enters True Cross Academy to train with other exorcist candidates.
11.
Wise Man's Grandchild (2019)
24m Animation Comedy Action & Adventure Sci-Fi & Fantasy
In the modern world, a lonely man dies and reincarnates in another world. Rescued as a baby from a tragedy by a brilliant sage named Merlin, the baby is raised as "Shin Walford," and undergoes training in both magic and martial arts to kill the monsters that ravage the land. At 15 years old, Shin has become shockingly powerful. But his grandfather Merlin has forgotten to teach him the common sense of this world.As a result, Shin enrolls in the kingdom's Magic Academy to hone his skills and mature among other teenagers. However, living a normal life is impossible, as he is established as a local celebrity almost as soon as he arrives.This story follows Shin Walford's high school life in the capital as he makes new friends, learns about the world, and fights off the various forces of evil surrounding him and his city.
12.
So, I Can't Play H! (2012)
24m Action & Adventure Animation Comedy
Kaga Ryousuke, a helplessly romantic teenager, was walking in the rain when he sees a beautiful girl with red eyes drenched in the rain. Everyone was avoiding her, but Ryousuke was taught to treasure women so he offered his help by letting her dry off at his home. Ryousuke can't imagine that this mysterious girl would stab him in the chest and leave him to die… Or did she? Who is this pretty girl and what does she want with him?
13.
DARLING in the FRANXX (2018)
24m Action & Adventure Animation Sci-Fi & Fantasy
The story is set in the distant future. The land is ruined, and humanity establishes the mobile fort city Plantation. Pilots produced inside Plantation live in Mistilteinn, also know as the "birdcage." Children live there knowing nothing of the outside world or the freedom of the sky. Their lives consist of battling to carry out missions. Their enemies are mysterious giant lifeforms known as Kyouryuu, and the children pilot robots called Franxx to face off against them. For the children, riding the Franxx proves their existence.A boy named Hiro is called Code:016, and he was once known as a prodigy. However, he has fallen behind, and his existence seems unnecessary. Not piloting a Franxx is the same as ceasing to exist. One day, a mysterious girl known as "Zero Two" appears before him. Two horns grow out of her head.
14.
The Devil Is a Part-Timer! (2013)
25m Action & Adventure Animation Comedy Sci-Fi & Fantasy
Foiled by a hero when he's inches away from conquering the world, the devil finds himself in modern-day Tokyo. With no real-world skills to speak of, the devil is forced to make ends meet flipping burgers at a fast food joint! To stall any further plans of world domination, the hero tracks the devil's trail and takes on the lowly tasks of a telemarketer.
15.
Vampire Knight (2008)
30m Animation Drama Action & Adventure Sci-Fi & Fantasy Mystery
Yuki Cross, along with her best friend Zero, attempts to keep the peace between humans and vampires at Cross Academy, but personal issues soon threaten the situation.
16.
Demon Slayer: Kimetsu no Yaiba (2019)
1h 45m Action Animation Fantasy
Tanjiro finds his family slaughtered and the lone survivor, his sister Nezuko Kamado, turned into a Demon. To his surprise, however, Nezuko still shows signs of human emotion and thought. Thus begins Tanjiro's journey to seek out the Demon who killed their family and turn his sister human again. A recap film of Kimetsu no Yaiba, covering episodes 1-5 with extra footage.
17.
The Irregular at Magic High School (2014)
24m Action & Adventure Animation Sci-Fi & Fantasy
In a world where magic is not a fairy tale but has existed for one hundred years siblings Tatsuya and Miyuki Shiba prepare to begin their studies at the elite Private Magic University Affiliated High School (Magic High School for short). Entering on different levels of the academic spectrum the two turn the once peaceful campus into a chaotic one.
18.
The Seven Deadly Sins (2014)
24m Action & Adventure Animation Sci-Fi & Fantasy
The "Seven Deadly Sins"—a group of evil knights who conspired to overthrow the kingdom of Britannia—were said to have been eradicated by the Holy Knights, although some claim that they still live. Ten years later, the Holy Knights have staged a Coup d'état and assassinated the king, becoming the new, tyrannical rulers of the kingdom. Elizabeth, the king's only daughter, sets out on a journey to find the "Seven Deadly Sins," and to enlist their help in taking back the kingdom.
19.
Monster Musume: Everyday Life with Monster Girls (2015)
24m Animation Comedy Sci-Fi & Fantasy
Three years ago, the world learned that harpies, centaurs, catgirls, and all manners of fabulous creatures are not merely fiction; they are flesh and blood - not to mention scale, feather, horn, and fang. Thanks to the "Cultural Exchange Between Species Act," these once-mythical creatures have assimilated into society, or at least, they're trying. When a hapless human teenager named Kurusu Kimihito is inducted as a "volunteer" into the government exchange program, his world is turned upside down. A snake-like lamia named Miia comes to live with him, and it is Kurusu's job to take care of her and make sure she integrates into his everyday life.
24m Animation Sci-Fi & Fantasy Drama
In the early 2050s, unknown life forms called "Oracle cells" begin their uncontrolled consumption of all life on Earth. Their ravenous appetite and remarkable adaptability earn them first dread, then awe, and finally the name "aragami". In the face of an enemy completely immune to conventional weapons, urban civilization collapses, and each day humanity is driven further and further toward extinction. One single ray of hope remains for humanity. Following the development of "God Arcs"—living weapons which incorporate Oracle cells—their wielders are organized into an elite force.
24m Action & Adventure Animation Sci-Fi & Fantasy
We don't have an overview translated in English. Help us expand our database by adding one.
22.
Arifureta: From Commonplace to World's Strongest (2019)
24m Animation Action & Adventure Sci-Fi & Fantasy
Seventeen-year-old Hajime Nagumo is your average, everyday otaku. However, his simple life of pulling all-nighters and sleeping in school is suddenly turned upside down when he, along with the rest of his class, is summoned to a fantasy world! They're treated like heroes and tasked with the duty of saving the human race from utter extinction. But what should have been any otaku's wet dream quickly turns into Hajime's nightmare. While the rest of his class are blessed with godlike powers, Hajime's job, Synergist, only has a single transmutation skill. Ridiculed and bullied by his classmates for being weak, he soon finds himself in despair. Will he be able to survive in this dangerous world of monsters and demons with only a glorified blacksmith's level of strength?
23.
Sword Art Online (2012)
24m Animation Sci-Fi & Fantasy Action & Adventure
In the near future, a Virtual Reality Massive Multiplayer Online Role-Playing Game (VRMMORPG) called Sword Art Online has been released where players control their avatars with their bodies using a piece of technology called Nerve Gear. One day, players discover they cannot log out, as the game creator is holding them captive unless they reach the 100th floor of the game's tower and defeat the final boss. However, if they die in the game, they die in real life. Their struggle for survival starts now...
explore
Check out more list from our community