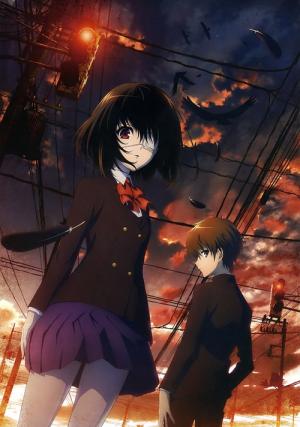 20 Best Anime Like Hell Girl ...
If you liked this film , you will probably love these too! In this selection we highlight some of the best films that share a very similar premise to '', and are worth checking out.
23m Animation Drama Mystery
There is a place after death that's neither heaven nor hell. A bar that serves you one chance to win. You cannot leave until the game is over, and when it is, your life may be too. From Studio Madhouse (Death Note, Black Lagoon) comes a thrilling new series where the stakes are high and the rules are simple: your life is on the line.
24m Action & Adventure Animation Drama Mystery
Ken Kaneki is a bookworm college student who meets a girl names Rize at a cafe he frequents. They're the same age and have the same interests, so they quickly become close. Little does Kaneki know that Rize is a ghoul - a kind of monster that lives by hunting and devouring human flesh. When part of her special organ - "the red child" - is transplanted into Kaneki, he becomes a ghoul himself, trapped in a warped world where humans are not the top of the food chain.
24m Animation Comedy Sci-Fi & Fantasy Mystery
Humans live in the world of Assiah, demons in Gehenna. The two dimensions are not meant to interfere with each other, but demons still possess creatures in Assiah in spite of this. The humans who can fight these demons are known as exorcists. Rin Okumura is a boy who bears the curse of being Satan's illegitimate son. His foster father sacrificed himself to save him from demons. To avenge his foster father's death as well as to prove himself, Rin decides to follow the path of an exorcist and defeat his own father, Satan. To hone his raw skills, Rin enters True Cross Academy to train with other exorcist candidates.
25m Animation Sci-Fi & Fantasy Drama
The Diclonius, a mutated homo sapien that is said to be selected by God and will eventually become the destruction of mankind, possesses two horns in their heads, and has a "sixth sense" which gives it telekinetic abilities. Due to this dangerous power, they have been captured and isolated in laboratories by the government. Lucy, a young and psychotic Diclonius, manages to break free of her confines and brutally murder most of the guards in the laboratory, only to get shot in the head as she makes her escape. She survives and manages to drift along to a beach, where two teenagers named Kouta and Yuka discovers her. Having lost her memories, she was named after the only thing that she can now say, "Nyuu," and the two allow her to stay at Kouta's home. However, it appears that the evil "Lucy" is not dead just yet...
24m Animation Drama Mystery
After moving into the quiet town of Hinamizawa, Maebara Keiichi spends his days blissfully in school often playing games with his local friends. However, appearances can be deceiving. One fateful day, Keiichi stumbles upon news of a murder that had occurred in Hinamizawa. From this point on, horrific events unfold in front of Keiichi, as he soon learns his close friends may not be all that they seem. Based on the amateur mystery game by 07th Expansion, the story is told in a series of different scenarios.
24m Animation Drama Sci-Fi & Fantasy
They are neither plants nor animals. They differ from other forms of life such as the micro-organisms and the fungi. Instead they resemble the primeval body of life and are generally known as "Mushi". Their existence and appearance are unknown to many and only a limited number of humans are aware of them. Ginko is a "Mushi-shi" who travels around to investigate and find out more about the "Mushi". In the process, he also lends a helping hand to people who face problems with supernatural occurances which may be related to the "Mushi".
7.
Dance in the Vampire Bund (2010)
24m Action & Adventure Animation Drama Sci-Fi & Fantasy
Mina Tepeş, the Princess of the ancient covenant and ruler of all vampires, wants her race to stop hiding from the humans. Using her vast wealth, she has paid off Japan's entire national debt and by doing so, gained the right to create a district off Japan's coast that is to become the future haven to vampires worldwide. But when she finally attempts to make public the existence of vampires to the world some politicians, terrorists and rival factions are plotting to assassinate Mina before she has a chance to get Japan's and international recognition for the Vampire Bund. Now she must rely on her strength, cruelty and those closest to her, while trying to make a normal life.
30m Animation Drama Action & Adventure Sci-Fi & Fantasy Mystery
Yuki Cross, along with her best friend Zero, attempts to keep the peace between humans and vampires at Cross Academy, but personal issues soon threaten the situation.
25m Animation Action & Adventure Sci-Fi & Fantasy
If you are chosen by the bizarre black sphere known as the Gantz, you are already dead—yet you might be able to reclaim your mortality. First, the Gantz demands that you undertake brutal missions of madness, killing aliens hidden among the population. It is your only chance and you have no choice. You must play this disturbing game. And if you die again—and you likely will—it's permanent.
10.
Spirit Devourer: Zero (2008)
11.
Supernatural The Animation (2011)
25m Animation Drama Mystery Sci-Fi & Fantasy
After losing their mother to a demon, two brothers grow up fighting supernatural beings.
23m Action & Adventure Animation Mystery
Vampires exist. It is the duty of Hellsing, an organization sponsored by the British government, to hide that frightening fact and protect the blissfully unaware populace. Along with its own personal army, Hellsing also has a few secret weapons. Alucard, an incredibly powerful vampire, has been controlled by Hellsing for years. Although he dislikes being a servant to the Hellsing family, he certainly enjoys his job as Hellsing's vampire exterminator. Seras is a fledgling vampire and a former police woman. Although reluctant to embrace her new self, she is still a valuable member of the organization. Integra Hellsing, the current leader, is usually fully capable of fulfilling her duty, but lately, vampire activity has been on the rise. Unfortunately, the cause is more alarming than anything she could have imagined...
23m Action & Adventure Sci-Fi & Fantasy Animation
Guts, a man who calls himself "The Black Swordsman", looks back upon his days serving as a member of a group of mercenaries. Led by an ambitious, ruthless, and intelligent man named Griffith, together they battle their way into the royal court, and are forced into a fate that changes their lives.
14.
Corpse Princess: Part One - Aka (2008)
15.
The Promised Neverland (2019)
23m Animation Mystery Sci-Fi & Fantasy Action & Adventure Drama
Surrounded by a forest and a gated entrance, the Grace Field House is inhabited by orphans happily living together as one big family, looked after by their "Mama," Isabella. Although they are required to take tests daily, the children are free to spend their time as they see fit, usually playing outside, as long as they do not venture too far from the orphanage — a rule they are expected to follow no matter what. However, all good times must come to an end, as every few months, a child is adopted and sent to live with their new family... never to be heard from again.However, the three oldest siblings have their suspicions about what is actually happening at the orphanage, and they are about to discover the cruel fate that awaits the children living at Grace Field, including the twisted nature of their beloved Mama.
16.
Hellsing Ultimate (2006)
49m Animation Drama Sci-Fi & Fantasy
For over a century, the mysterious Hellsing Organization has been secretly protecting the British Empire from the undead. When Sir Integra Hellsing succeeded as the head of the organization, she also inherited the ultimate weapon against these supernatural enemies: Alucard, a rogue vampire possessing mysterious and frightening powers. Now, Hellsing must deal with a more dangerous threat than vampires.
17.
New Fist of the North Star (2003)
58m Animation Action
In the 21st century, a nuclear war turned most of the Earth's surface into a desert wasteland, which also resulted in the contamination of the Earth's water supply. A man named Sanga has built the fortified haven of the "Last Land", where he rules as its dictator by monopolizing the city's uncontaminated water supply. When he learns that the neighboring residents of Freedom Village are trying to dig up a well for their own, Sanga sends his underlings to sabotage their effort. Kenshiro, master of Hokuto Shinken, gets involved in the conflict between the two regions after saving Tobi, an informant hired by Freedom Village.
24m Animation Sci-Fi & Fantasy Action & Adventure
The adventures of the demon hunter Dante who himself is half demon and half human.
19.
Darker Than Black (2007)
25m Action & Adventure Animation Mystery Sci-Fi & Fantasy
Ten years ago, a mysterious spatial anomaly now known as "Heaven's Gate" appeared in South America, shortly followed by the opening of "Hell's Gate" in Tokyo altering the sky and wreaking havoc on the landscape. The real stars disappeared, replaced by false stars. During this time, people possessing various special abilities — called "Contractors" — emerged, each capable of different supernatural feats. Following the disastrous Heaven's War, the United States lost its dominant position as a superpower to a mysterious organization named the Syndicate. The story revolves around a Chinese contractor codenamed "Hei" as he undertakes various espionage and assassination missions in Tokyo.
explore
Check out more list from our community