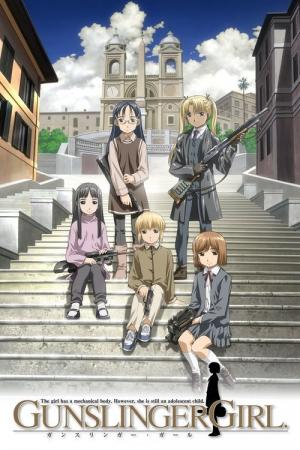 11 Best Anime Like Gunslinger Girl ...
If you liked this one , you will definitely love these too! In this selection we highlight some of the best films that share a very similar mood to 'Gunslinger Girl', and are worth checking out.
24m Animation Drama Crime Mystery
Kenzou Tenma, a Japanese brain surgeon in Germany, finds his life in utter turmoil after getting involved with a psychopath that was once a former patient.
3.
Ghost in the Shell Arise - Border 3: Ghost Tears (2014)
59m Action Animation Science Fiction
Posing as lovers on vacation, Motoko and Batou work to try to stop a terrorist organization whose symbol is the Scrasath. Meanwhile, Togusa investigates a murder of a man who possessed a prosthetic leg manufactured by the Mermaid's Leg corporation.
30m Animation Action & Adventure Kids Family Mystery
Generator Rex is an American science fiction "nanopunk" action animated television series created by Man of Action for Cartoon Network. John Fang of Cartoon Network Studios serves as supervising director. It is inspired by the comic M. Rex, published by Image Comics in 1999. The series premiered in the United States on April 23, 2010, on Cartoon Network. Generator Rex is rated TV-PG. The last episode of the third season had aired on January 3, 2013.
5.
Code Geass: Lelouch of the Rebellion (2006)
25m Action & Adventure Animation Drama Sci-Fi & Fantasy
Japan has been invaded and conquered by the Britannian Empire. Japan is now known as Area 11 and its citizens known as Elevens. The Britannian Empire takes away Japan's autonomous power and imposes its rule through the use of Knightmares. The Empire's rule has never faltered, but cracks have begun to show...
24m Action & Adventure Animation Mystery Sci-Fi & Fantasy
A near future, where humans have been defeated by the viral parasites named Gastrea. They have been exiled into a small territory and live in despair, side-by-side in terror.In this world trapped in darkness—Rentaro, a boy living near Tokyo and member of the "Civil Security"—an organization specializing in fighting against the Gastrea—is used to accomplishing dangerous tasks. His partner is Enju, a precocious young girl. They fight thanks to their peculiar powers until one day, when they receive a special assignment from the government. This top secret mission is to prevent the destruction of Tokyo...Set in a near future, this thrilling heroic-action story... starts now!
25m Animation Drama
The Watchmen: Motion Comic is a 2008 American animated short film series of motion comics for web and television based on the comic book series Watchmen, written by Alan Moore and illustrated by Dave Gibbons. The series consists of twelve abridged 25–30 minute segments, each based on and sharing a name with one of the twelve chapters of the book. Both male and female characters are voiced by actor Tom Stechschulte. It was released on DVD in March 2009 to coincide with the Watchmen movie's release.
24m Animation Sci-Fi & Fantasy Action & Adventure
The story revolves around Shu Ouma, a high school boy who inadvertently obtains an ability called "The Power of the Kings" that enables him to draw out items called "Voids" from other people. He is then thrown into the conflict between a resistance group called Funeral Parlor which aims to restore Japan's independence from a quasi-governmental organization known as the GHQ. In the process, Shu has to deal with the burden his ability puts on his shoulders and the horrific mystery of his past.
9.
Fist of the North Star (1984)
24m Action & Adventure Animation
In the year 199X, human civilization has been all but destroyed by a nuclear holocaust. In an age where the strong rule over the weak, the survivors of the fallout struggle over the remaining supply food and water left. Kenshiro, successor to an ancient, deadly martial art known as Hokuto Shinken (Fist of the North Star), wanders the wasteland with seven scars in the shape of the Big Dipper on his chest. This infamous style uses the body's hidden 708 pressure points to destroy opponents from within and allows practitioners to unleash 100% of their humanly strength. Accompanied by a young thief and an orphan girl, this messiah brings justice to this lawless world with the strongest fist in the world.
10.
Appleseed XIII (2011)
22m Action & Adventure Animation Sci-Fi & Fantasy
Following World War V, a global-scale conflict fought with non-nuclear weapons that almost halved the earth's population, the city-nation of Olympus stands as a beacon of hope in a world of chaos. The utopian metropolis is governed by Gaia, a vast artificial intelligence, and administered by genetically engineered humanoids known as bioroids. Although Olympus seems like a peaceful city on the surface, racial (human vs. bioroids vs. cyborgs), religious, and political conflicts lurk underneath -threatening to overturn the delicately balanced peace of this so-called utopia.
11.
Tekken: Blood Vengeance (2011)
1h 40m Action Animation Science Fiction
Set in the rich Tekken universe, Tekken: Blood Vengeance 3D follows Xiaoyu Ling, seasoned martial artist and high school student, tasked by the G Corporation to infiltrate an international school in Kyoto to gather information on the mysterious student Shin Kamiya. Before she can make any progress in the investigation, Shin is kidnapped by an unknown assailant. Digging deeper into Shin's background in an attempt to rescue him, Xiaoyu learns about the frightening underbelly of the Mishima Zaibatsu. Jin Kazama, Kazuya Mishima… and the late Heihachi Mishima's conspiracy that's stained with blood.
explore
Check out more list from our community