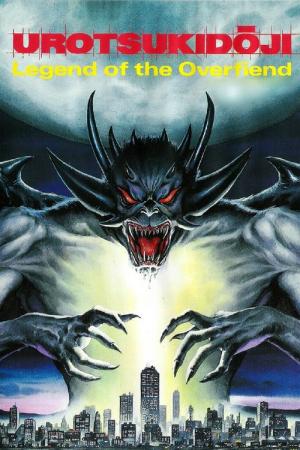 11 Best Urotsukidoji Movie List ...
If you liked this film , you will for sure love these too! In this list we highlight some of the best films that share a very similar premise to 'Urotsukidoji: Legend of the Overfiend', and are worth checking out.
1h 20m Fantasy Animation Horror Action Science Fiction
The movie begins in 15th century Sweden, where Hope, the beautiful daughter of Matthias, a skilled mercenary who is in actuality a demon, is accused of being the devil's consort. Sentenced by the town priest to be burned at the stake, Matthias, through his proxy, the jester Pagan, offers her life if she surrenders herself to him and join him in Hell.
30m Action & Adventure Animation Comedy
Aika Sumeragi works as a salvager for hire, but gets caught up in a plot for world domination.
3.
Twilight of the Dark Master (1997)
4.
The Testament of Sister New Devil (2015)
24m Animation Sci-Fi & Fantasy Action & Adventure Comedy
Toujou Basara is a high school student whose father has suddenly just remarried. His father then departs overseas leaving Basara with two new beautiful step-sisters. Little does he know, his new sisters, Mio and Maria are actually the new Demon Lord and a succubus!? Almost trapped into a life of servitude, Basara forms a reverse contract by accident and ends up becoming Mio's master! Hijinks ensue as Basara finds himself in one ecchi situation after another. However, Mio's life is in danger as she is pursued by demons and heroes!
1h 22m Animation Action Fantasy Horror
A peace treaty between the Earth and the Black World, a parallel universe of demons, is coming to an end. Two cops, Taki, a human male, and Maki, a female demon, are assigned to protect a diplomat who will help secure another treaty. A radical group of demons from the Black World are out to assassinate the diplomat and prevent the treaty; only the bond that forms between the two cops can save the Earth from destruction.
6.
Berserk: The Golden Age Arc II - The Battle for Doldrey (2012)
1h 38m Action Adventure Drama Fantasy Animation
The Band of the Hawk participates in the Midland war campaign. On the bloody battlefield, they conquer decisive victories that lead them to Doldrey, an old fortress that will decide the outcome of the war.
7.
Blue Exorcist: The Movie (2012)
1h 28m Animation Fantasy Mystery Horror Action
The atmosphere in True Cross Academy is lively and boisterous in the days leading up to the grand festival held once every 11 years. During this time, Okumura Rin is entrusted with the responsibility of suppressing the berserk Phantom Train. In the midst of his mission, he meets a devil whose appearance is that of a young boy.
1h 28m Horror Action Fantasy Thriller
There exists an ancient manuscript still writing itself called the Lexicon. It supposedly tells of the coming of the Anti-Christ, and happens to fall into the hands of an unsuspecting woman. Now, she is being pursued by angels intent on obtaining the information from the book.
9.
Resident Evil: Degeneration (2008)
1h 37m Animation Horror Action Science Fiction
A zombie attack brings chaos to Harvardville Airport. Leon Kennedy and Claire Redfield , who fought the sinister Umbrella Corporation during the Raccoon City tragedy 7 years ago, are back. In high-octane Resident Evil style, they're ready to battle a rogue warrior who is seeking revenge after his family was killed in Raccoon City. The deadly G-Virus is unleashed and a new mutated monster rampages.
10.
Blood: The Last Vampire (2000)
48m Fantasy Animation Horror Comedy Thriller Science Fiction
In Japan, the vampire-hunter Saya, who is a powerful original, is sent by her liaison with the government, David, posed as a teenage student to the Yokota High School on the eve of Halloween to hunt down vampires. Saya asks David to give a new katana to her. Soon she saves the school nurse Makiho Amano from two vampires disguised of classmates and Makiho witnesses her fight against the powerful demon.
11.
Vampire Hunter D: Bloodlust (2000)
1h 43m Animation Fantasy Horror Action
D has been hired to track down Meier Link, a notoriously powerful vampire who has abducted a woman, Charlotte Elbourne. D's orders are strict - find Charlotte, at any cost. For the first time, D faces serious competition. The Markus Brothers, a family of Vampire Hunters, were hired for the same bounty. D Must intercept Meier and conquer hostile forces on all sides in a deadly race against time.
explore
Check out more list from our community