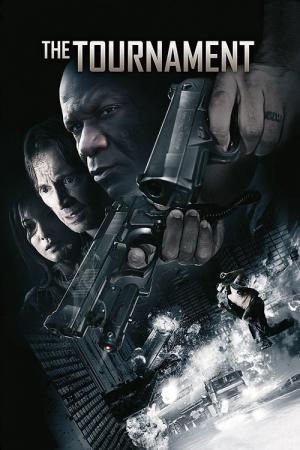 12 Best Tournament Movies ...
If you liked this movie , you will definitely love these too! In this collection we highlight some of the best films that share a very similar premise to 'The Tournament', and are worth checking out.
1.
Contract Killers (2014)
1h 35m Action
Cavalier contract killer Lee-Seng (Rob Young) flees his vengeful employer and a ruthless assassin (James Trevena-Brown) after failing to eliminate a team of vigilantes intent on ridding their city of drug dealers. Meanwhile, as the bullets start to fly, Lee-Seng searches for the truth about his mission while protecting a gorgeous woman (Renee Cataldo) who has gotten caught in the crossfire.
1h 28m Action
A group of sadistic mercenaries led by Col. John Hogan kidnap Michael Danton from his home, and set him loose on the grounds of their secret camp to be used as training for new recruits. Danton has been called the "most perfect killer ever." Now, he'll have to prove it again. This prey has become DEADLY!
3.
Soldiers of Fortune (2012)
1h 34m Action Adventure
Wealthy thrill-seekers pay huge premiums to have themselves inserted into military adventures, only this time things don't go exactly to plan.
4.
Mechanic: Resurrection (2016)
1h 38m Action Crime Thriller
Arthur Bishop thought he had put his murderous past behind him when his most formidable foe kidnaps the love of his life. Now he is forced to travel the globe to complete three impossible assassinations, and do what he does best, make them look like accidents.
5.
The Hunger Games (2012)
2h 22m Science Fiction Adventure Fantasy
Every year in the ruins of what was once North America, the nation of Panem forces each of its twelve districts to send a teenage boy and girl to compete in the Hunger Games. Part twisted entertainment, part government intimidation tactic, the Hunger Games are a nationally televised event in which "Tributes" must fight with one another until one survivor remains. Pitted against highly-trained Tributes who have prepared for these Games their entire lives, Katniss is forced to rely upon her sharp instincts as well as the mentorship of drunken former victor Haymitch Abernathy. If she's ever to return home to District 12, Katniss must make impossible choices in the arena that weigh survival against humanity and life against love. The world will be watching.
6.
Surviving the Game (1994)
1h 36m Action
A homeless man is hired as a survival guide for a group of wealthy businessmen on a hunting trip in the mountains, unaware that they are killers who hunt humans for sport, and that he is their new prey.
1h 54m Drama Thriller Action
In the future, the Japanese government captures a class of ninth-grade students and forces them to kill each other under the revolutionary "Battle Royale" act.
8.
One in the Chamber (2012)
1h 31m Action Thriller
A seasoned assassin plays both sides in a Russian gang war and becomes the target of an unknown enemy.
2h 30m Action Crime Thriller
After fighting his way through an apartment building populated by an army of dangerous criminals and escaping with his life, SWAT team member Rama goes undercover, joining a powerful Indonesian crime syndicate to protect his family and uncover corrupt members of his own force.
10.
The November Man (2014)
1h 48m Crime Action Thriller
An ex-CIA operative is brought back in on a very personal mission and finds himself pitted against his former pupil in a deadly game involving high level CIA officials and the Russian president-elect.
1h 34m Action Thriller Science Fiction
David Lord finds himself forced into the savage world of a modern gladiatorial arena, where men fight to the death for the entertainment of the online masses.
1h 40m Action
After an illustrious special ops career ends in disaster, Alexander goes off the grid and attempts to lead a quiet life as a handyman at an apartment complex. But when one of his tenants and her family fall under the thumb of a Russian gangster, Alexander is dragged into an all-out war between rival Chinese and Russian gangs; forcing him to not only defend the family, but bringing him face to face with an old foe, and giving him one more chance to reconcile his past.
explore
Check out more list from our community