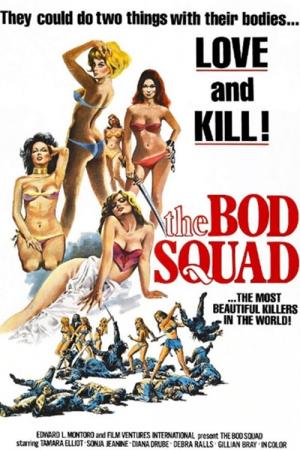 19 Best The Bod Squad ...
If you liked this one , you will for sure love these too! In this selection we highlight some of the best films that share a very similar premise to '', and are worth checking out.
1.
Shaolin Challenges Ninja (1978)
1h 45m Action
Gordon Liu stars as a Chinese martial arts student struggling to relate to his new Japanese wife. When a series of martial misunderstandings spirals into an international incident, he's forced to take on seven of Japan's most powerful martial arts masters, each an expert in a different discipline, ranging from karate to samurai to ninjitsu.
2.
The Young Vagabond (1985)
1h 25m Action
A martial artist must train incessantly to defeat the brutally powerful thief called Centipede.
1h 51m Action Comedy
A mischievous young man is sent to hone his martial arts skills with an older, alcoholic kung fu master.
4.
Mad Monkey Kung Fu (1979)
1h 56m Action
A disgraced former Kung Fu expert makes a living as a merchant with the help of a hot headed friend. When the men are harassed by gangsters, the merchant decided to teach his friend monkey boxing so they can defend their business.
5.
Enter the Fat Dragon (1978)
1h 43m Action Comedy
Ah Lung is a pig farmer and a devoted Bruce Lee fan who is anxious to follow in Lee's footsteps, but only ridiculed for his attempts. He is sent to the city to earn a living working at his uncle's restaurant, but when he arrives, he finds a gang of thugs causing trouble in the restaurant. He takes the chance to prove himself and attacks the thugs, defeating them and saving the restaurant. Soon, he becomes a waiter, and discovers a plot by the same thugs to kidnap a woman he works with. Eventually, he defeats the thugs once again and saves the day.
6.
The Prodigal Son (1981)
1h 40m Action Adventure Comedy
A rich man's son (Yuen Biao) believes himself to be the best kung fu fighter in Canton. Unfortunately, his father, anxious for his son's safety, bribes all his opponents to lose. After a humiliating defeat at the hands of an actor in a traveling theatre company, the son resolves to find a better teacher. Furious kung fu battles and slapstick comedy.
7.
Snake in the Eagle's Shadow (1978)
1h 38m Action Comedy
Everyone abuses and humiliates a downtrodden orphan (Chan) until he befriends an old man, who turns out to be the last master of the "snake fist" fighting style. Jackie becomes the old man's student and finds himself in battle with the master of the "eagle's claw" style, who has vowed to destroy the snake fist clan.
8.
The Impossible Kid (1982)
1h 21m Crime Comedy Action
Weng Weng plays an agent, code-named "00" who works for the Manila branch of Interpol. The Chief sends him in pursuit of an arch villain, Mr X, whose white sock covered head is reminiscent of the Ku Klux Klan's pointed hoods. When Mr X holds the Philippines for ransom two businessmen, Maolo and Simeon, pay his demands. Weng Weng suspects foul play and goes deep undercover to reveal the true identity of the mysterious Mr X.
9.
Return to the 36th Chamber (1980)
1h 39m Action
The workers of a dye factory have their pay cut by 20% when the factory owner brings in some Manchu thugs to try and increase production. Desperate to reclaim their full wages, the workers hire an actor to impersonate a priest and kung-fu expert from the temple of Shaolin. The factory owner proves the actor a fraud, and punishes all those involved. The young actor feels he has let the workers down, and promises to atone. He sets out for Shaolin, determined to be accepted as a kung-fu pupil at the elite temple.
10.
The Fearless Hyena (1979)
1h 37m Comedy Action
Lung is a talented fighter but prefers to spend his time loafing around and picking fights, despite orders from his grandfather not to fight. Unknown to him, a brutal general has been slaughtering all the people from his grandfather's clan. When the general recognizes Lung's style of kung fu during one of his street fights, he hunts down Lung's grandfather and kills him.
11.
Magnificent Butcher (1979)
1h 48m Action Comedy
A plump butcher student of 'Wong Fei Hung', Lam Sai-Wing (Sammo) gets into trouble with a rival kung-fu school known as 'Five Dragons'. He is accused of raping the Head of that school's goddaughter and killing his son. Now Ko, the Head of Five Dragons, wants revenge.
12.
Mr. Hercules Against Karate (1973)
1h 43m Action Comedy
A skinny troublemaker and his good-natured, bemuscled sidekick find trouble in Hong Kong.
14.
My Young Auntie (1981)
2h 1m Action Comedy
Cheng (Kara Hui Ying Hung), a beautiful martial arts ace, battles to keep her inheritance from the ruthless Yun Wei (Johnny Wang Lung Wei), but her efforts are sabotaged by Yu Tao (Hsaio Ho), her wayward and irrepressible great-nephew. Following a frenzy of spectacular comic mishaps, the hapless duo are setup and imprisoned and the deeds to Cheng's estate are stolen. She is held hostage after a doomed attempt to reclaim the papers back from Yu Wei's place, and the stage is set for a savage fight to the death.
1h 42m Action Comedy
Teddy Yu is a former secret agent turned chiropractor who thought he left his past behind. He teaches martial arts to his two kids. However, his past catches up to him as a rogue agent demands to know the whereabouts of an agent known as Dragon. Now, father and children must team up to stop the rogue agent and his goons.
16.
Deadly Life of a Ninja (1983)
1h 29m Action
A businessman and his sister-in-law are targeted for assassination by a band of evil ninjas and their vicious leader (Yasuaki Kurata). The ninjas are committing bizarre murders all over the city, and the police can't seem to pick up their trail -- so they call in ninja hunter and Kendo master Mr. Chow (Kuan Tai Chen). To take down the silent killers, Mr. Chow will have to fight against incredible odds in this campy ninja classic.
1h 46m Action Comedy Adventure
In late 19th Century Hong Kong the British may rule the land, but the pirates rule the waters. One Coast Guard officer is Dragon Ma, who is determined that his beloved Coast Guard will not be made a fool of.
18.
The Legend of Drunken Master (1994)
1h 42m Action Comedy
Returning home with his father after a shopping expedition, Wong Fei-Hong is unwittingly caught up in the battle between foreigners who wish to export ancient Chinese artifacts and loyalists who don't want the pieces to leave the country. Fei-Hong must fight against the foreigners using his Drunken Boxing style, and overcome his father's antagonism as well.
explore
Check out more list from our community