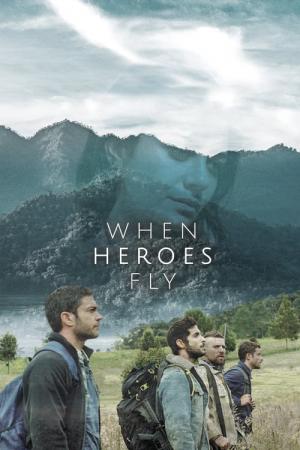 22 Best Soldiers Of The Apocalypse ...
If you liked this movie , you will probably love these too! In this collection we highlight some of the best films that share a very similar premise to '', and are worth checking out.
In the dark, early days of a zombie apocalypse, complete strangers band together to find the strength they need to survive and get back to loved ones.
52m Drama Action & Adventure Mystery
A group of young adults who met online are mercilessly hunted by a shadowy deep state organization after they come into possession of a near-mythical cult underground graphic novel.
4.
The War of the Worlds (2019)
1h Crime Drama Action & Adventure Sci-Fi & Fantasy
Set in an alternate history where "superheroes" are treated as outlaws, "Watchmen" embraces the nostalgia of the original groundbreaking graphic novel while attempting to break new ground of its own.
7.
Battlestar Galactica (2004)
When an old enemy, the Cylons, resurface and obliterate the 12 colonies, the crew of the aged Galactica protect a small civilian fleet - the last of humanity - as they journey toward the fabled 13th colony, Earth.
50m Action & Adventure Sci-Fi & Fantasy Drama
16-year-old Henry Coles is an outsider in her new town of Reston, New York. With a major chip on her shoulder and no friends, she remains withdrawn and isolated, but everything changes when a traumatic encounter with a classmate triggers something deep within Henry— unleashing a power she cannot control.
9.
10.5: Apocalypse (2006)
Katrín wakes up in the hospital after a serious car accident to find that she has received a life-saving blood transfusion. However, the religious cult she belongs to forbids such things. As Katrín struggles to reconcile this conflict with her church and family, she begins to become obsessed with the stranger whose blood is now flowing through her veins.
This thriller and coming-of-age drama follows the journey of an extraordinary young girl as she evades the relentless pursuit of an off-book CIA agent and tries to unearth the truth behind who she is. Based on the 2011 Joe Wright film.
15.
Into the Night (2020)
1h Action & Adventure Drama Mystery
Jericho is an American action/drama series that centers on the residents of the fictional town of Jericho, Kansas, in the aftermath of nuclear attacks on 23 major cities in the contiguous United States.
One day, electricity just stopped working and the world was suddenly thrust back into the dark ages. Now, 15 years later, a young woman's life is dramatically changed when a local militia arrives and kills her father, who mysteriously—and unbeknownst to her—had something to do with the blackout. An unlikely group sets out off on a daring journey to find answers about the past in the hopes of reclaiming the future.
Survivors was a British science fiction television series produced by the BBC. It depicts the lives of a group of people who survived a virulent unknown strain of influenza which has wiped out most of the human species. According to the producers, the series is not a remake of the 1970s BBC television series Survivors, created by Terry Nation, but is loosely based on the novel of the same name that Nation wrote following the first series of the 1970s series. Two series were produced of the new series. Series 1 ran on BBC One and BBC HD in November–December 2008, and series 2 ran in January–February 2010, ending with a cliffhanger. The BBC announced on 13 April 2010 that, due to poor viewing figures and other considerations, Survivors had been cancelled.The series had its premiere in South Africa on BBC Entertainment in September 2009, in France on DTTV channel NRJ 12 on 12 January 2010, and on BBC America in the United States on 13 February 2010. The series' Australian premiere was on Channel Nine, on 21 March 2010.
A streetwise hustler is pulled into a compelling conspiracy after witnessing the suicide of a girl who looks just like her.
21.
Masters of Science Fiction (2007)
explore
Check out more list from our community