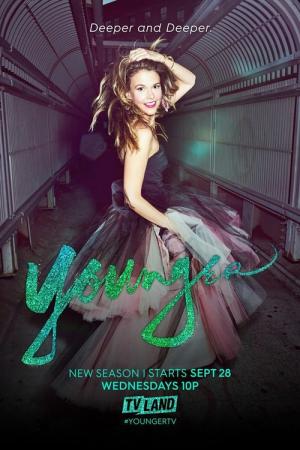 17 Best Shows Like Younger ...
If you liked this one , you will definitely love these too! In this list we highlight some of the best films that share a very similar premise to '', and are worth checking out.
A glimpse into the outrageous lives of Jane, Kat and Sutton, who are working at the nation's top women's magazine, Scarlet, while navigating their careers, identities and individual voices.
2.
Young & Hungry (2014)
Two worlds collide when Josh, a wealthy young tech entrepreneur, meets Gabi, a feisty young food blogger, looking to be his personal chef. Gabi is desperate for the job and must prove herself, mostly to Josh's aide, who prefers a famous chef for the job. When Josh enlists Gabi to prepare a romantic meal for him and his girlfriend, the dinner goes awry and Gabi finds herself in a very awkward position. With the help of her best friend Sofia and Josh's housekeeper, Gabi turns a difficult situation into an opportunity for employment and maybe even love. Gabi gets some much needed help and advice from Josh's assistant and his housekeeper.
3.
I Don't Know How She Does It (2011)
A comedy centered on the life of Kate Reddy, a finance executive who is the breadwinner for her husband and two kids.
4.
Beauty & the Briefcase (2010)
A freelance writer looking for romance sells a story to Cosmopolitan magazine about finding love in the workplace and goes undercover at a Finance Company.
5.
Kitchen Confidential (2005)
30m Comedy
Jack Bourdain had it all but messed it up going wild. Four years later, he ends up with a crappy job in Pizza Chain. Then, he gets an offer to get back in the game as the chef of a famous restaurant.
22m Comedy
My Boys follows PJ, a twenty-something professional sportswriter who is looking for love within her world which is dominated by her group of male friends. Her tomboyish, no-nonsense approach to relationships tends to freak out potential suitors which leads her only female friend to advise her to dress and act more feminine.
Aan irreverent and outrageous take on true family love‐and dysfunction. Newly sober single mom Christy struggles to raise two children in a world full of temptations and pitfalls. Testing her sobriety is her formerly estranged mother, now back in Christy's life and eager to share passive-aggressive insights into her daughter's many mistakes.
8.
Sex and the City (1998)
30m Comedy
Based on the bestselling book by Candace Bushnell, Sex and the City tells the story of four best friends, all single and in their late thirties, as they pursue their careers and talk about their sex lives, all while trying to survive the New York social scene.
25m Comedy
Comedy about the unlikely friendship that develops between two very different young women who meet waitressing at a diner in trendy Williamsburg, Brooklyn, and form a bond over one day owning their own successful cupcake business. Only one thing stands in their way – they're broke.
23m Comedy
Acclaimed author Jill Kargman plays a version of herself as she navigates the treacherous and elite ecosystem of New York's Upper East Side, and the uber-wealthy mommy clique inhabiting this fantastically outrageous domain.
30m Comedy
Broad City follows two women throughout their daily lives in New York City, making the smallest and mundane events hysterical and disturbing to watch all at the same time.
12.
Accidentally on Purpose (2009)
25m Comedy
If you think the steamy sex, sensational scandals and heart wrenching heartbreak on Latino soap operas are a little extreme, just wait until you see what happens behind the scenes! Eva Longoria stars in this new comedy about Ana Sofia, a sizzling TV superstar, and her lively family of cast and crew all competing to steal the spotlight. When the cameras turn off, the drama turns up as Ana battles pesky network execs, drunken scriptwriters, narcissistic co-stars and an unfortunately familiar new on-screen love interest.
15.
Will & Grace (1998)
22m Comedy
Will Truman and Grace Adler are best friends living in New York, and when Grace's engagement falls apart, she moves in with Will. Together, along with their friends, they go through the trials of dating, sex, relationships and their careers, butting heads at times but ultimately supporting one another while exchanging plenty of witty banter along the way.
30m Comedy
Jules Cobb is a mom in her forties facing the often humorous challenges, pitfalls and rewards of life's next chapter. Along for the journey is her son, her ex-husband, her husband/neighbor and her friends who together make up her dysfunctional, but supportive and caring extended family... even if they have a funny way of showing it sometimes.
explore
Check out more list from our community