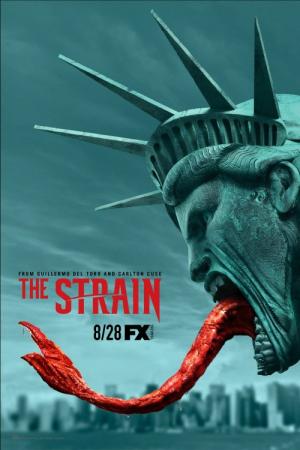 28 Best Shows Like The Strain ...
If you liked this movie , you will probably love these too! In this selection we highlight some of the best films that share a very similar mood to '', and are worth checking out.
1.
The Walking Dead (2010)
42m Action & Adventure Drama Sci-Fi & Fantasy
Sheriff's deputy Rick Grimes awakens from a coma to find a post-apocalyptic world dominated by flesh-eating zombies. He sets out to find his family and encounters many other survivors along the way.
45m Drama Sci-Fi & Fantasy
Helix is an intense thriller about a team of scientists from the Centers for Disease Control who travel to a high-tech research facility in the Arctic to investigate a possible disease outbreak, only to find themselves pulled into a terrifying life-and-death struggle that holds the key to mankind's salvation...or total annihilation.
1h 41m Drama Science Fiction Thriller
Robert Neville is a scientist who was unable to stop the spread of the terrible virus that was incurable and man-made. Immune, Neville is now the last human survivor in what is left of New York City and perhaps the world. For three years, Neville has faithfully sent out daily radio messages, desperate to find any other survivors who might be out there. But he is not alone.
41m Action & Adventure Drama Sci-Fi & Fantasy
Their mission is simple: Find a cure. Stop the virus. Save the world. When a global pandemic wipes out eighty percent of the planet's population, the crew of a lone naval destroyer must find a way to pull humanity from the brink of extinction.
3h
Dominion is an annual professional wrestling event promoted by New Japan Pro Wrestling (NJPW). The event has been held every June since 2009 as pay-per-view (PPV). Since 2013, viewers outside of Japan have also been able to view the event as an internet pay-per-view (iPPV). Dominion is the first major event following the Best of the Super Juniors tournament and usually includes a match, where the tournament winner challenges for the IWGP Junior Heavyweight Championship, assuming the champion has not won the tournament.
1h Action & Adventure Drama Sci-Fi & Fantasy
A man struggling with his faith is haunted by the sins of his past but is suddenly thrust into the role of defending humanity from the gathering forces of darkness.
42m Mystery Sci-Fi & Fantasy Action & Adventure
Vanessa Helsing, the daughter of famous vampire hunter and Dracula nemesis Abraham Van Helsing is resurrected five years in the future to find out that vampires have taken over the world and that she possesses unique power over them. She is humanity's last hope to lead an offensive to take back what has been lost.
43m Drama Mystery Sci-Fi & Fantasy
Ichabod Crane is resurrected and pulled two and a half centuries through time to unravel a mystery that dates all the way back to the founding fathers.
1h 34m Action & Adventure Drama Sci-Fi & Fantasy
Following an unparalleled series of meteor fireballs plummeting toward Earth, a renowned scientist, his assistant, and an on-target conspiracy theorist race against time to expose a government cover-up, reveal the truth, and prevent a massive meteor from destroying the planet.
1h 46m Drama Thriller Science Fiction
As an epidemic of a lethal airborne virus - that kills within days - rapidly grows, the worldwide medical community races to find a cure and control the panic that spreads faster than the virus itself.
45m Drama Mystery Sci-Fi & Fantasy
After Portland homicide detective Nick Burkhardt discovers he's descended from an elite line of criminal profilers known as "Grimms," he increasingly finds his responsibilities as a detective at odds with his new responsibilities as a Grimm.
12.
Salem's Lot (2004)
1h 30m Drama
A dark terror has come to the picture-perfect town of Jerusalem's Lot, and it's up to a writer with a haunted past to uncover the horror that has taken over the town.
44m Mystery Action & Adventure Drama
Three years after the zombie virus has gutted the country, a team of everyday heroes must transport the only known survivor of the plague from New York to California, where the last functioning viral lab waits for his blood.
45m Drama Mystery Sci-Fi & Fantasy
When they were boys, Sam and Dean Winchester lost their mother to a mysterious and demonic supernatural force. Subsequently, their father raised them to be soldiers. He taught them about the paranormal evil that lives in the dark corners and on the back roads of America ... and he taught them how to kill it. Now, the Winchester brothers crisscross the country in their '67 Chevy Impala, battling every kind of supernatural threat they encounter along the way.
15.
Fear the Walking Dead (2015)
43m Action & Adventure Drama
What did the world look like as it was transforming into the horrifying apocalypse depicted in "The Walking Dead"? This spin-off set in Los Angeles, following new characters as they face the beginning of the end of the world, will answer that question.
16.
28 Days Later... (2002)
1h 53m Horror Thriller Science Fiction
Twenty-eight days after a killer virus was accidentally unleashed from a British research facility, a small group of London survivors are caught in a desperate struggle to protect themselves from the infected. Carried by animals and humans, the virus turns those it infects into homicidal maniacs -- and it's absolutely impossible to contain.
17.
28 Weeks Later (2007)
1h 40m Horror Thriller Science Fiction
The inhabitants of the British Isles have lost their battle against the onslaught of disease, as the deadly rage virus has killed every citizen there. Six months later, a group of Americans dare to set foot on the isles, convinced the danger has come and gone. But it soon becomes all too clear that the scourge continues to live, waiting to pounce on its next victims.
18.
[REC] 3: Genesis (2012)
1h 20m Horror
A pair of newlyweds must fight to survive when their wedding reception descends into chaos and carnage when their guests become infected by a virus that turns them into hungry zombies.
1h 24m Horror
A mysterious virus, carried by mutant rats, creates pandemonium in New York City in which rat-bite victims turn into homicidal rat-mutants. This movie centers on six tenants of a small apartment complex on the Lower East Side Mulberry Street as they fight to survive the night against the rats and rapidly multiplying cannibal mutants.
1h 56m Action Drama Horror Science Fiction Thriller
Life for former United Nations investigator Gerry Lane and his family seems content. Suddenly, the world is plagued by a mysterious infection turning whole human populations into rampaging mindless zombies. After barely escaping the chaos, Lane is persuaded to go on a mission to investigate this disease. What follows is a perilous trek around the world where Lane must brave horrific dangers and long odds to find answers before human civilization falls.
21.
Dead Creatures (2001)
1h 35m Horror
A group of women afflicted with a horrible disease (which forces them to cannibalism) try to support one another.
1h 41m Mystery Horror Action
Four friends find themselves trapped in their small hometown after they discover their friends and neighbors going quickly and horrifically insane.
23.
The Messengers (2015)
1h 30m Drama
Jake Casper, an ordinary high school student, finds a powerful, extraordinary box in the attic of his Grandpa's antique store. He must learn the purpose of the box, the power within it, and overcome all obstacles in his way before it is too late.
1h 38m Action Fantasy Horror Science Fiction
In the year 2019, a plague has transformed almost every human into vampires. Faced with a dwindling blood supply, the fractured dominant race plots their survival; meanwhile, a researcher works with a covert band of vampires on a way to save humankind.
25.
Quarantine 2: Terminal (2011)
1h 26m Horror Mystery Science Fiction
A plane is taken over by a mysterious virus. When the plane lands it is placed under quarantine. Now a group of survivors must band together to survive the quarantine.
26.
Southern Gothic (2007)
1h 44m Horror
Hazel Fortune works in a strip club in the small Southern town of Redemption. Haunted by the death of his only daughter, Fortune has become a self-destructive, suicidal alcoholic, until he meets Starla Motes. Hazel's downward spiral is interrupted when is befriended by Starlas daughter, Hope. But when Hope is kidnapped by Enoch Pitt, a ruthless, psychotic preacher on a bloody crusade, Hazel must make the decision to rejoin the living and risk life and limb to save her from a terrible end.
1h Sci-Fi & Fantasy Drama
Survivors was a British science fiction television series produced by the BBC. It depicts the lives of a group of people who survived a virulent unknown strain of influenza which has wiped out most of the human species. According to the producers, the series is not a remake of the 1970s BBC television series Survivors, created by Terry Nation, but is loosely based on the novel of the same name that Nation wrote following the first series of the 1970s series. Two series were produced of the new series. Series 1 ran on BBC One and BBC HD in November–December 2008, and series 2 ran in January–February 2010, ending with a cliffhanger. The BBC announced on 13 April 2010 that, due to poor viewing figures and other considerations, Survivors had been cancelled.The series had its premiere in South Africa on BBC Entertainment in September 2009, in France on DTTV channel NRJ 12 on 12 January 2010, and on BBC America in the United States on 13 February 2010. The series' Australian premiere was on Channel Nine, on 21 March 2010.
explore
Check out more list from our community