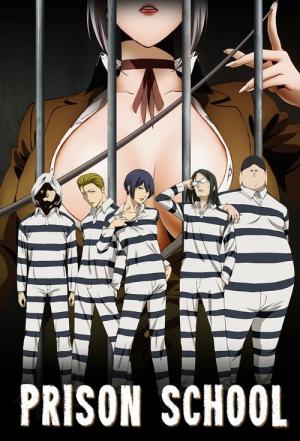 14 Best Shows Like Prison School ...
If you liked this movie , you will for sure love these too! In this collection we highlight some of the best films that share a very similar mood to '', and are worth checking out.
She is Yoshiko Hanabatake, and she's an idiot through and through. She loves bananas, and she loves her childhood friend Akkun. That is all!
Sakamachi Kinjiro discovers that the most popular student in their school, Subaru Konoe—the butler of the headmaster's daughter, Kanade Suzutsuki—is actually a girl.
25m Animation Comedy Action & Adventure
The story takes place in Japan in the early 21st century, in an alternate reality where the Tokugawa Shogunate has remained in power. In this reality, student councils are tasked with oppressing schools. Yagyuu Muneakira is a high school student who rebels against his student council with the help of girls who've had the names of famous samurai heroes passed on to them.
24m Comedy Animation Action & Adventure
The year is 1991 and 6th grader Yaguchi Haruo only has video games to live for. He's not popular in school and he's neither handsome, funny, nice nor even friendly. The only thing he has going for him is that he is good at video games. One day at the local arcade, he plays Oono Akira, a fellow classmate but who's popular, smart, pretty and a rich girl that absolutely destroys him at Street Fighter II. Not only does he lose to her 30 times in a row, he can't beat her at any game. Haruo can't seem to shake Akira off as she follows him from arcade to arcade everyday after school and beats him every time. As weird as it sounds, the odd couple begins a strange bond and friendship.
6th-year grade-schooler Ayase Chihaya's dream is for her sister to be Japan's top model. However, transfer student Wataya Arata admonishes her that a dream must be about one's own self. Thus, she takes up karuta, a Japanese card game, competitively. Together with Arata and Mashima Taichi, Chihaya's childhood friend, they have great fun playing each other, but separate after graduation.4 years later, Chihaya returns to town. Although Arata no longer plays the game, she believes that they will eventually reunite as long as she continues karuta. Together with Taichi, she establishes the Mizusawa High-school Karuta Club.
6.
Gabriel DropOut (2017)
24m Animation Comedy Sci-Fi & Fantasy
Gabriel White graduated at the top of the class at angel school and attends a human school on earth in pursuit of knowledge, but then gets engrossed in an MMO and decides it's too much trouble to go anywhere. Based on the manga by Ukami.
24m Animation Comedy Sci-Fi & Fantasy
The story is about Yuuki Rito, a high-school boy who cannot confess to the girl of his dreams, Sairenji Haruna. One day when coming home and sulking in the bath-tub a mysterious, nude girl, appears out of nowhere. Her name is Lala and she comes from the planet Deviluke, where she is the heir to the throne. Her father wants her to return to her home planet so she can marry one of the husband candidates, but she decides that she wants to marry Rito in order to stay on Earth.
8.
Kaguya-sama: Love is War (2019)
Considered a genius due to having the highest grades in the country, Miyuki Shirogane leads the prestigious Shuchiin Academy's student council as its president, working alongside the beautiful and wealthy vice president Kaguya Shinomiya. The two are often regarded as the perfect couple by students despite them not being in any sort of romantic relationship.
9.
Rent-a-Girlfriend (2020)
In today's Japan, "rental" services can deliver an afternoon with a "friend," a "parent," even a fake girlfriend! Kinoshita Kazuya is a 20-year-old failure of a college student. He managed to kiss his girlfriend once, but was dumped after a month. Completely spiteful, Kazuya gets just desperate enough to give it a try. But he quickly discovers how complicated it can be to "rent" an emotional connection… and his new "girlfriend," Mizuhara Chizuru, who's trying to keep her side hustle secret, will panic when she finds out her real life and Kazuya's are intertwined in surprising ways! A reckless rom-com filled with love and excitement is about to begin!
10.
Hensuki: Are You Willing to Fall in Love With a Pervert, As Long As She's a Cutie? (2019)
22m Animation
A high school student whose year of not having a girlfriend is his age, Keiki Kiryuu, suddenly received a love letter. He is happy he can finally have a girlfriend, but is also surprised because not only there is no sender name but also includes a white underwear…??? The cute girls who gather around him are all weird and with reasons!? Who is the Cinderella who sent the underwear? The mystery called out mystery, even hentai was called out. A new feeling of love comedy that calls out hentei begins……!!
Susan Morrow receives a book manuscript from her ex-husband – a man she left 20 years earlier – asking for her opinion of his writing. As she reads, she is drawn into the fictional life of Tony Hastings, a mathematics professor whose family vacation turns violent.
12.
How Not to Summon a Demon Lord (2018)
24m Action & Adventure Comedy Sci-Fi & Fantasy Animation
When it comes to the fantasy MMORPG Cross Reverie, none can match the power of the Demon King Diablo. Possessing the game's rarest artifacts and an unrivaled player level, he overpowers all foolish enough to confront him. But despite his fearsome reputation, Diablo's true identity is Takuma Sakamoto, a shut-in gamer devoid of any social skills. Defeating hopeless challengers day by day, Takuma cares about nothing else but his virtual life—that is, until a summoning spell suddenly transports him to another world where he has Diablo's appearance!In this new world resembling his favorite game, Takuma is greeted by the two girls who summoned him. They perform an Enslavement Ritual in an attempt to subjugate him, but the spell backfires and causes them to become his slaves instead. With the situation now becoming more awkward than ever, Takuma decides to accompany the girls in finding a way to unbind their contract while learning to adapt to his new existence as the menacing Demon King.
Brickleberry National Park is facing closure, but not if the park's dysfunctional park rangers can help it!"Brickleberry," an animated half-hour series, follows the crazy bunch of park rangers as they do their worst to keep the park running. Steve (David Herman) has been "Ranger of the Month" every month for years, so he feels threatened when Ethel (Natasha Leggero) is transferred from Yellowstone National Park to help whip the park into shape. Connie (Roger Black) and Denzel (Jerry Minor) are two unique rangers that each bring special skills (or in Denzel's case, lack of skills) to the job, and Woody (Tom Kenny) is the hapless Head Ranger who puts nothing above his beloved park, except his adopted bear cub, Malloy (Daniel Tosh), who he's taken in and spoils to death.
explore
Check out more list from our community