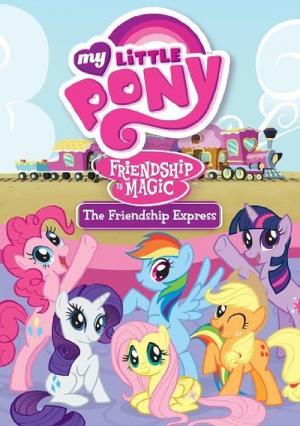 15 Best Shows Like My Little Pony ...
If you liked this film , you will for sure love these too! In this list we highlight some of the best films that share a very similar premise to '', and are worth checking out.
1.
My Little Pony: The Movie (2017)
2.
My Little Pony: Equestria Girls - Rainbow Rocks (2014)
3.
My Little Pony: Equestria Girls - Legend of Everfree (2016)
1h 13m Adventure Animation Music Fantasy Comedy
When Canterlot Highschool goes on a trip to Camp Everfree, they're surprised to find a magical force is causing strange things to happen around camp. With the help of the Mane 6 and especially Sunset Shimmer, Twilight Sparkle must confront the dark "Midnight Sparkle" within herself and embrace her newfound magical abilities to save the camp.
4.
She-Ra and the Princesses of Power (2018)
24m Animation Kids Sci-Fi & Fantasy
In this reboot of the '80s series, a magic sword transforms an orphan girl into warrior She-Ra, who unites a rebellion to fight against evil.
5.
Sofia the First (2012)
Set in the storybook world of Enchancia, the music-filled movie follows Sofia, an average girl whose life suddenly changes when her mother marries the king and she is whisked off to live in a castle with her mom, new step-father, King Roland II, and step-siblings, Amber and James. Along the way this ordinary girl learns to navigate the extraordinary life of royalty, and in the process makes everyone around her feel special.
6.
My Little Pony: The Movie (1986)
The first day of Spring is on its way and the Little Ponies are preparing for it with a big festival. But all the fun may come to an end if the witch Hydia has her way! Can the Ponies defeat Hydia and her evil daughters, Reeka and Draggle? More importantly, can they save Ponyland from the witches' concoction, the strange purple goo called Smooze, that's threatening to bury the whole town?
7.
Elena of Avalor (2016)
The story of a brave teenager who has saved her kingdom from an evil sorceress and must now learn to rule as a crown princess until she's old enough to be queen.
8.
Star vs. the Forces of Evil (2015)
11m Action & Adventure Animation Comedy Sci-Fi & Fantasy
Intergalactic warrior Star Butterfly arrives on Earth to live with the Diaz family. She continues to battle villains throughout the universe and high school, mainly to protect her extremely powerful wand, an object that still confuses her.
9.
Barbie: Fairytopia (2005)
Elina is a flower fairy who discovers that her home of Magic Meadow has been overcome by a horrible malady that is killing the flowers and making the fairies unable to fly. With the help of Bibble, a puffball and a giant butterfly named Hue she attempts to find Azura, a Guardian Fairy. She's challenged along the way by the evil Laverna who wants to usurp the Enchantress, the ruler of Fairytopia.
10.
Barbie: The Princess & the Popstar (2012)
11.
Thomas & Friends (1984)
12.
Sofia the First: Once Upon a Princess (2012)
13.
The Little Mermaid 2: Return to the Sea (2000)
1h 15m Adventure Animation Family Comedy
Set several years after the first film, Ariel and Prince Eric are happily married with a daughter, Melody. In order to protect Melody from the Sea Witch, Morgana, they have not told her about her mermaid heritage. Melody is curious and ventures into the sea, where she meets new friends. But will she become a pawn in Morgana's quest to take control of the ocean from King Triton?
14.
The Care Bears Movie (1985)
1h 17m Adventure Fantasy Animation Comedy Family
The Care Bears have their work cut out for them, because Nicolas, a lonely magician's assistant, is about to fall under the evil influence of a bad spirit who lives in an ancient magic book -- it seems Nicolas will do just about anything for friends. Aside from Nicolas, Kim and Jason are in trouble because they are starting not to trust people after suffering many disappointments.
explore
Check out more list from our community