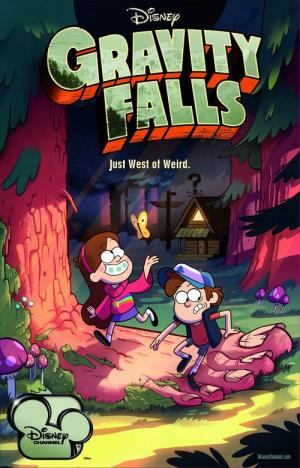 11 Best Shows Like Gravity Falls ...
If you liked this movie , you will definitely love these too! In this collection we highlight some of the best films that share a very similar premise to 'Gravity Falls', and are worth checking out.
1.
Camp Lakebottom (2013)
20m Comedy Animation Sci-Fi & Fantasy
We don't have an overview translated in English. Help us expand our database by adding one.
2.
Star vs. the Forces of Evil (2015)
11m Action & Adventure Animation Comedy Sci-Fi & Fantasy
Intergalactic warrior Star Butterfly arrives on Earth to live with the Diaz family. She continues to battle villains throughout the universe and high school, mainly to protect her extremely powerful wand, an object that still confuses her.
3.
Over the Garden Wall (2014)
11m Mystery Sci-Fi & Fantasy Animation Family Comedy
Two brothers, Wirt and Greg, find themselves lost in the Unknown; a strange forest adrift in time. With the help of a wise old Woodsman and a foul-tempered bluebird named Beatrice, Wirt and Greg must travel across this strange land, in hope of finding their way home. Join them as they encounter surprises and obstacles on their journey through the wood.
4.
Summer Camp Island (2018)
11m Comedy Family Sci-Fi & Fantasy
Oscar and Hedgehog are dropped off at a strange summer camp, full of fantastical things ranging from magical camp counselors to sticky notes that are portals to other dimensions.
5.
Phineas and Ferb (2007)
11m Animation Comedy Family Sci-Fi & Fantasy
Each day, two kindhearted suburban stepbrothers on summer vacation embark on some grand new project, which annoys their controlling sister, Candace, who tries to bust them. Meanwhile, their pet platypus plots against evil Dr. Doofenshmirtz.
28m Animation Comedy Action & Adventure Mystery
Set in a ruined medieval city called Dreamland, Disenchantment follows the grubby adventures of a hard-drinking princess, her feisty elf companion and her personal demon.
7.
The Amazing World of Gumball (2011)
11m Animation Family Sci-Fi & Fantasy Comedy
The life of Gumball Watterson, a 12-year old cat who attends middle school in Elmore. Accompanied by his pet, adoptive brother, and best friend Darwin Watterson, he frequently finds himself involved in various shenanigans around the city, during which he interacts with various family members: Anais, Richard, and Nicole Watterson, and other various citizens.
8.
Steven Universe (2013)
11m Animation Comedy Action & Adventure Family Sci-Fi & Fantasy
A young boy takes his mother's place in a group of gemstone-based beings, and must learn to control his powers.
22m Animation Sci-Fi & Fantasy Comedy Action & Adventure
An animated fantasy-comedy series that follows Luz, a self-assured teenage girl who accidentally stumbles upon a portal to a magical world where she befriends a rebellious witch, Eda, and an adorably tiny warrior, King. Despite not having magical abilities, Luz pursues her dream of becoming a witch by serving as Eda's apprentice at the Owl House and ultimately finds a new family in an unlikely setting.
10.
Adventure Time (2010)
11m Animation Comedy Sci-Fi & Fantasy
Hook up with Finn and Jake as they travel the Land of Ooo searching for adventure. But remember, adventure isn't always easy. Sometimes you've got to battle fire gnomes that torture old ladies, save a smelly hot dog princess from the Ice King, and thaw out a bunch of frozen businessmen. What the cabbage?!
23m Family Comedy Animation
The adventures of billionaire Scrooge McDuck and his nephews Huey, Dewey and Louie, their famous uncle Donald Duck, pilot extraordinaire Launchpad, Mrs. Beakly, Webby and Roboduck. Adventures and hidden treasures are everywhere, in their hometown Duckburg and all around the world.
explore
Check out more list from our community