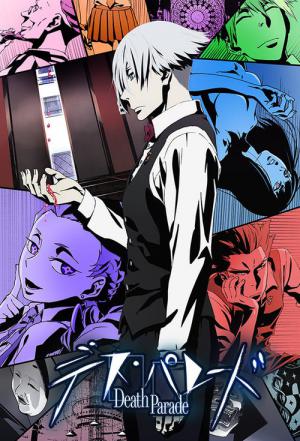 10 Best Shows Like Death Parade ...
If you liked this film , you will probably love these too! In this list we highlight some of the best films that share a very similar mood to 'Death Parade', and are worth checking out.
1.
Darker Than Black (2007)
25m Action & Adventure Animation Mystery Sci-Fi & Fantasy
Ten years ago, a mysterious spatial anomaly now known as "Heaven's Gate" appeared in South America, shortly followed by the opening of "Hell's Gate" in Tokyo altering the sky and wreaking havoc on the landscape. The real stars disappeared, replaced by false stars. During this time, people possessing various special abilities — called "Contractors" — emerged, each capable of different supernatural feats. Following the disastrous Heaven's War, the United States lost its dominant position as a superpower to a mysterious organization named the Syndicate. The story revolves around a Chinese contractor codenamed "Hei" as he undertakes various espionage and assassination missions in Tokyo.
24m Animation Drama Action & Adventure
Sakamoto, an unemployed young man, is one of the world's top players of an online fighting game called Btooom! One day, he wakes up on what appears to be a tropical island, although he doesn't remember how or why he got there.
24m Animation Mystery Action & Adventure Sci-Fi & Fantasy
Sudou Kaname, an ordinary high school student, receives an invitation email to try a mysterious app called "Darwin's Game." Kaname, upon launching the app, is drawn into a game where players fight one another using superpowers called Sigils. Without knowing the reason for all this, can Kaname survive furious battles against the powerful players who attack him?
4.
Deadman Wonderland (2011)
24m Action & Adventure Animation Sci-Fi & Fantasy
Ganta is the only survivor after a mysterious man in red slaughters a classroom full of teenagers. He's framed for the carnage, sentenced to die, and locked away in the most twisted prison ever built: Deadman Wonderland. And then it gets worse.
5.
Brynhildr in the Darkness (2014)
24m Action & Adventure Animation
When he was a child, Murakami was friends with a girl he called Kuroneko. One day, while trying to prove the existence of aliens to Murakami, she is killed in an accident that he barely survives. Guilty of his role in the accident, Murokami decides to dedicate his life to proving that aliens exist. Then, one day, a new student with mysterious powers transfers into his class who not only looks a lot like Kuroneko, but is named Kuroha, Neko.
6.
Angels of Death (2018)
24m Animation Action & Adventure Mystery Mystery
Most girls waking up without any memory and meeting a serial killer would panic, but not Rachel. In fact, far from being her biggest problem, killer Zack might just prove a convenient resource when it comes to finding a way out of the building in which they're both trapped!
7.
Terror in Resonance (2014)
23m Animation Drama Mystery
In an alternate version of the present, Tokyo has been decimated by a shocking terrorist attack, and the only hint to the identity of the culprit is a bizarre video uploaded to the internet. The police, baffled by this cryptic clue, are powerless to stop the paranoia spreading across the population. While the world searches for a criminal mastermind to blame for this tragedy, two mysterious children - children who shouldn't even exist - masterfully carry out their heinous plan. Cursed to walk through this world with the names Nine and Twelve, the two combine to form "Sphinx," a clandestine entity determine to wake the people from their slumber - and pull the trigger on this world.
8.
Eden of the East (2009)
25m Animation Drama Mystery Comedy Action & Adventure
When Saki Morimi gets into trouble with the police while in Washington D.C., she is helped by a Japanese man who calls himself, Akira Takizawa. Akira has only two things, a gun and a cell phone loaded with 8.2 billion yen in digital money.
2h Thriller Fantasy
Struggling manga author Satoru Fujinuma is beset by his fear to express himself. However, he has a supernatural ability of being forced to prevent deaths and catastrophes by being sent back in time before the incident occurred, repeating time until the accident is prevented. One day, he gets involved in an accident that has him framed as a murderer. Desperate to save the victim, he sends himself back in time only to find himself as a grade-schooler one month before fellow classmate Kayo Hinazuki went missing. Satoru now embarks on a new quest: to save Kayo and solve the mystery behind her disappearance.
1h 32m Thriller Drama Horror Mystery
Jake McCormick (Buddy Dolan) wakes after 12 years in a coma to discover he has the power to see the dead in this spine-chiller. Though bombarded by spirits -- both good and evil -- Jake doesn't know how to communicate with them. He seeks the advice of psychic Andrea Riley (Stacey Longoria), who helps him understand his enormous gift. But the two discover that dealing with the supernatural isn't easy when they're each hiding secrets of their own.
explore
Check out more list from our community