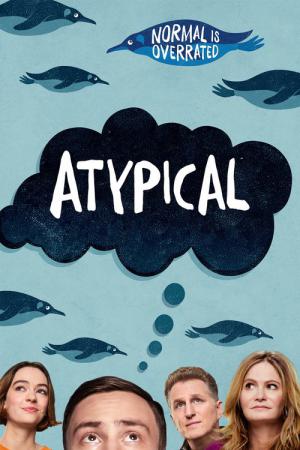 16 Best Shows Like Atypical ...
If you liked this movie , you will probably love these too! In this collection we highlight some of the best films that share a very similar mood to '', and are worth checking out.
Inexperienced Otis channels his sex therapist mom when he teams up with rebellious Maeve to set up an underground sex therapy clinic at school.
2.
Everything Sucks! (2018)
It's 1996 in a town called Boring, Oregon, where high school misfits in the AV and drama clubs brave the ups and downs of teenage emotions in the VHS era.
4.
The Breakfast Club (1985)
Five high school students from different walks of life endure a Saturday detention under a power-hungry principal. The disparate group includes rebel John, princess Claire, outcast Allison, brainy Brian and Andrew, the jock. Each has a chance to tell his or her story, making the others see them a little differently -- and when the day ends, they question whether school will ever be the same.
5.
My Mad Fat Diary (2013)
Set in 1996 in Lincolnshire, the show tells the tragic and humorous story of a very troubled young girl Rae, who has just left a psychiatric hospital, where she has spent four months after attempting suicide, begins to reconnect with her best friend Chloe and her group, who are unaware of Rae's mental health and body image problems, believing she was in France for the past four months.
22m Comedy
A romantic comedy about two best friends who love each other -- in slightly different ways. After numerous failed attempts to become popular, the girls are mistakenly outed as lesbians, which launches them to instant celebrity status. Seduced by their newfound fame, Karma and Amy decide to keep up their romantic ruse.
Set in the charming town of Stars Hollow, Connecticut, the series follows the captivating lives of Lorelai and Rory Gilmore, a mother/daughter pair who have a relationship most people only dream of.
8.
The Baby-Sitters Club (2020)
28m Kids
In this contemporary take on the beloved book series, five best friends launch a baby-sitting business that's big on fun and adventure.
9.
Boy Meets World (1993)
The coming of age events and everyday life-lessons of Cory Matthews, a Philadelphian who grows up from a young boy to a married man.
Having grown up in a world of manufactured happiness, Lucy, the cynical teenage daughter of a idealistic theme park princess mom, wants to get out and experience something real. When Ian, the new park owner's son, arrives and sweeps her off her feet, Lucy is left wondering if fairy tale endings do exist after all. But when a scandalous secret turns her life upside down, she learns Happyland is far from a walk in the park.
1h 27m Drama Family Comedy TV Movie
Maggie Baker has a weight problem, and her high school classmates won't let her forget it. They shamelessly ridicule her, and even go so far as to nominate her for Homecoming Queen as a joke. Maggie, however, decides to take the nomination seriously, collects the required signatures and starts campaigning. A number of students get behind her, threatening the chances of the popular clique -- who resolve to sabotage Maggie's campaign by any means necessary.
12.
Mr. Know-It-All (2018)
13.
Me and Earl and the Dying Girl (2015)
Greg is coasting through senior year of high school as anonymously as possible, avoiding social interactions like the plague while secretly making spirited, bizarre films with Earl, his only friend. But both his anonymity and friendship threaten to unravel when his mother forces him to befriend a classmate with leukemia.
42m Drama
A documentary crew follows the stories of nine classmates during their high school years in Austin, Texas, and then revisits them ten years later to examine how far they have come.
15.
High School Musical: The Musical: The Series (2019)
A group of East High students countdown to the opening night of their school's first-ever production of "High School Musical." Showmances blossom; friendships are tested while new ones are made; rivalries flare and lives are changed forever as these young people discover the transformative power that only a high school drama club can provide.
explore
Check out more list from our community