For television junkies like me, the Emmys are probably the best way to celebrate our undying love for the idiot box. Presenting the 61st Emmy awards, which in the very able hands of host Neil Patrick Harris was delightful...wayyy better than last year's fiasco if you ask me! I hope you caught his charming little opening number and that hillarious bit with Dr. Horrible and his sing along blog.
But what do we love the most about any award show? Why, the celebrities ofcourse with their fabulous dresses, stunning shoes and oh-I-could-kill-for-that pieces of divine jewelry. So enjoy some of our favorite pictures from the show and until next year, as Neil Patrick Harris would say, put down the remote! ;)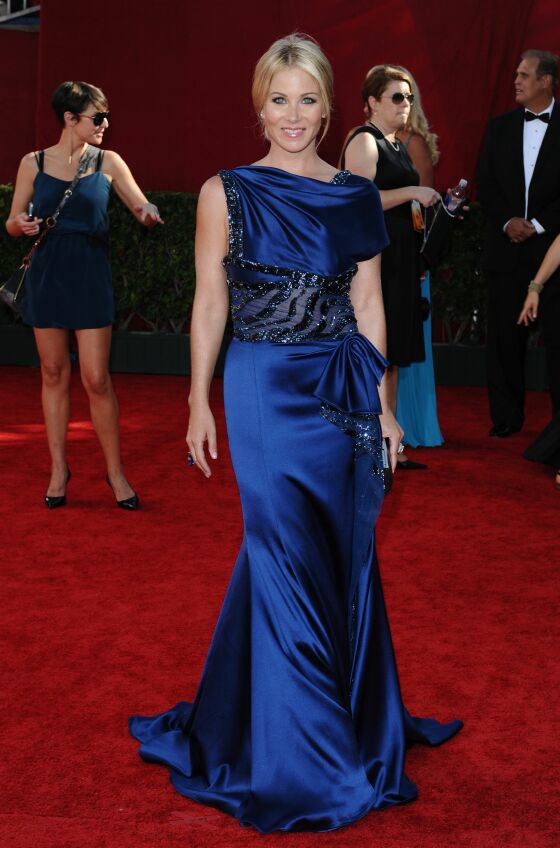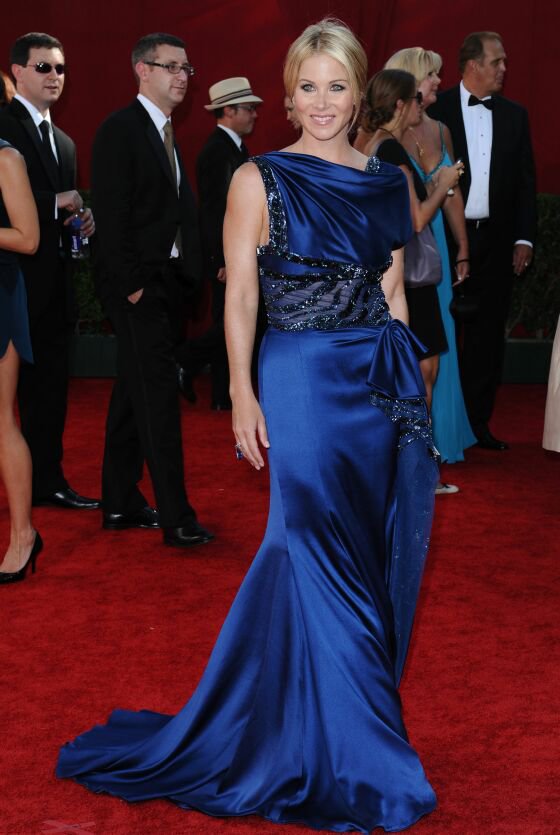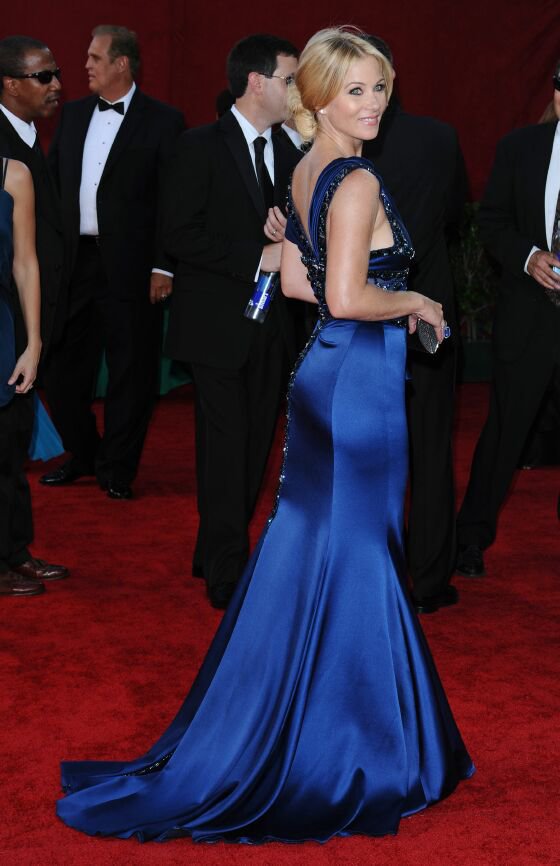 I've got to point out how gorgeous that color looks on Christina. Stunning!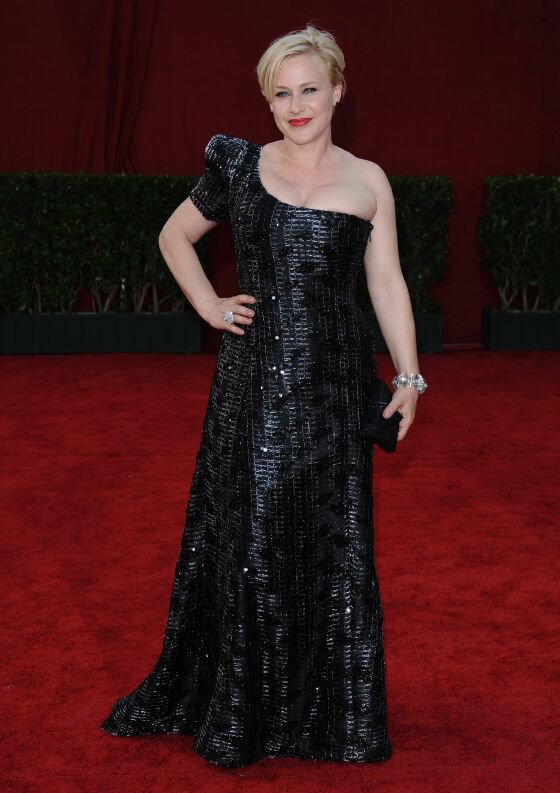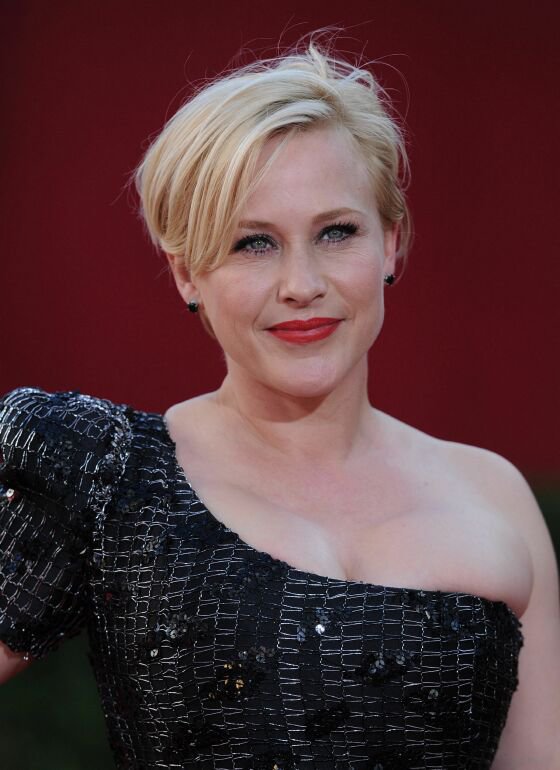 I don't know what Patricia was thinking but to me that dress looks a tad too tight to be comfortable.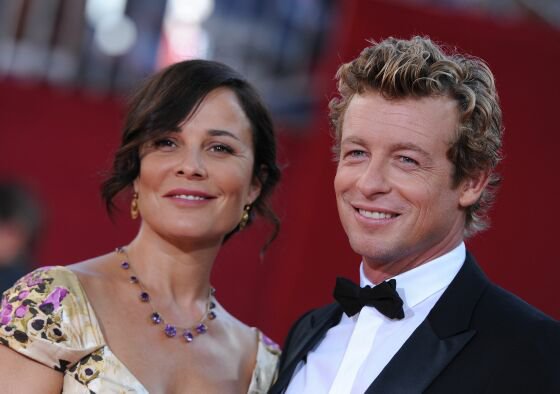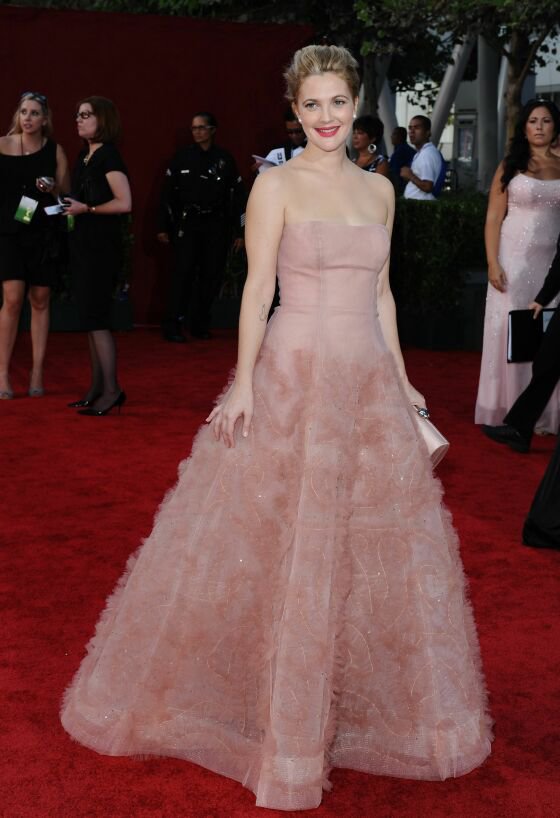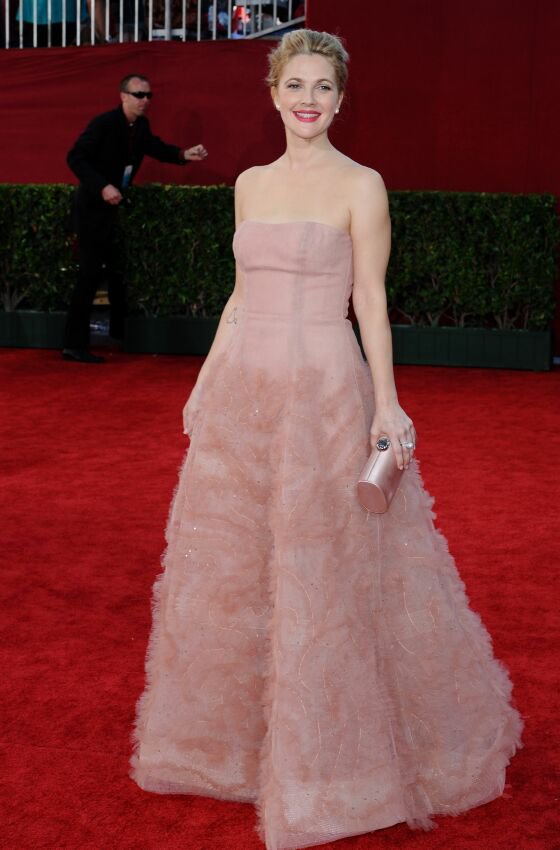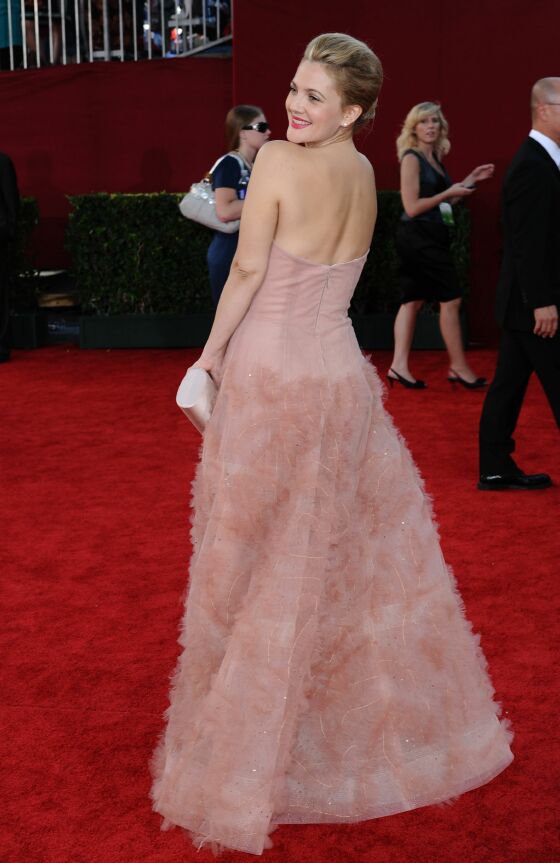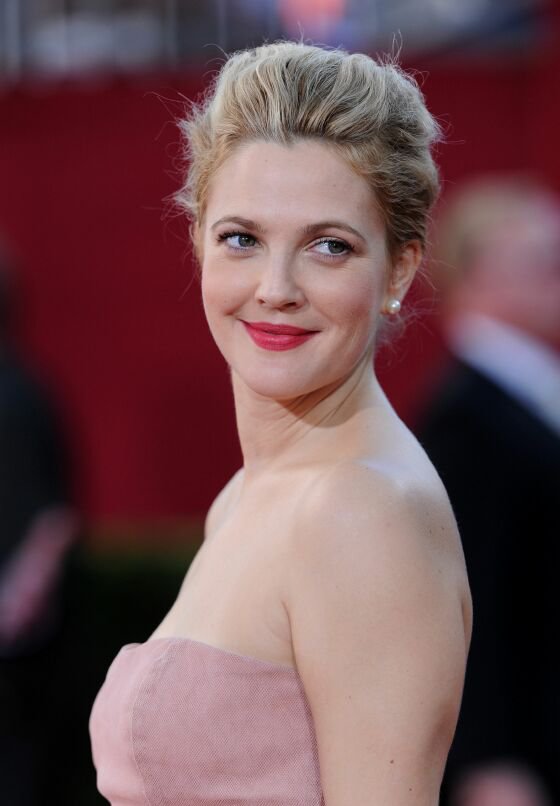 Doesn't Drew just look drop dead gorgeous in her Monique Lhuillier gown. I love the almost divine look it has to it!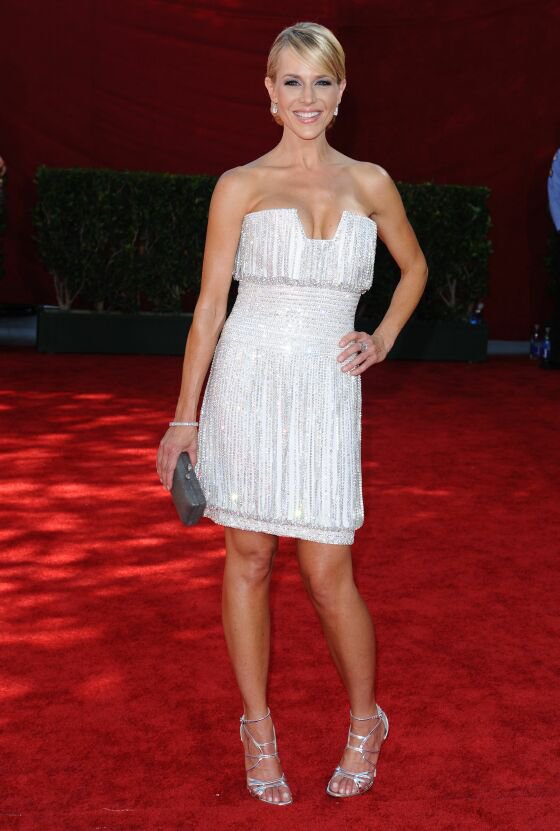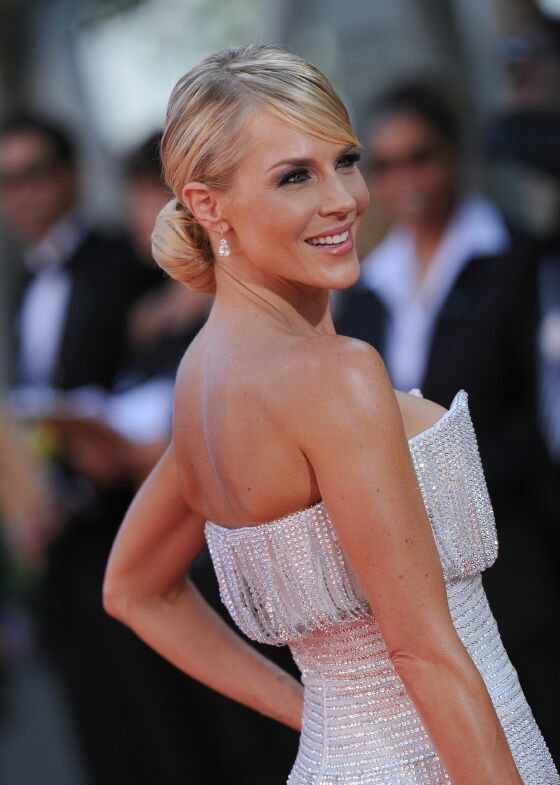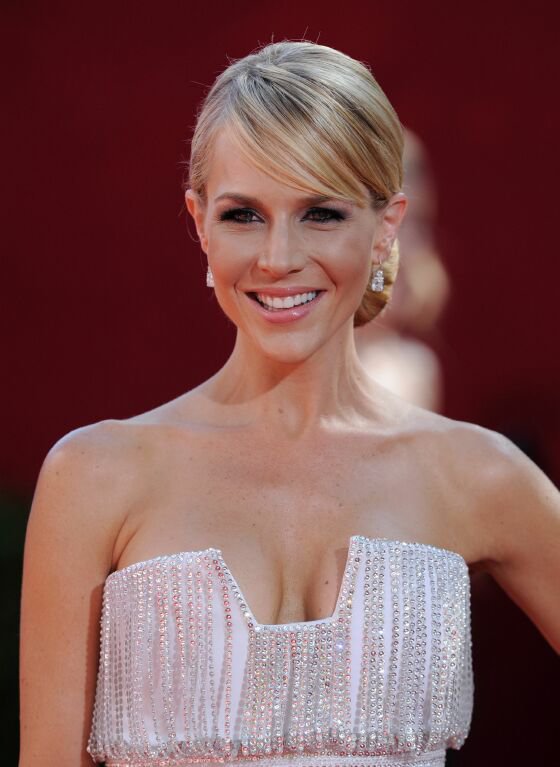 Honestly, I'm on the fence with Julie Benz's crystal studded dress. What do you think of it?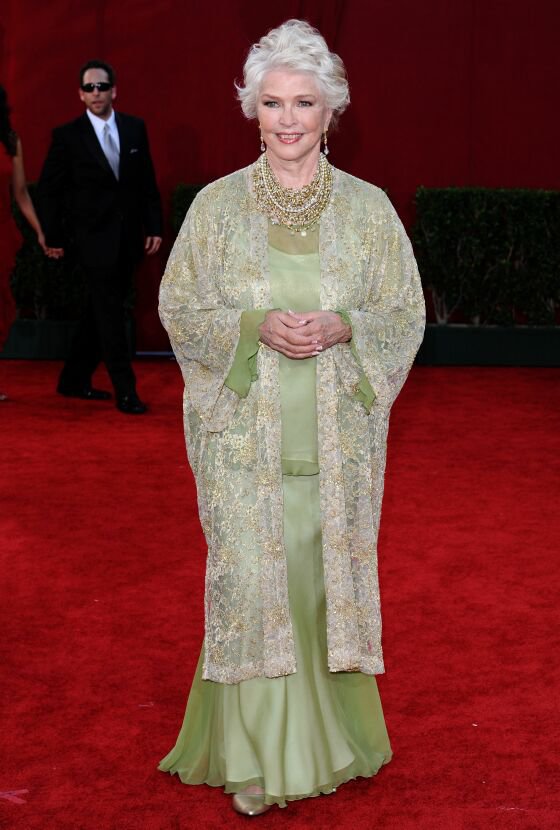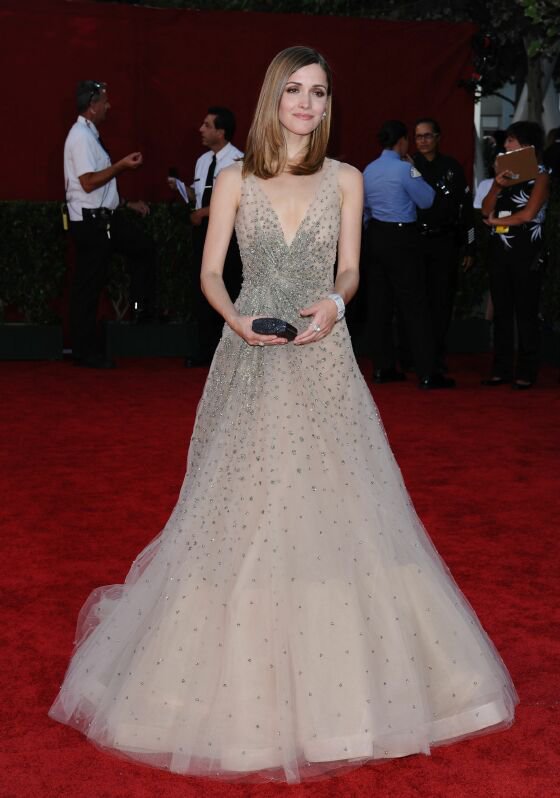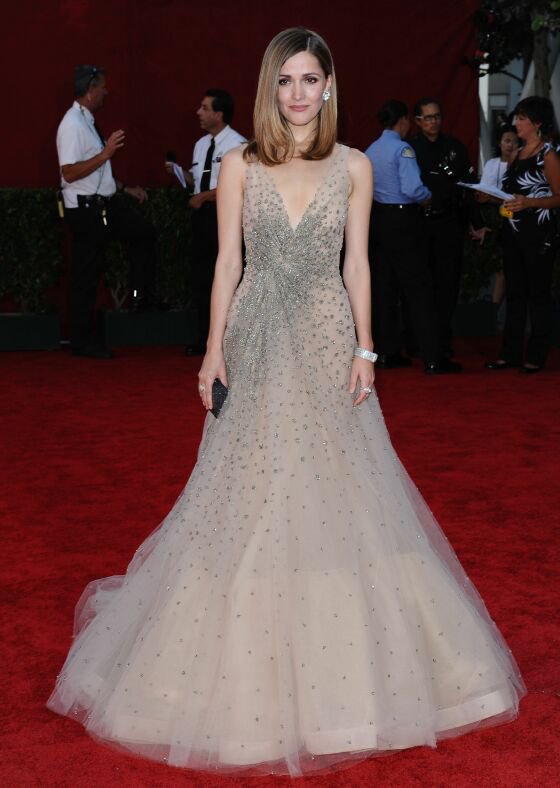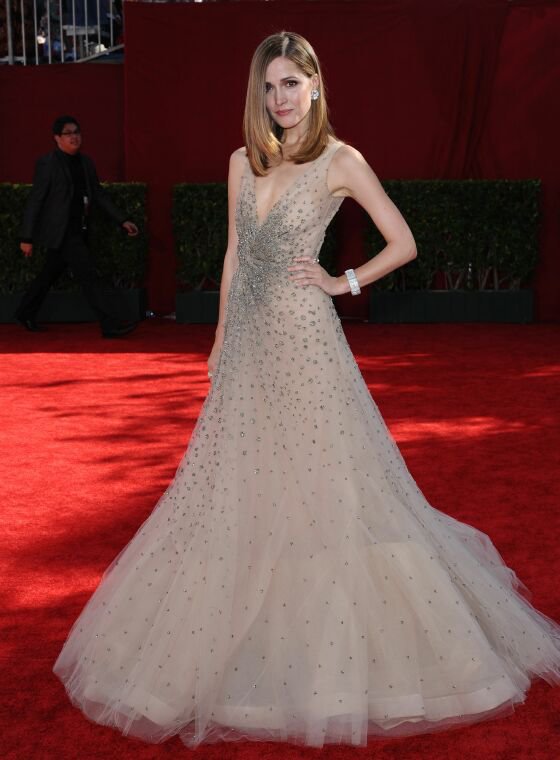 God knows I love long, flowing, fairy tale-ish dresses and so it's no big surprise that I absolutely adore Rose Byrne's Valentino gown.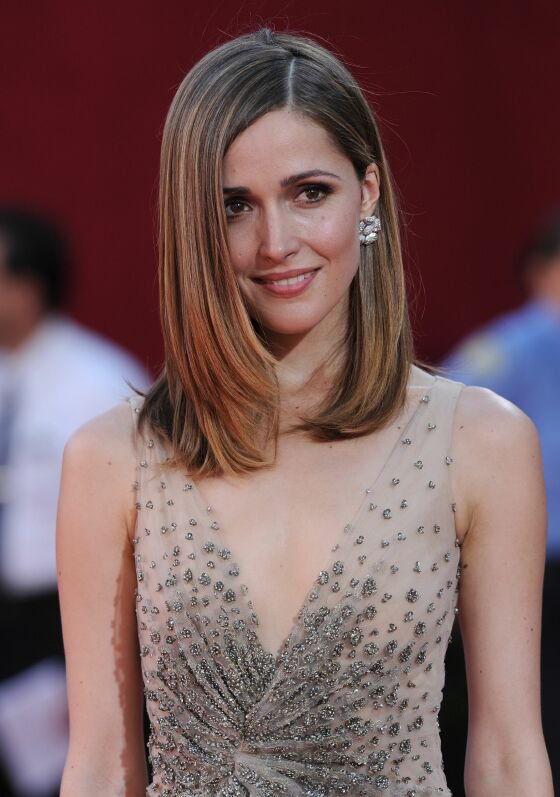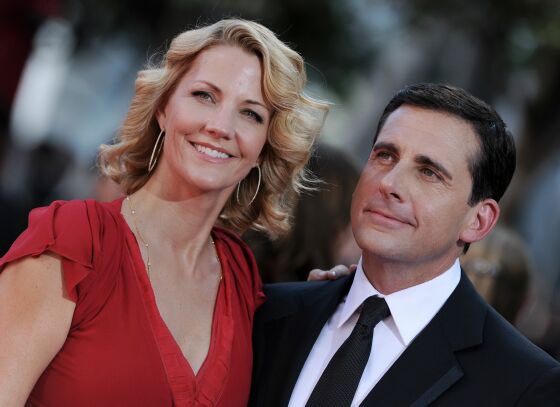 Ah look! It's my favorite funny man Steve Carell! :D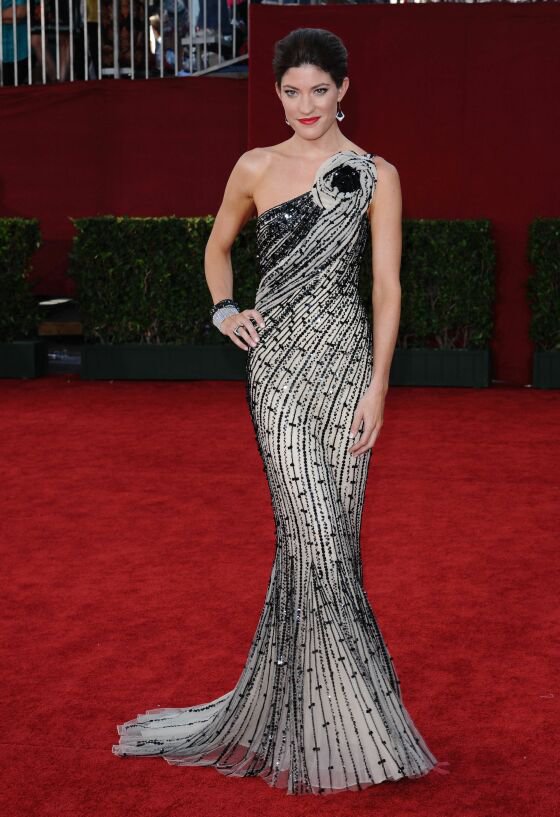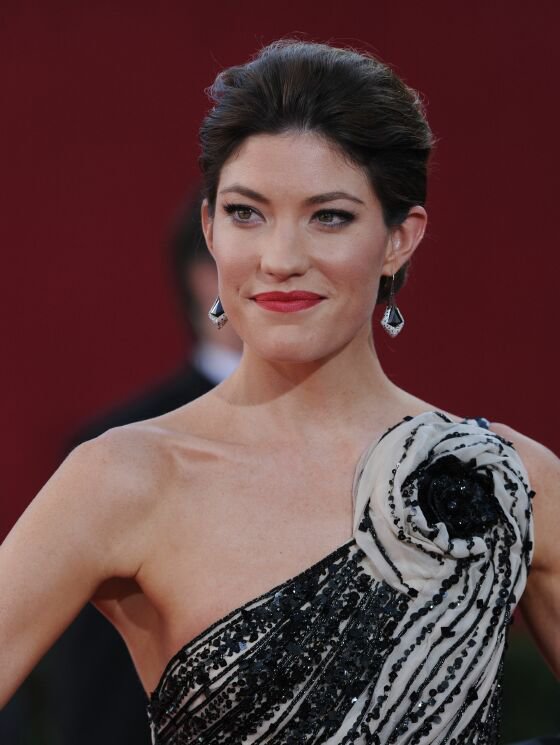 Honestly, there is way too much going on in Jennifer Carpenter's dress for me to like it. Too many beads. Let me repeat that... Way too many beads. And what's with that giant flower on her left shoulder? All together a big no no if you ask me.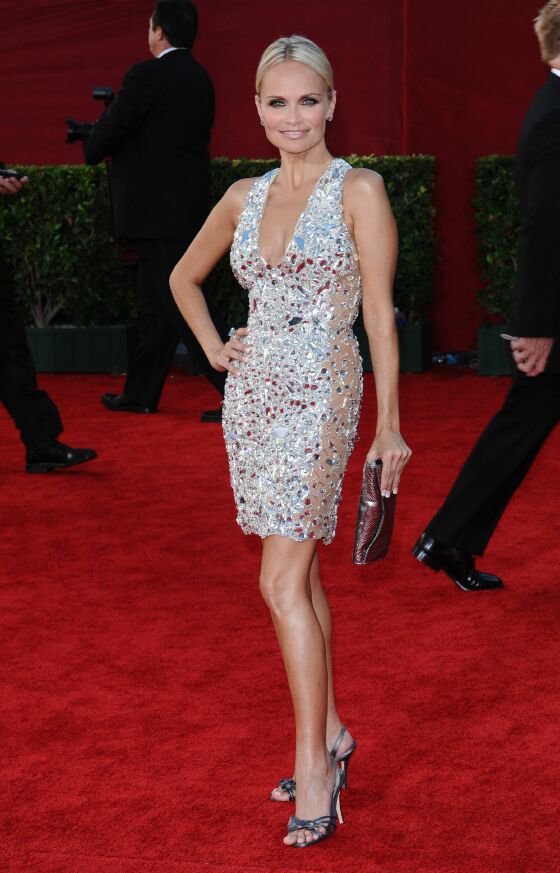 Kristin Chenoweth's Zuhair Murad dress may be a little too shiny for moi but she looks lovely nonetheless!

Love the earrings. Love the dress. I just wish Glenn would lose the glasses.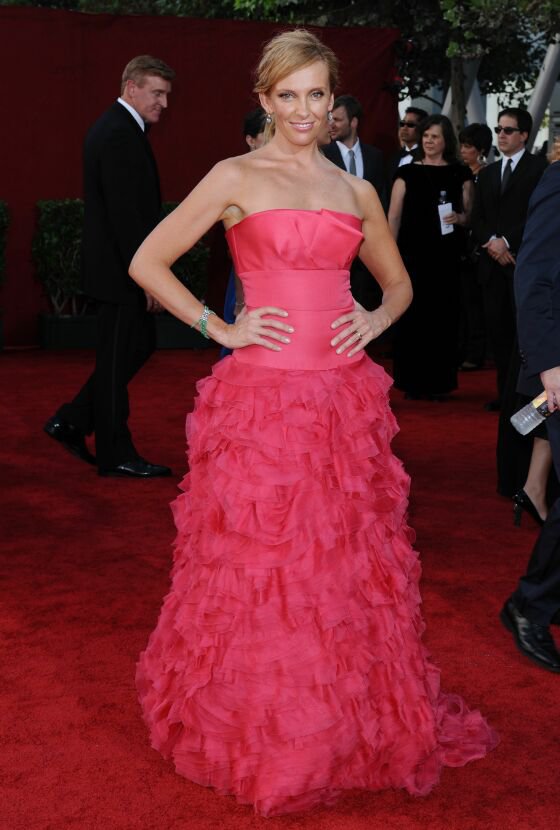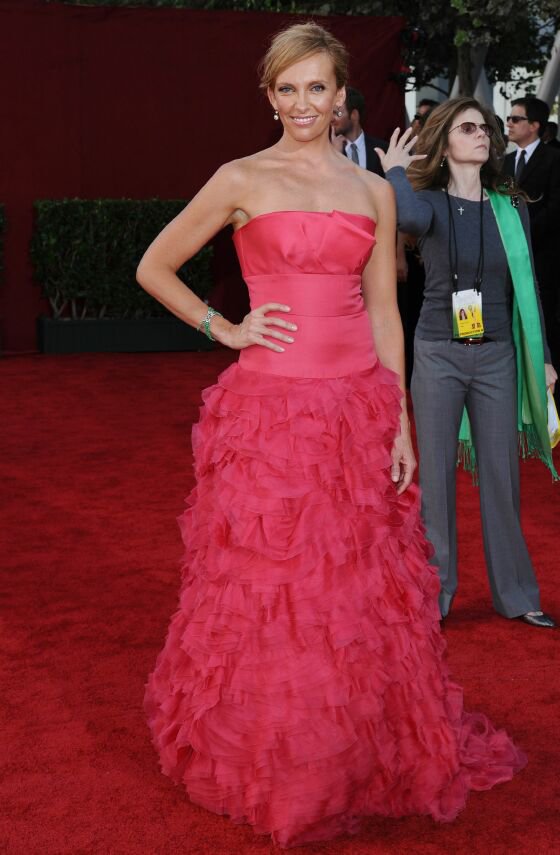 Honestly I'm not digging the color of the dress too much. It reminds me too much of bubble-gum. Sorry Toni!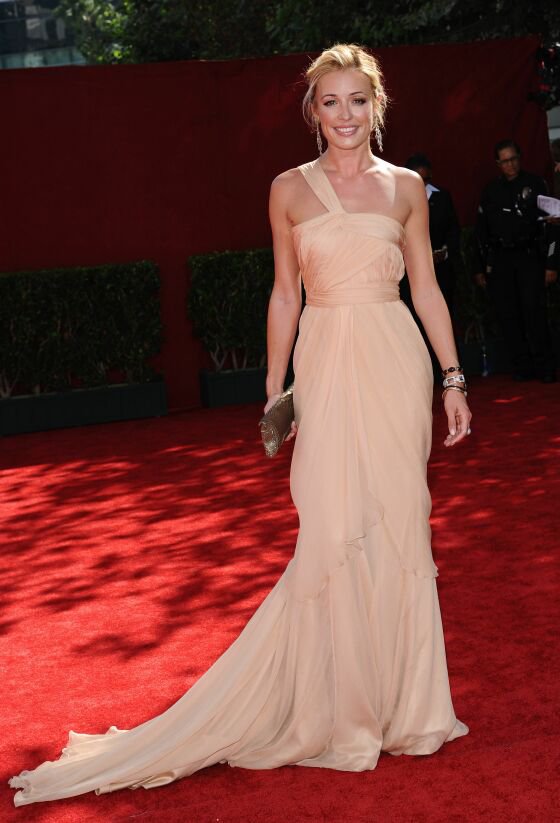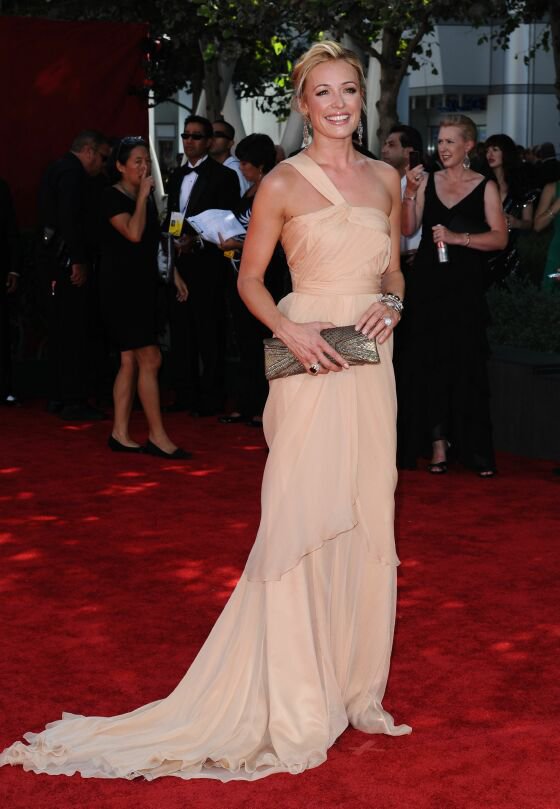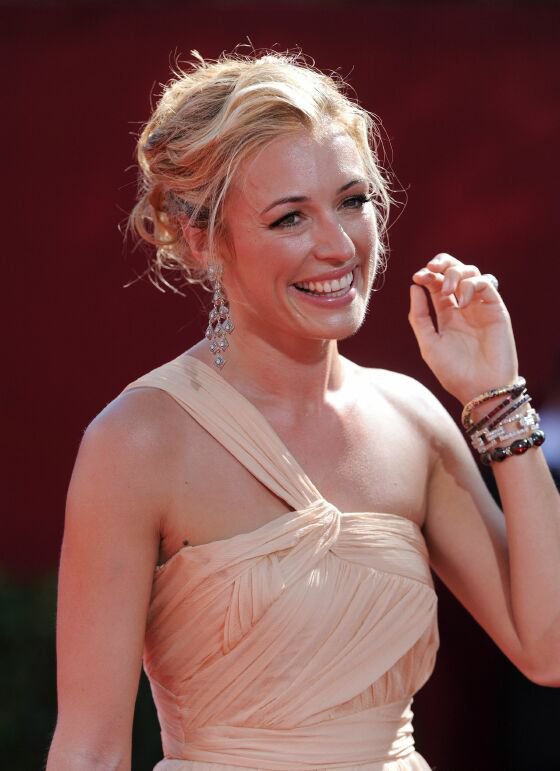 Again, not a big fan of the color. I think it's a little too pale. But Cat Deeley still manages to look beautiful! Love the chandelier earrings.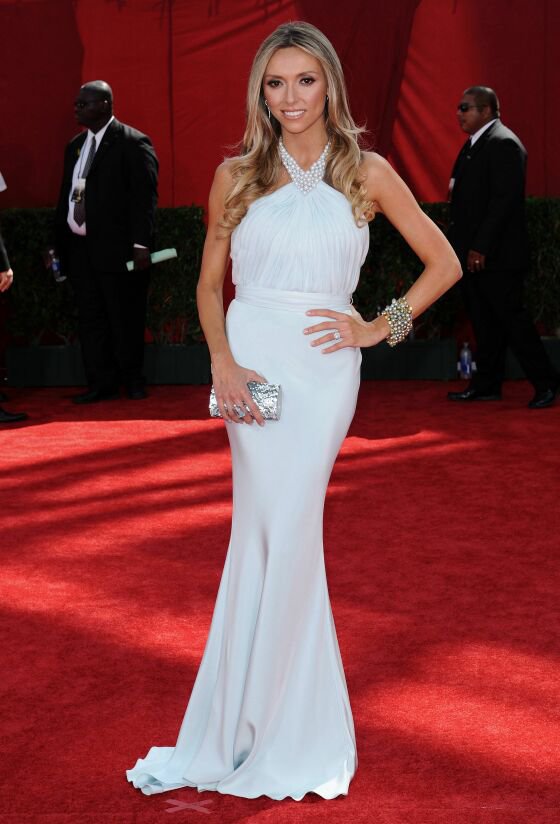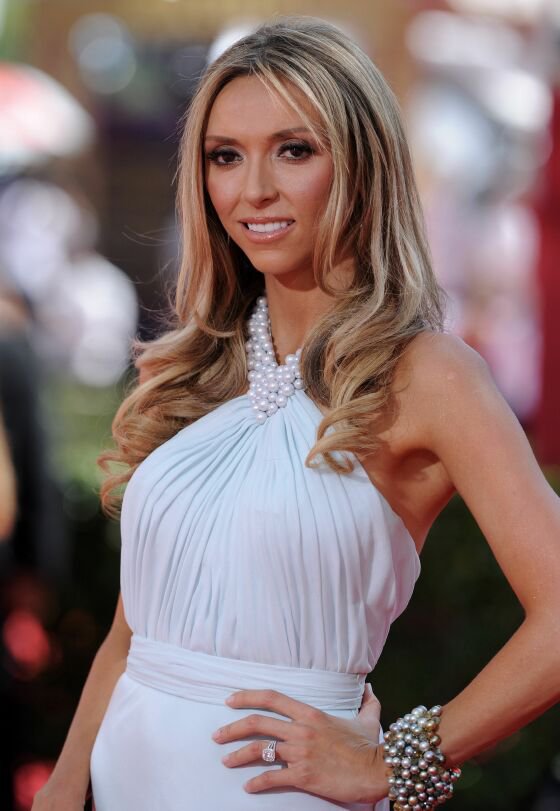 I really abhor the jewelry Giuliana has on but the dress I can live with :)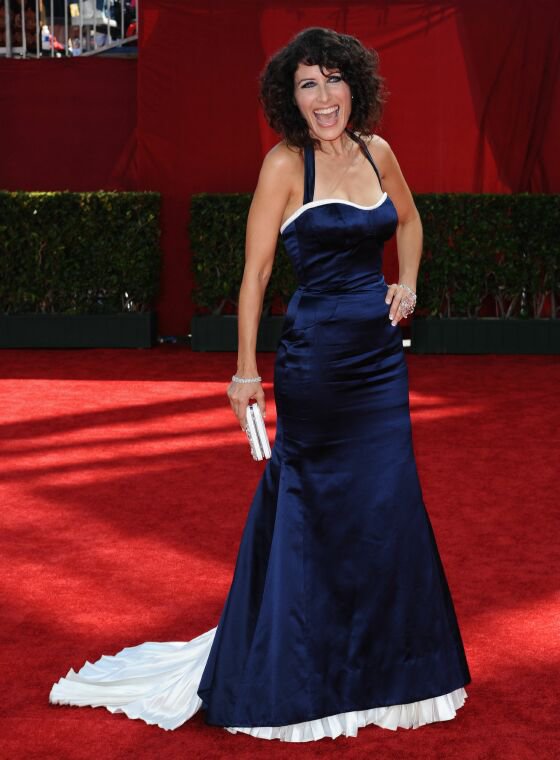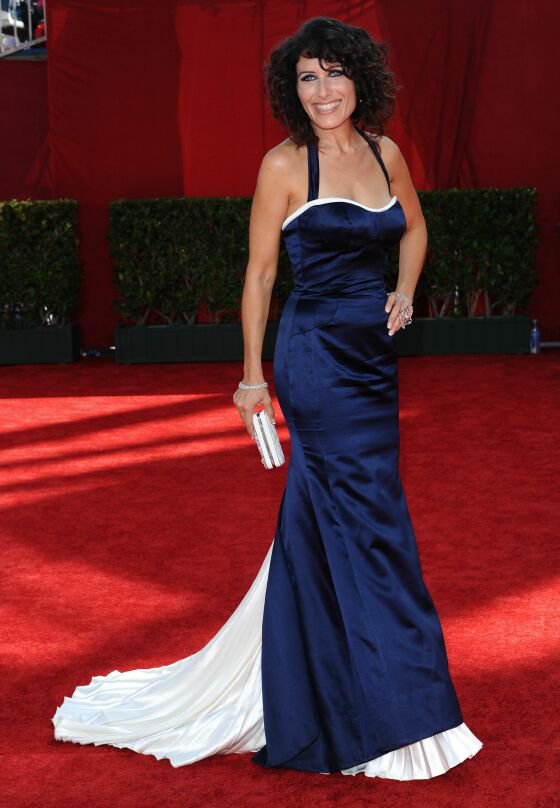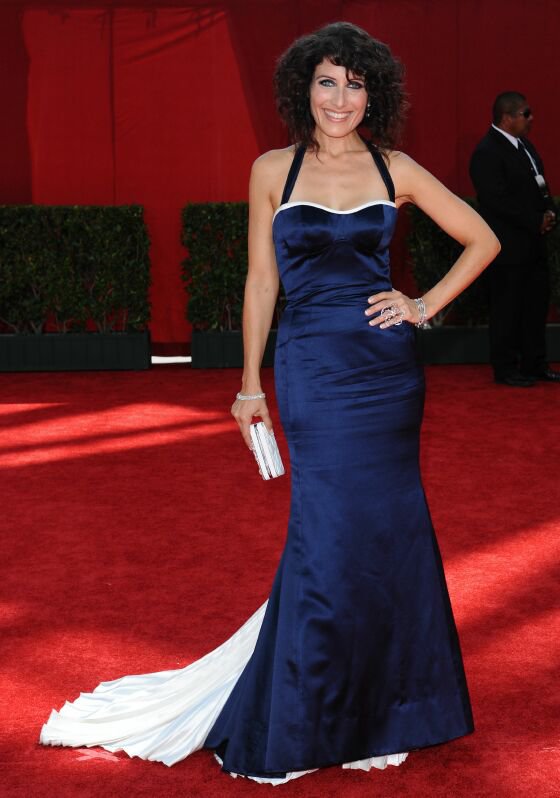 Lisa Edelstein absolutely rocks the red carpet in this gorgeous navy blue Escada gown.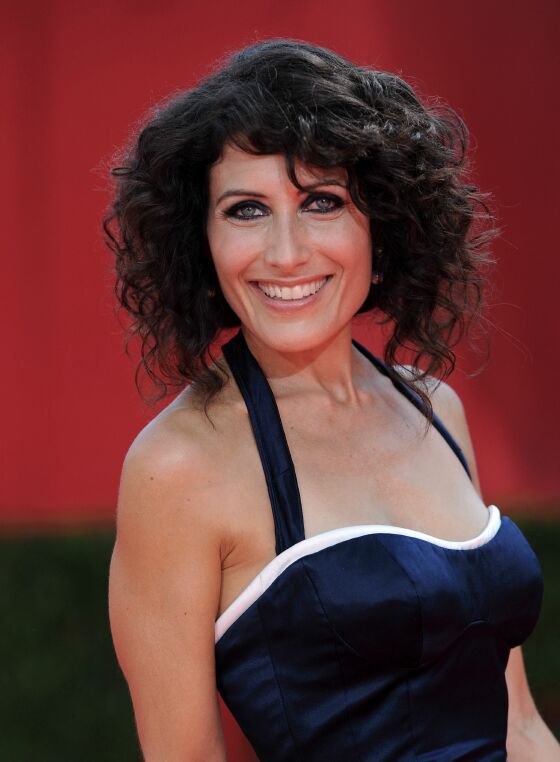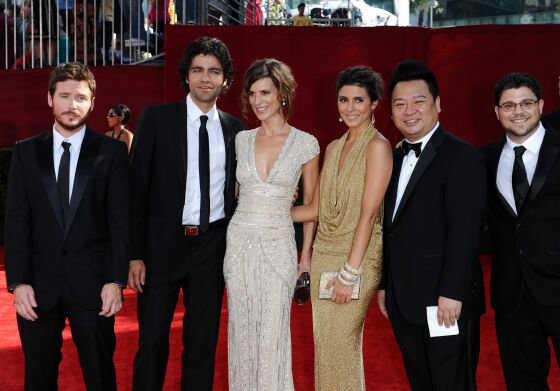 So many people but my eyes only see Adrian Grenier!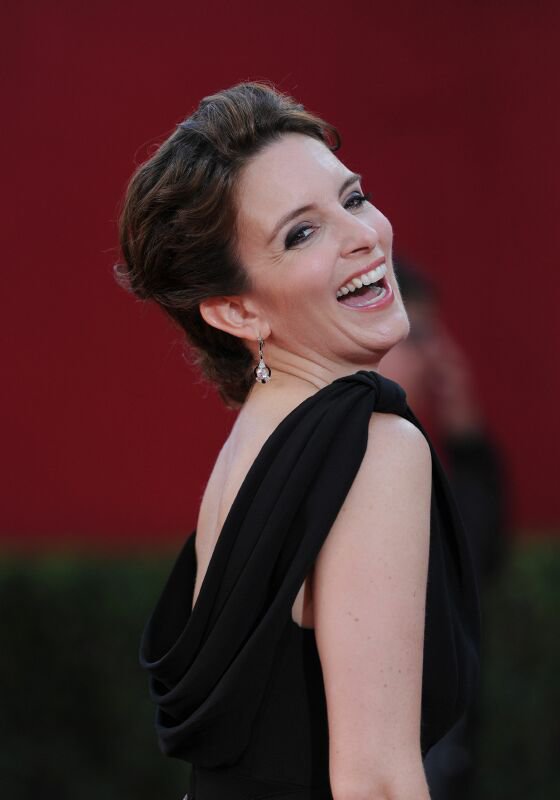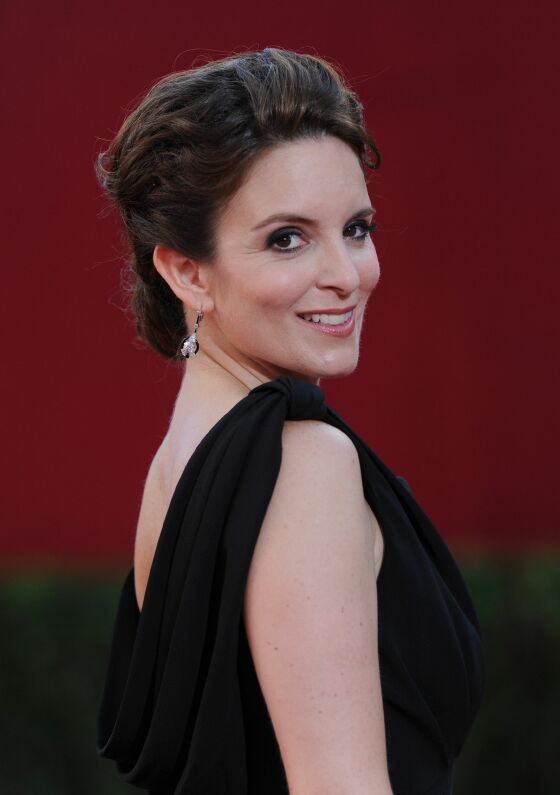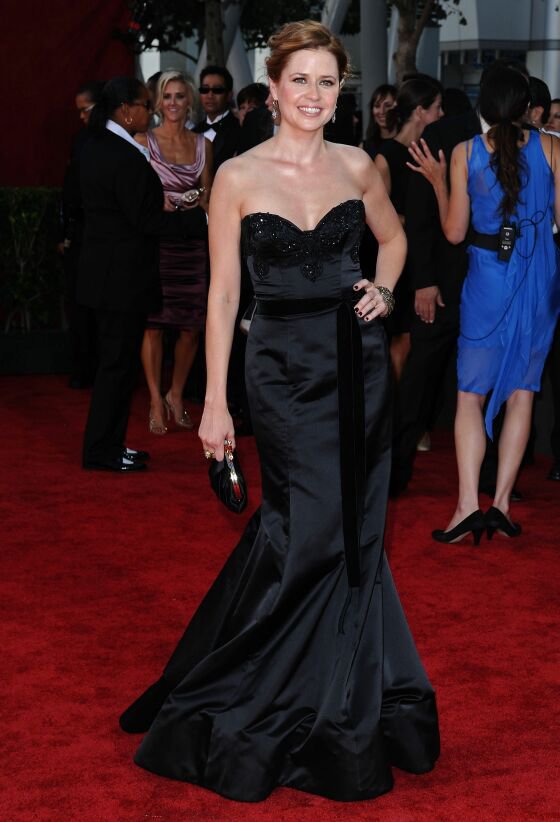 Jenna Fischer is elegance personified in that black Reem Acra gown but I have my eyes on that Loubotin clutch ;)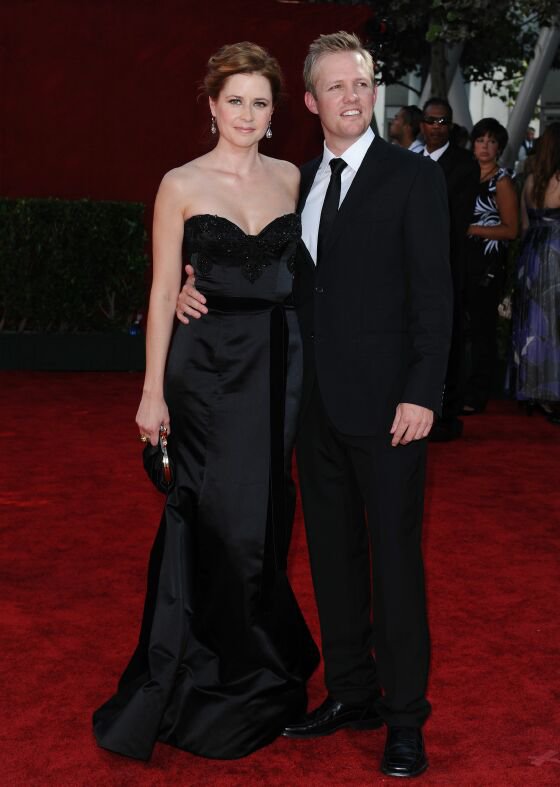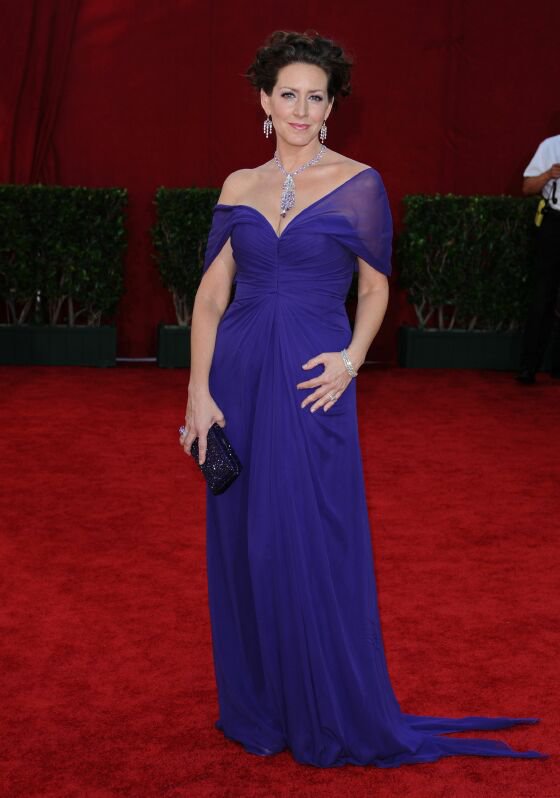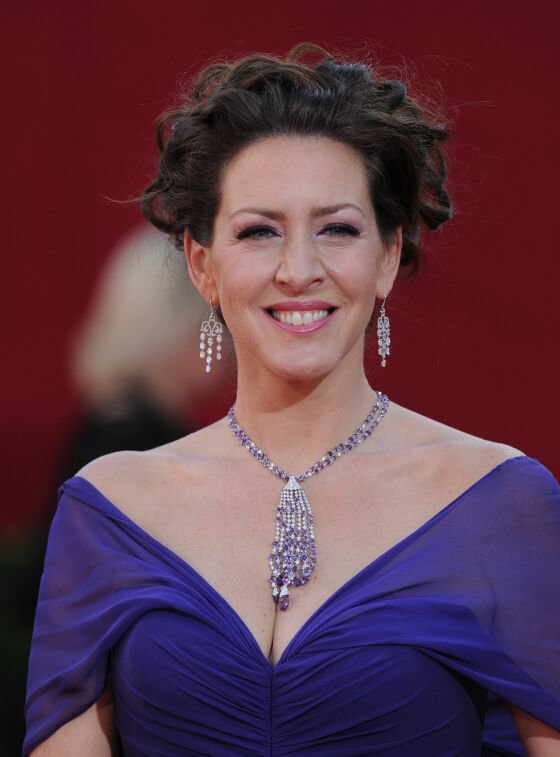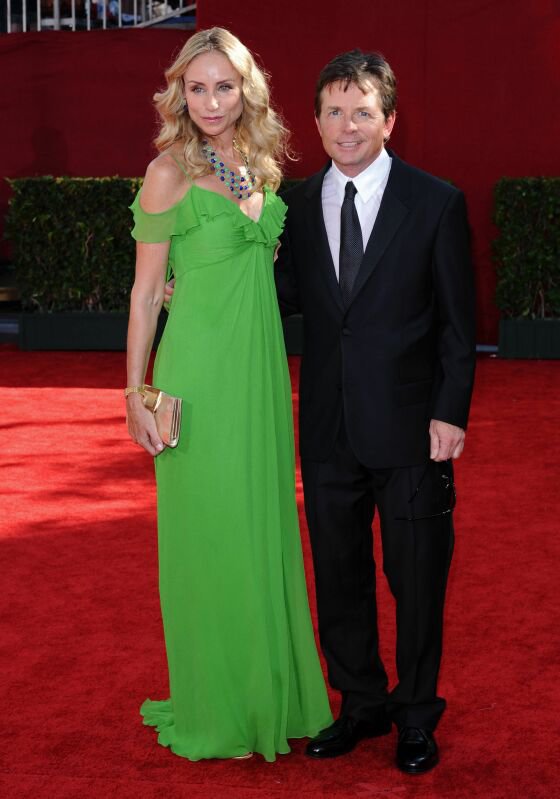 Michael looks pretty stylish to me but I hate the green of Tracy's dress. *shudder*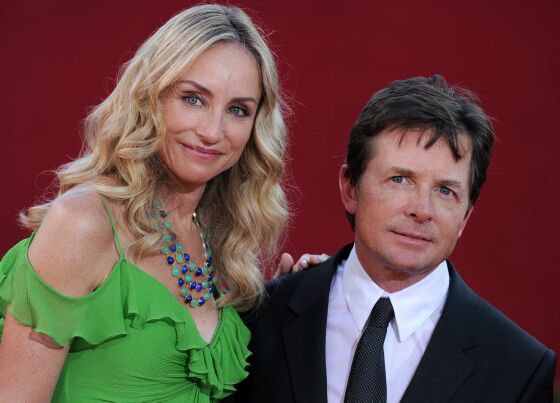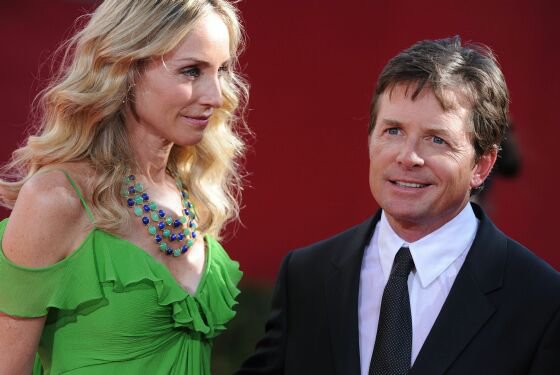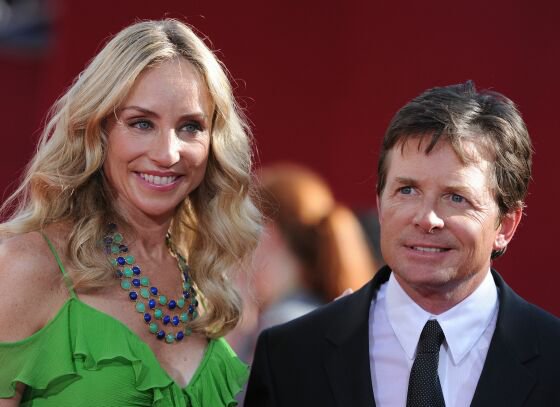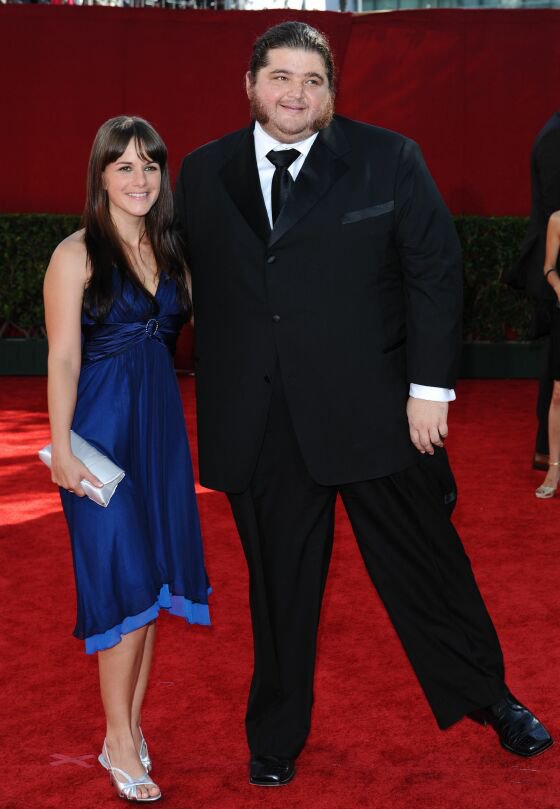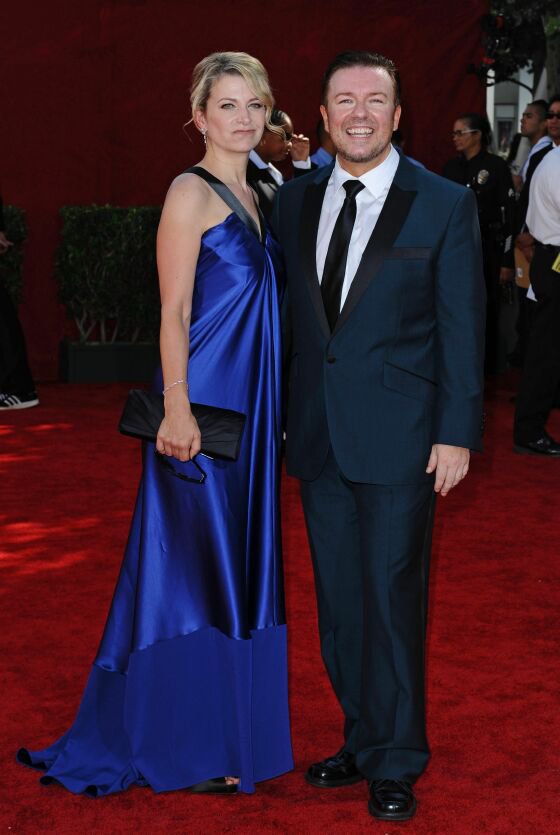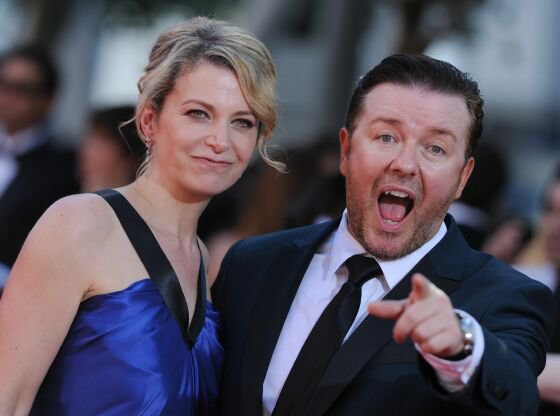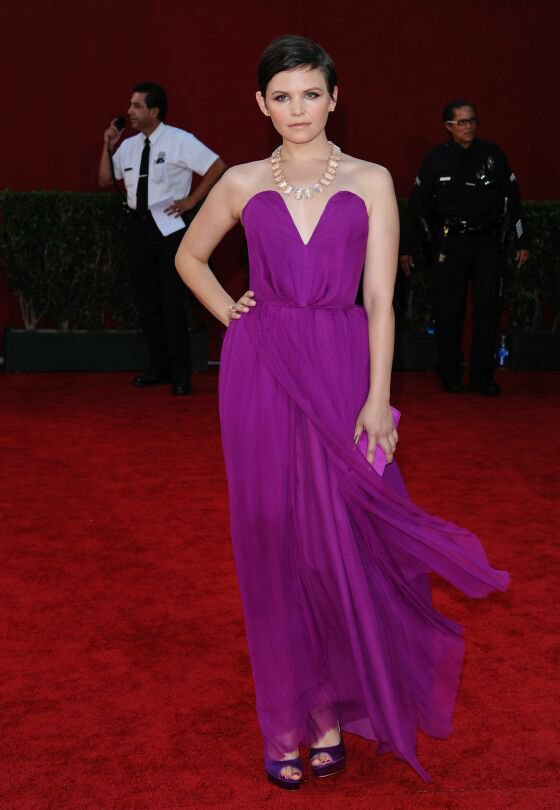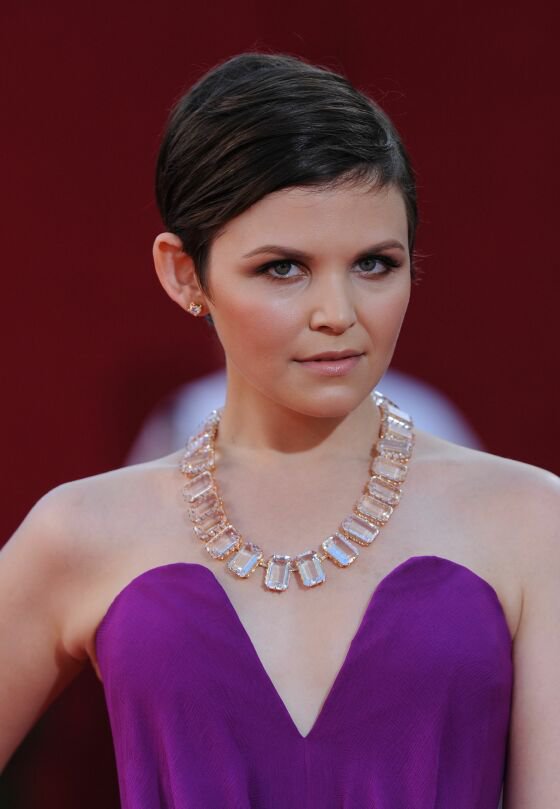 I actually think Ginnifer Goodwin looks rather cute with the purple dress and the almost pixie like hair-do. Very cute!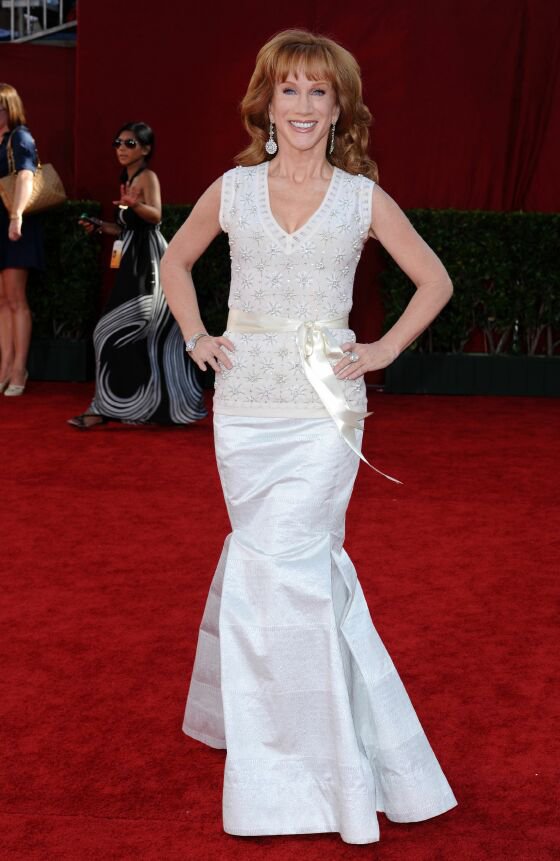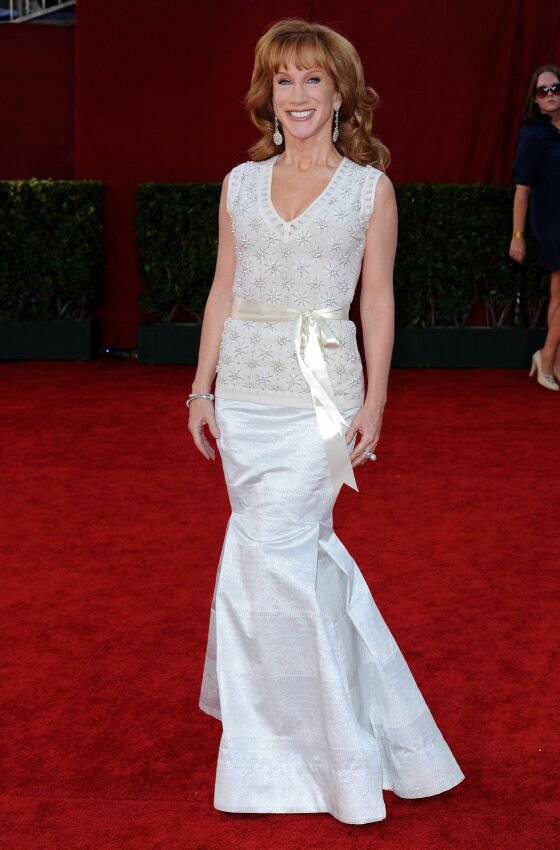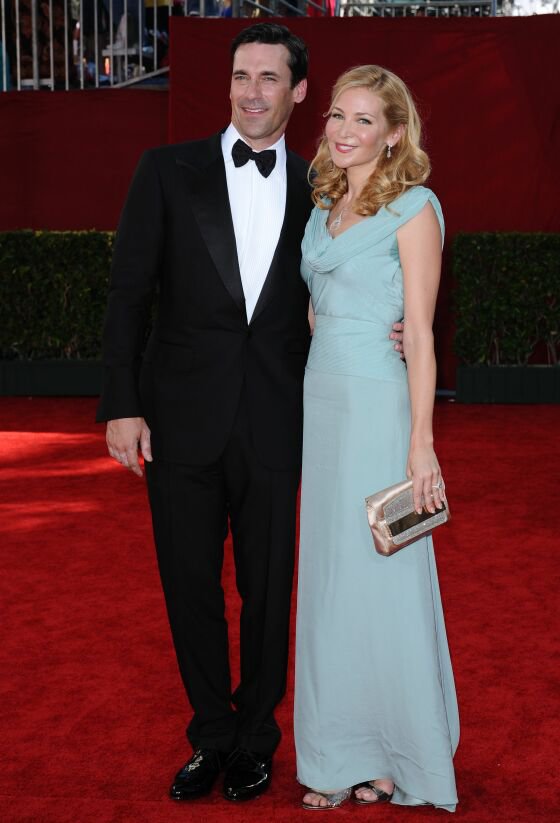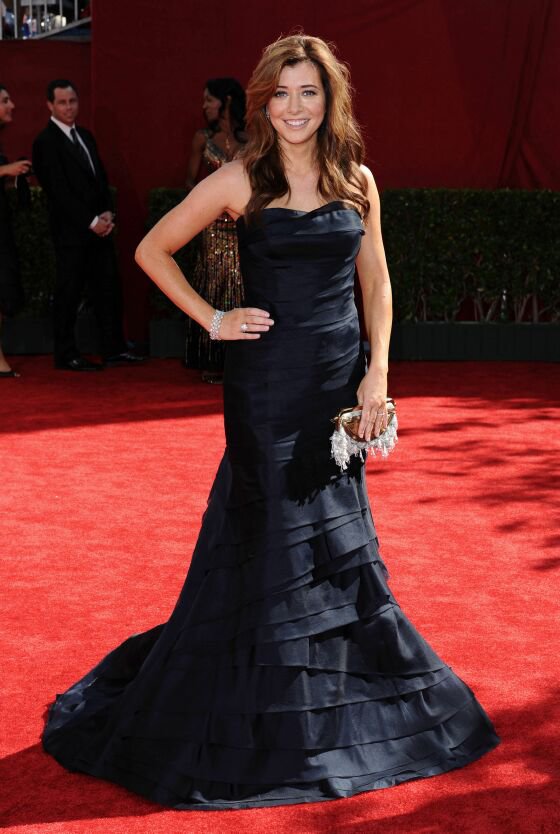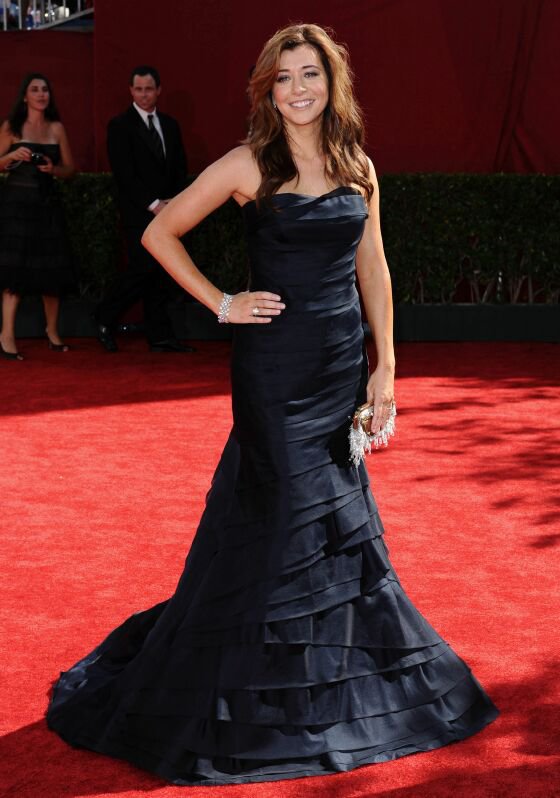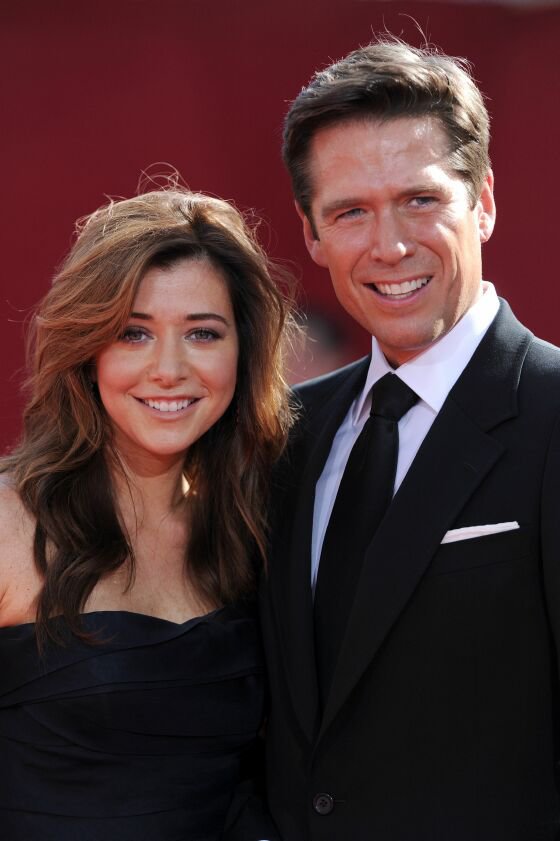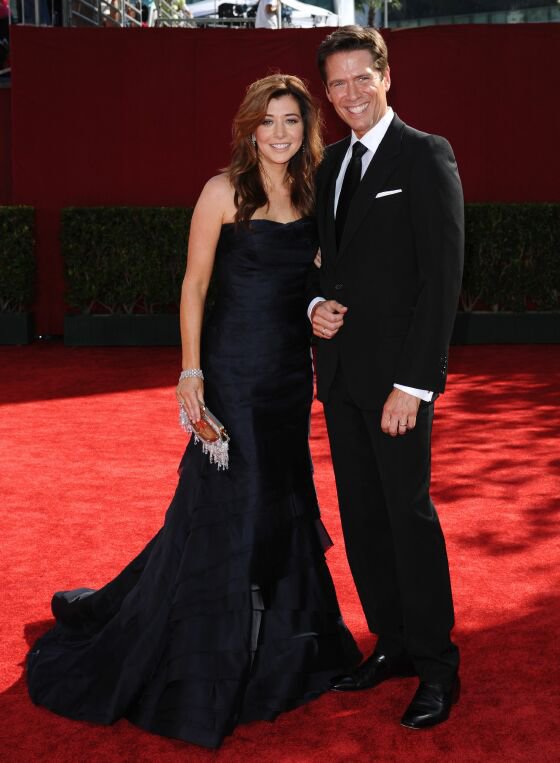 Although I love the Vera Wang dress that Alyson Hannigan has on, I do think that she needs more oomph. Maybe more makeup? A different hairstyle?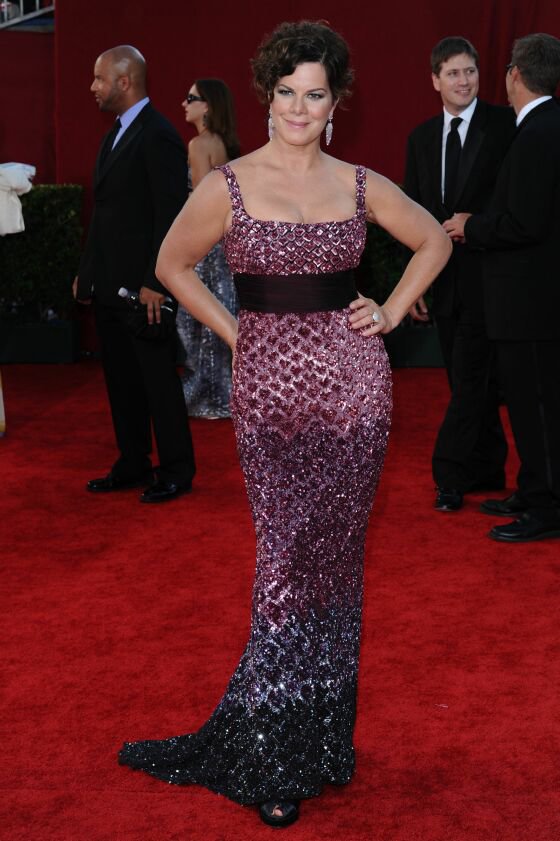 Marcia Gay Harden's dress is almost distracting enough to take away from the fact that she is otherwise a brilliant actress....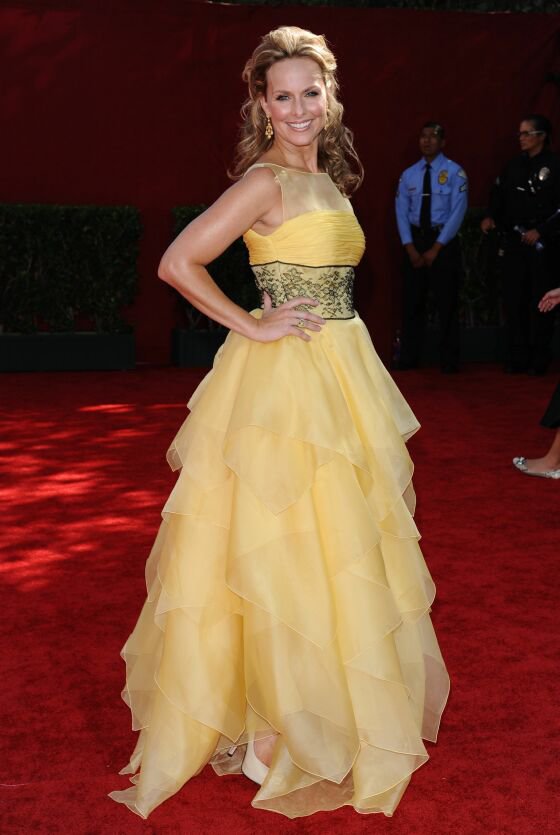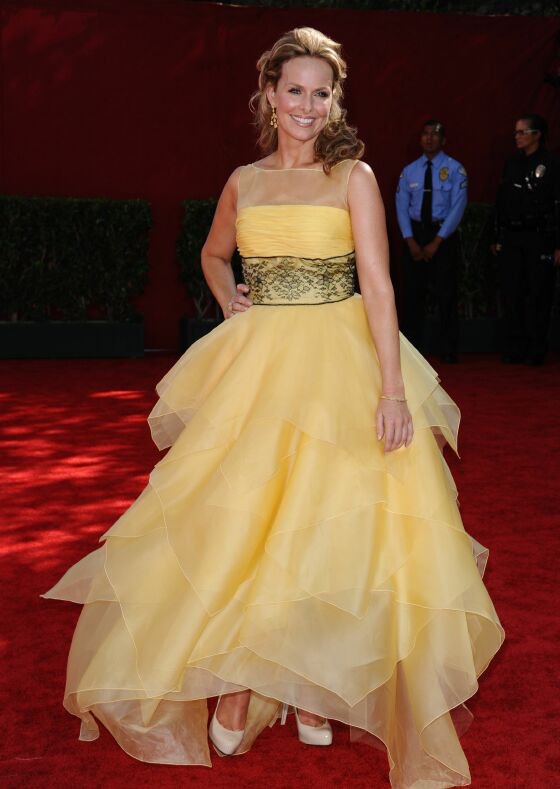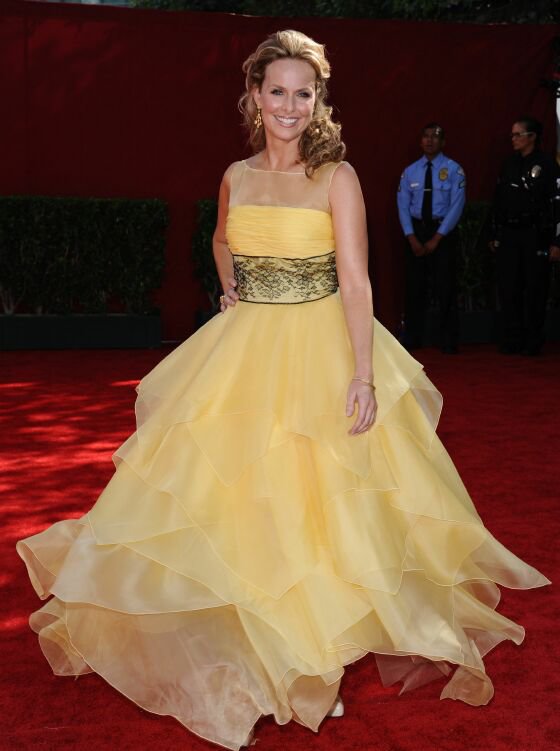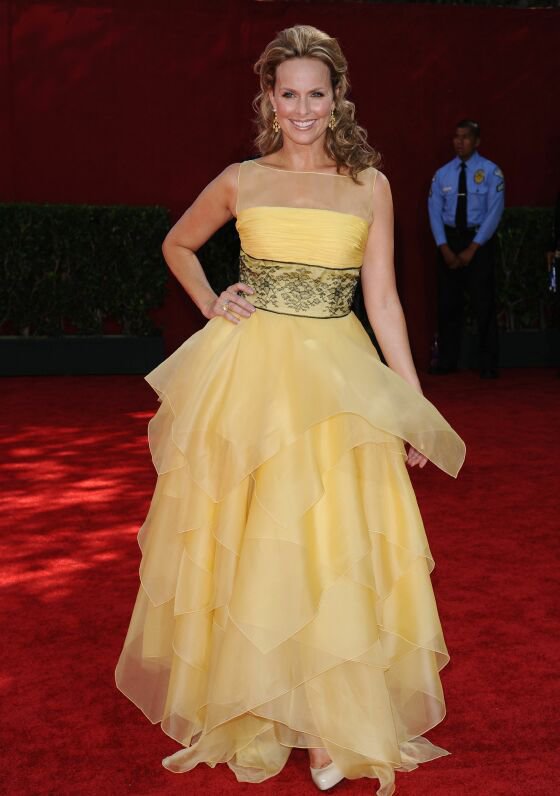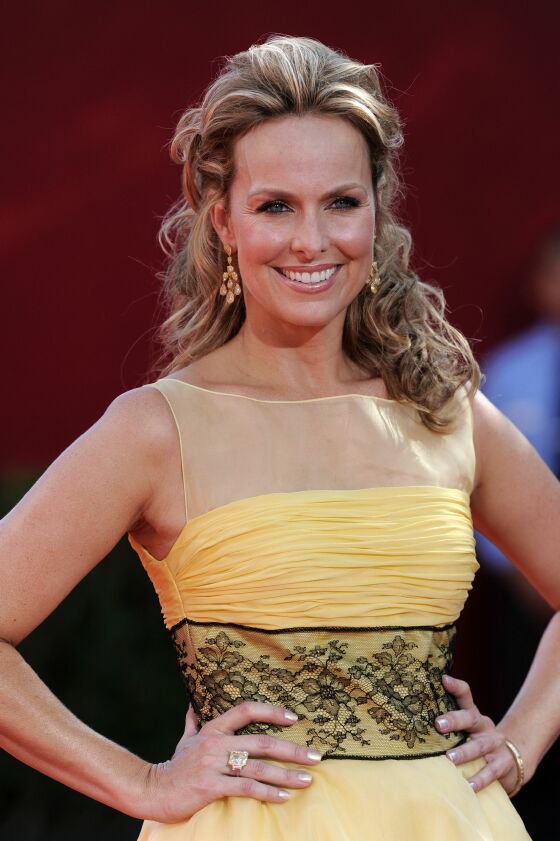 The only words I can think of for Melora Hardin's dress are yellow nightmare prom dress!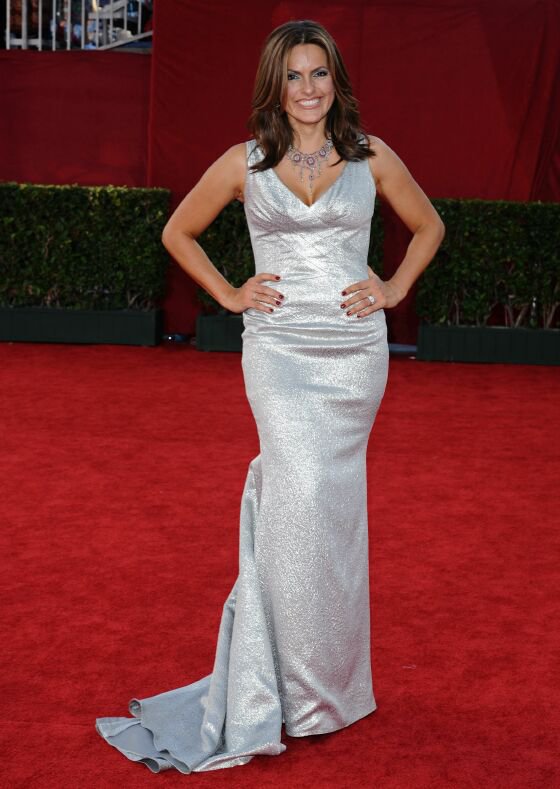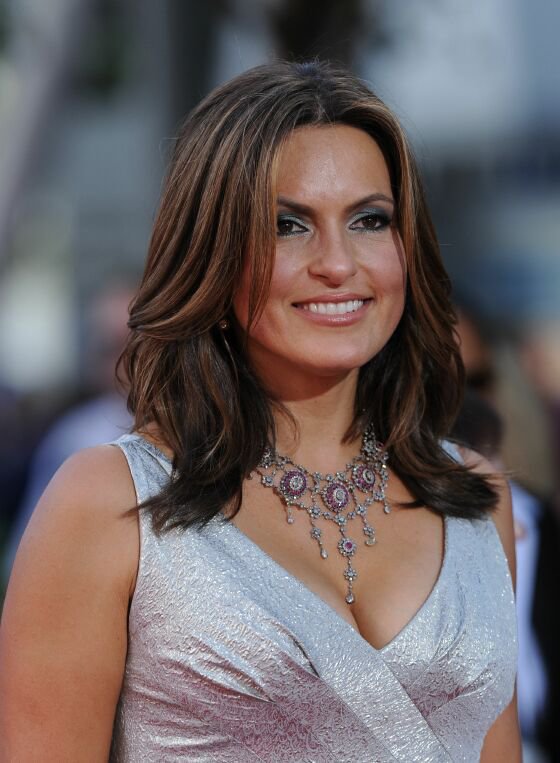 Mariska Hargitay looks like a shimmering vision in silver. Gorgeous!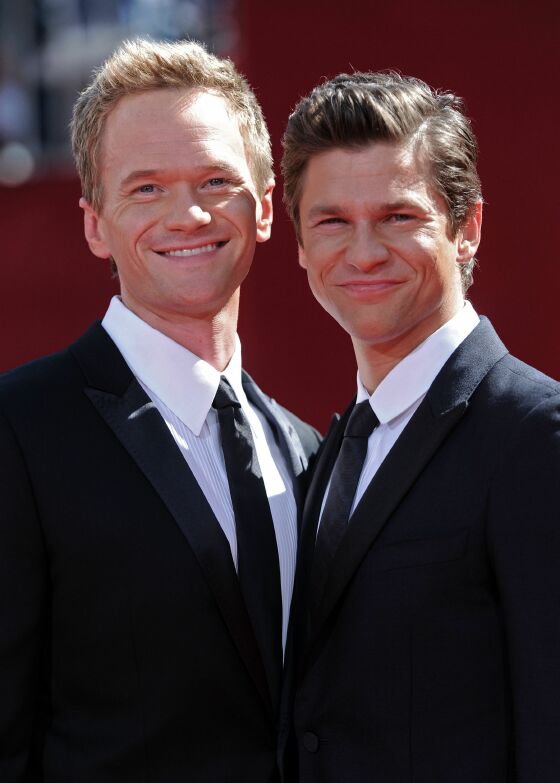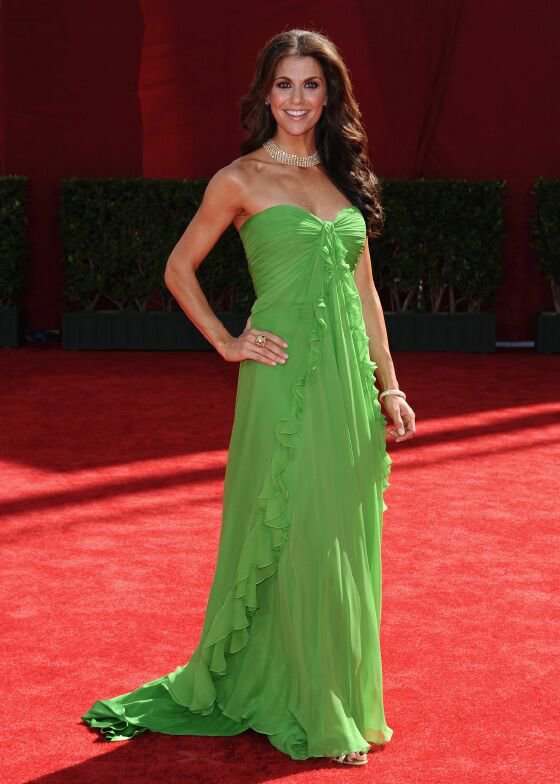 I'm sorry but that color on Samantha Harris is just not working for me!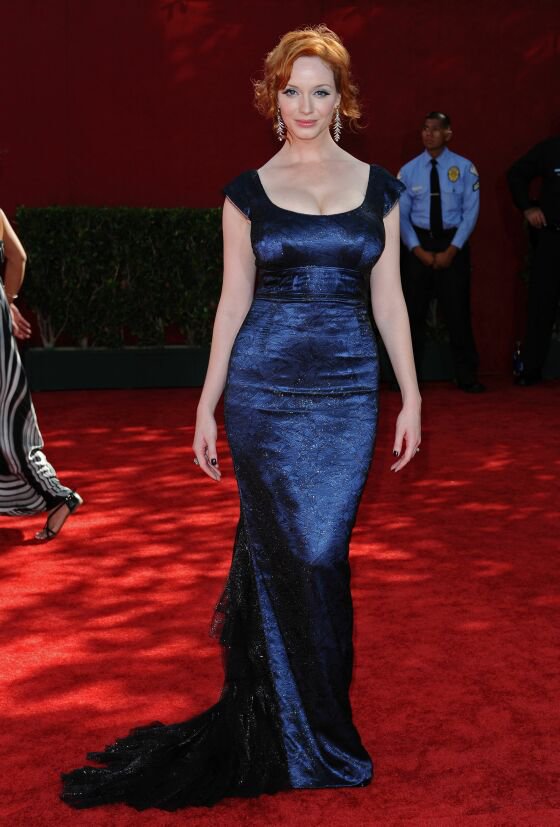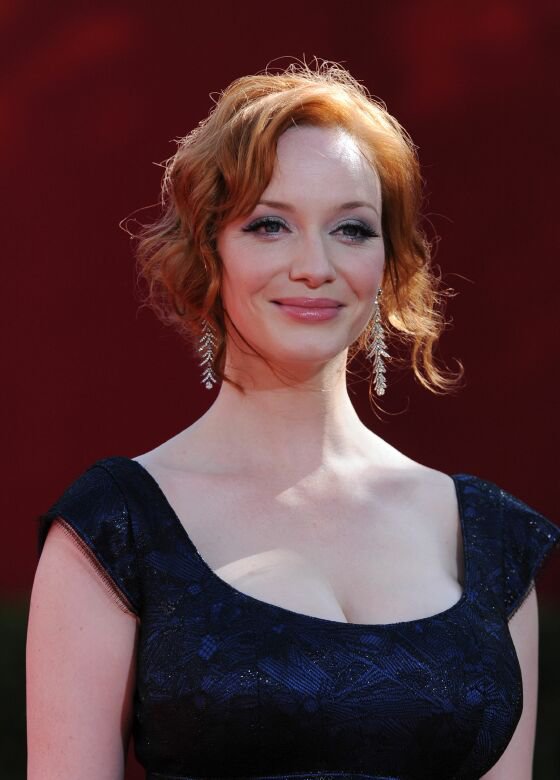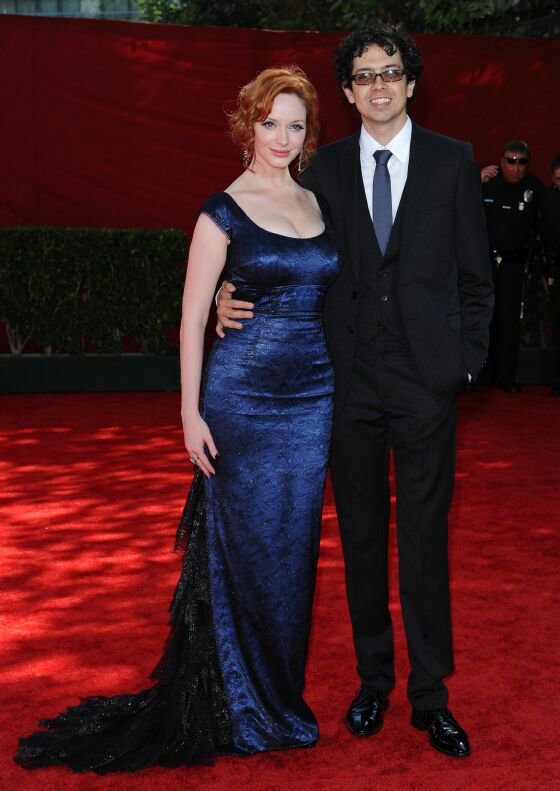 I love a curvy woman and Christina Hendricks looks absolutely hot in that dress!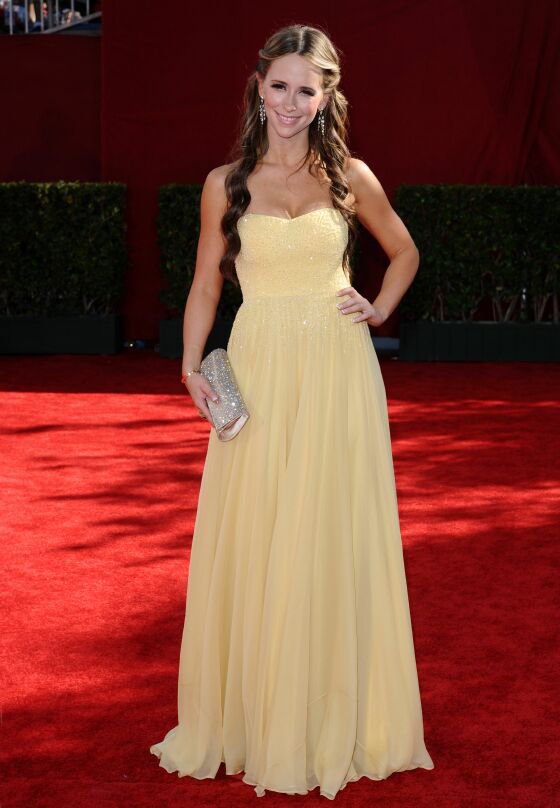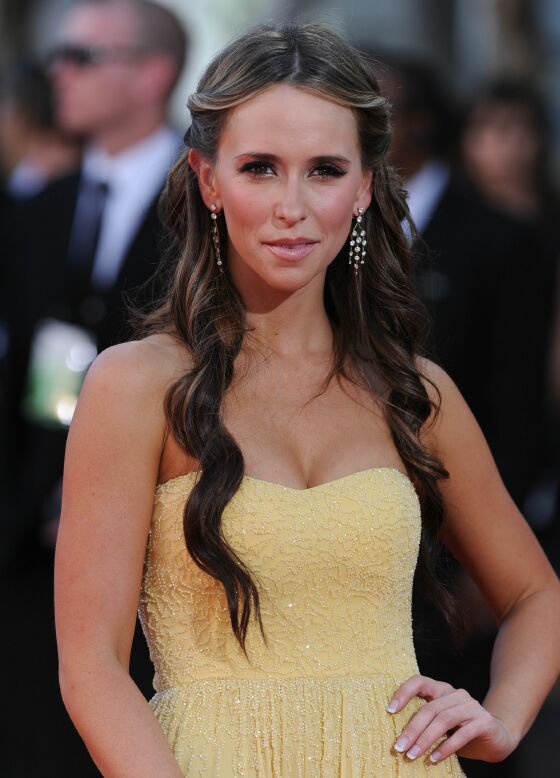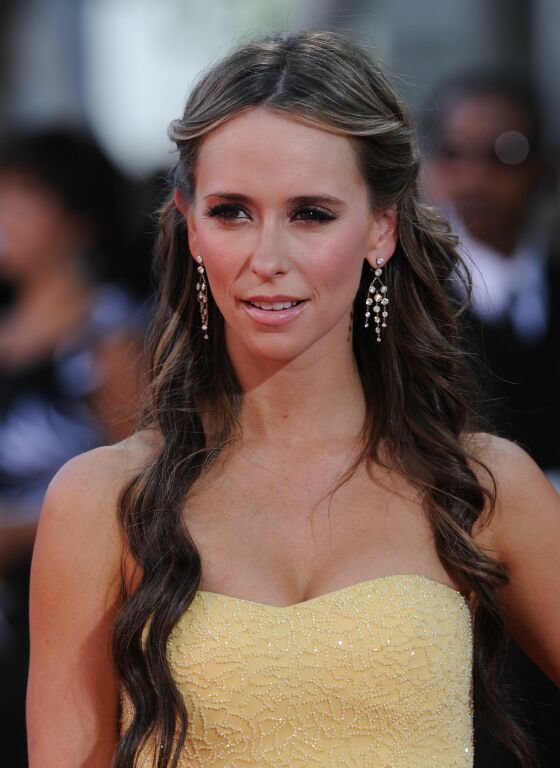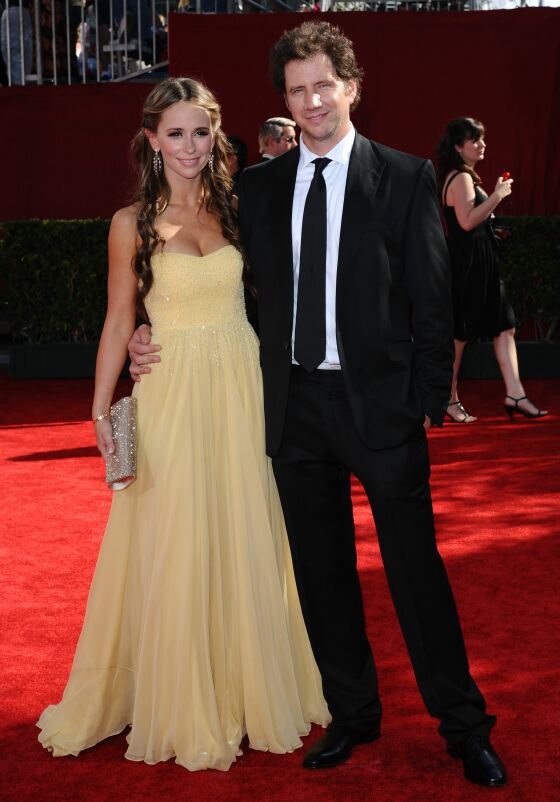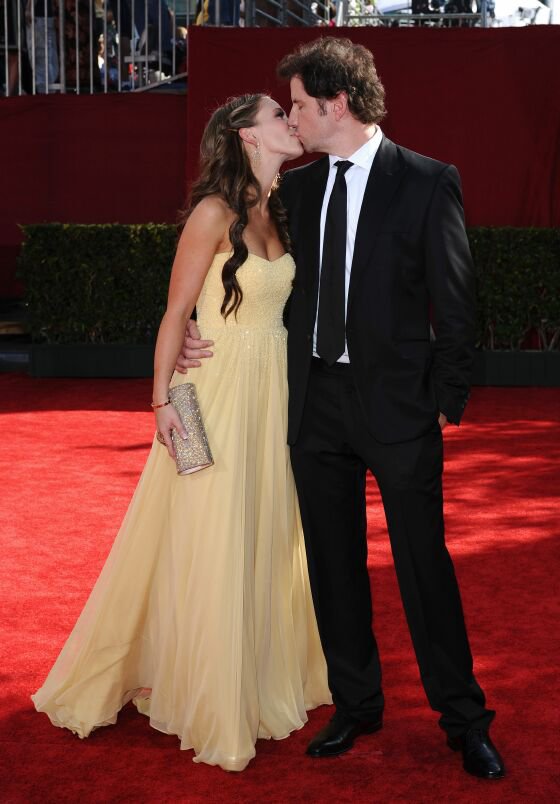 Jennifer Love Hewitt positively dazzles in this lovely yellow Max Azria gown! I'm also loving the hair and the makeup.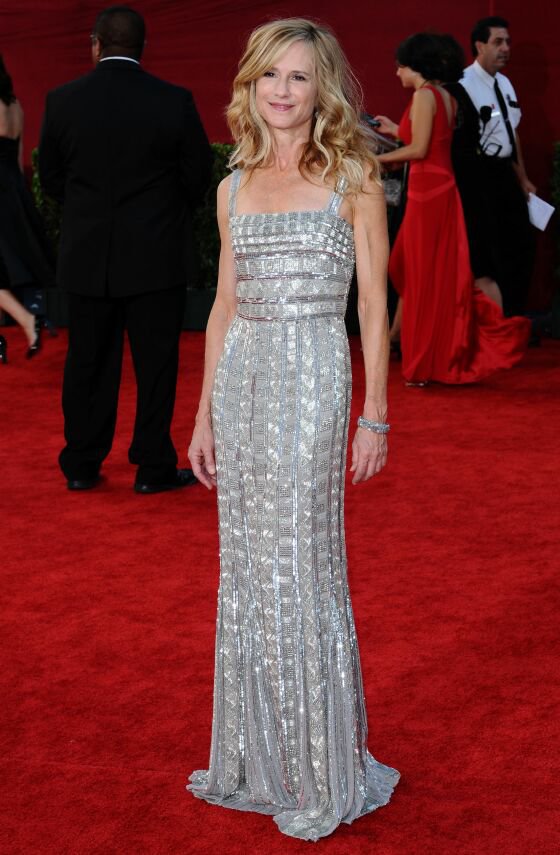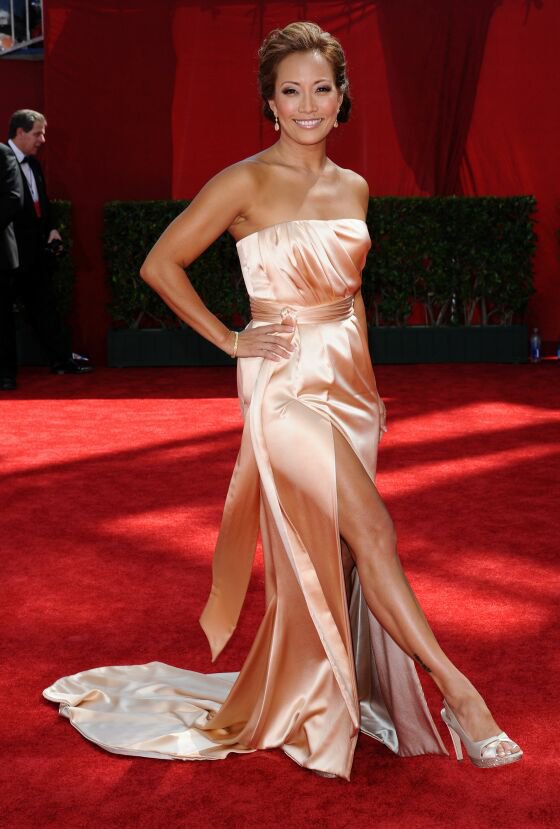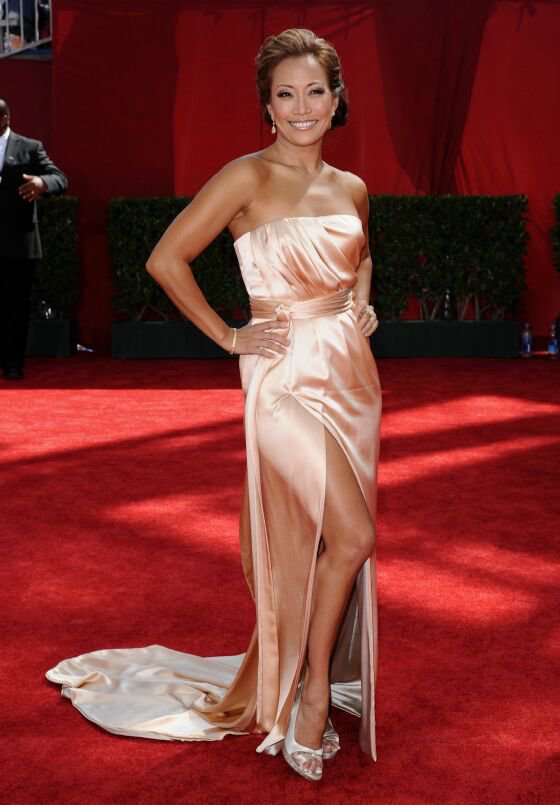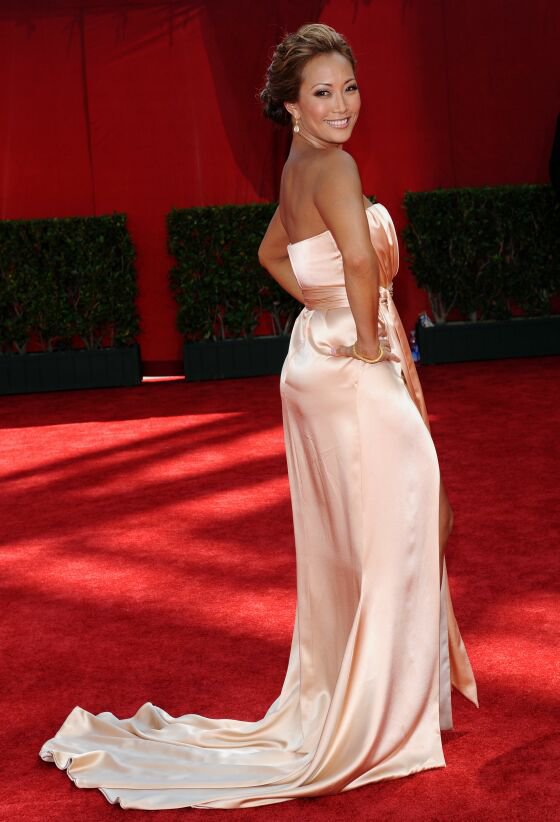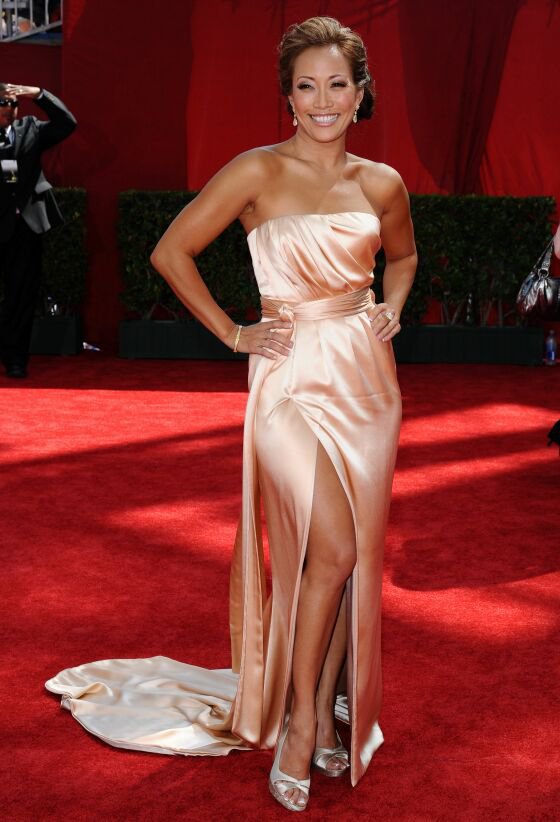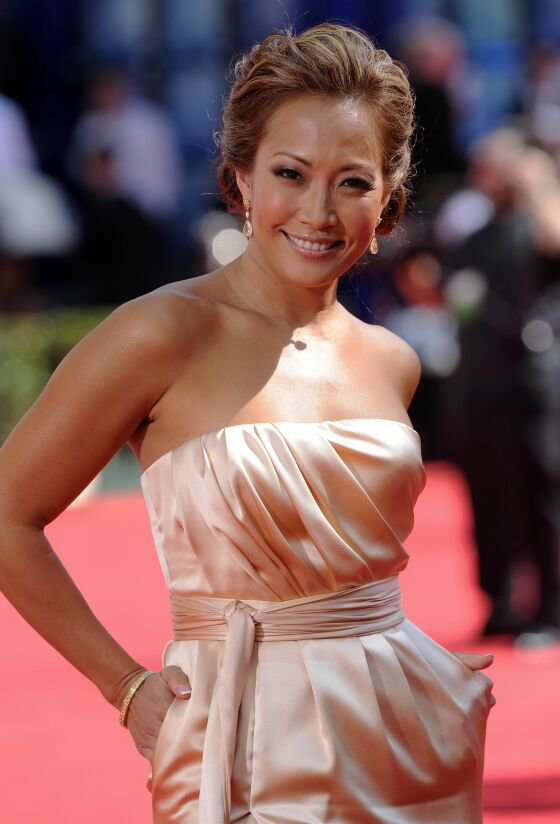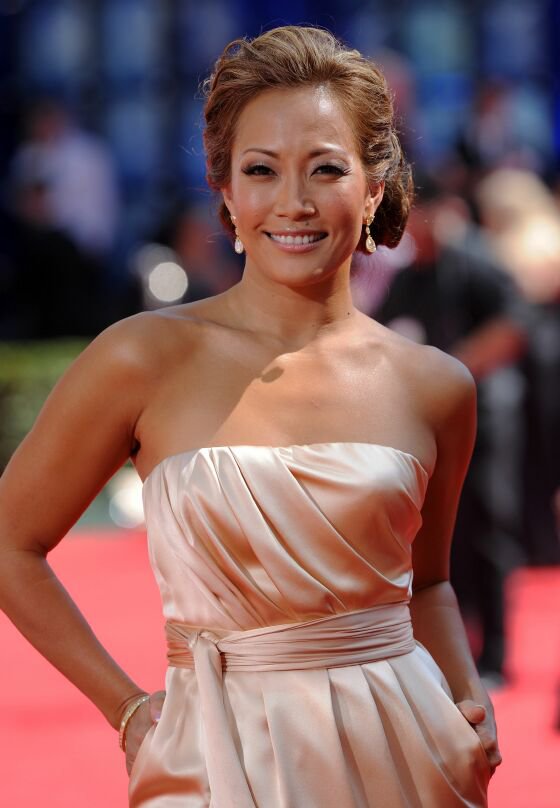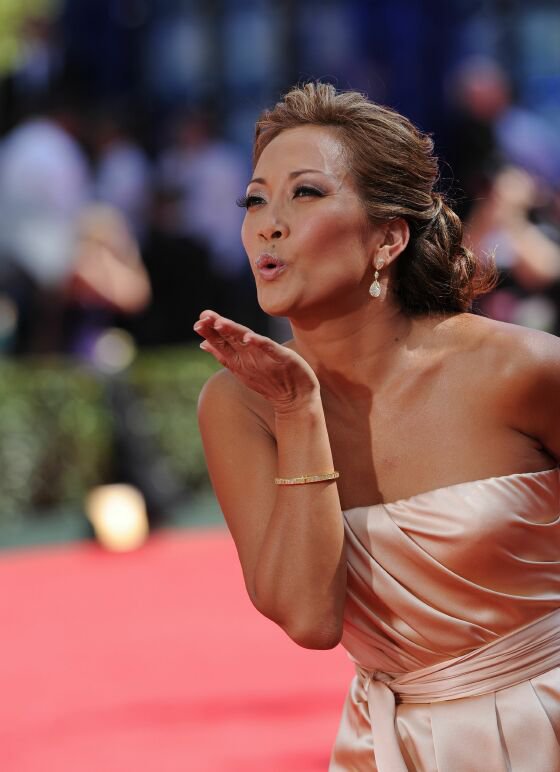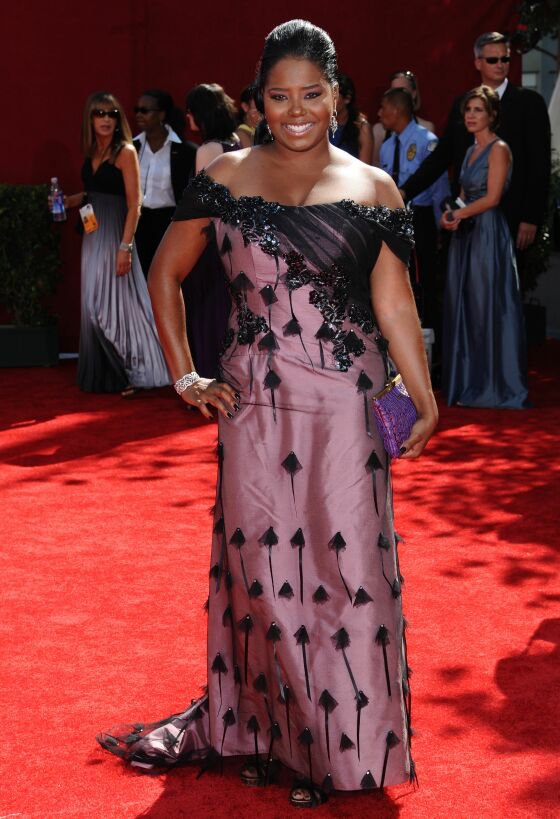 I'd rather not comment on Shar Jackson's strange dress but I'm really curious to know what those things growing out of her dress are....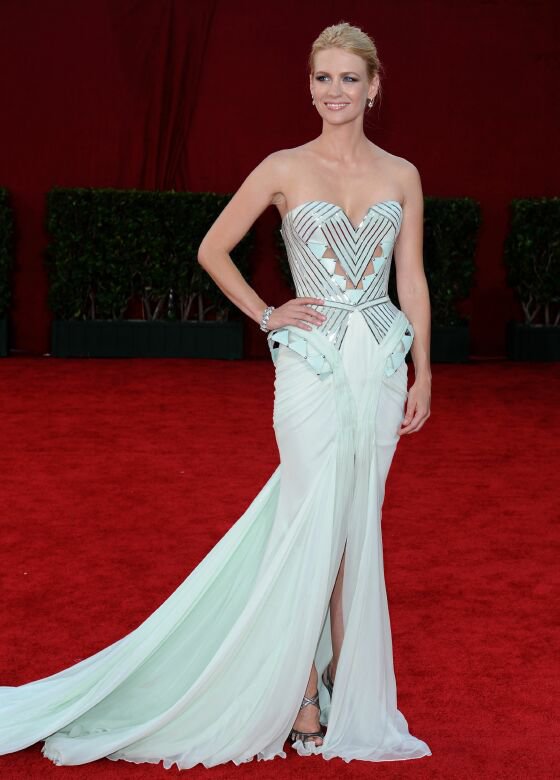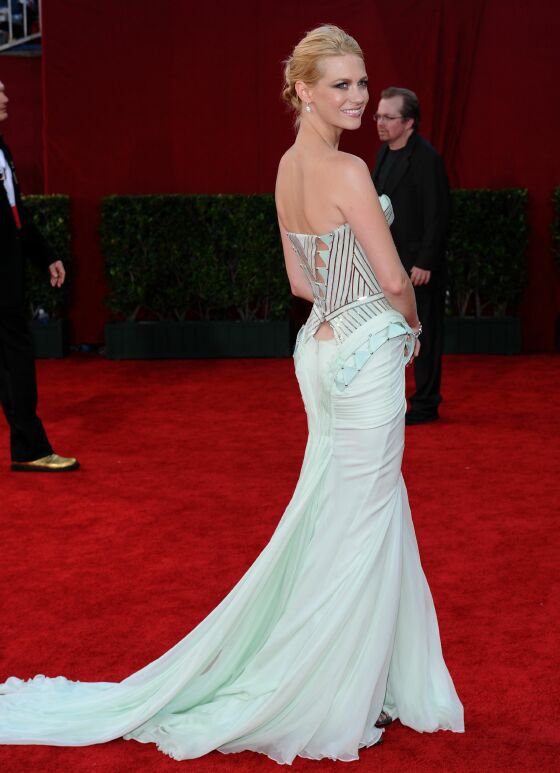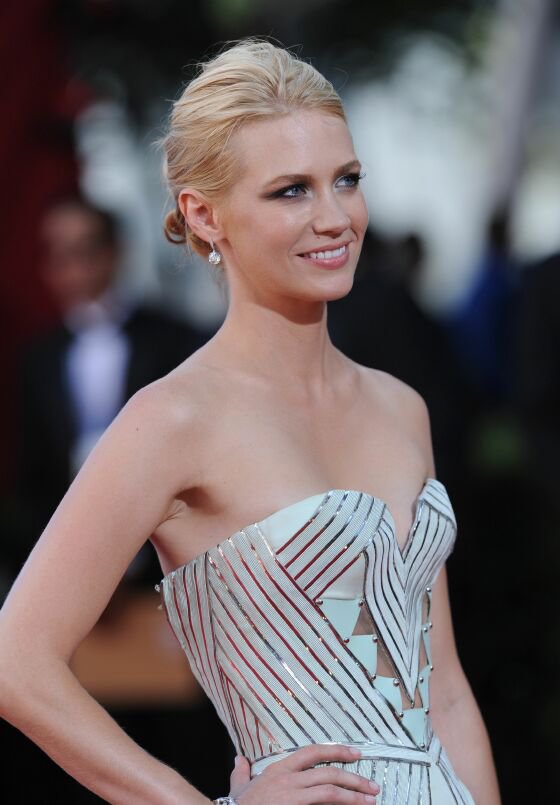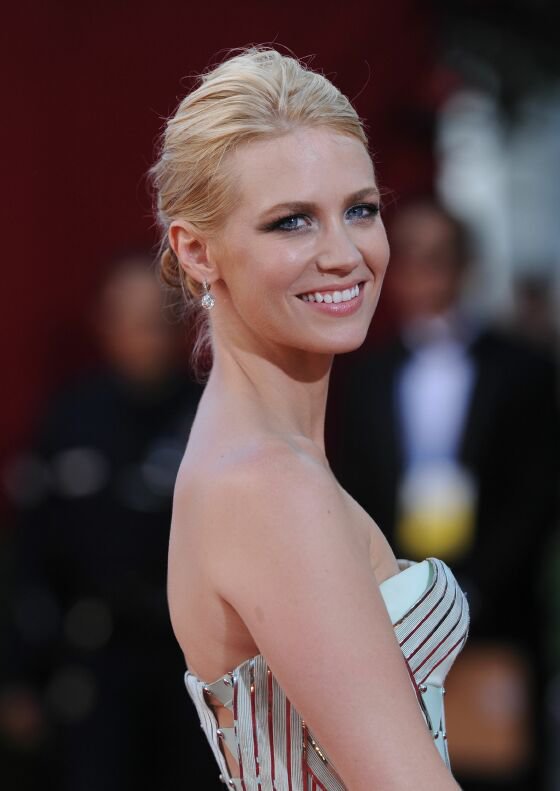 I'm loving January Jones' white and silver gown with architectural art-decco accents. Funky yet elegant!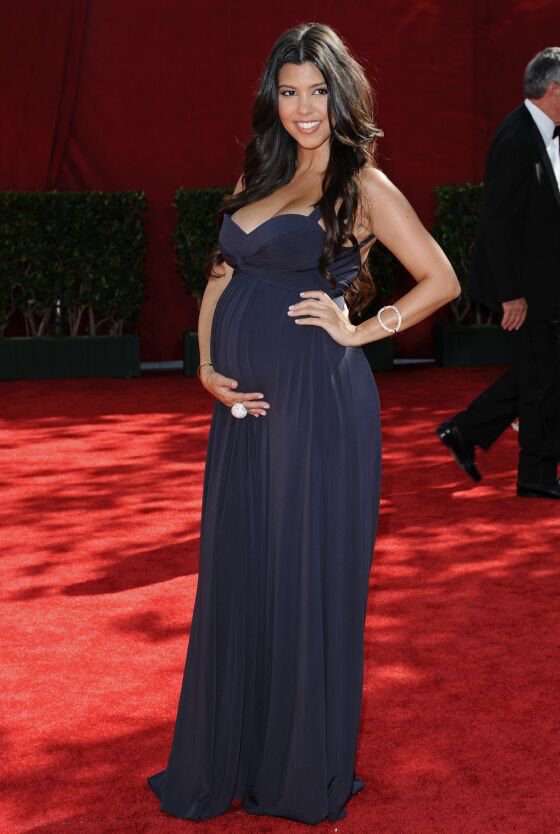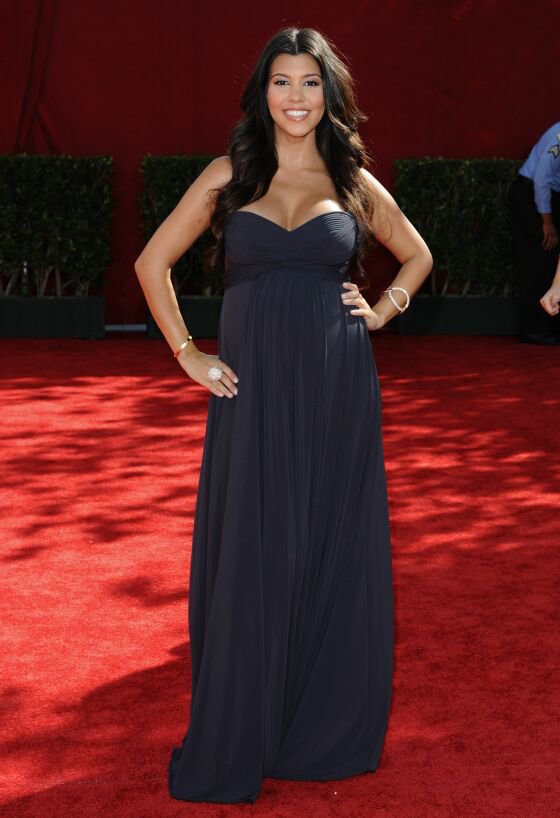 It's a safe black dress but Kourtney Kardashian looks rather lovely as a soon to be mother don't you think?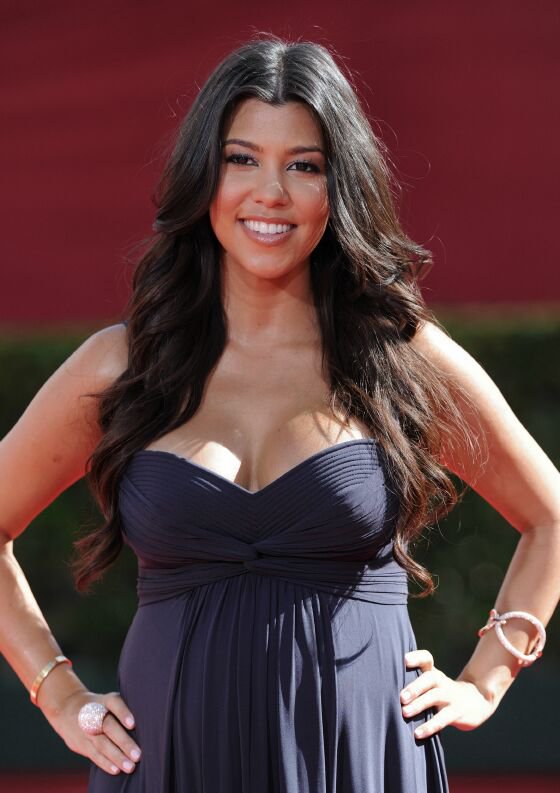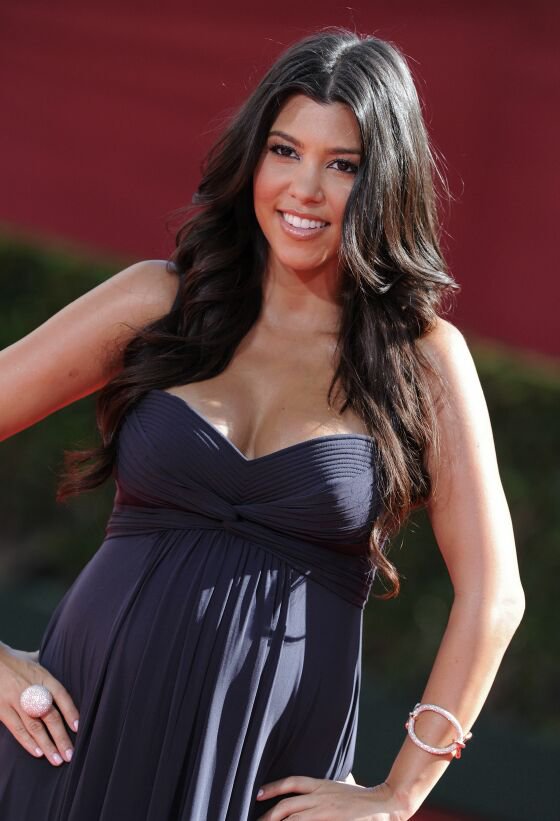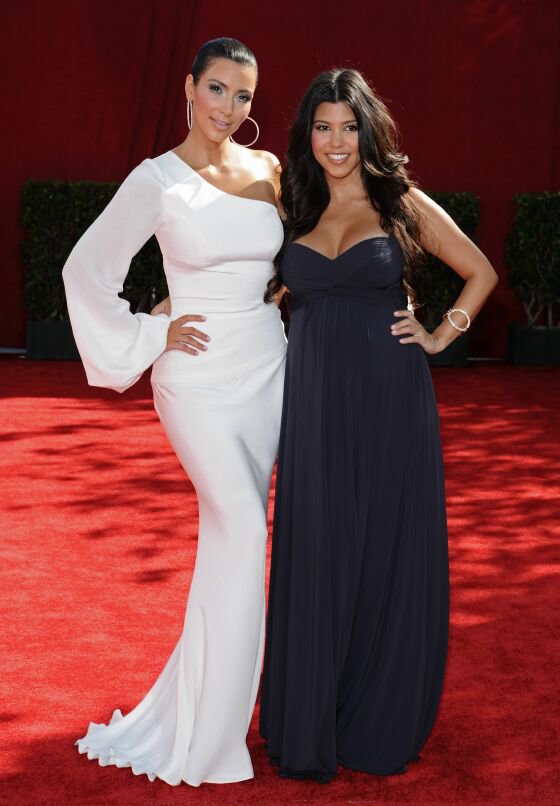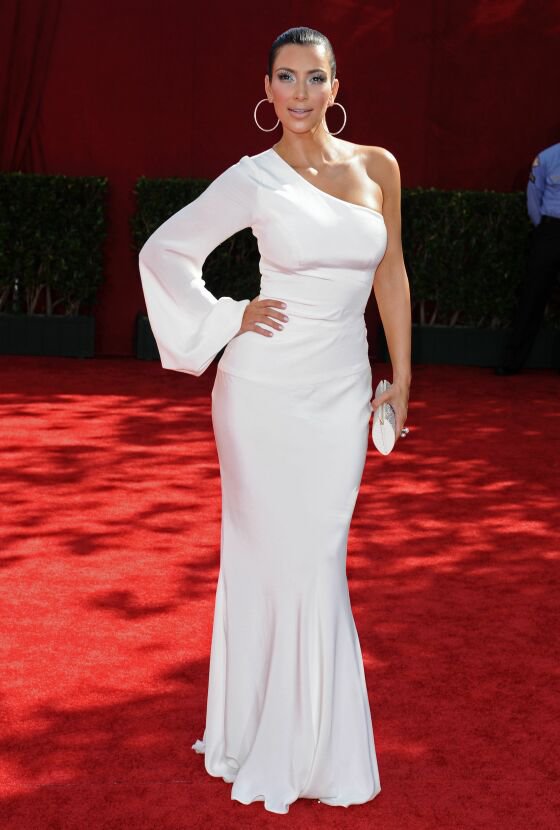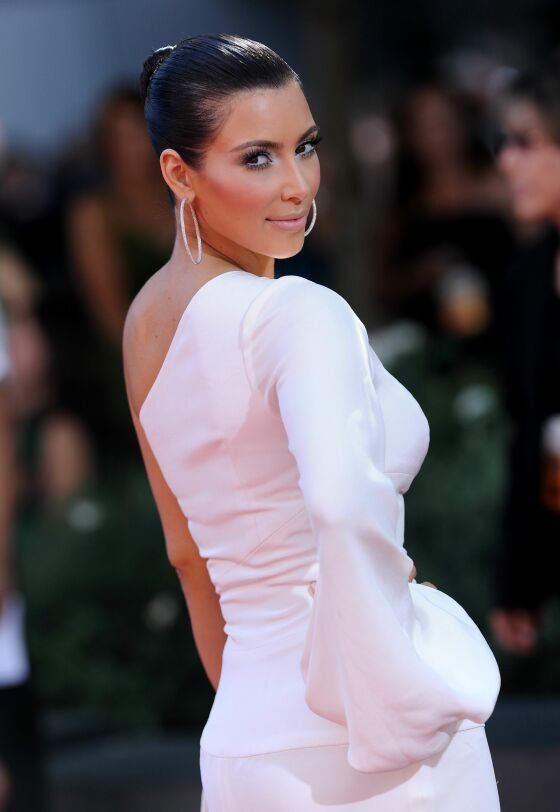 Although I'm not particularly fond of white or Kim Kardashian for that matter, I think they manage to go quite well together...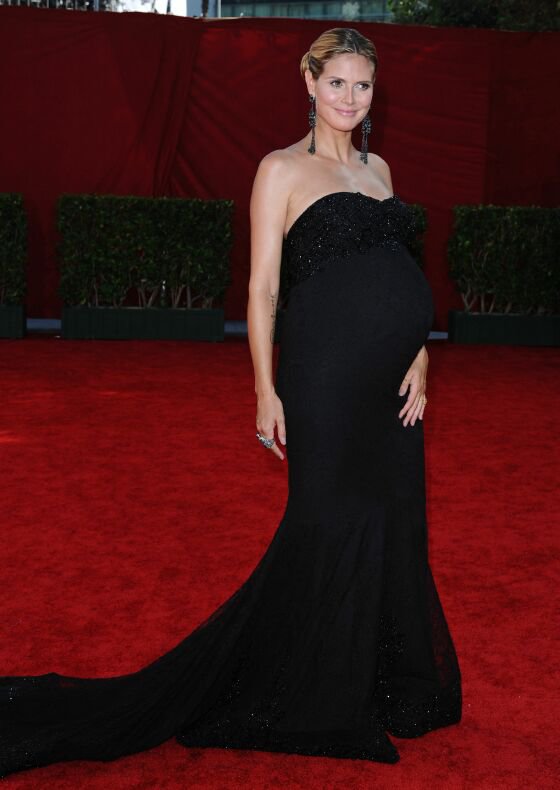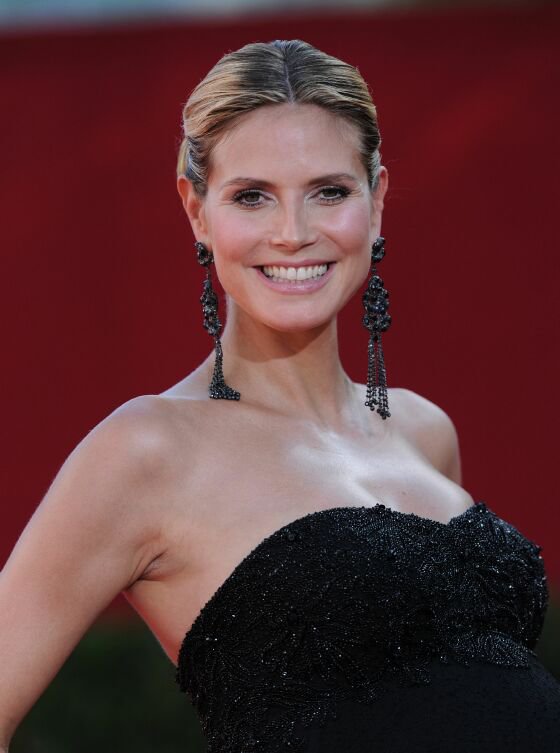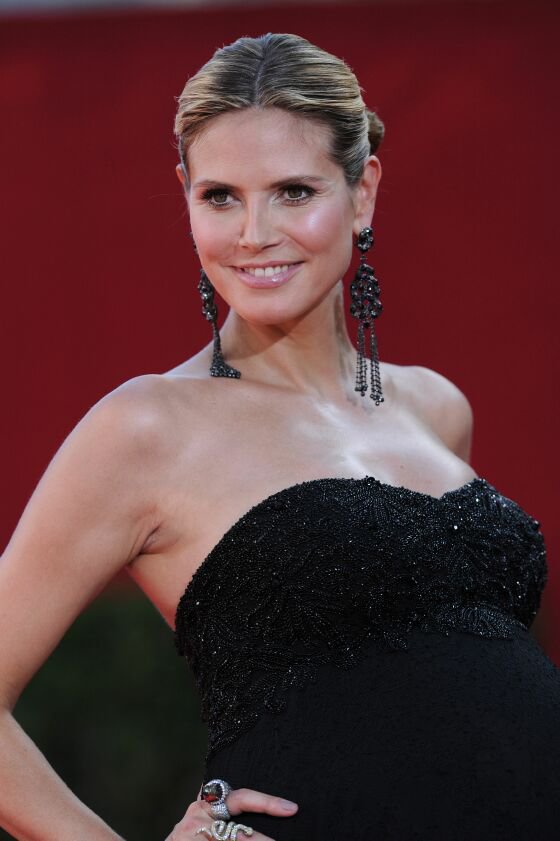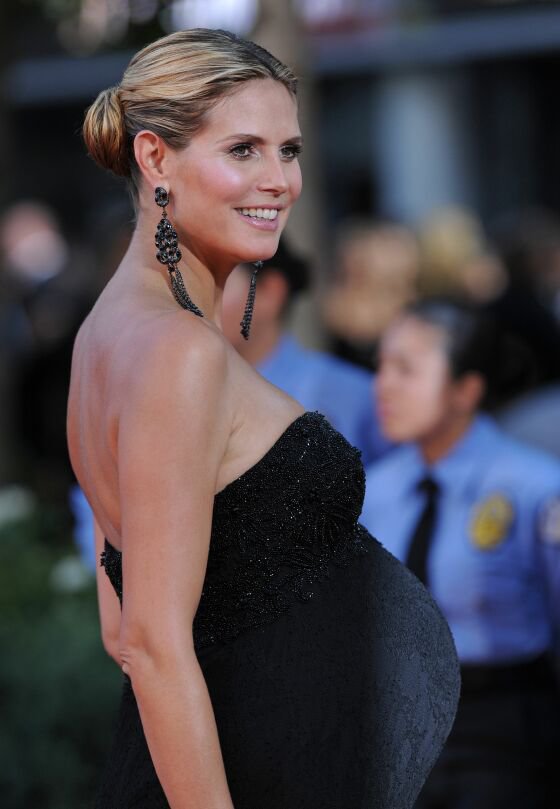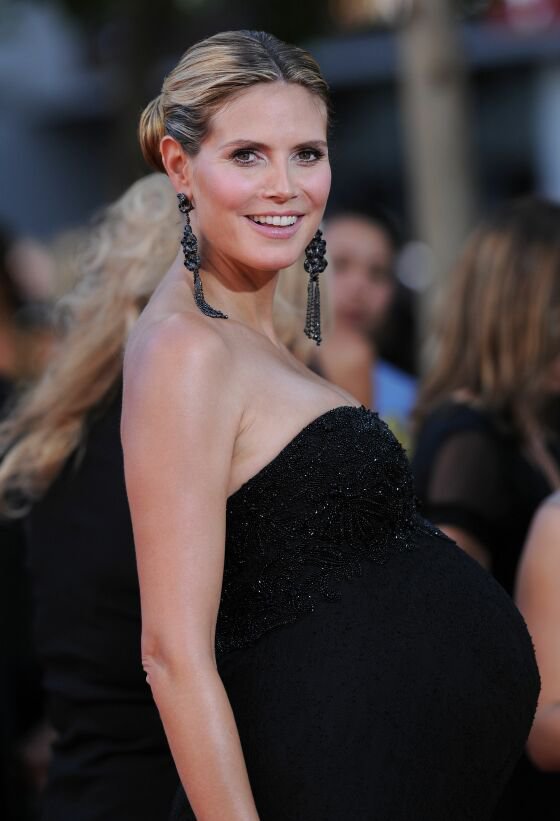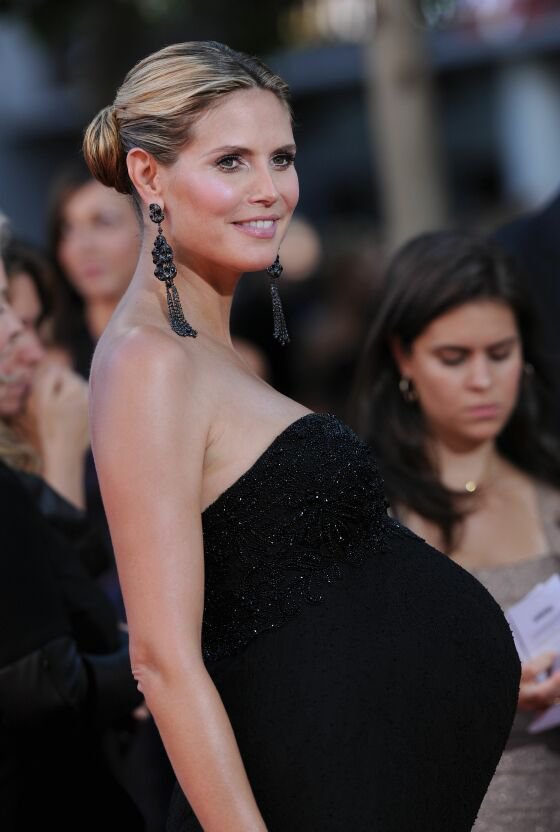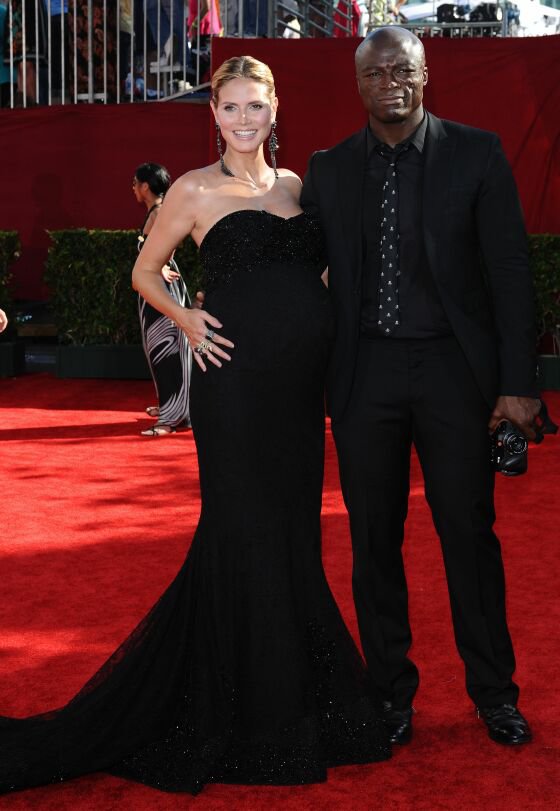 Few can manage to look like that in their third trimester. Heidi Klum looked ravishing in that Marchesa gown. Absolutely stunning!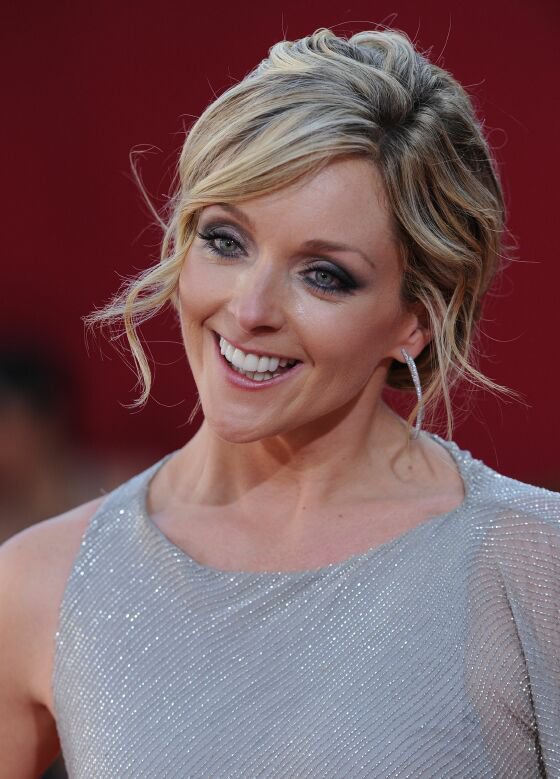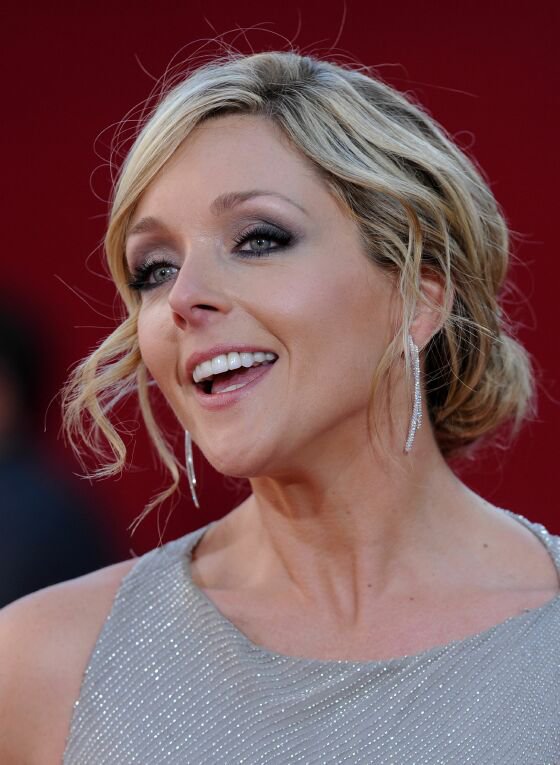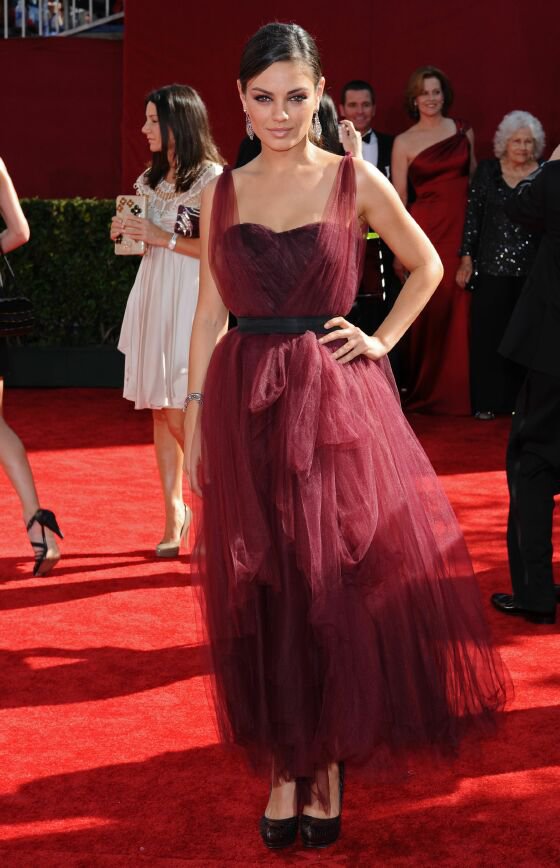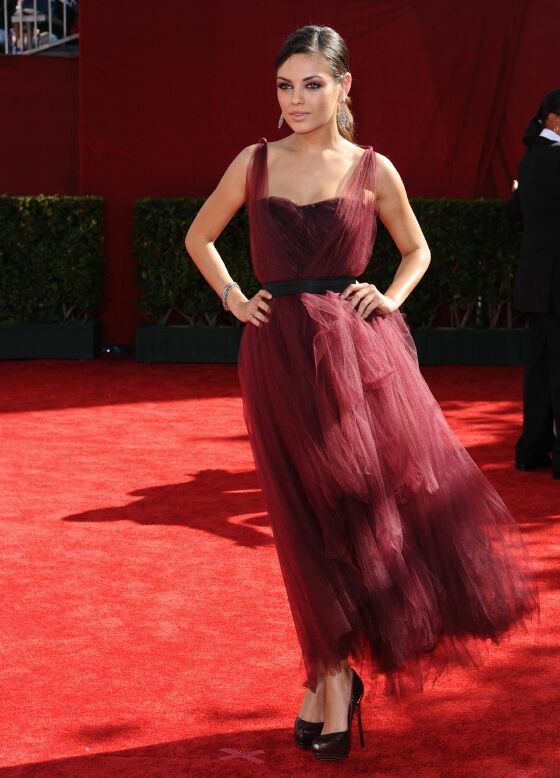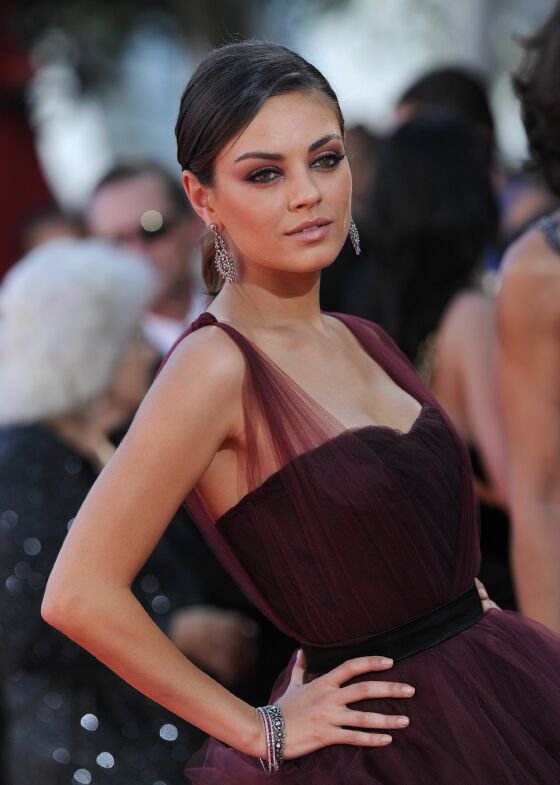 I know a lot of you don't care for this Monique Lhullier dress but I think it's funky and Mila is one of those few women who can carry it off effortlessly.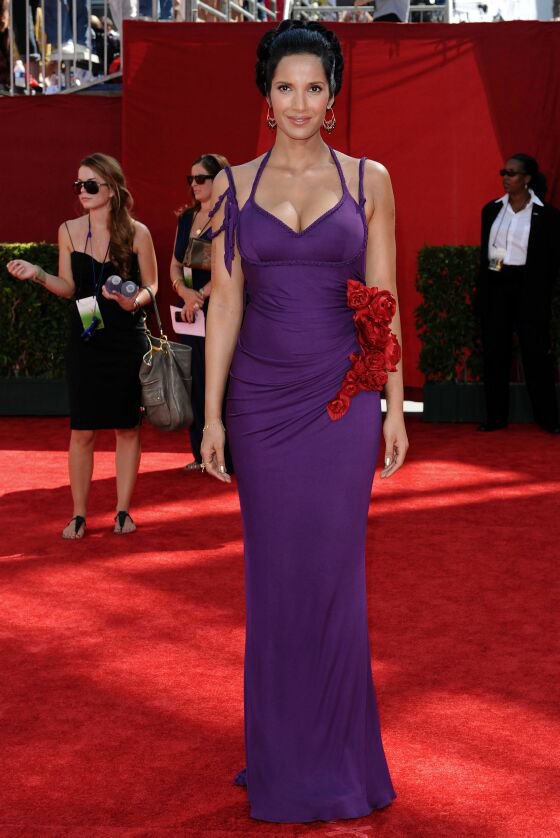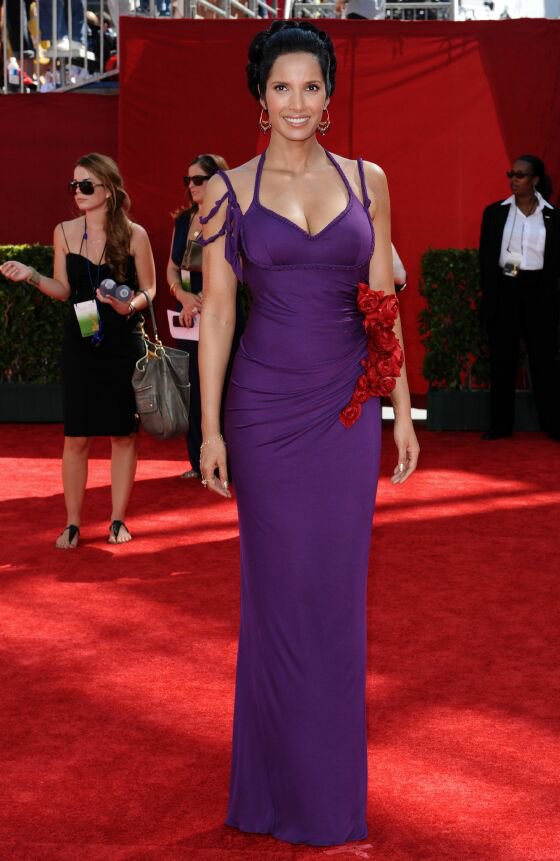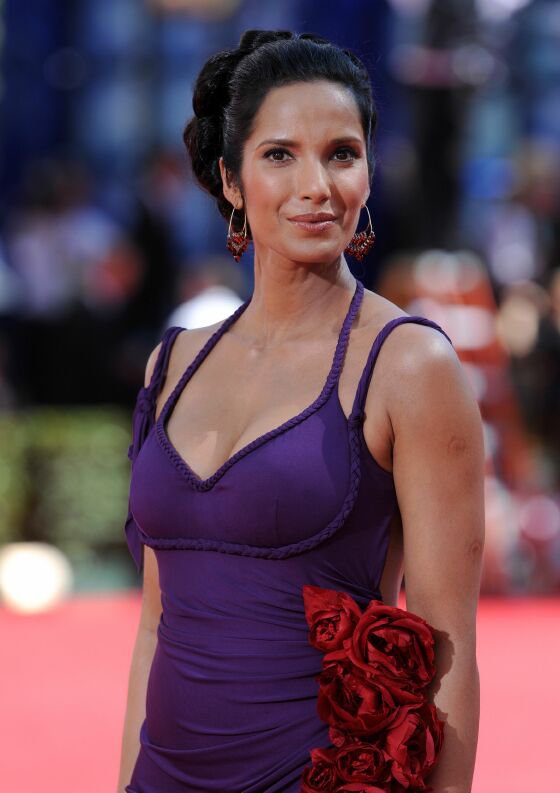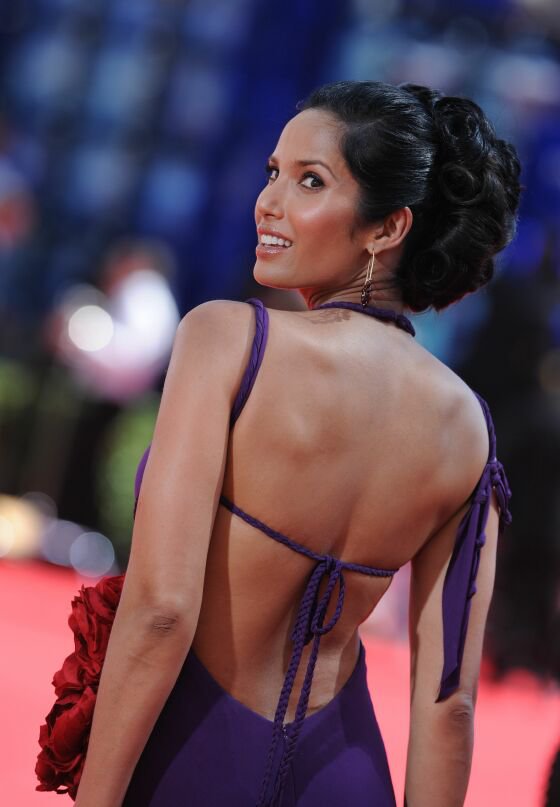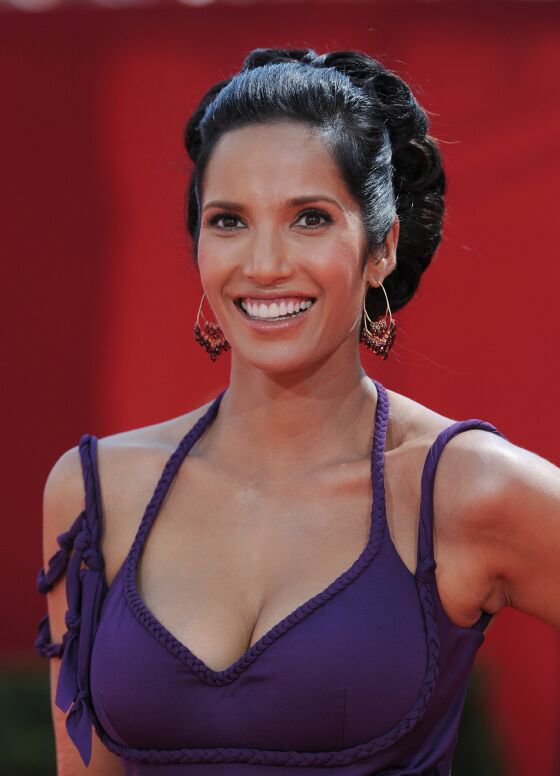 I don't mind the color of Padma Lakshmi's so much but everything else about the dress id just wrong. The top half of it looks like a bathing suit and to make it worse the dress has flowers growing out of her stomach.And what's with all the strings? Big faux pas!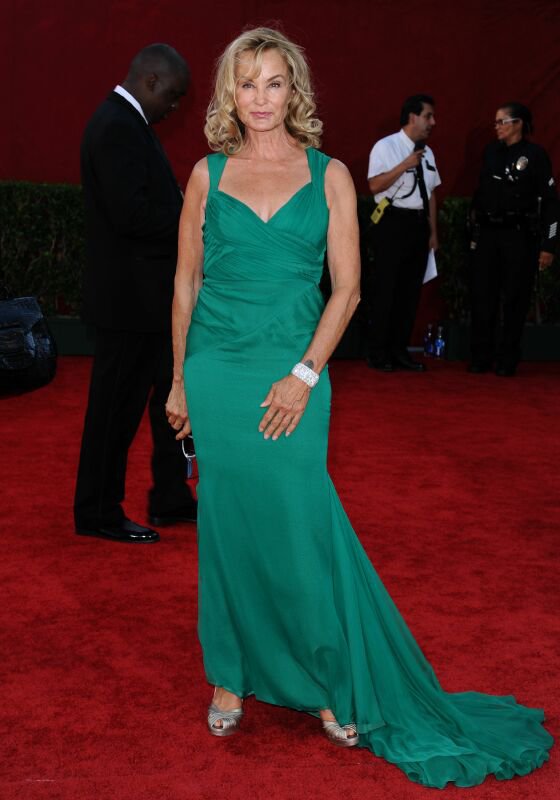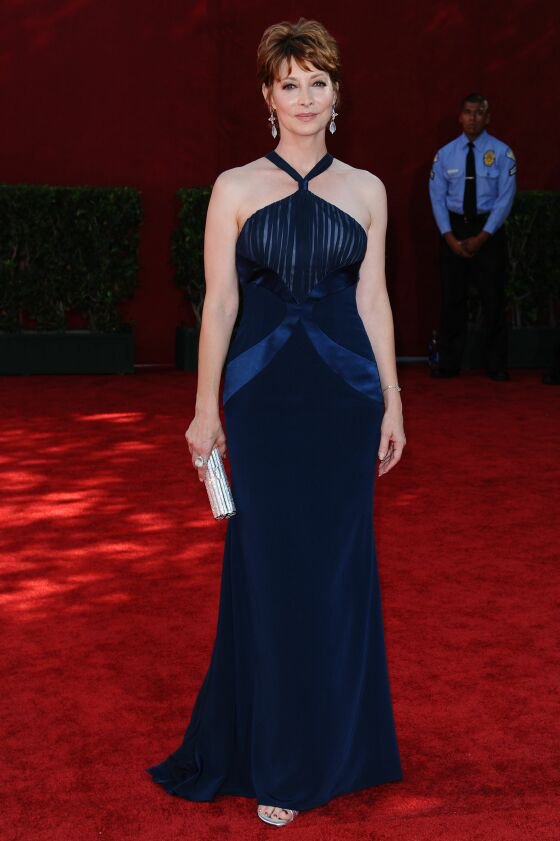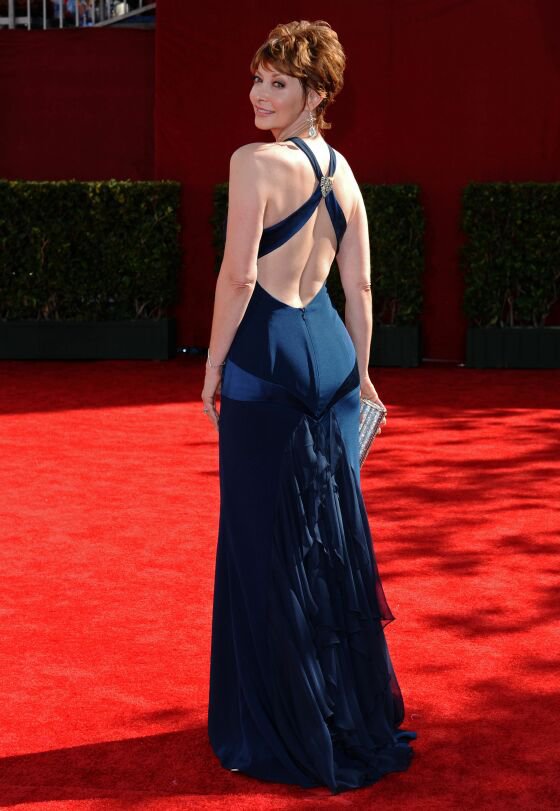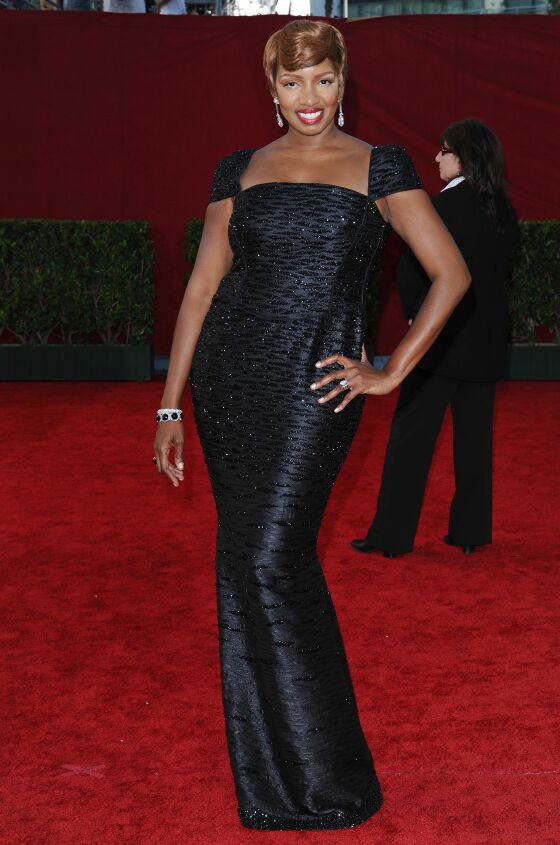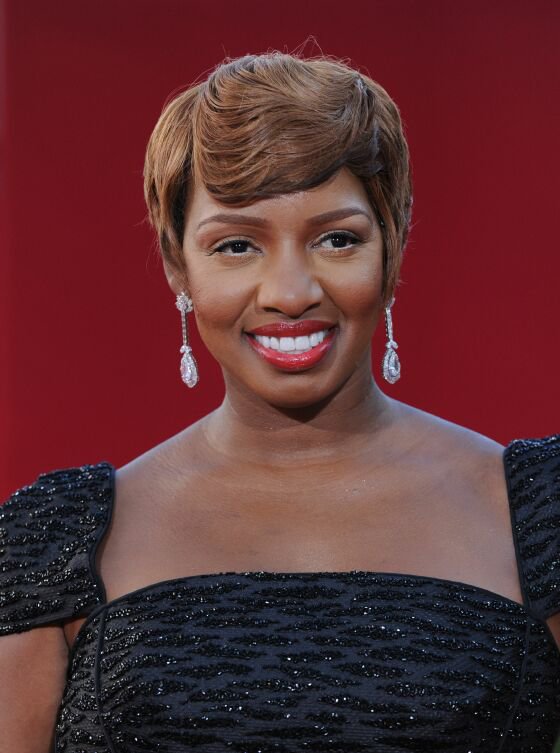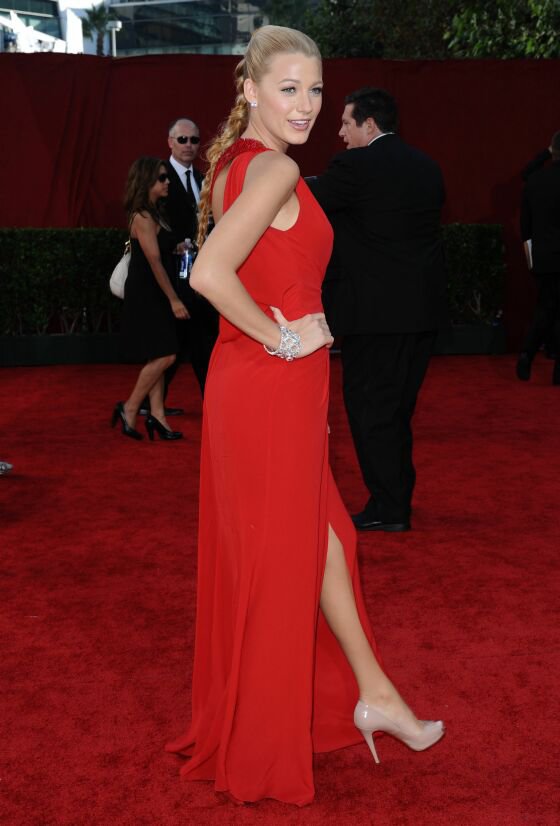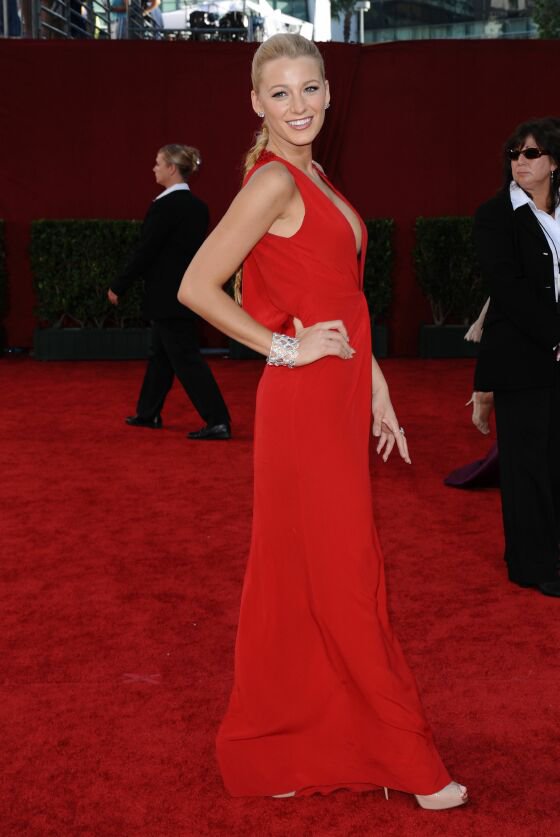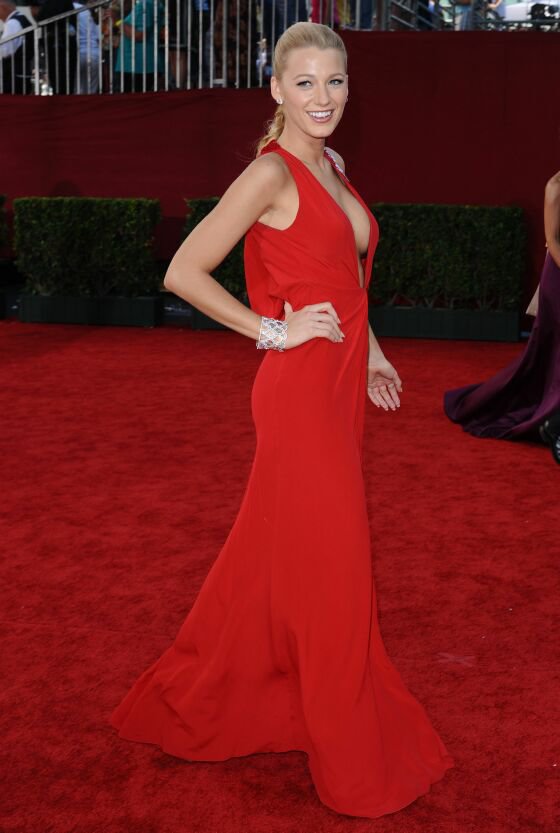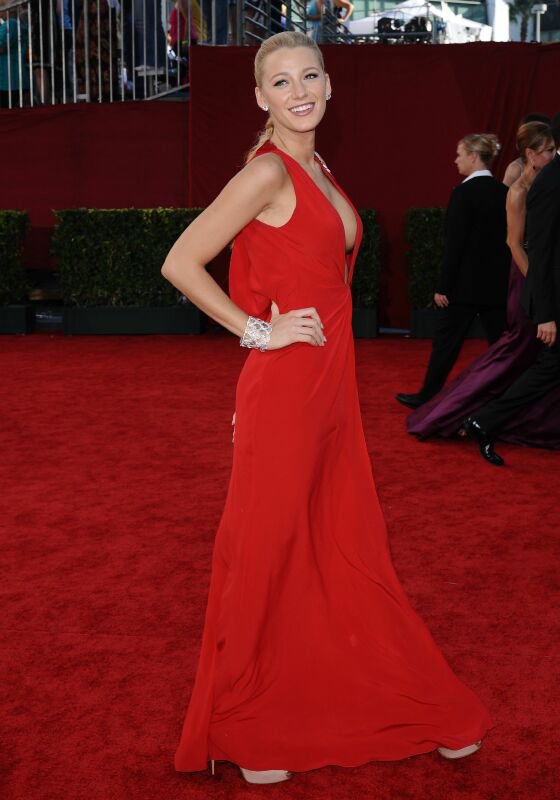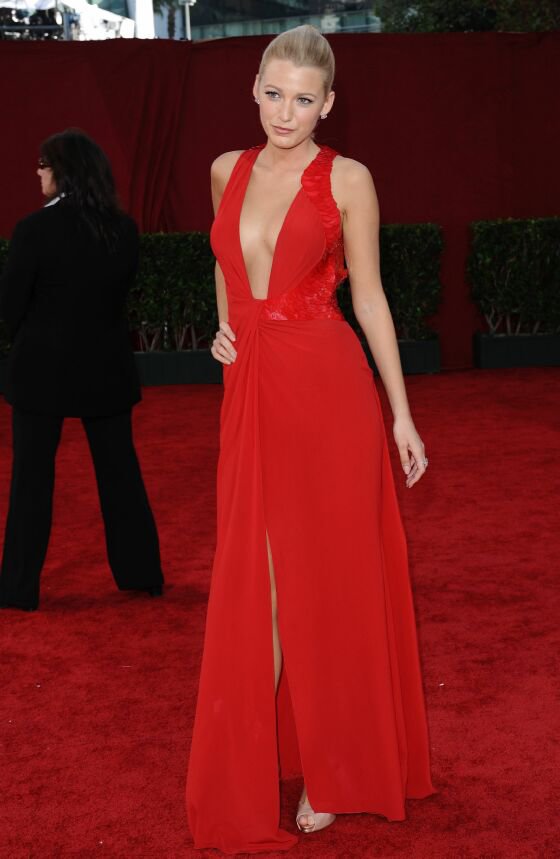 Blake Lively totally rocked this uber sexy red Versace gown!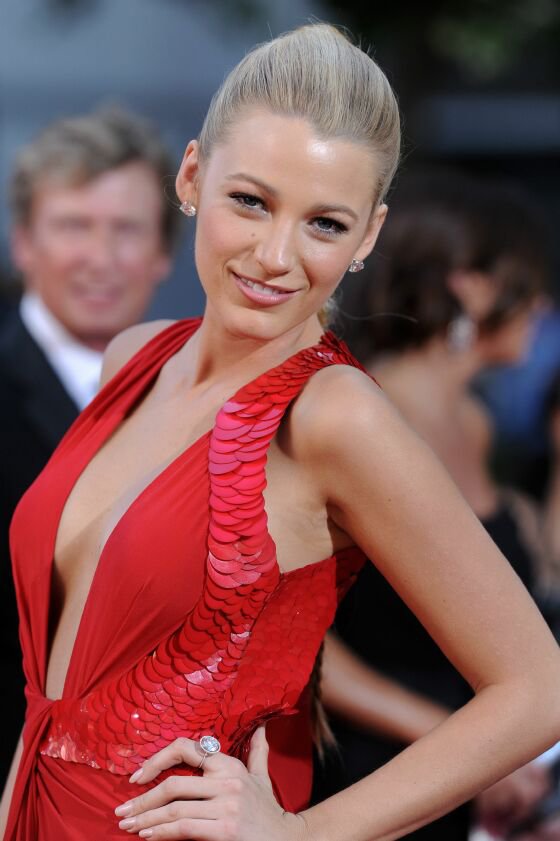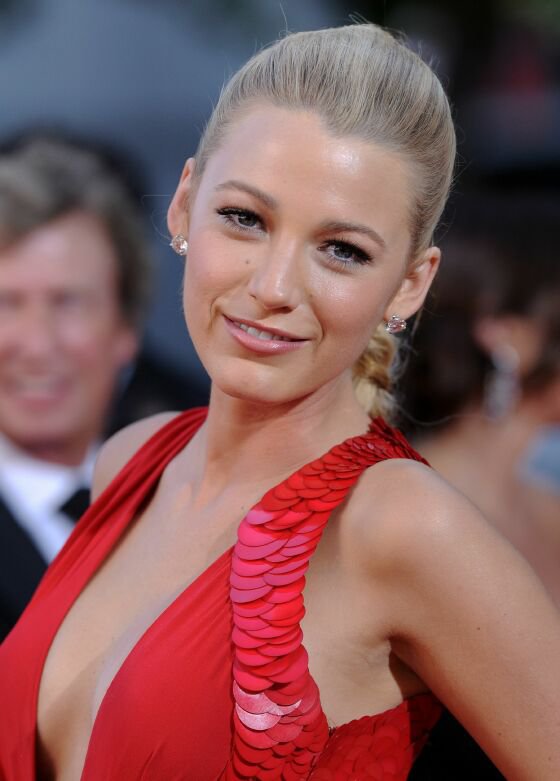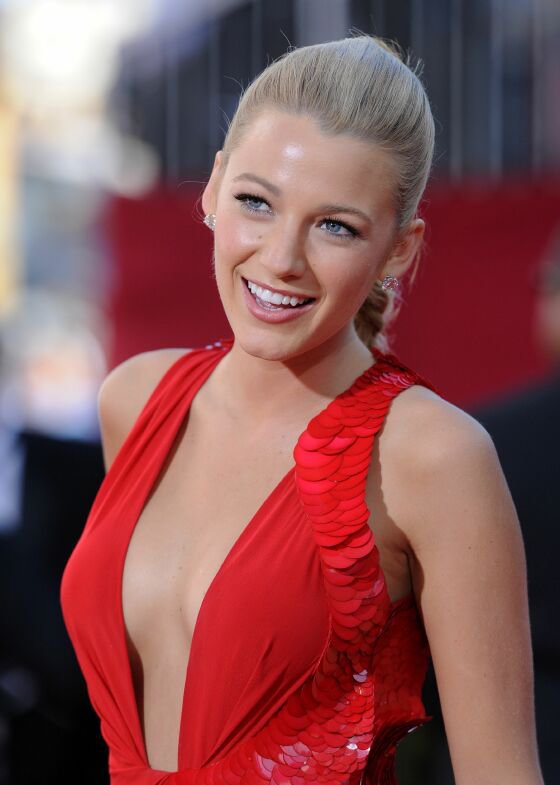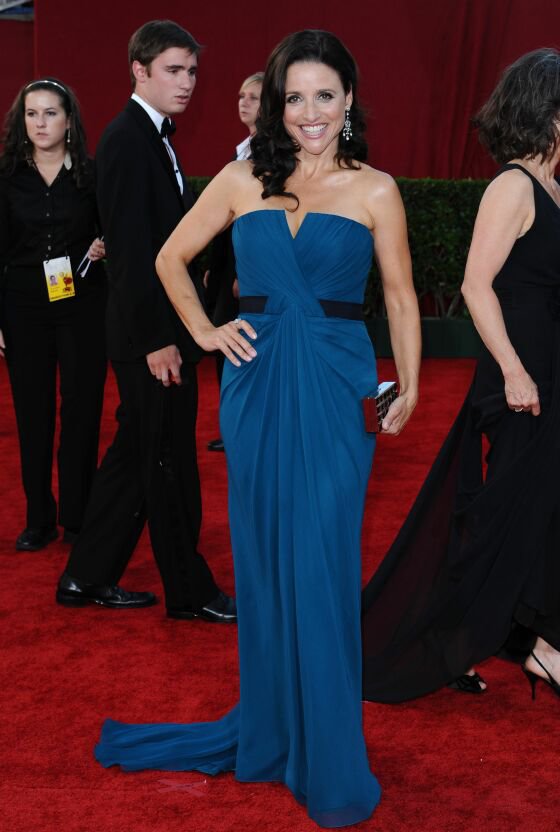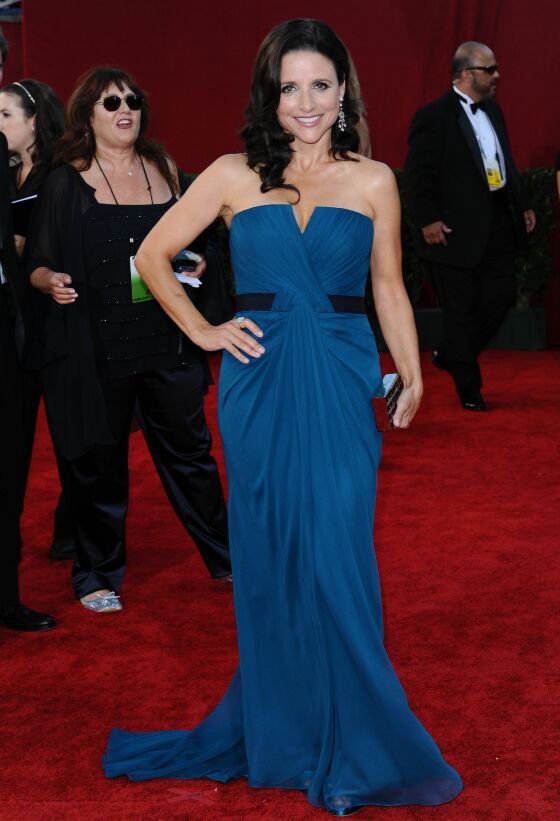 I'm not loving the black band on Julia's Vera Wang gown so much but other than that she looks lovely!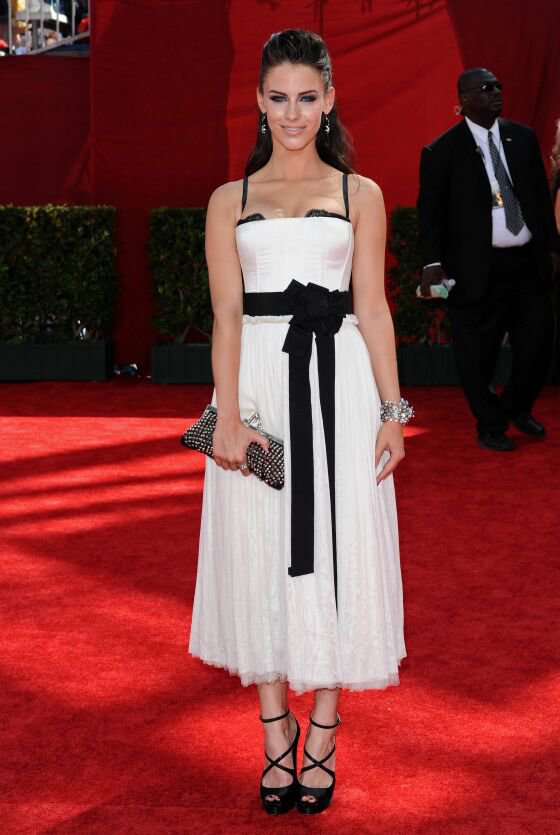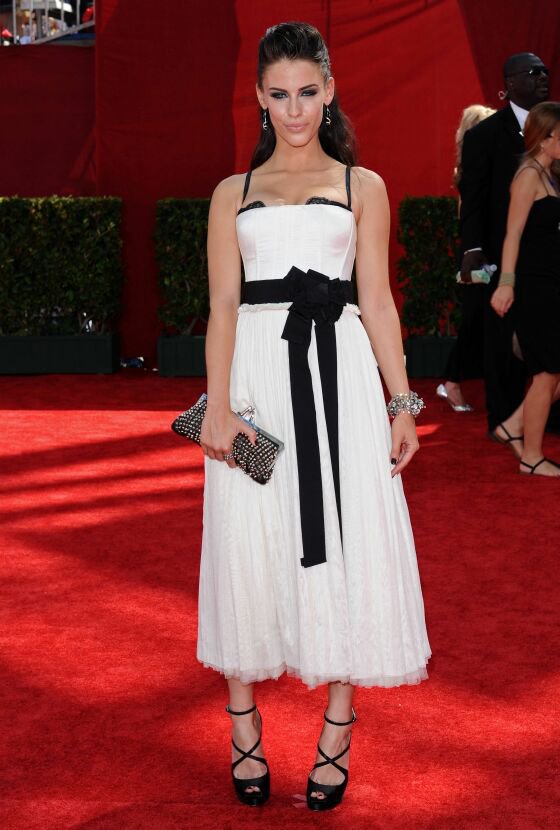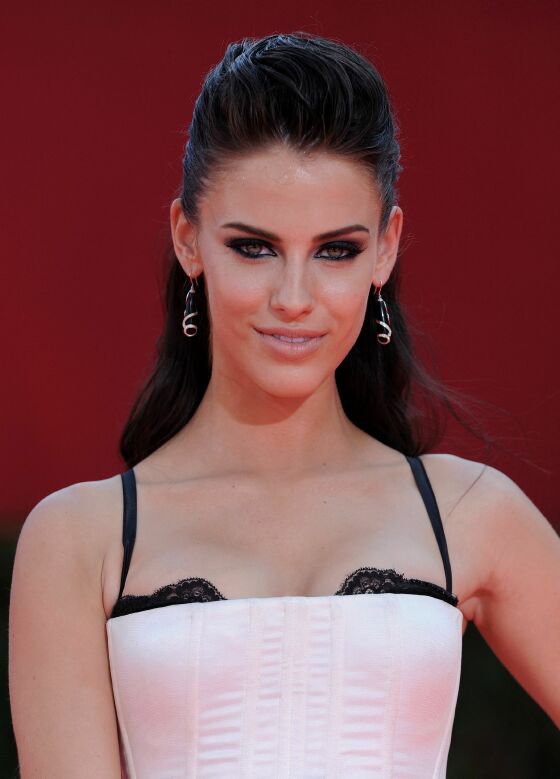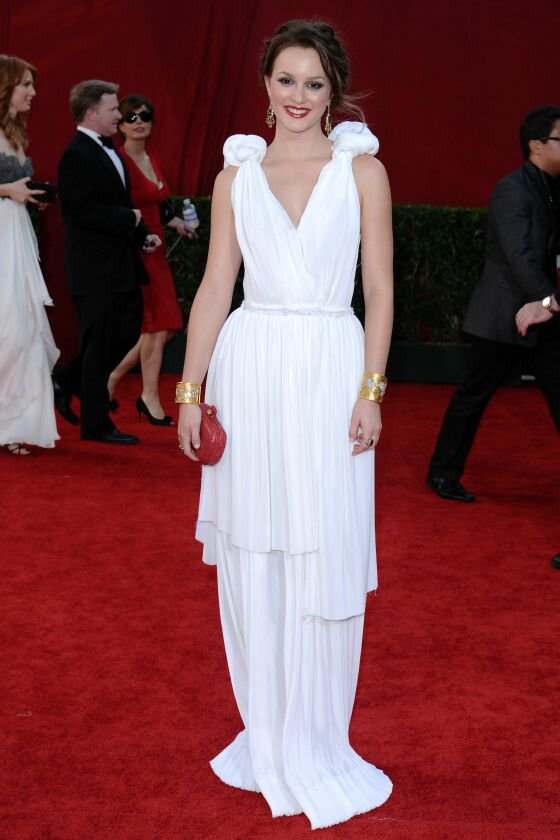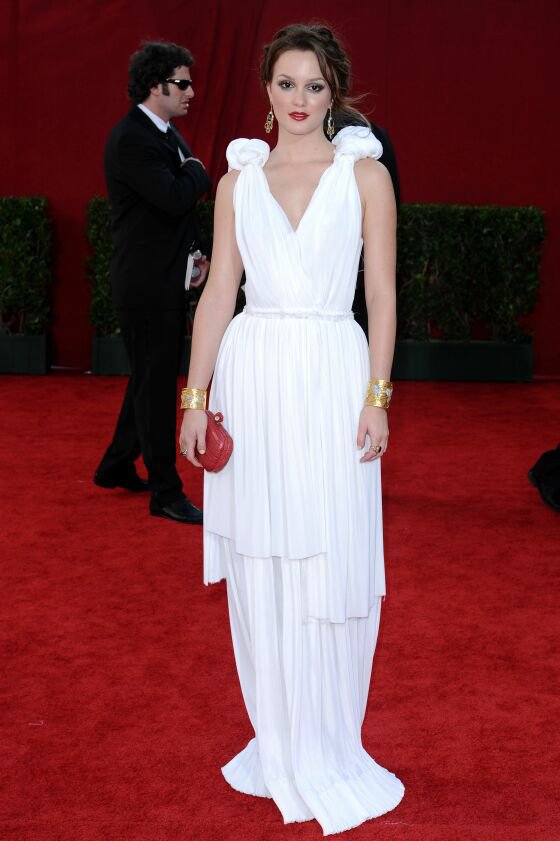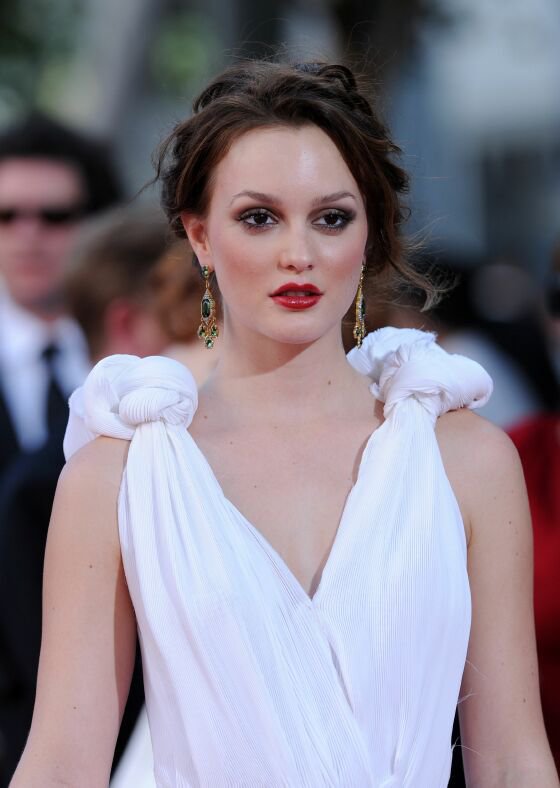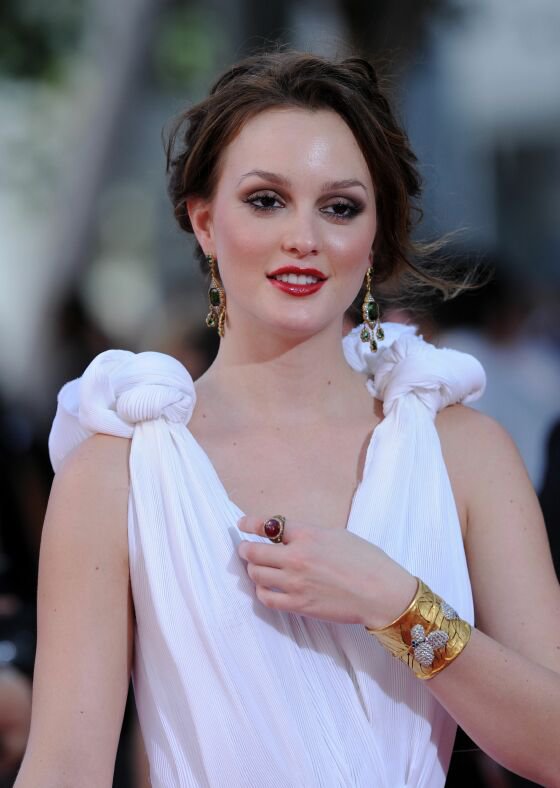 Another on the fence for me. Leighton Meester takes a risk with the knots on her shoulders but honestly I don't know if it works. They almost look like mushrooms to me.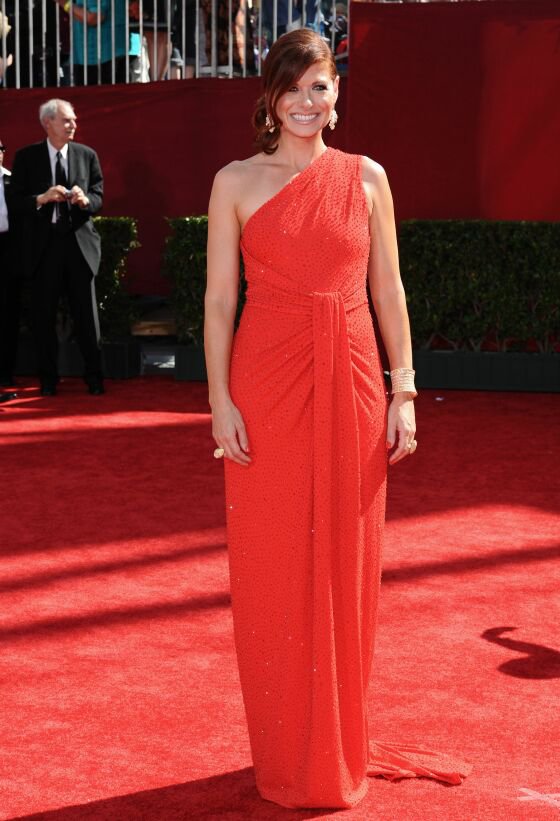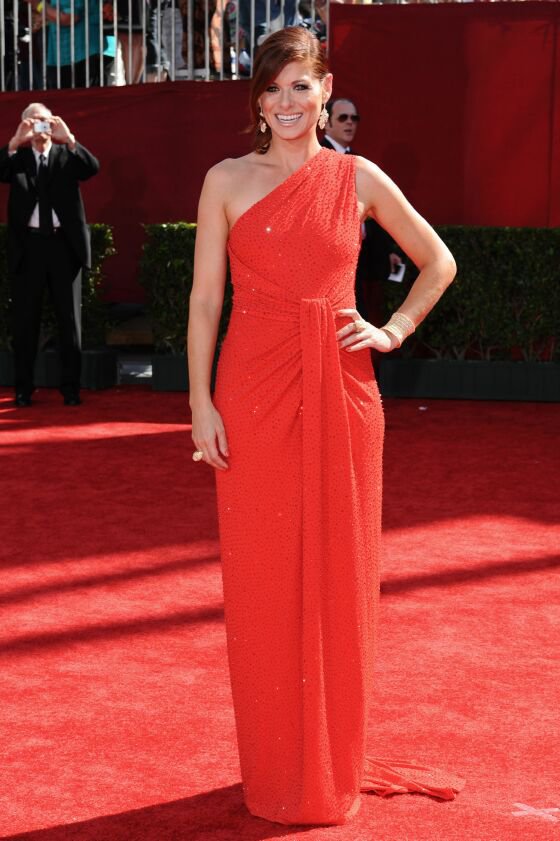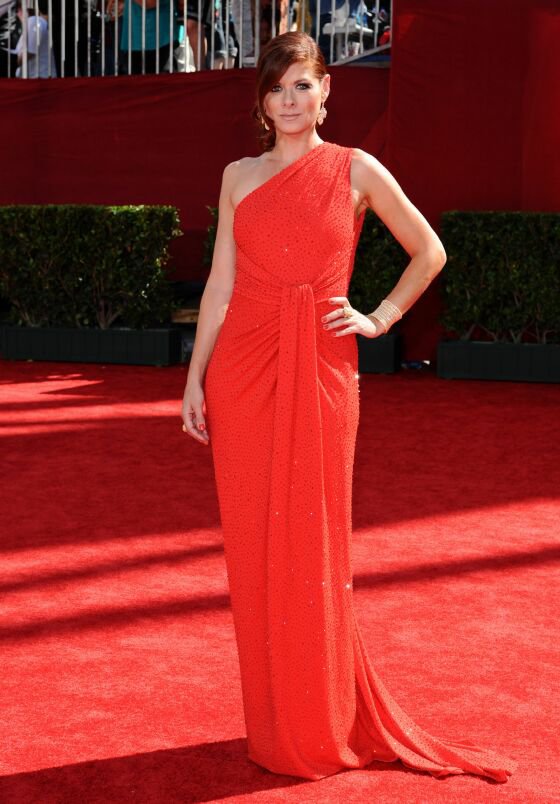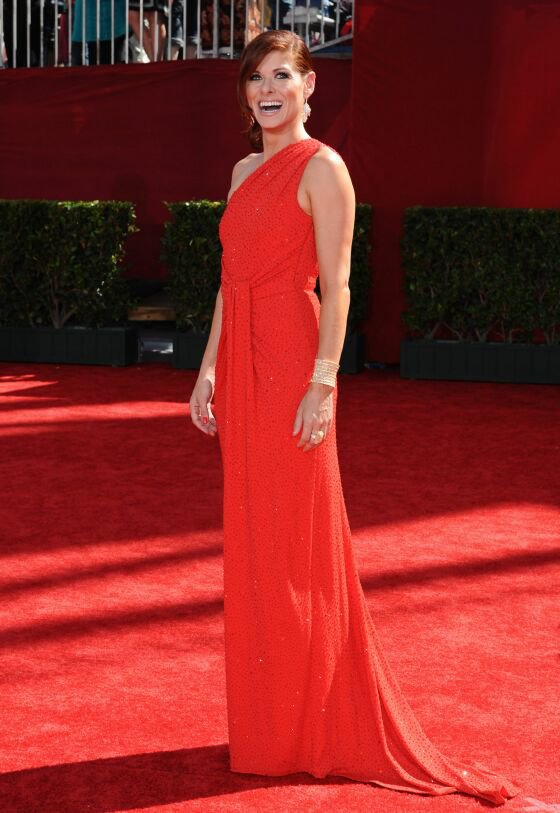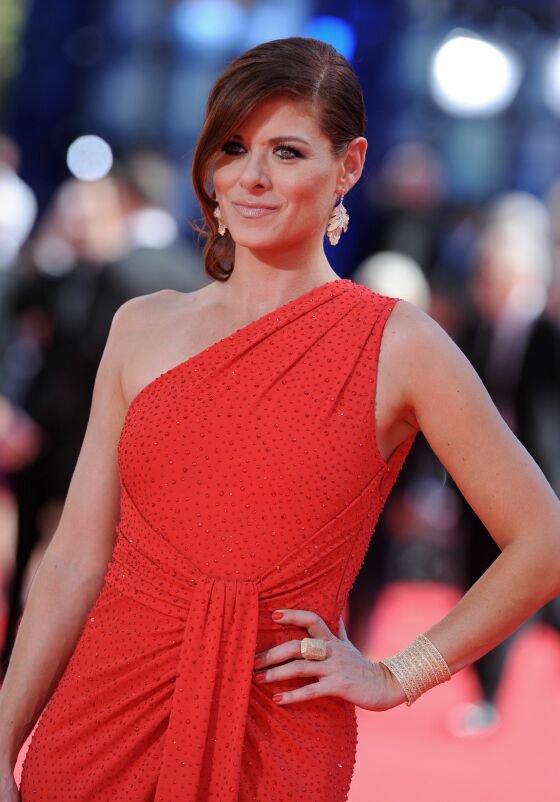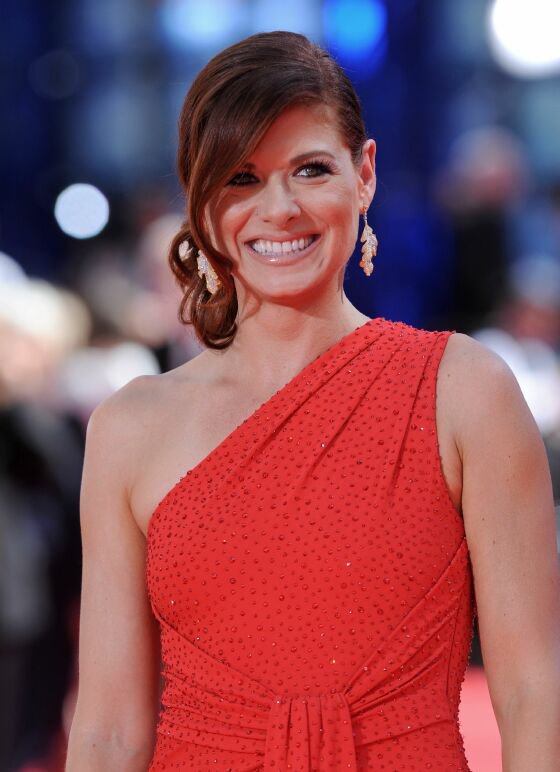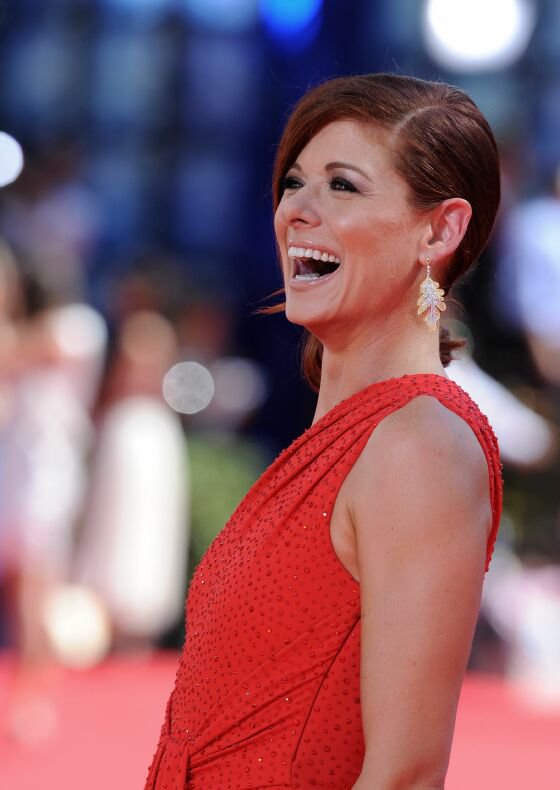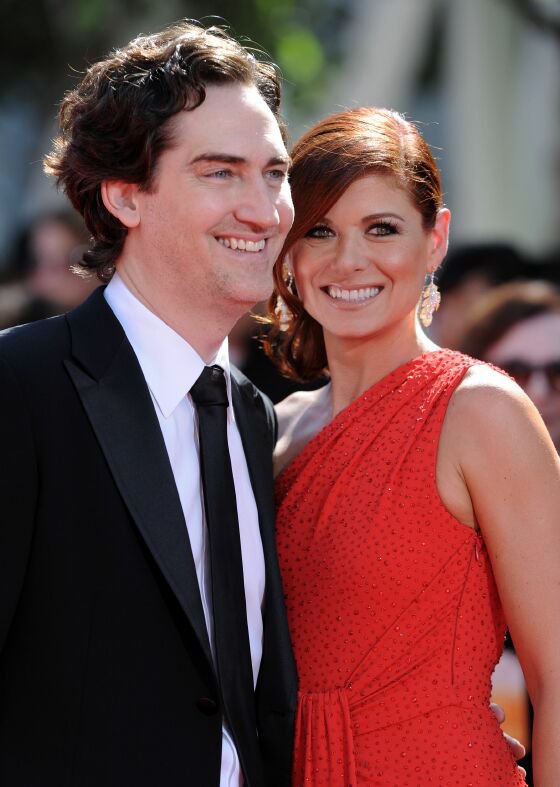 Okay maybe the dress is a bit safe but I LOVE it! Debra Messing looks timelessly beautiful!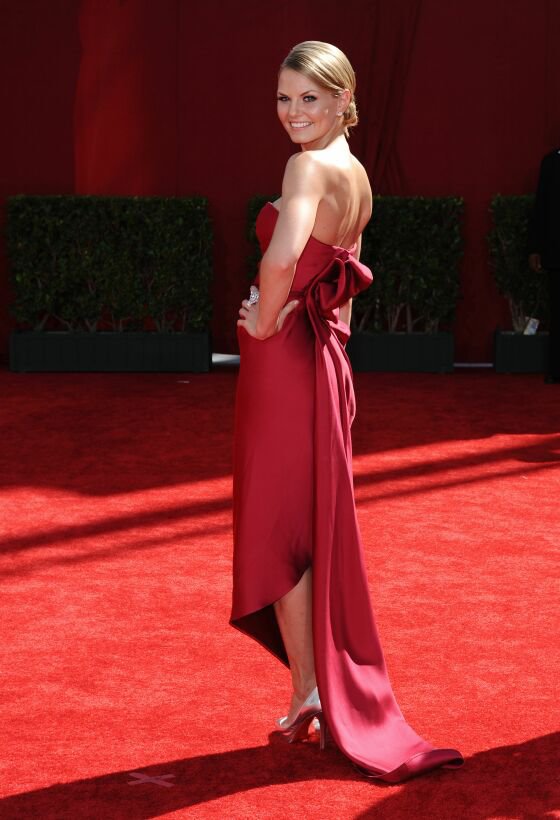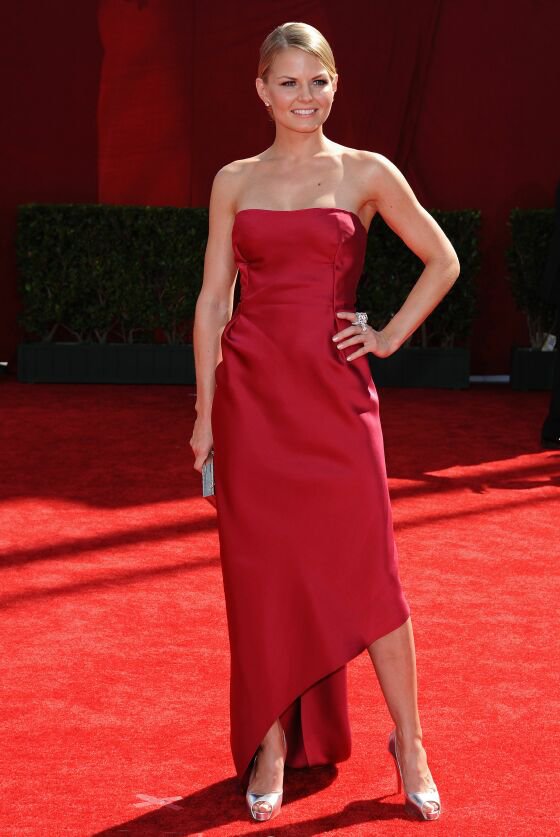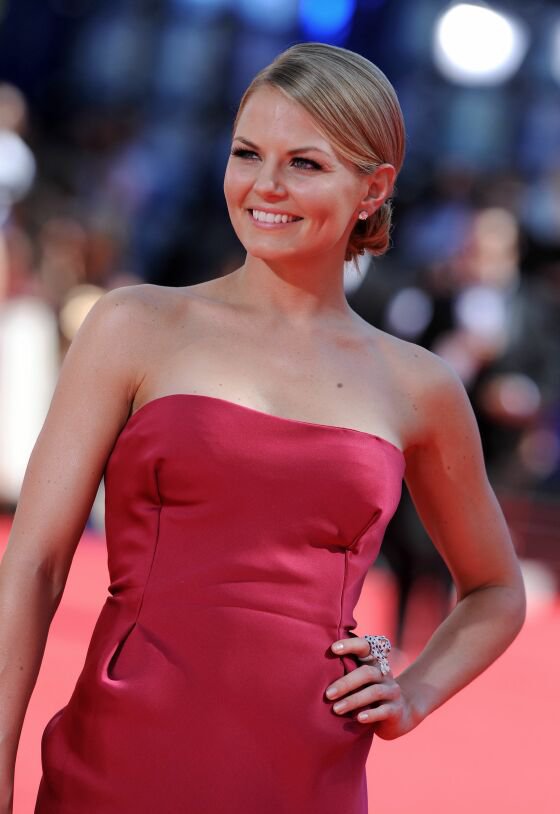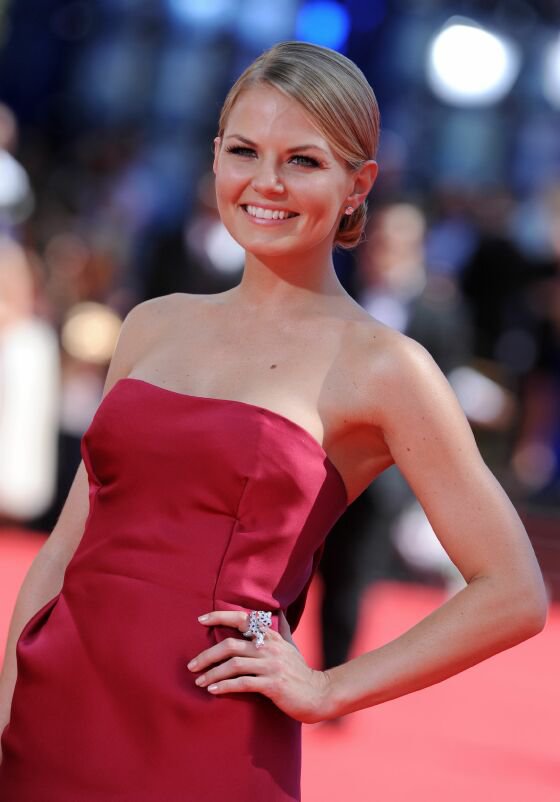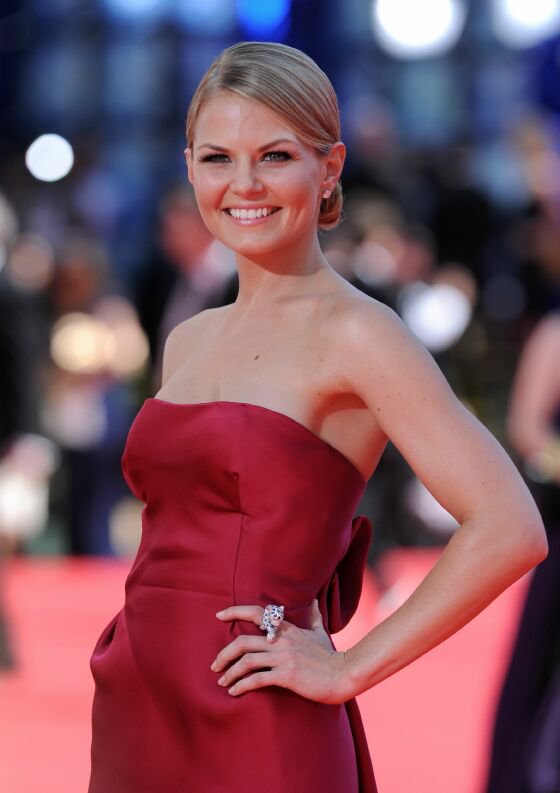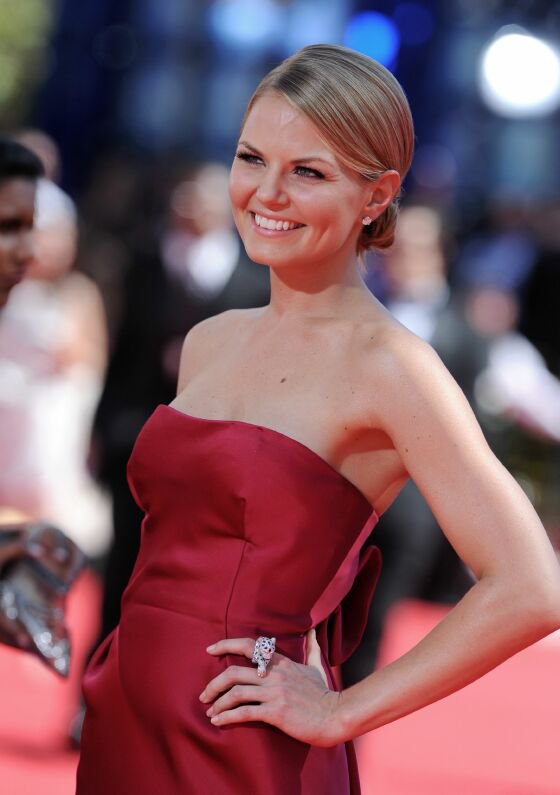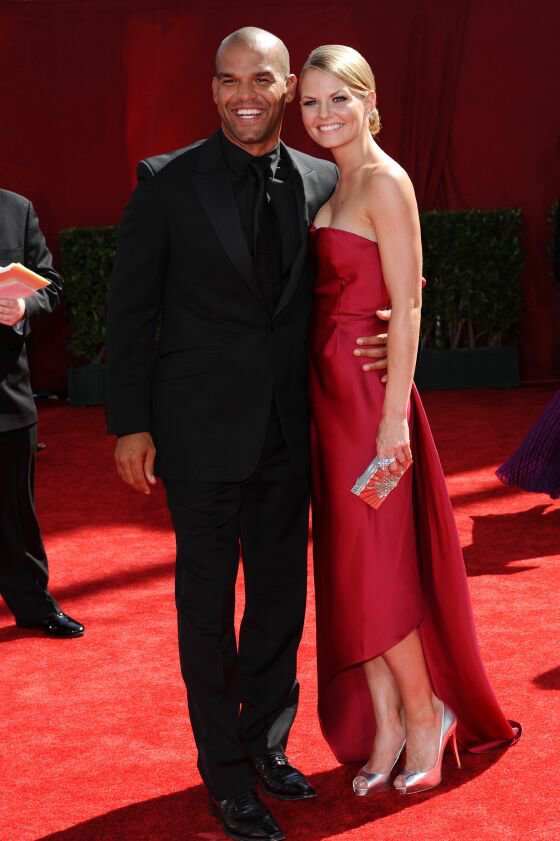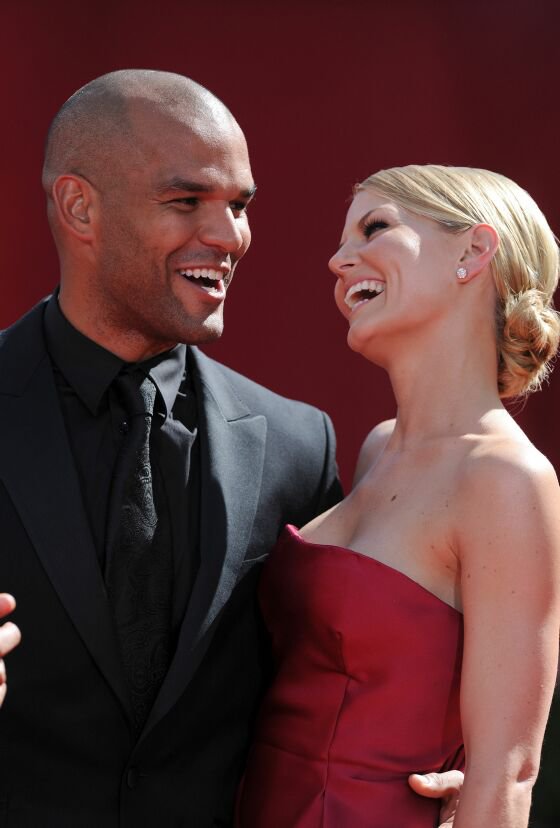 Jennifer Morrison looks sophisticated and elegant in her rasberry gown. And having a gorgeous man by your side doesn't hurt either ;)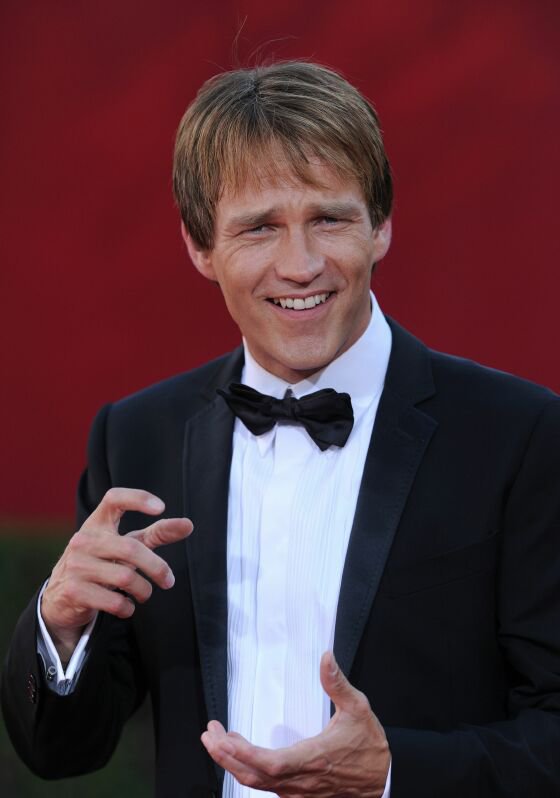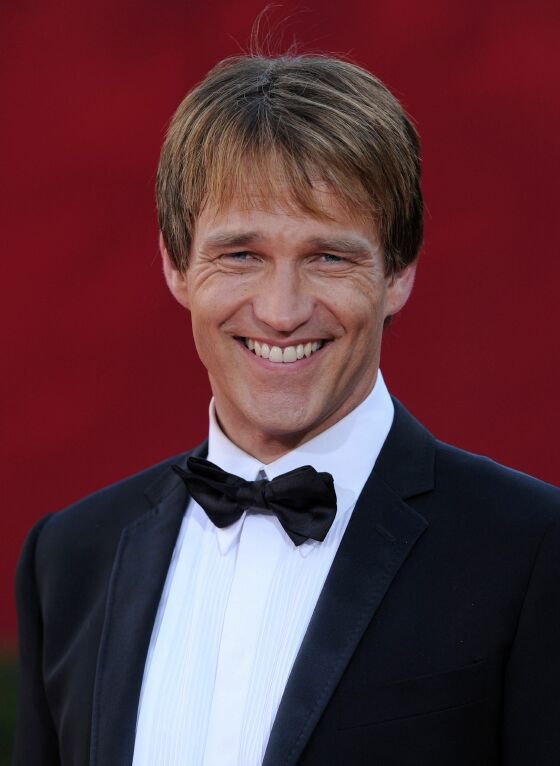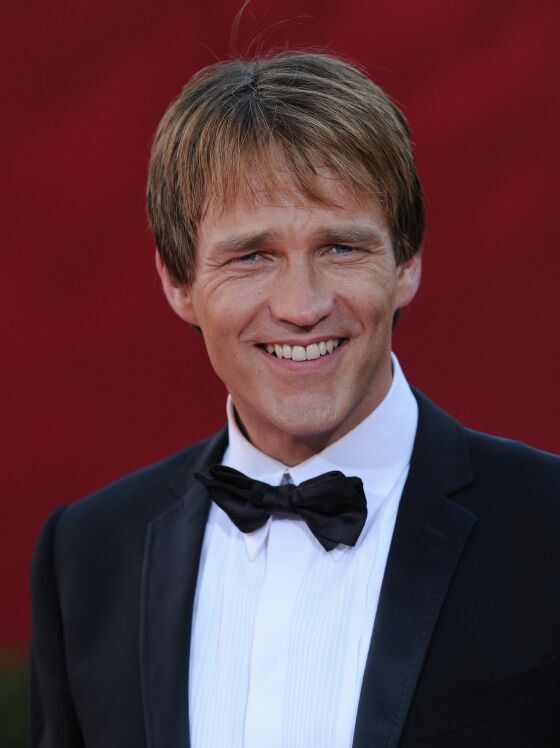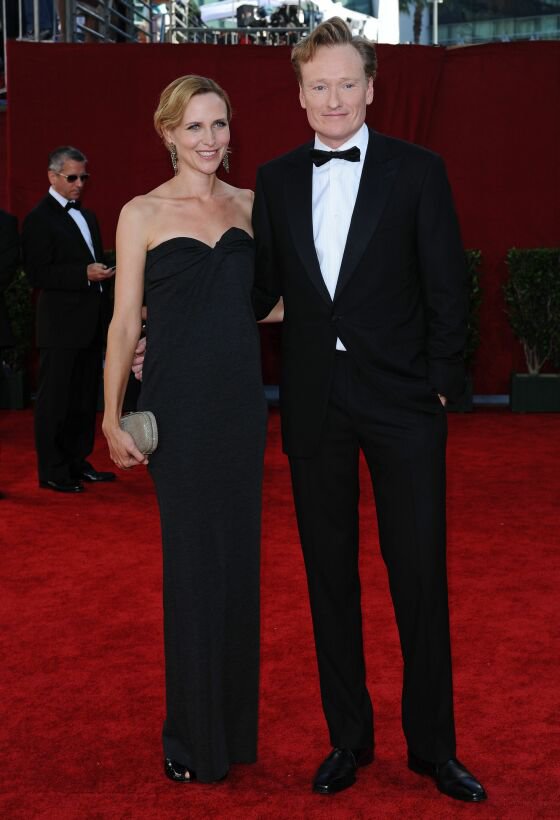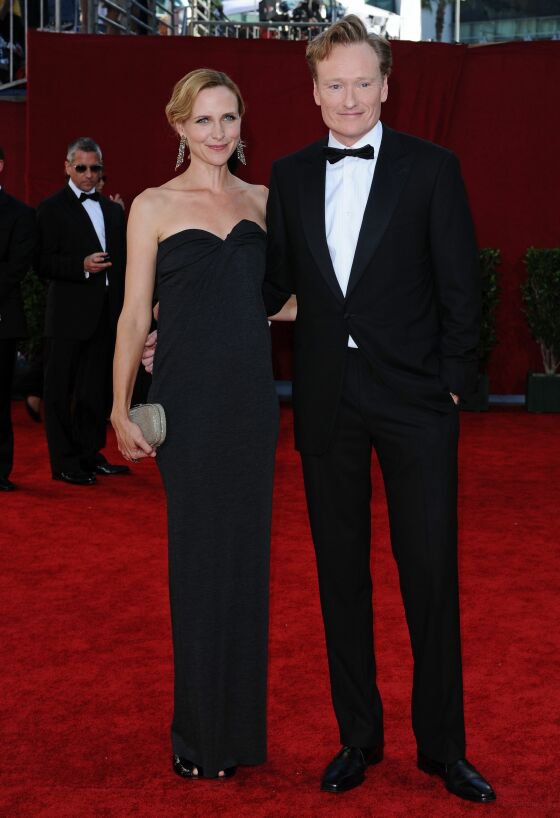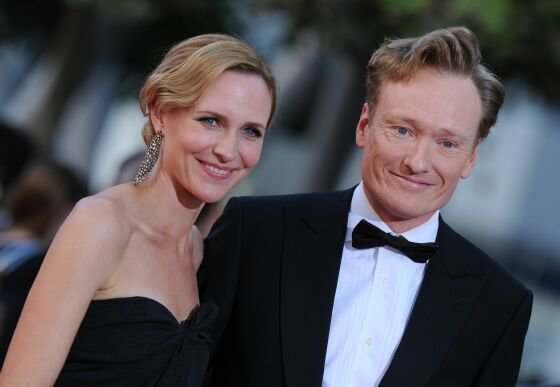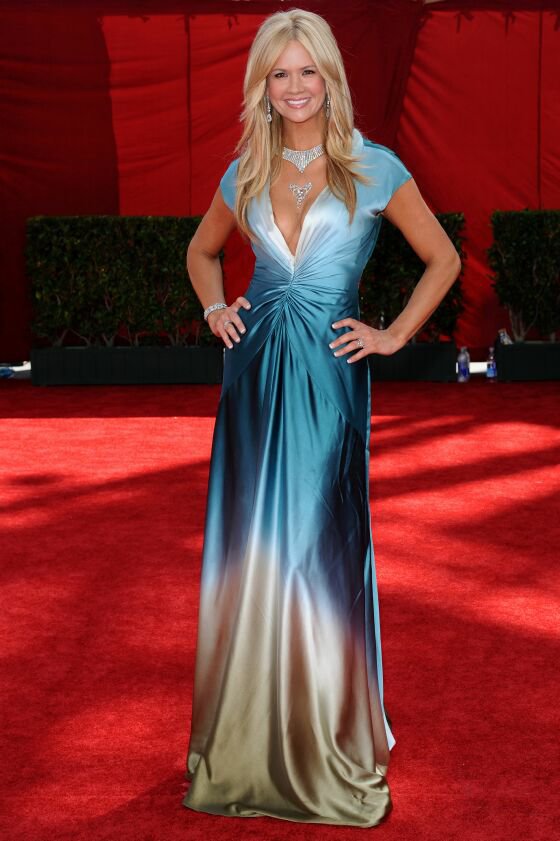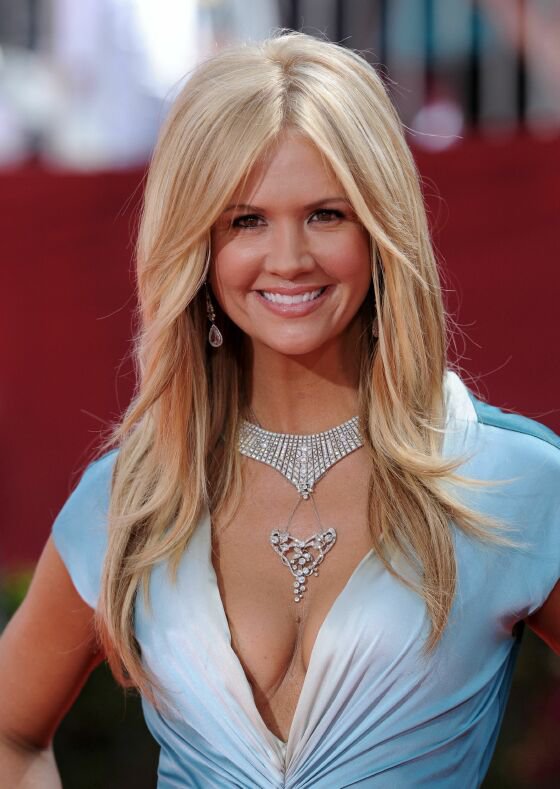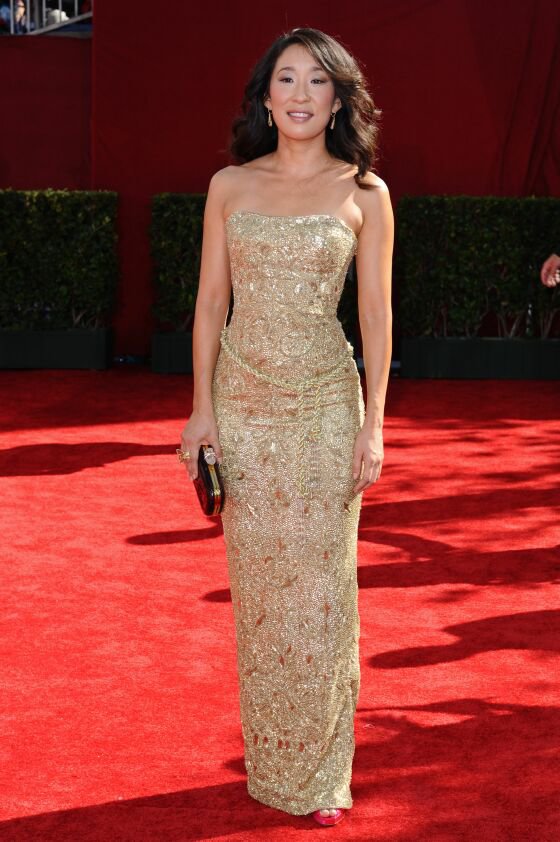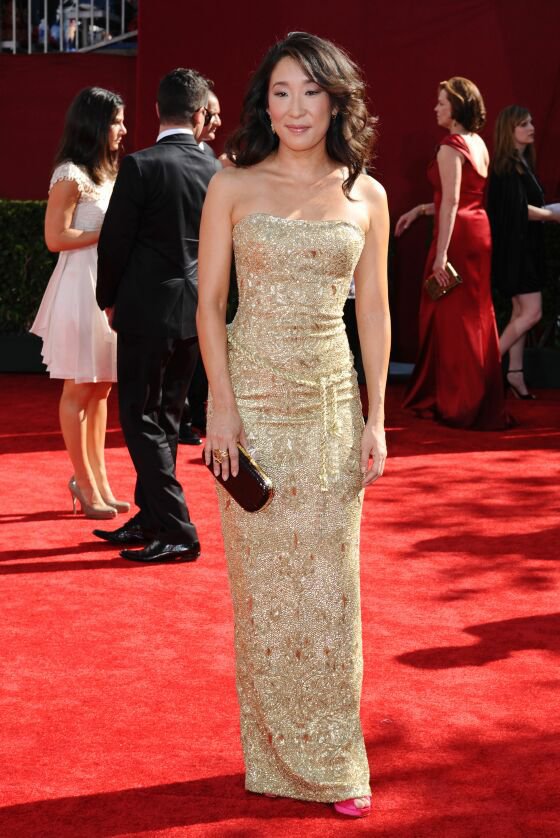 Don't you simple love Sandra Oh's gorgeous gold Marchesa dress?! Elegant, simply and I adore that little tassel detail.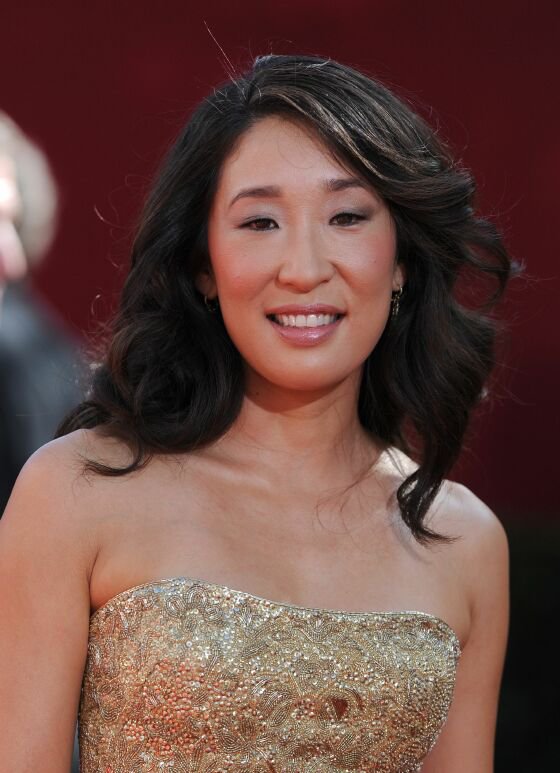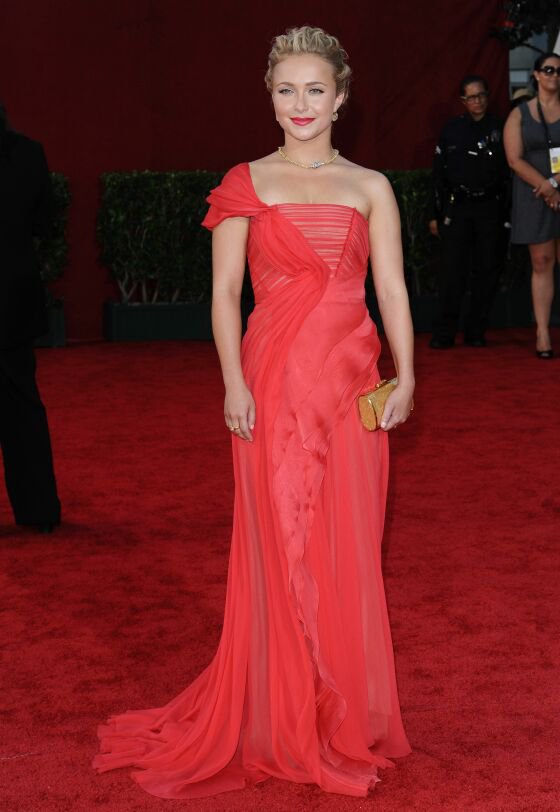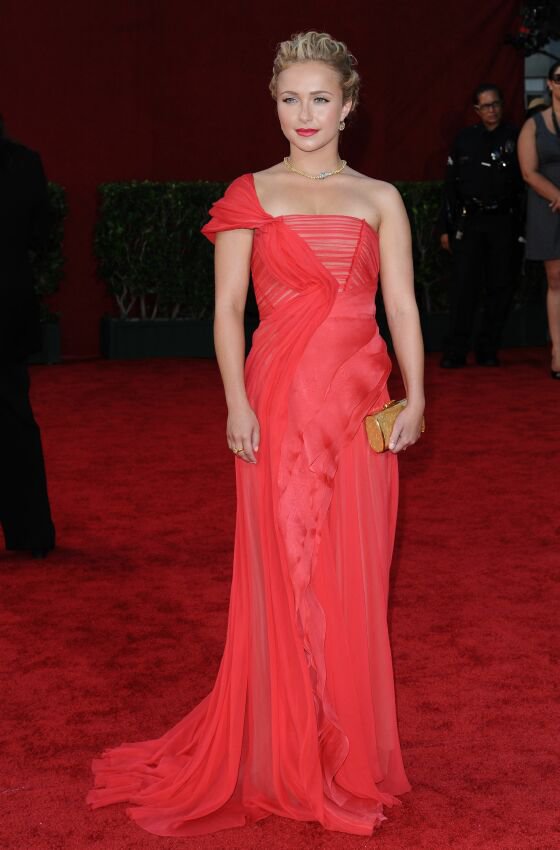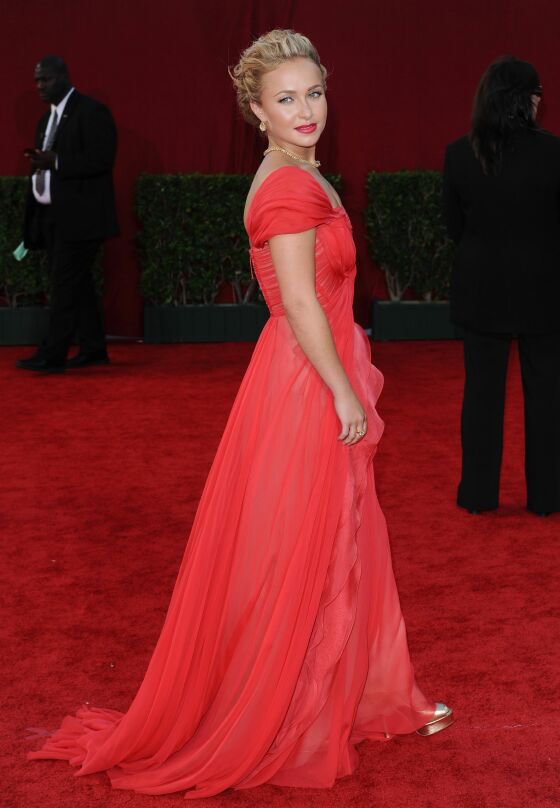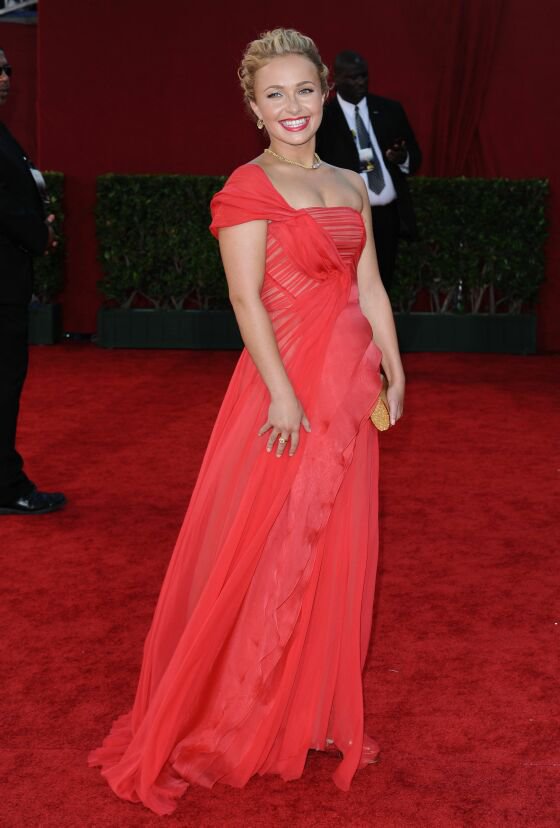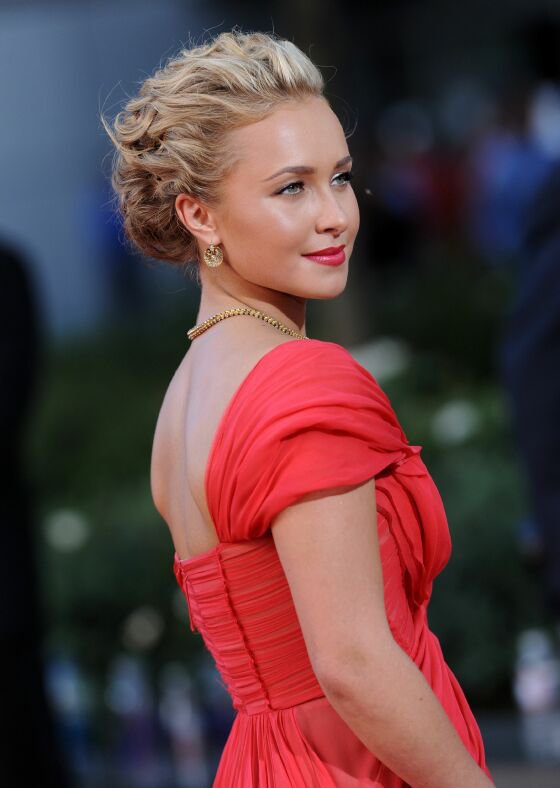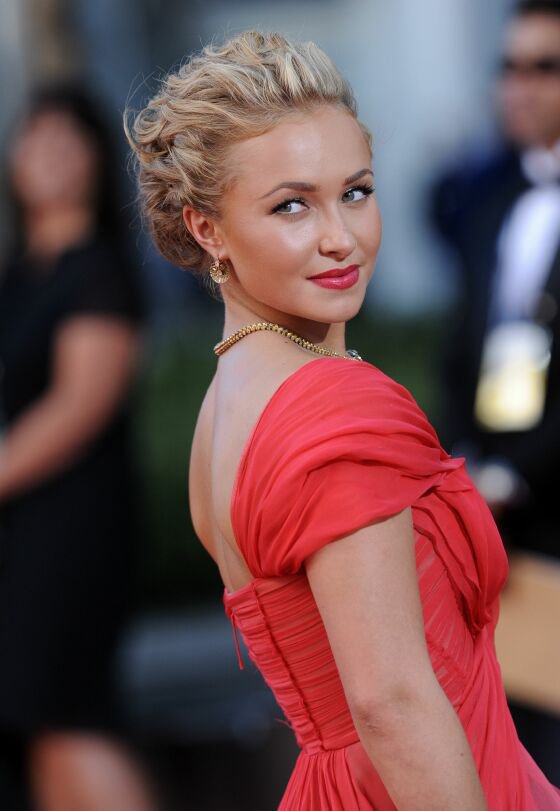 I do like the dress but not on her. Hayden may look all old Hollywood glamor but I am a tad bored of her always trying to seem so grown up.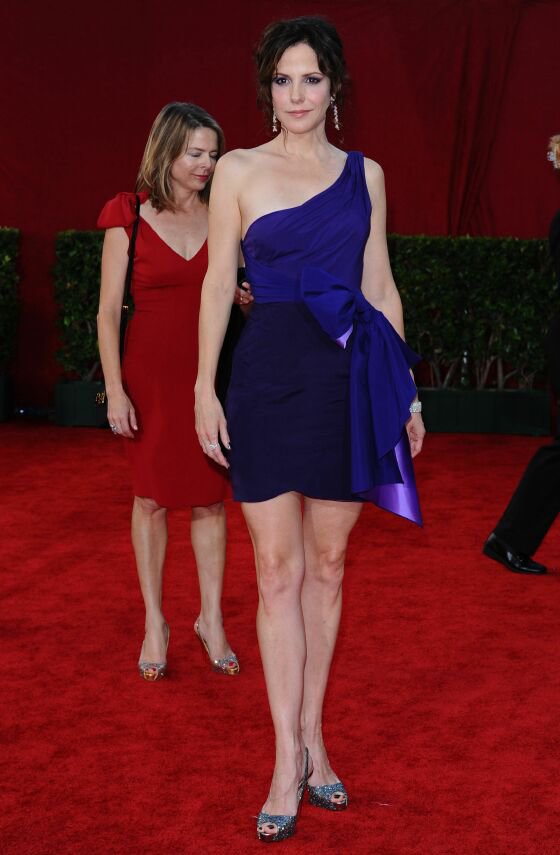 Mary Louise Parker looks cute as a button in this flirty and fun blue number.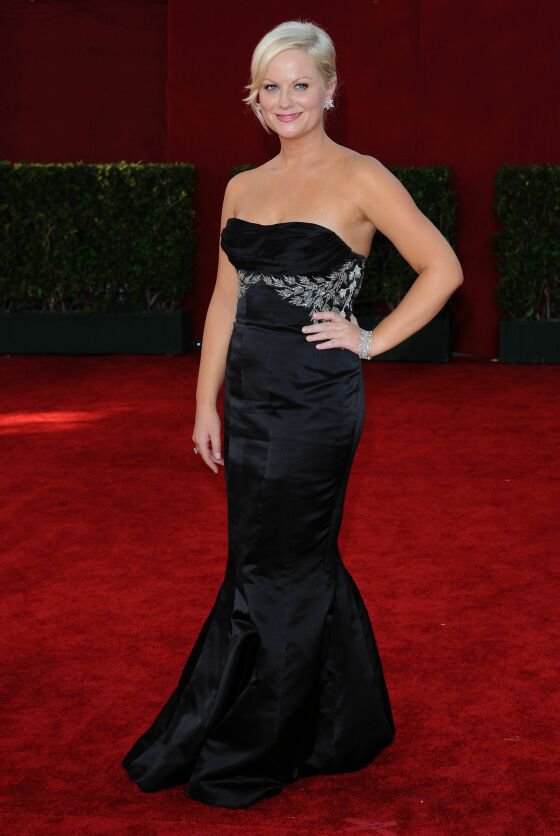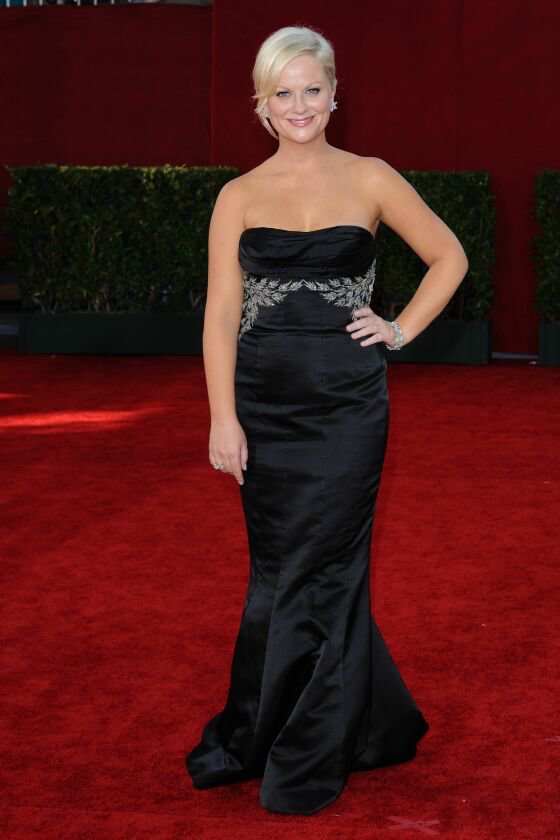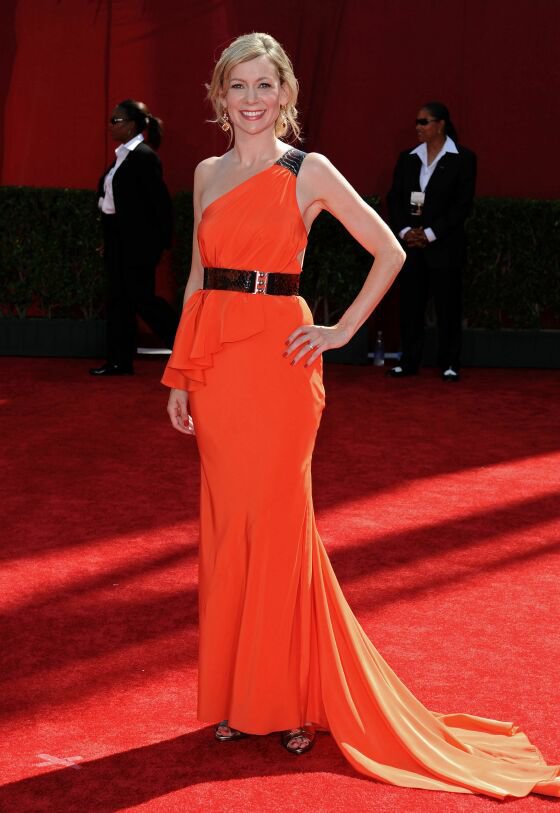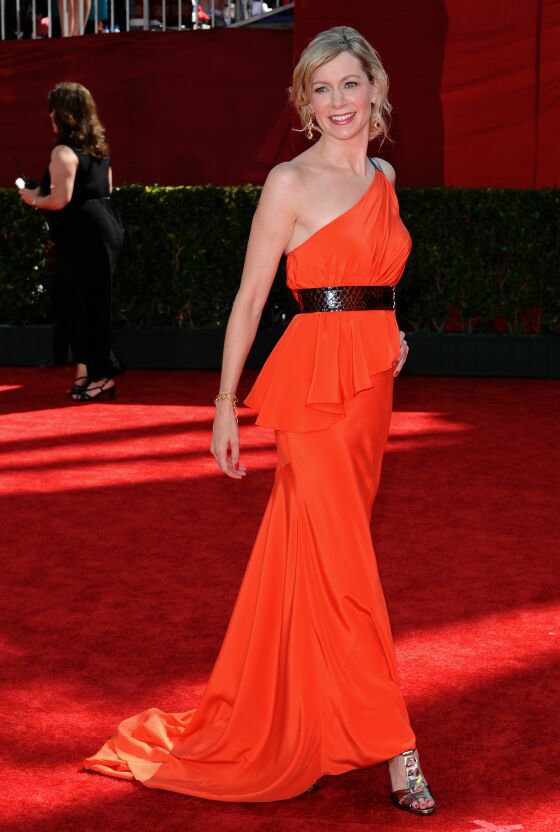 Okay I hate the belt but I love them shoes!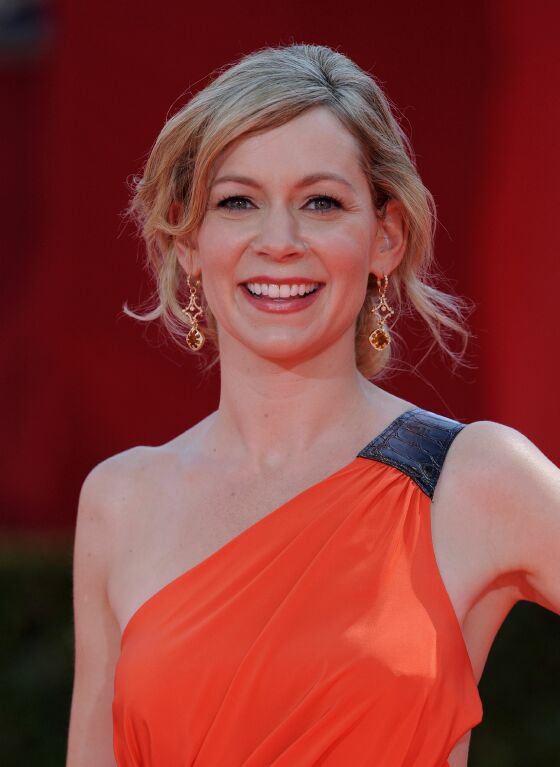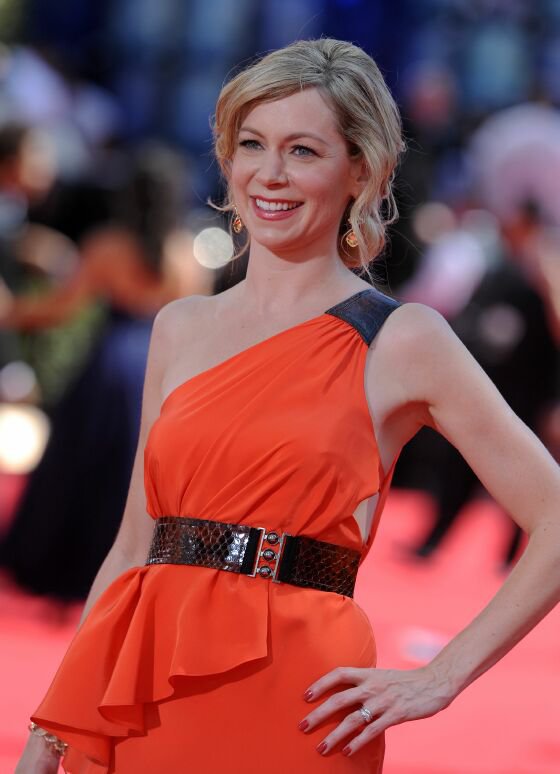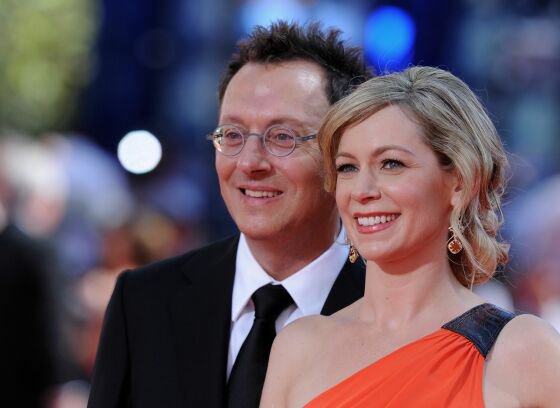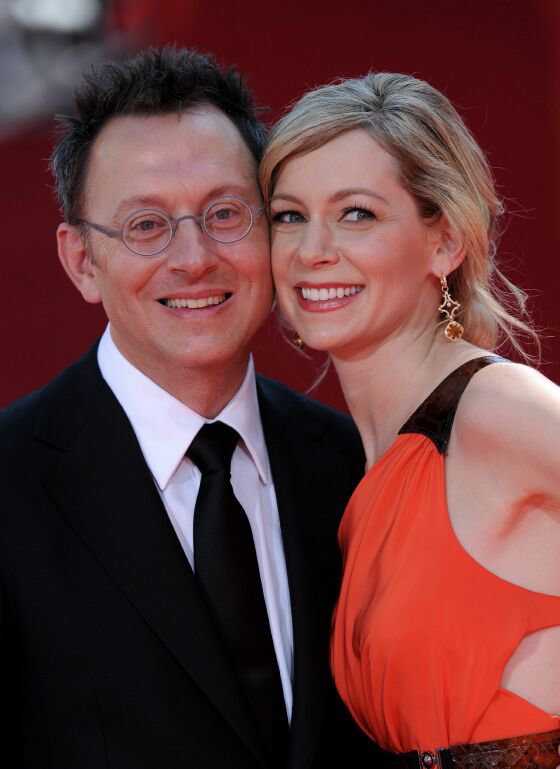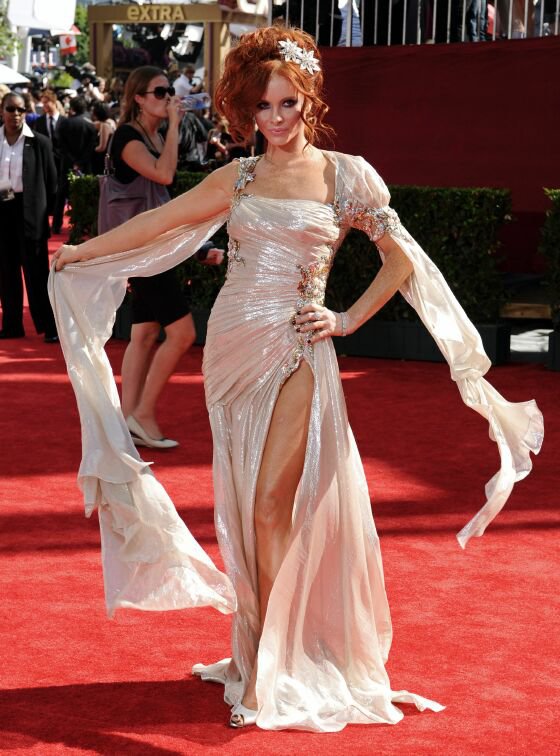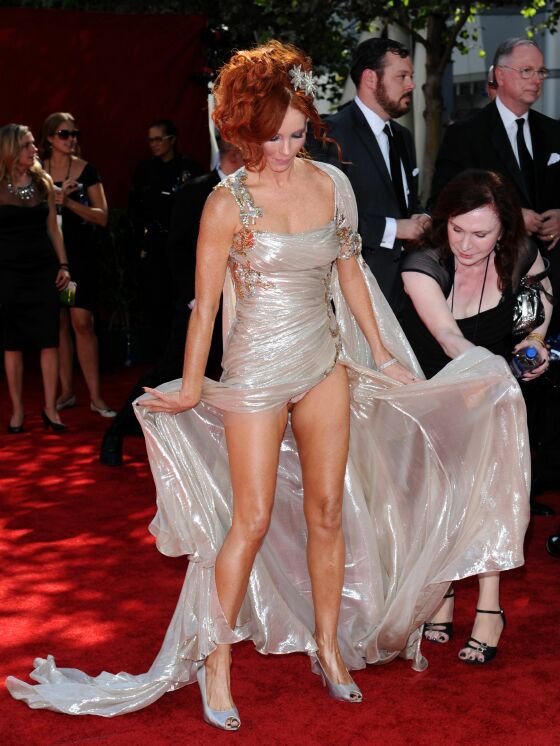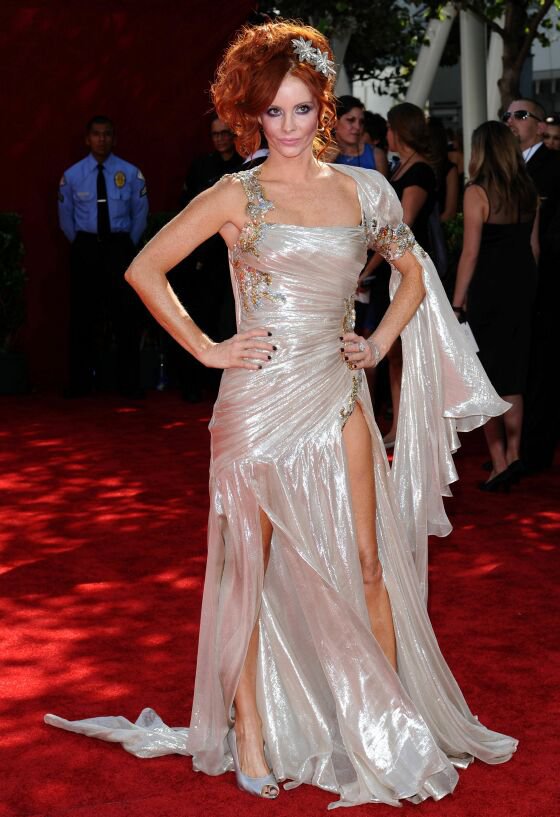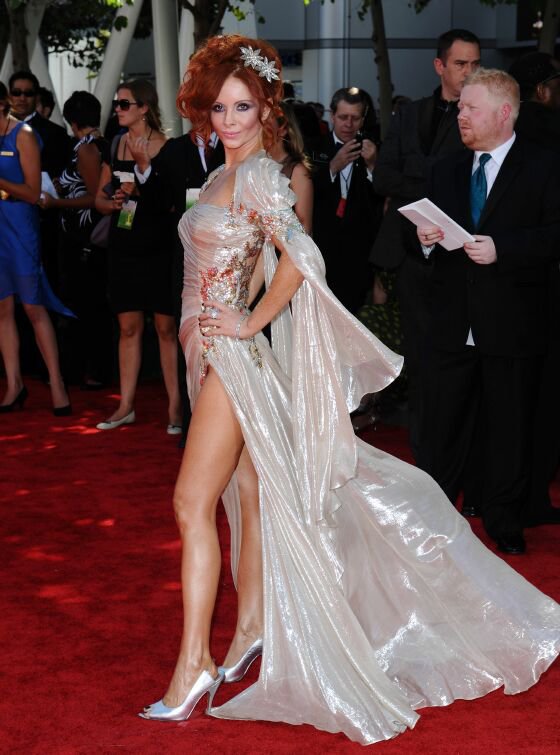 Phoebe Price's almost costume like dress is probably the FUGLIEST of the bunch for me.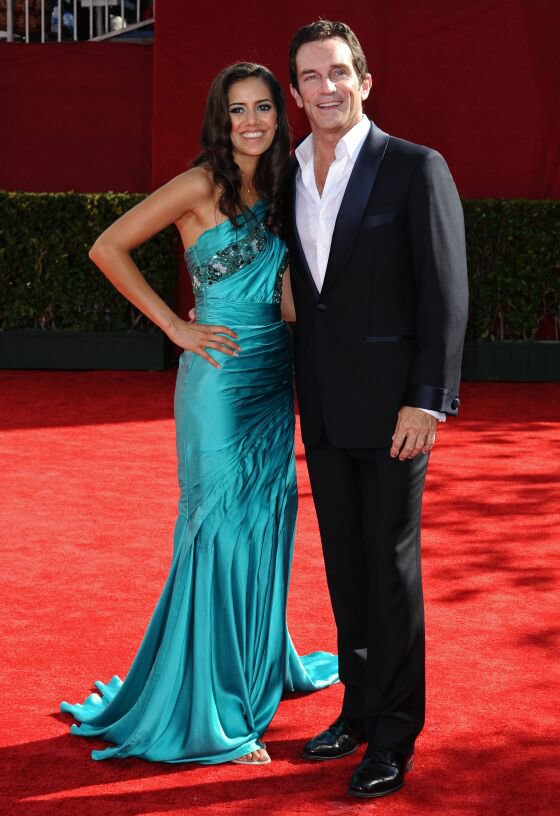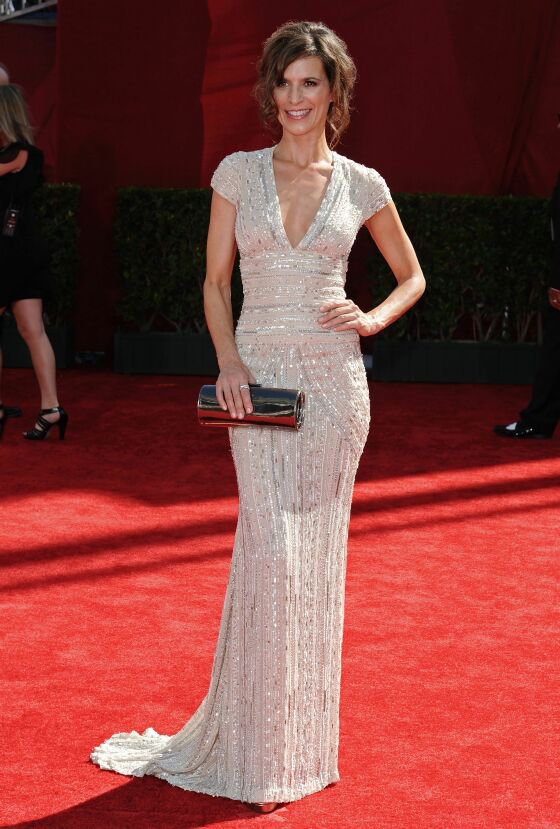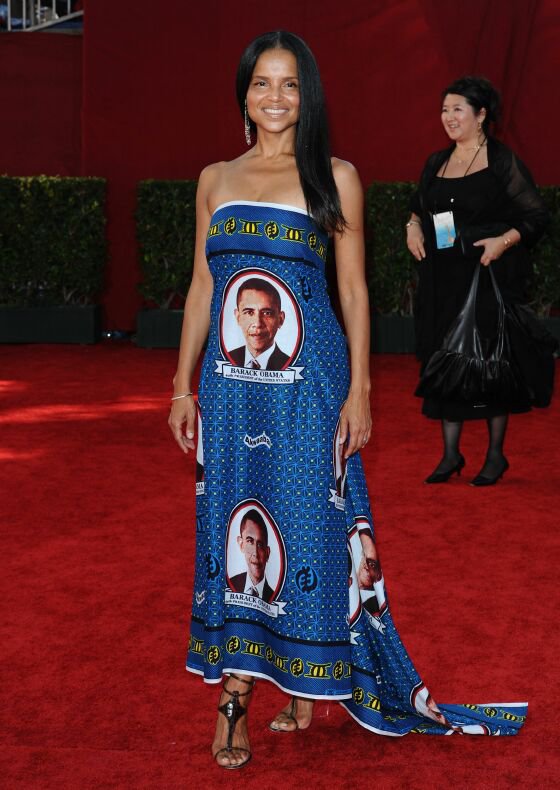 WHAT THE HELL WAS SHE THINKING!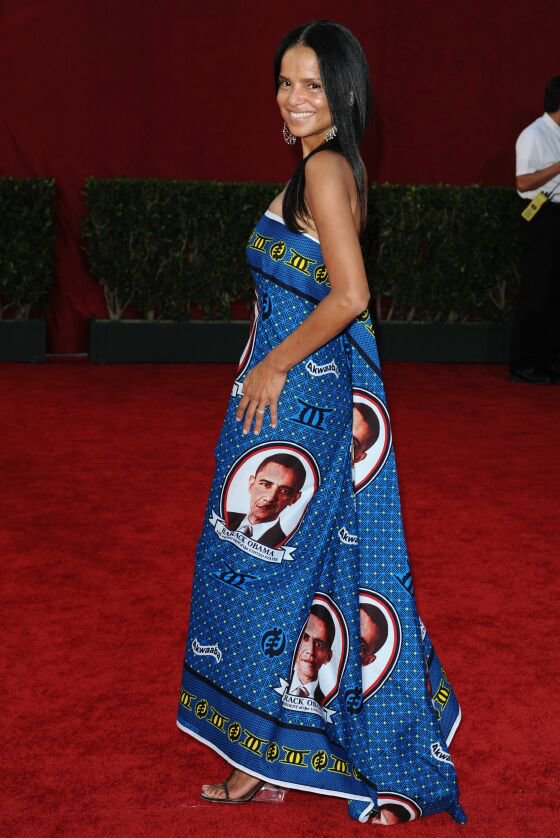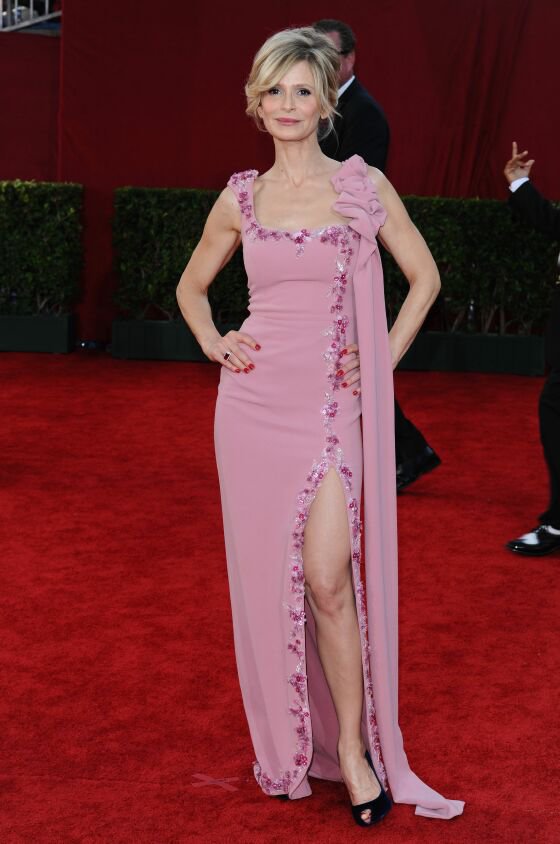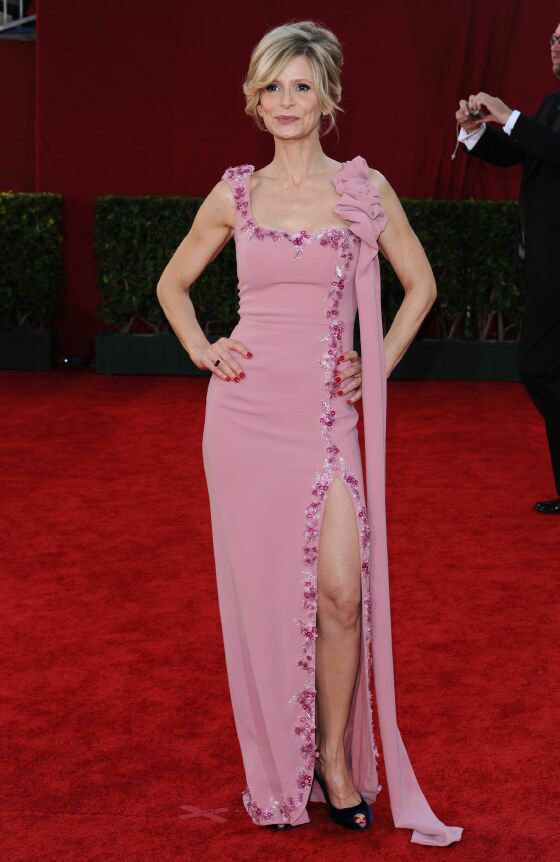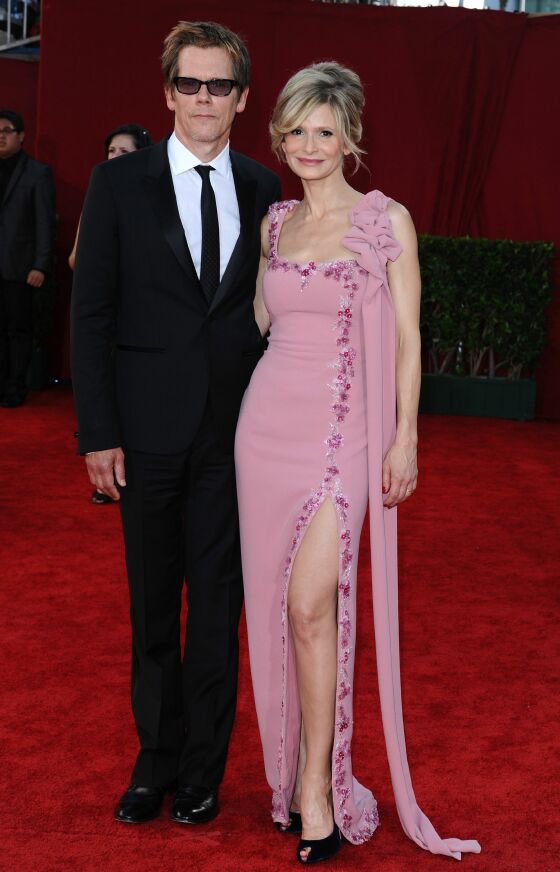 Okay I'm not a fan of the color but man does that dress make Kyra Sedwick look fine! Hubby Kevin Bacon on the other hand...ummm....not so much.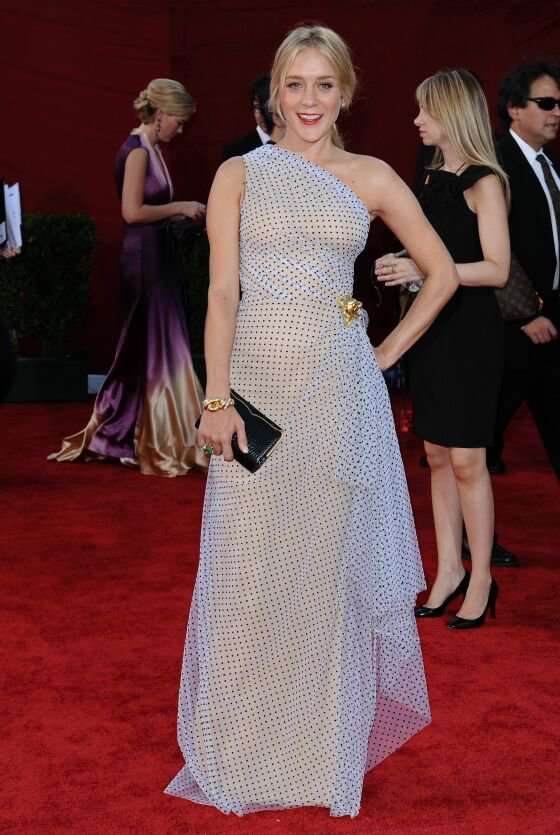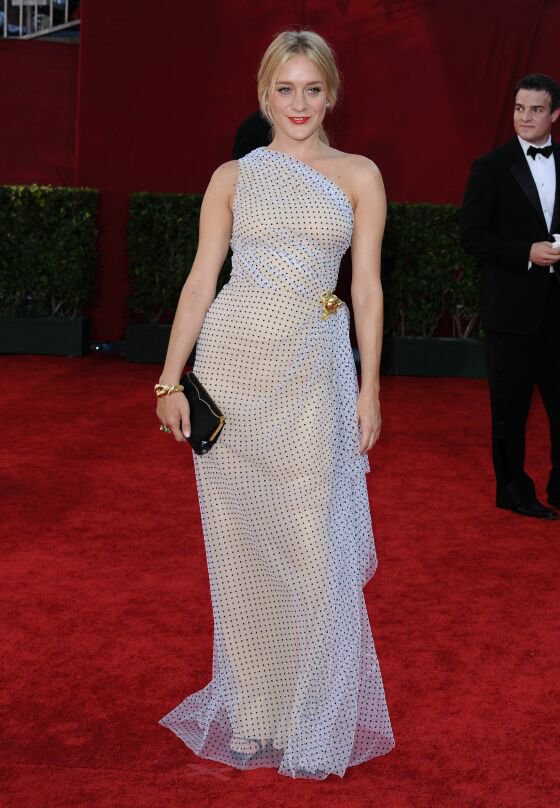 I dont know about you but this Issac Mizrahi dress is a bit blah for me. Where's the glamor Chloe!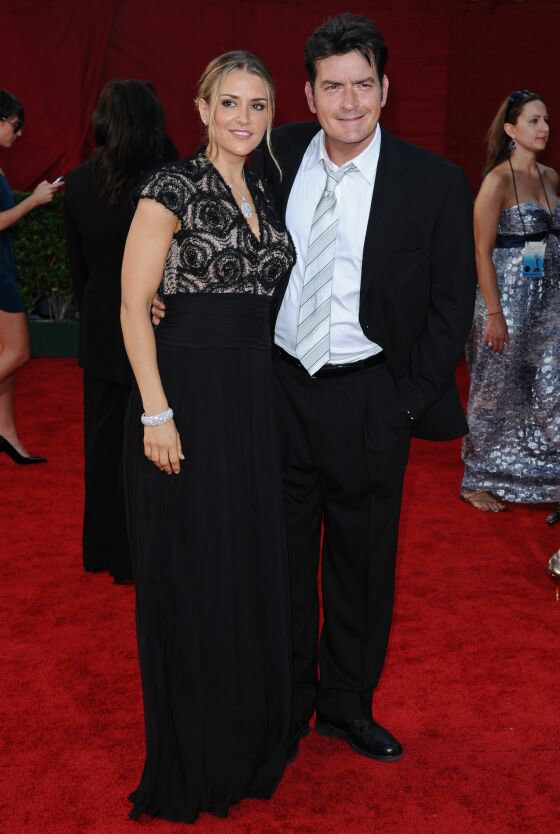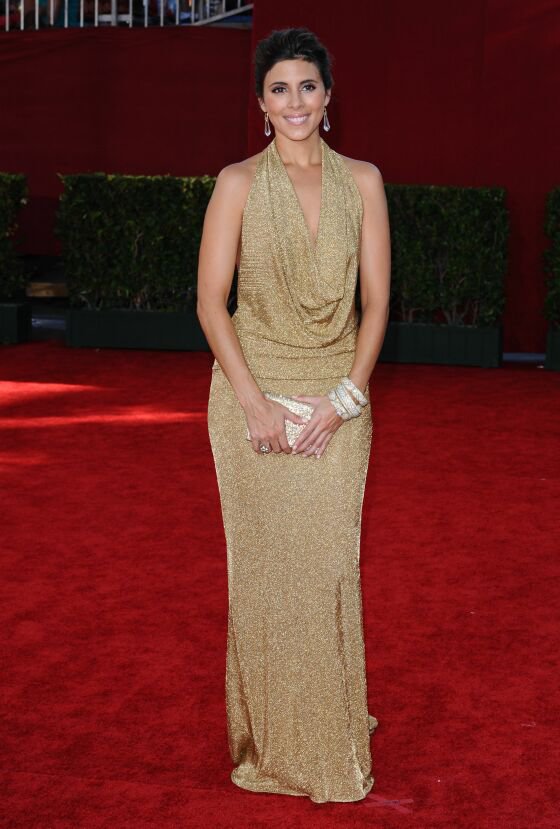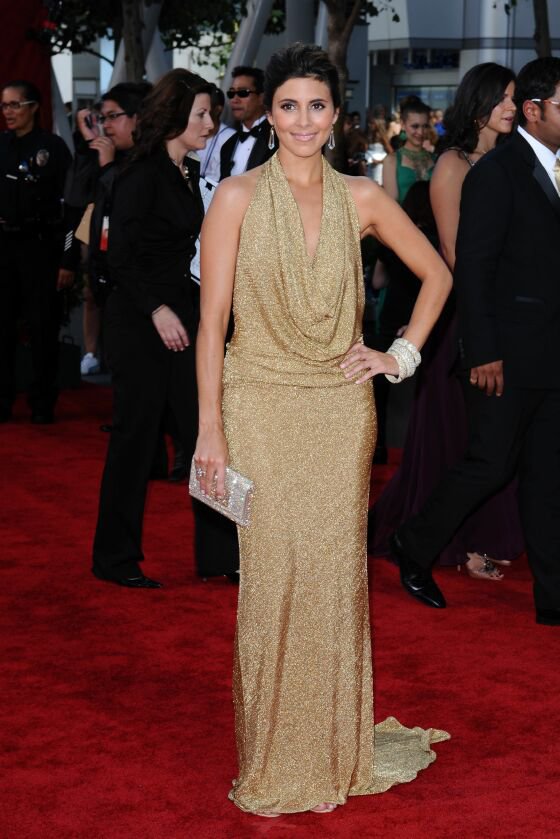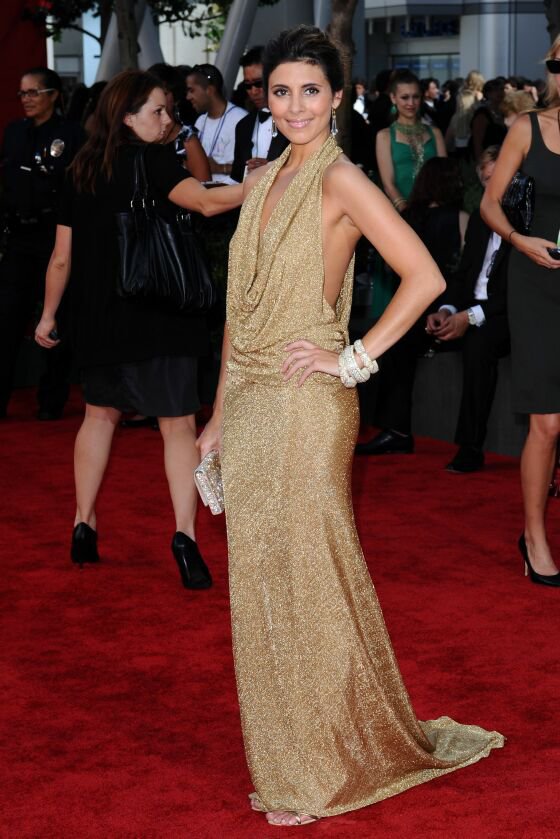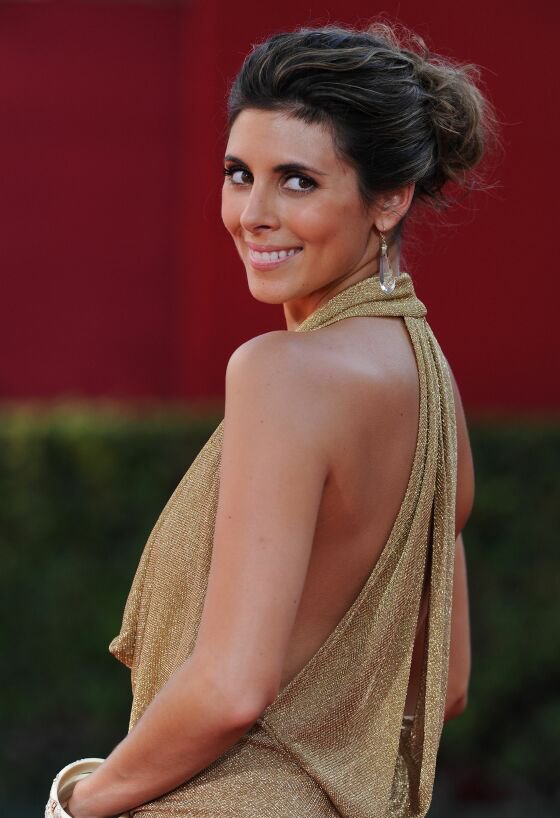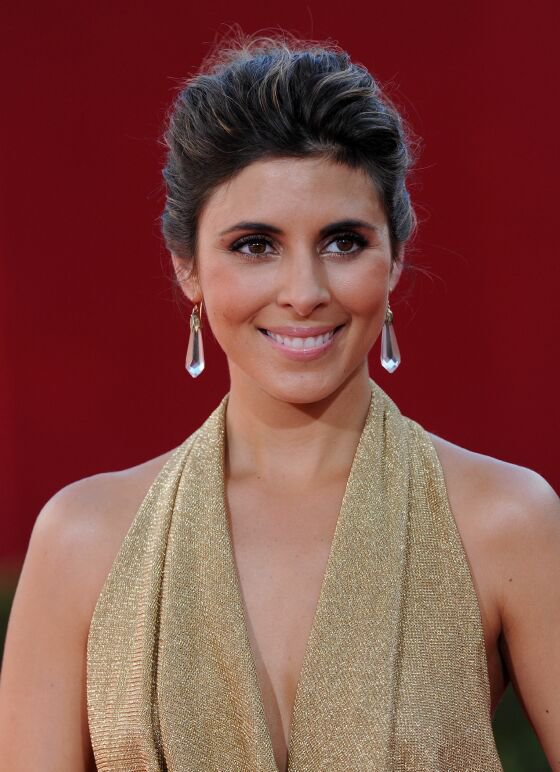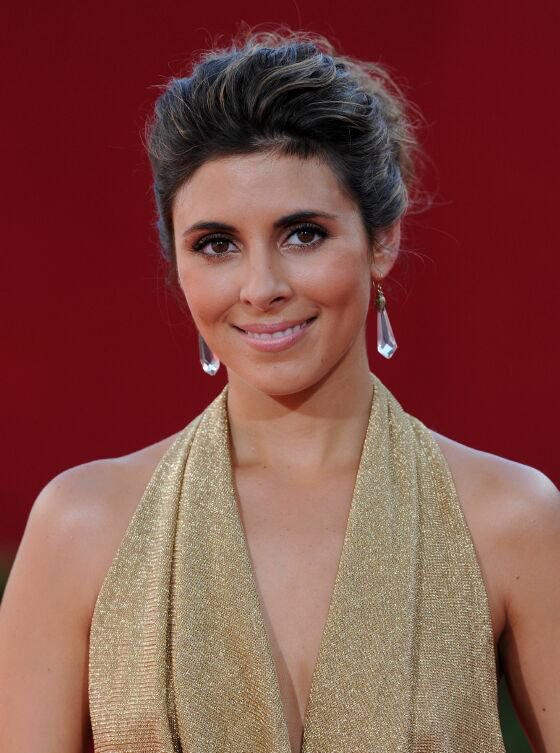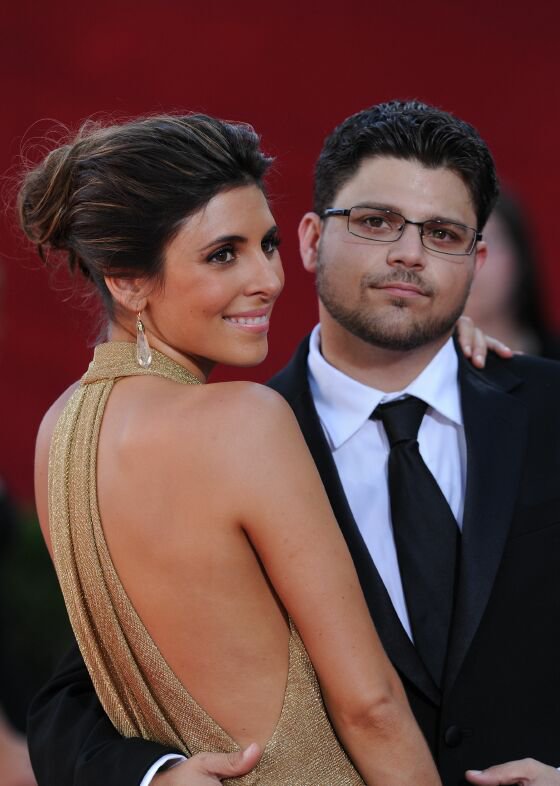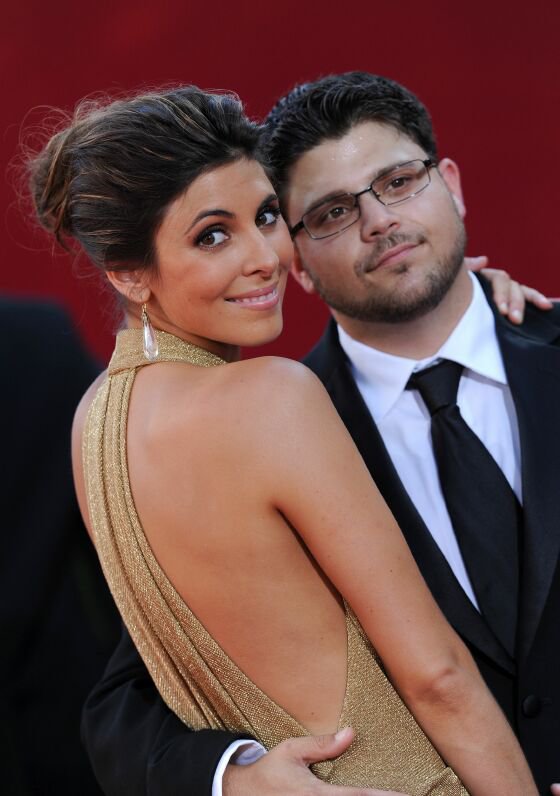 Another one of my favorites from the evening was Jamie- Lynn Sigler in this cowl necked golden Donna Karen dress. Breathtaking!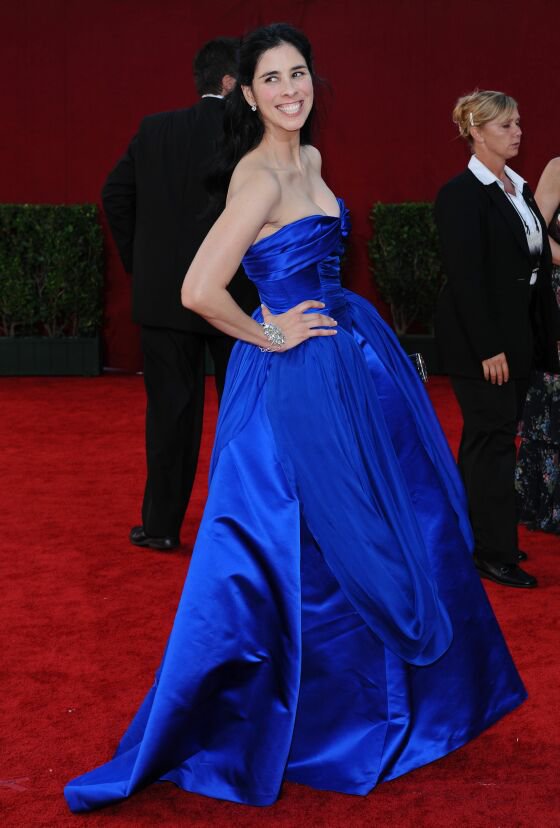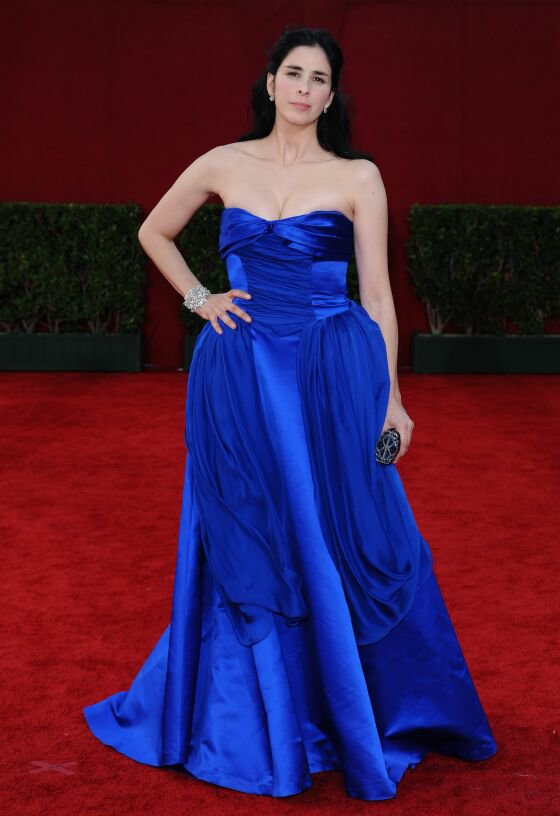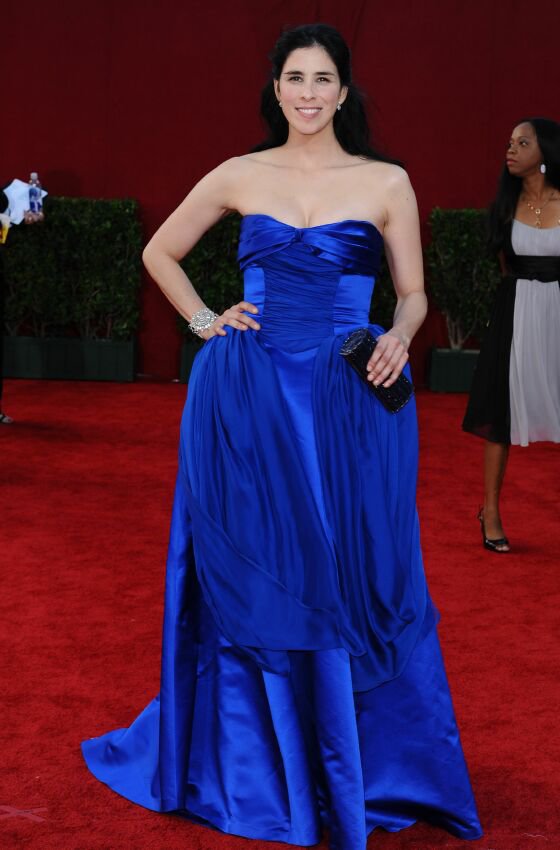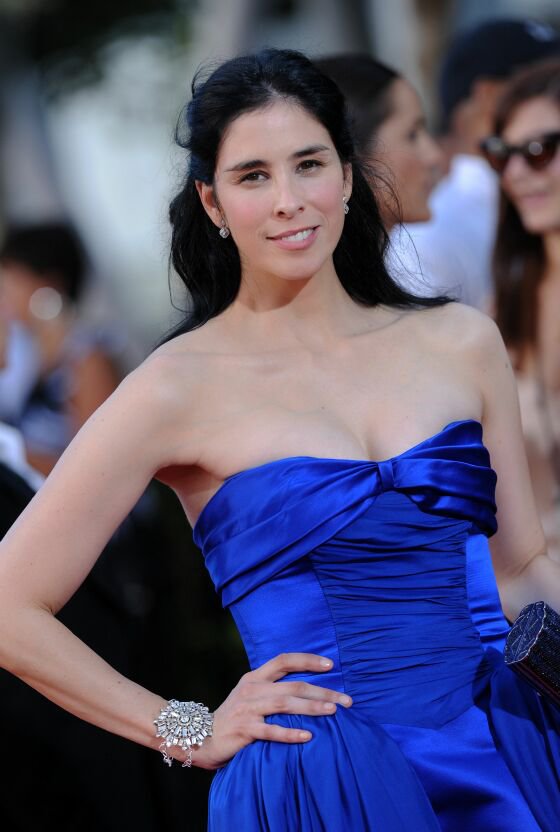 Why would you consciously agree to wear something so unflattering? I'm not sure what those extra pieces hanging off the sides are but Sarah Silverman looks HUGE in this cobalt blue dress.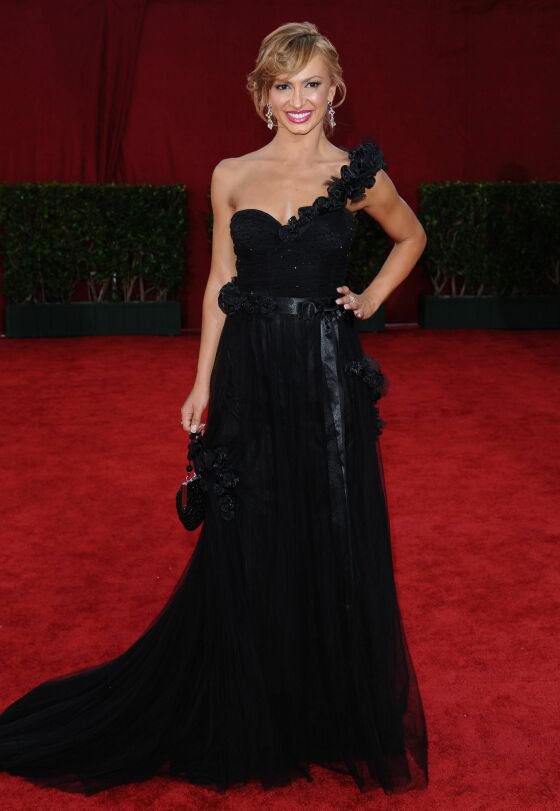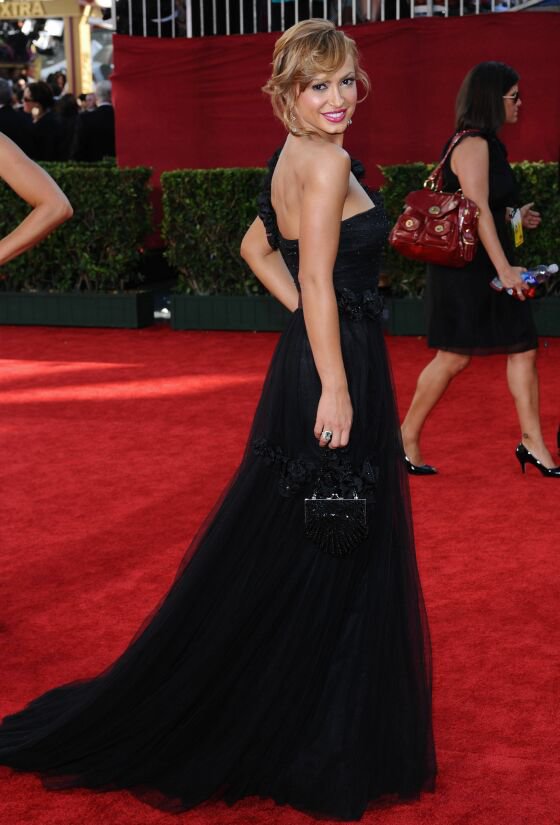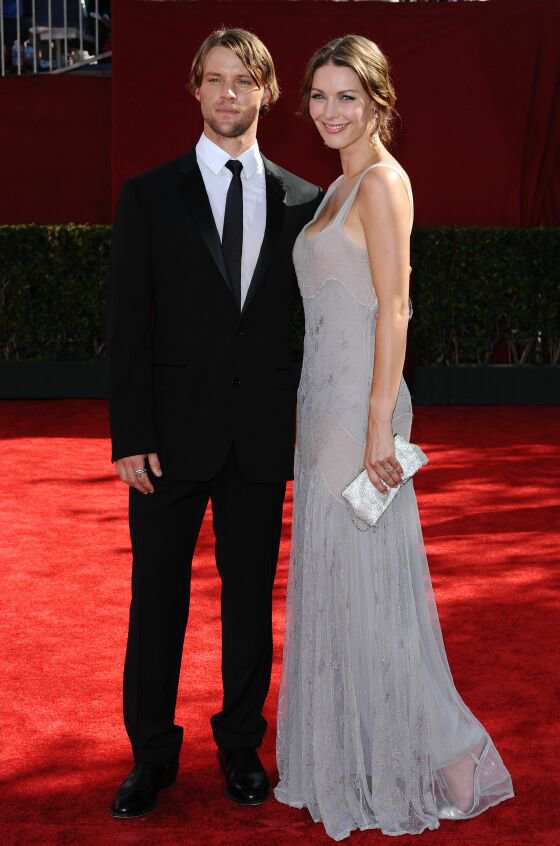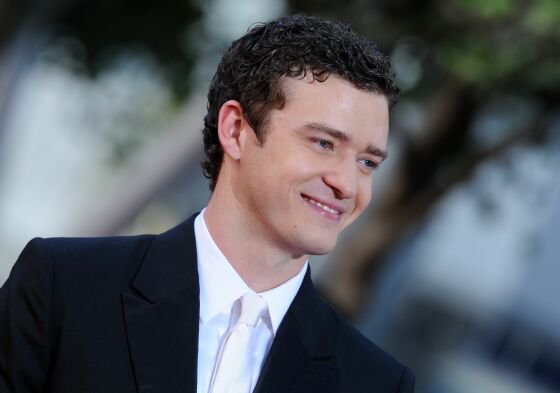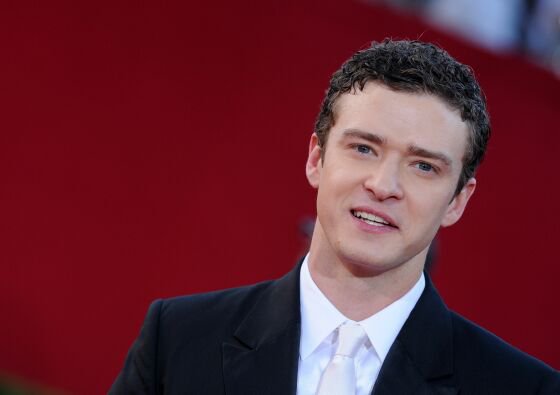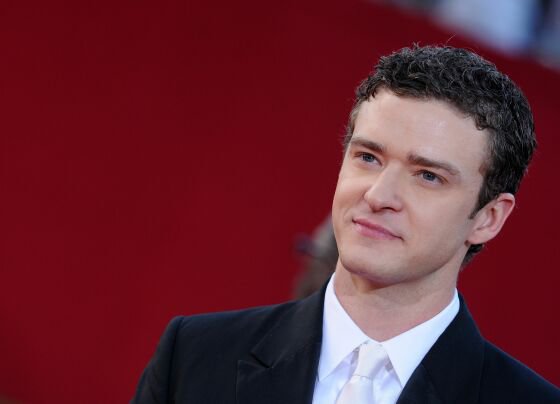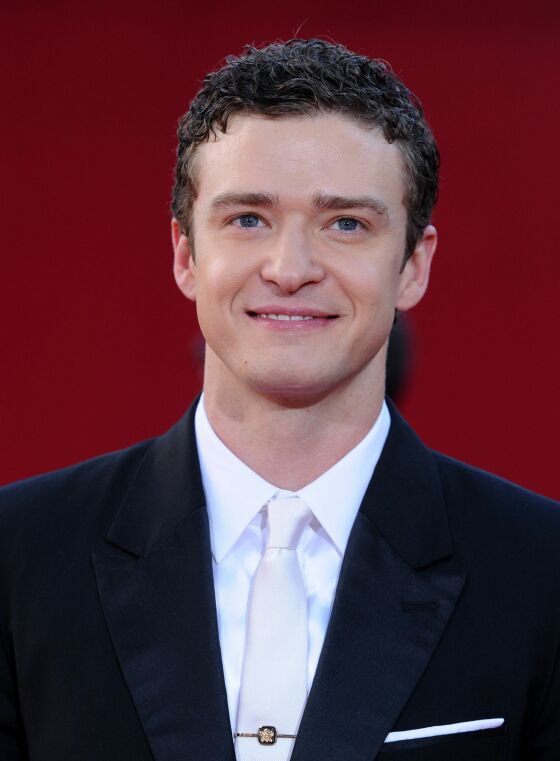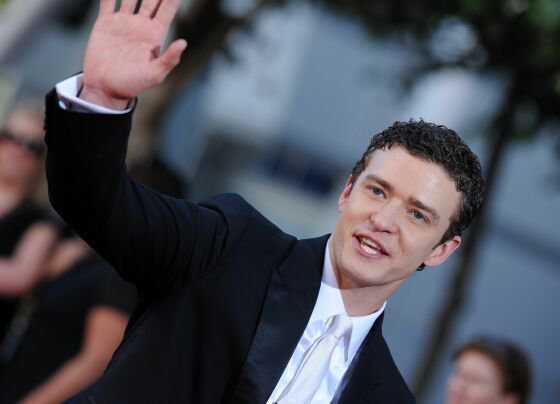 Although I like his scruffy look mucho better, Justin still looks cute all cleaned up.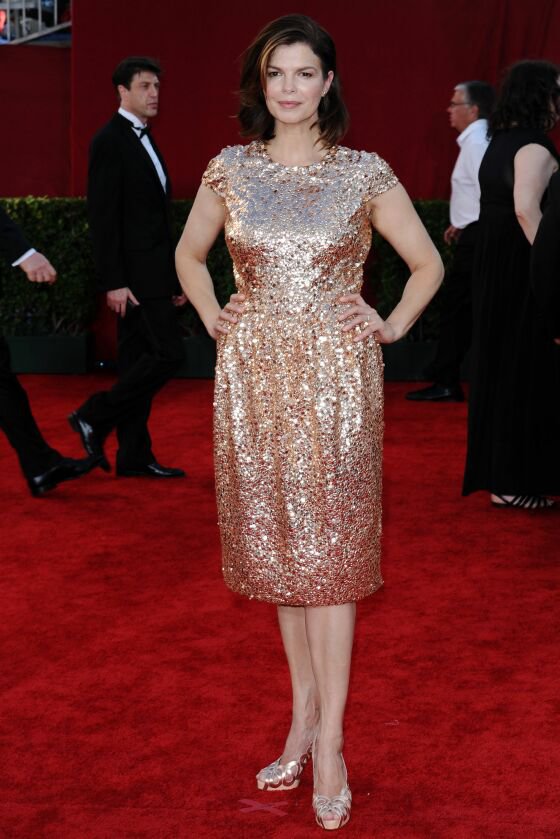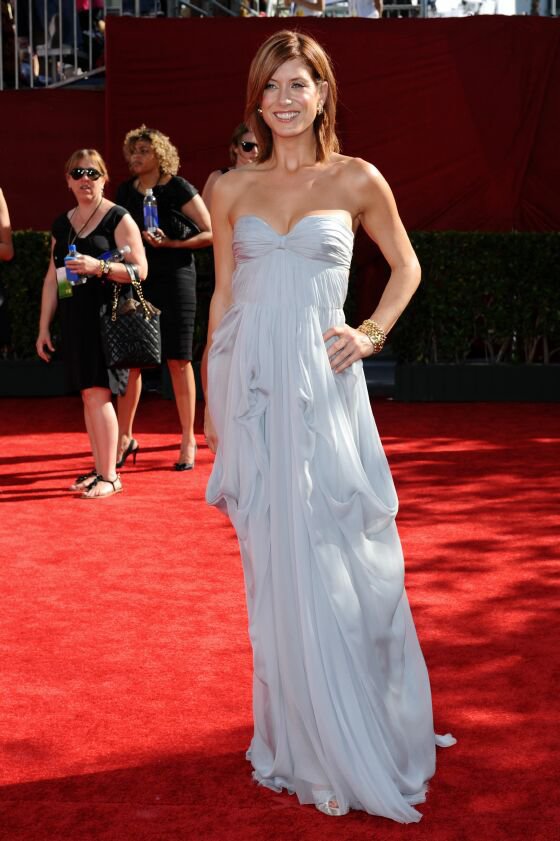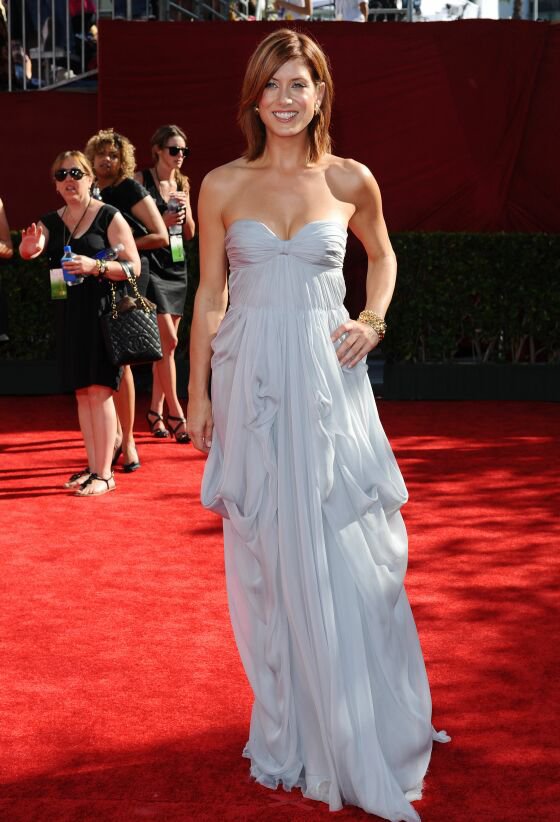 What can I say. J Mendel definitely knows how to make a woman look stunning! Kate Walsh looks drop dead gorgeous don't you think?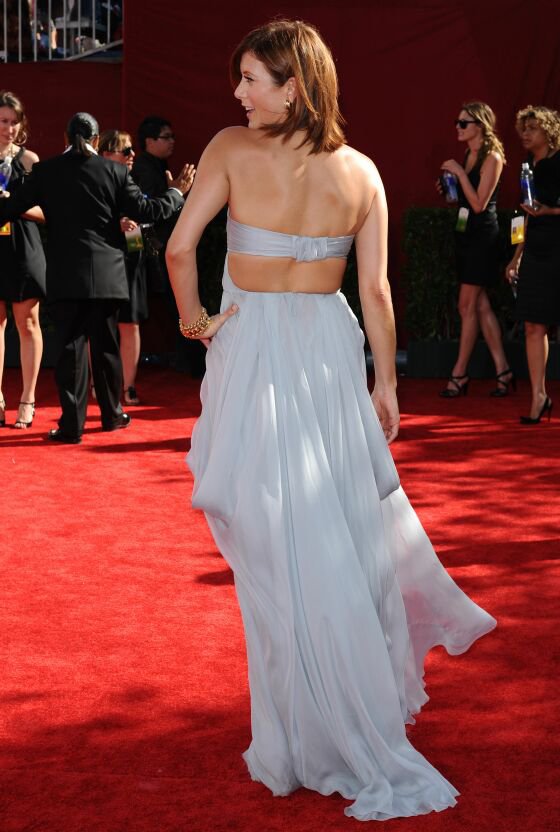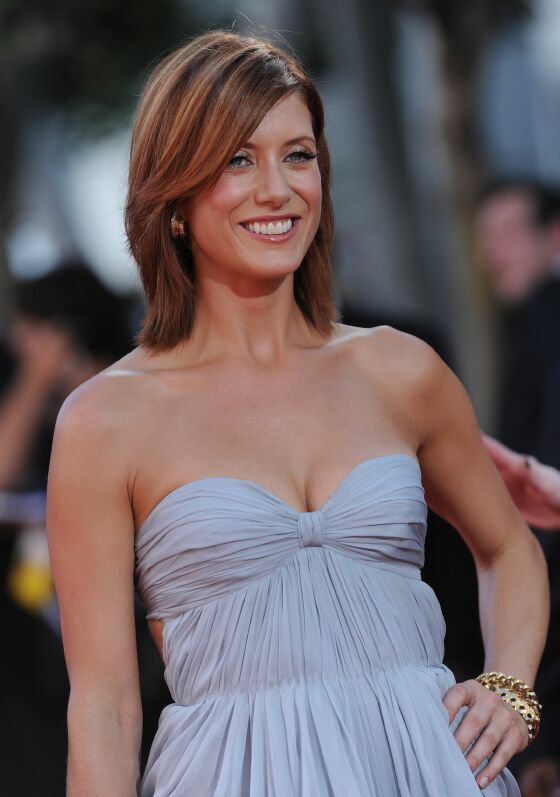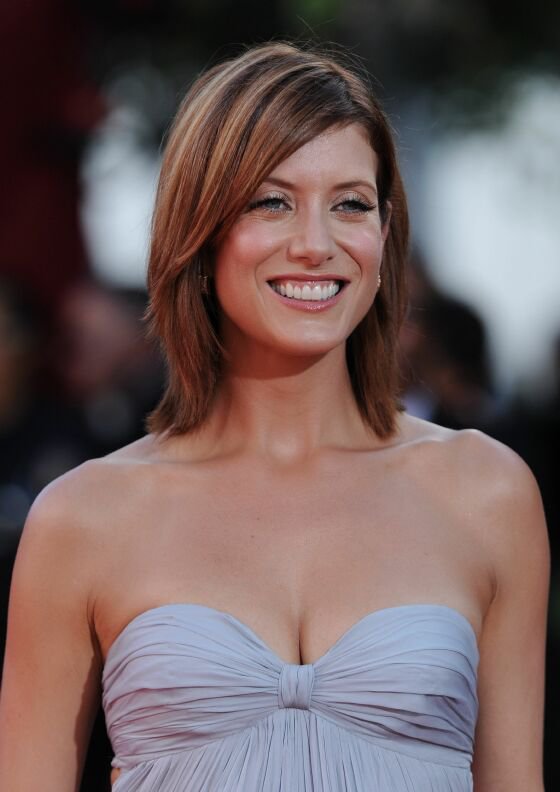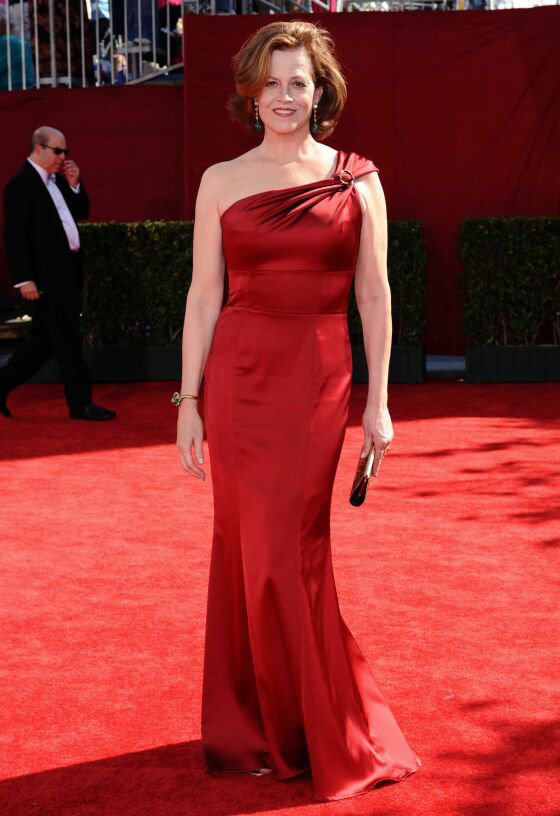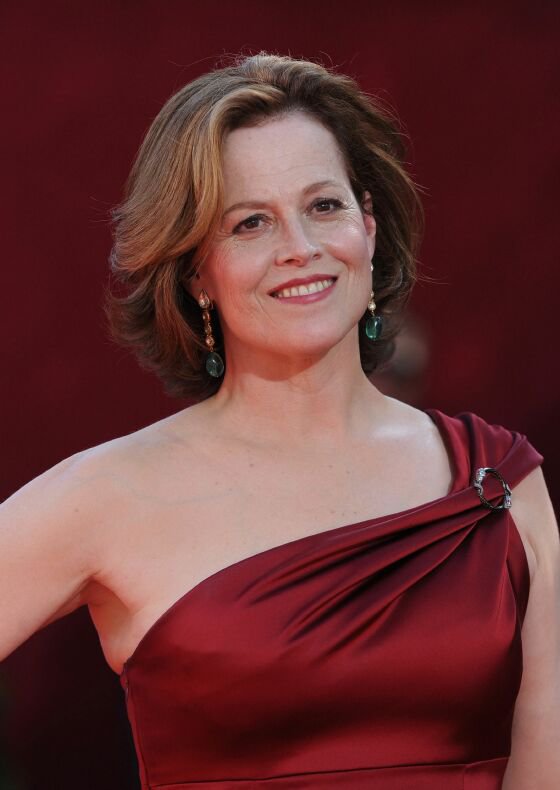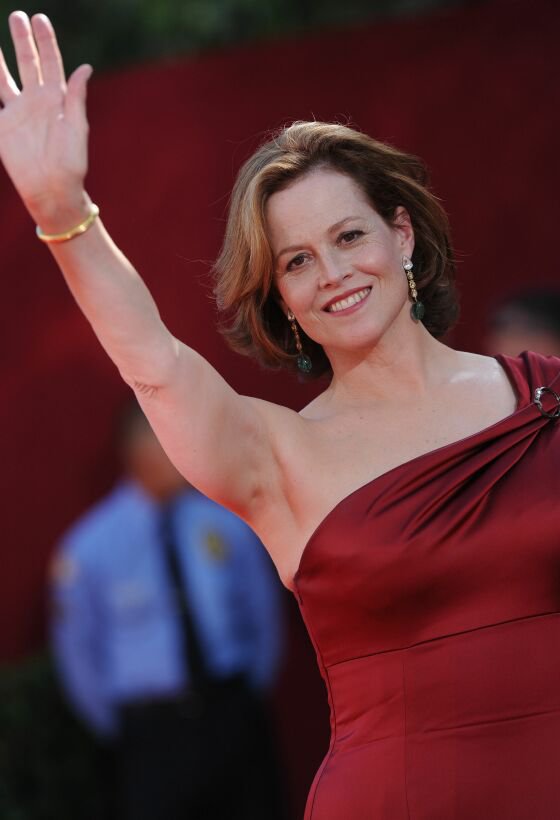 This is the perfect shade of red for Sigourney Weaver. She looks classsy and timeless!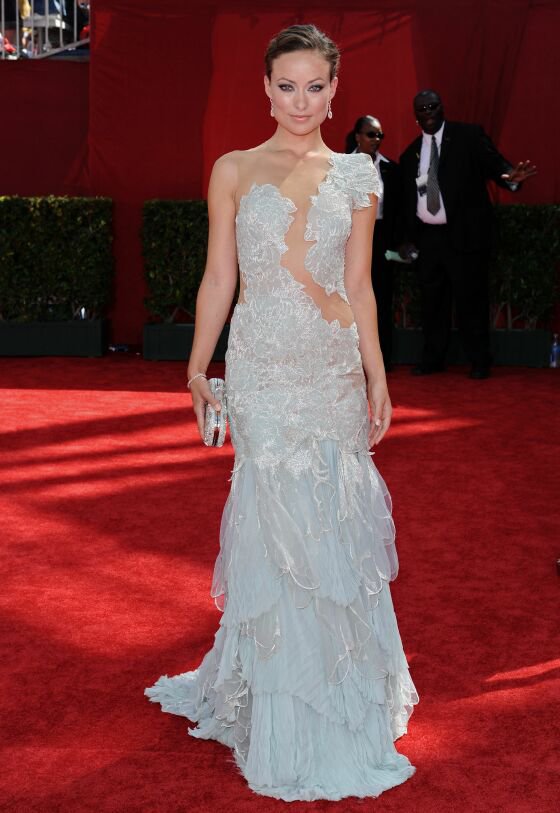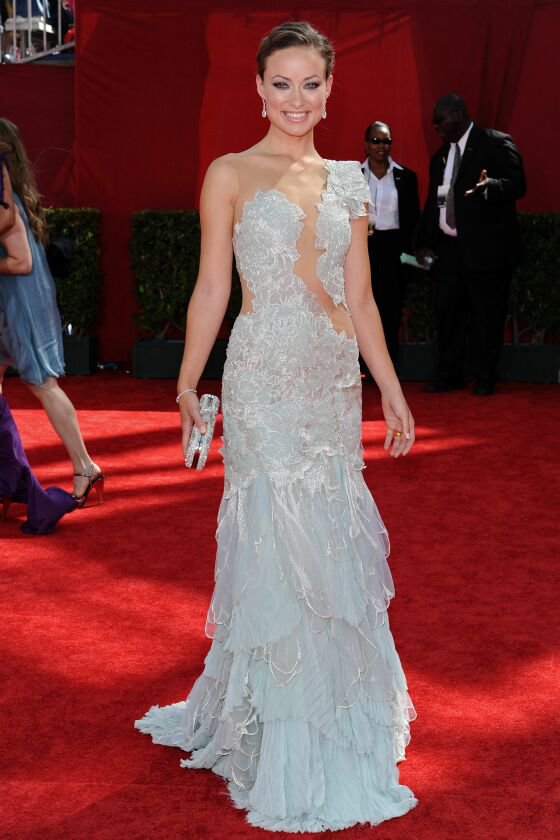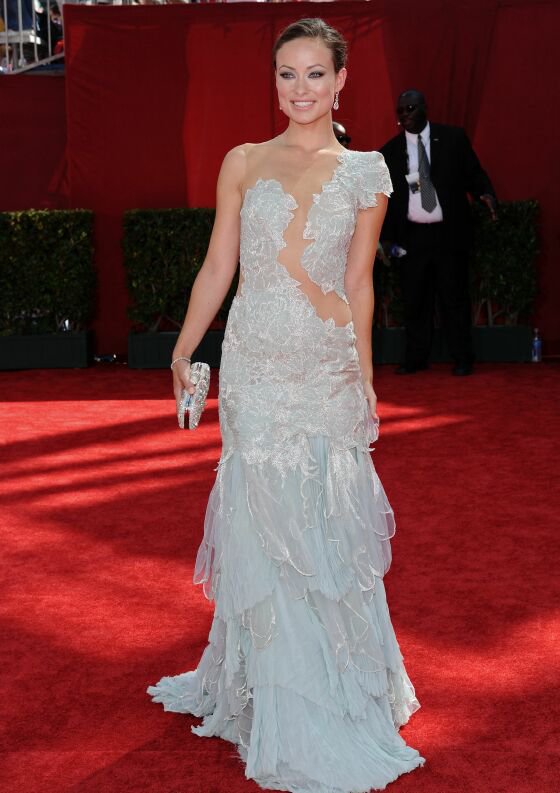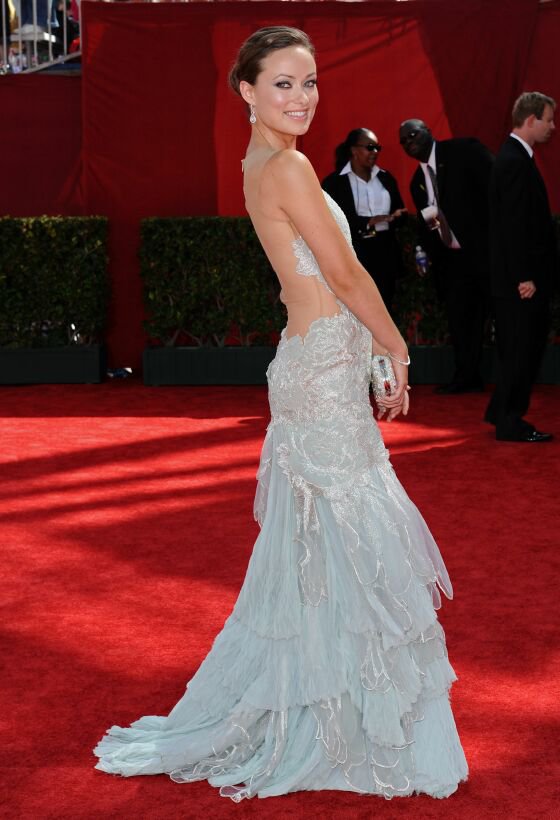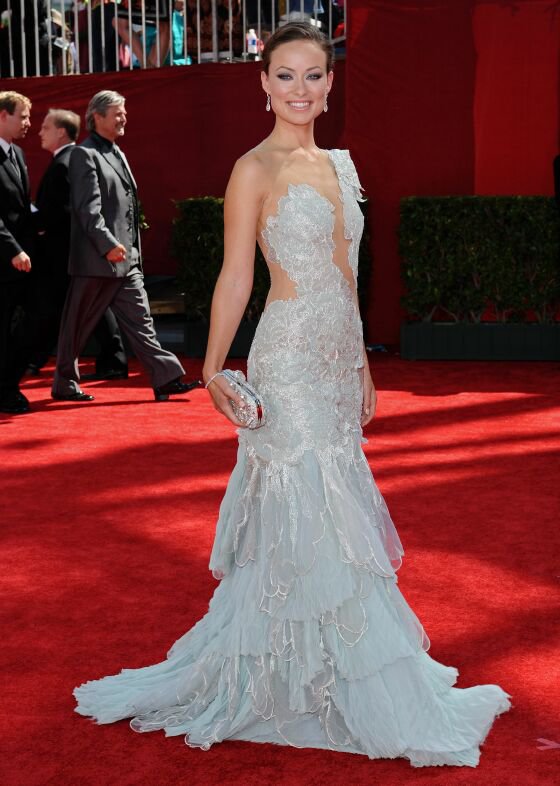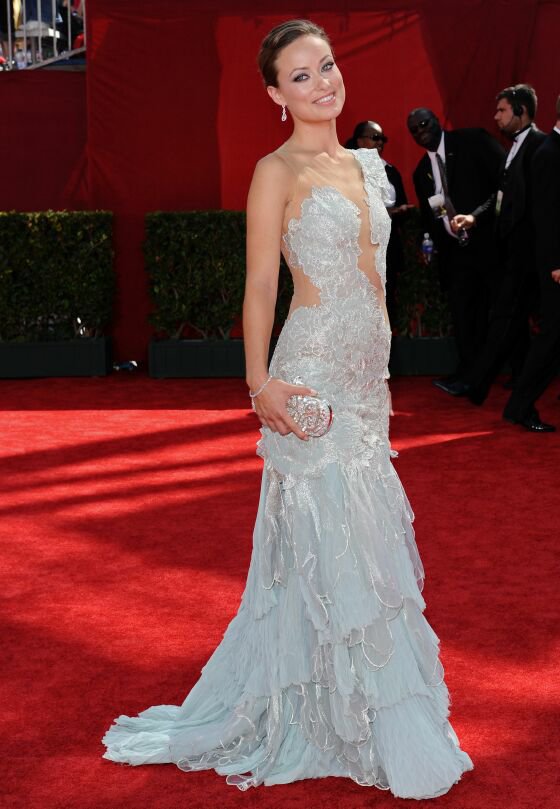 Olivia Wilde looks positively wild and stunning in this gorgeous white dress!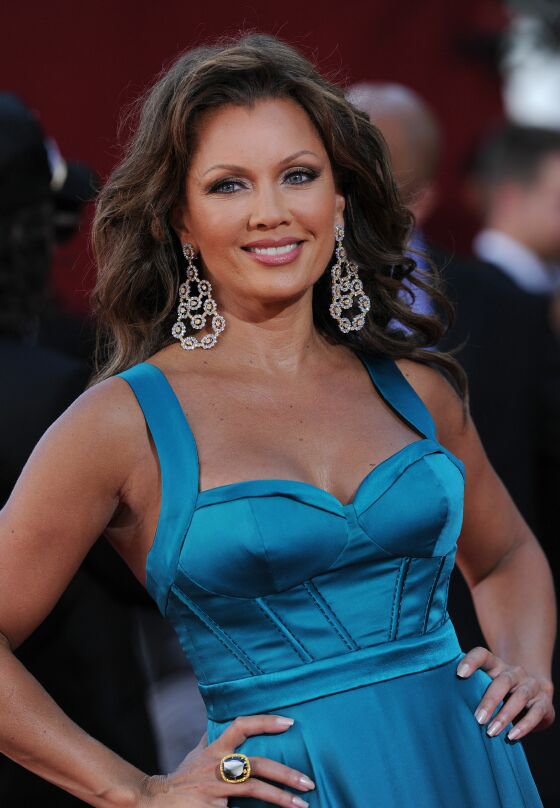 So the color may be a little too vivid for me but that's just because I'm boring. Vanessa Williams on the other hand manages to carry off her turquoise dress fabulously!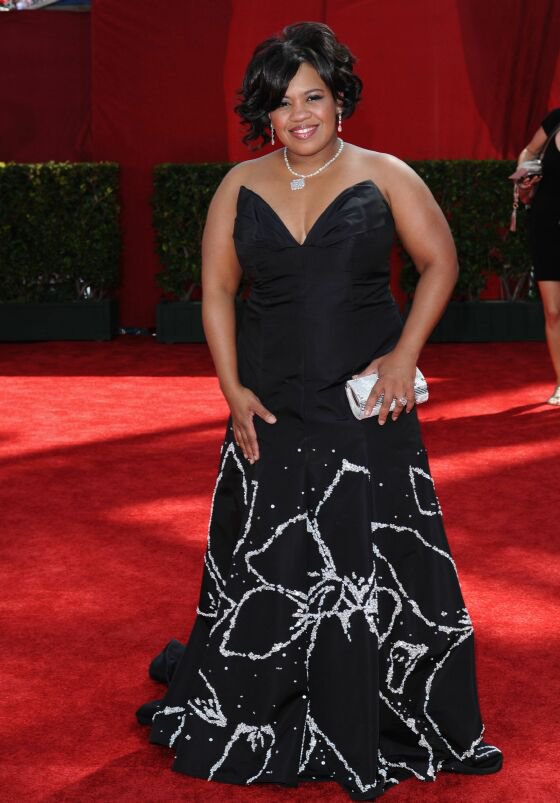 I love Chandra Wilson. She's so chirpy and adorable in black! :)