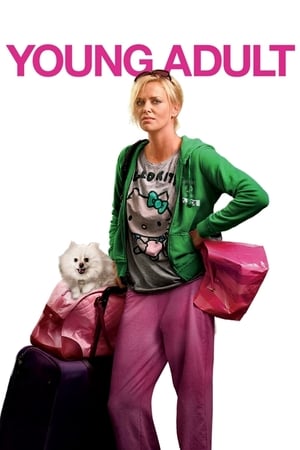 14 Best Movies Like Young Adult ...
If you liked this one , you will definitely love these too! In this list we highlight some of the best films that share a very similar premise to 'Young Adult', and are worth checking out.
1h 42m Comedy Drama
A woman constantly runs from town to town with her 12 year old daughter to escape failed relationships. The film opens with one escape and the shift into a new start in San Diego. There Mom takes up with a controlling trucker and fights with her weirdo boss. Meanwhile, the daughter, used to making the constant shifts, finds a fit at school including getting chosen for a play lead.
2.
Margot at the Wedding (2007)
1h 31m Comedy Drama
Margot Zeller (Nicole Kidman) is a short story writer with a sharp wit and an even sharper tongue. On the eve of her estranged sister Pauline's (Jennifer Jason Leigh) wedding to unemployed musician/artist/depressive Malcolm (Jack Black) at the family seaside home, Margot shows up unexpectedly to rekindle the sisterly bond and offer her own brand of support. What ensues is a nakedly honest and subversively funny look at family dynamics.
3.
Friends with Money (2006)
1h 28m Comedy Drama Romance
After she quits her lucrative job, Olivia finds herself unsure about her future and her relationships with her successful and wealthy friends.
1h 31m Comedy Drama Romance
After failing to find success as a writer in New York City, Jim slinks back to his family's home in the Midwest to lick his wounds. But his visit is quickly complicated when his angst spreads to his brother, Tim, who promptly decides to drive his car straight into a tree. Under the shadow of his sibling's injurious actions, Jim strikes up an unlikely friendship with Anika, whose centered small-town wisdom gradually rubs off on him.
5.
The Station Agent (2003)
1h 28m Drama Comedy
When his only friend dies, a man born with dwarfism moves to rural New Jersey to live a life of solitude, only to meet a chatty hot dog vendor and a woman dealing with her own personal loss.
6.
The Upside of Anger (2005)
1h 58m Comedy Drama
After her husband runs off with his secretary, Terry Wolfmeyer is left to fend for herself -- and her four daughters. As she hits rock bottom, Terry finds a friend and drinking buddy in next-door neighbor Denny, a former baseball player. As the two grow closer, and her daughters increasingly rely on Denny, Terry starts to have reservations about where their relationship is headed.
1h 36m Drama
Marlo, a mother of three, including a newborn, is gifted a night nanny by her brother. Hesitant at first, she quickly forms a bond with the thoughtful, surprising, and sometimes challenging nanny named Tully.
2h 26m Comedy Drama
Famous and wealthy funnyman George Simmons doesn't give much thought to how he treats people until a doctor delivers stunning health news, forcing George to reevaluate his priorities with a little help from aspiring stand-up comic Ira.
1h 51m Comedy Drama
Two quirky, cynical teenaged girls try to figure out what to do with their lives after high school graduation. After they play a prank on an eccentric, middle aged record collector, one of them befriends him, which causes a rift in the girls' friendship.
10.
Rocket Science (2007)
1h 41m Comedy Drama
Hal, a 15-year-old high-school student with a minor yet socially alienating (and painful) disability: he stutters uncontrollably. Determined to work through the problem, Hal opts for an extreme route he joins the school debating team, which sends him on a headfirst plunge into breakneck speech competitions and offers a much-needed boost toward correcting the problem.
11.
Just Before I Go (2014)
1h 35m Comedy Drama Romance
Ted Morgan has been treading water for most of his life. After his wife leaves him, Ted realizes he has nothing left to live for. Summoning the courage for one last act, Ted decides to go home and face the people he feels are responsible for creating the shell of a person he has become. But life is tricky. The more determined Ted is to confront his demons, to get closure, and to withdraw from his family, the more Ted is yanked into the chaos of their lives. So, when Ted Morgan decides to kill himself, he finds a reason to live.
1h 52m Comedy Drama Romance
In the small town of Mumford, a psychologist of the same name moves in and quickly becomes very popular, despite a questionable past.
13.
The Squid and the Whale (2005)
1h 21m Comedy Drama
Based on the true childhood experiences of Noah Baumbach and his brother, The Squid and the Whale tells the touching story of two young boys dealing with their parents divorce in Brooklyn in the 1980s.
14.
World's Greatest Dad (2009)
explore
Check out more list from our community