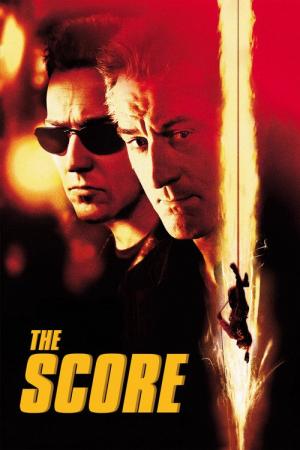 12 Best Movies Like The Score ...
If you liked this movie , you will probably love these too! In this selection we highlight some of the best films that share a very similar premise to 'The Score', and are worth checking out.
2h 50m Action Crime Drama Thriller
Obsessive master thief, Neil McCauley leads a top-notch crew on various daring heists throughout Los Angeles while determined detective, Vincent Hanna pursues him without rest. Each man recognizes and respects the ability and the dedication of the other even though they are aware their cat-and-mouse game may end in violence.
1h 49m Thriller Action Drama Crime
When his brother-in-law runs afoul of a drug lord, family man Chris Farraday turns to a skill he abandoned long ago—smuggling—to repay the debt. But the job goes wrong, and Farraday finds himself wanted by cops, crooks and killers alike.
1h 46m Drama Action Crime
In Seattle, detective Quentin Conners is unfairly suspended and his partner Jason York leaves the police force after a tragic shooting on Pearl Street Bridge, when the hostage and the criminal die. During a bank heist with a hostage situation, Conners is assigned in charge of the operation with the rookie Shane Dekker as his partner. The thieves, lead by Lorenz, apparently do not steal a penny from the bank. While chasing the gangsters, the police team disclose that they planted a virus in the system, stealing one billion dollars from the different accounts, using the principle of the Chaos Theory. Further, they find that Lorenz is killing his accomplices.
1h 34m Action Crime Drama
Wanted by the mafia, a New York City bike messenger escapes into the world of parkour after meeting a beautiful stranger.
6.
Seeking Justice (2011)
1h 45m Action Drama Thriller
After his wife is assaulted, a husband enlists the services of a vigilante group to help him settle the score.
1h 41m Action Thriller Crime
Tiffany, Charlie and Vernon are con artists looking to up the ante from their typical scams. They figure a good way of doing this is taking down Dean "The Dean" Stevens, a well-known cardsharp, in a rigged game. However, they first need enough money to enter a game with Stevens, so they decide to strike a deal with fellow crook Larry Jennings to scam a local gangster -- which turns out to be a bad idea.
8.
Cradle 2 the Grave (2003)
1h 41m Action Crime Drama
Gang leader Tony pulls off a major diamond heist with his crew, but cop-turned-criminal Ling knows who has the loot and responds by kidnapping Tony's daughter and holding her for ransom. Unfortunately, Tony's lost the diamonds as well. As he frantically searches for his daughter and the jewels, Tony pairs with a high-kicking government agent who once worked with Ling and seeks revenge on him.
2h 5m Crime Drama Thriller
Doug MacRay is a longtime thief, who, smarter than the rest of his crew, is looking for his chance to exit the game. When a bank job leads to the group kidnapping an attractive branch manager, he takes on the role of monitoring her – but their burgeoning relationship threatens to unveil the identities of Doug and his crew to the FBI Agent who is on their case.
1h 40m Crime Action Drama
With friends like these, who needs enemies? That's the question bad guy Porter is left asking after his wife and partner steal his heist money and leave him for dead -- or so they think. Five months and an endless reservoir of bitterness later, Porter's partners and the crooked cops on his tail learn how bad payback can be.
1h 37m Action Crime Drama Mystery Thriller
While doing a friend a favor and searching for a runaway teenager, a police detective stumbles upon a bizarre band of criminals about to pull off a bank robbery.
2h 3m Crime Thriller Action
Frank is an expert professional safecracker, specialized in high-profile diamond heists. He plans to use his ill-gotten income to retire from crime and build a nice life for himself complete with a home, wife and kids. To accelerate the process, he signs on with a top gangster for a big score.
explore
Check out more list from our community