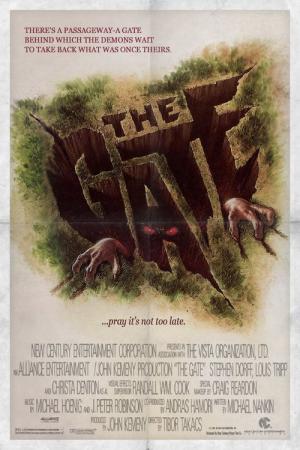 14 Best Movies Like The Gate ...
If you liked this film , you will definitely love these too! In this collection we highlight some of the best films that share a very similar premise to 'The Gate', and are worth checking out.
A scientific exploration in search of a new energy source unleashes a group of powerful demons who begin possessing human bodies and destroying civilization. Close friends Akira (Hisato Izaki) and Ryo (Yusuke Izaki) wind up on different sides of this epic struggle. Akira's inner strength allows him to maintain his identity and fight for good, but the weaker Ryo is completely overtaken by Satan himself.
1h 56m
Characters: Go Nagai
Director: Hiroyuki Nasu
Screenplay: Machiko Nasu
Action Fantasy Horror
When a group of college students finds a mysterious book and recording in the old wilderness cabin they've rented for the weekend, they unwittingly unleash a demonic force from the surrounding forest.
1h 25m
Director, Screenplay: Sam Raimi
Horror
Charles Brady and his mother, Mary, are the last of a dying breed whose needs are not of this world. They are Sleepwalkers - able to stay alive only by feeding on the life-force of the innocent, but destined to roam the earth, avoiding discovery while searching for their next victim. That search takes them to the sleepy little town of Travis, Indiana, where beautiful teenager Tanya Robertson is about to become an unwilling pawn in their nightmarish fight for survival.
1h 31m
Director: Mick Garris
Screenplay: Stephen King
Fantasy Horror Thriller
Toulon, a puppet maker, discovers an ancient Egyptian potion and uses it to bring his creations to life. His puppets become murderous little demons and escape. Distraught, the master takes his life. Years later, psychics tune into the existence of the monstrous marionettes and set off to stop them.
1h 25m
Director, Screenplay: David Schmoeller
Story: Charles Band
Story: Kenneth J. Hall
Horror Fantasy Science Fiction
A young man and his girlfriend move into the man's old mansion home, where he becomes possessed by a need to control ancient demons.
1h 21m
Director, Writer: Luca Bercovici
Writer: Jefery Levy
Comedy Horror Fantasy
7.
Pumpkinhead: Ashes to Ashes (2006)
8.
Wishmaster 3: Beyond the Gates of Hell (2001)
The evil Djinn is back at again, this time wreaking havoc on the students of Illinois' Baxter University. His victim is a beautiful, innocent and studious teenage girl named Diana Collins who accidentally opened up the Djinn's tomb and released him.
1h 29m
Characters: Peter Atkins
Director: Chris Angel
Writer: Alex Wright
Thriller Horror
Charley Brewster, a high school student, accidentally discovers the true and creepy nature of Jerry Dandrige, his dashing and enigmatic new neighbor; but no one seems willing to believe him.
1h 46m
Director, Screenplay: Tom Holland
Comedy Horror
10.
Flesh for the Beast (2003)
Six parapsychologists investigate a reputed haunted mansion and are set upon by three flesh-eating succubus ladies under the control of the sinister warlock owner bent on finding a mysterious amulet to give himself more power.
1h 29m
Horror
A group of college students break into an abandoned convent and become possessed by demonic spirits.
1h 19m
Director: Mike Mendez
Screenplay: Chaton Anderson
Horror Thriller Comedy
12.
Silent Hill: Revelation 3D (2012)
Heather Mason and her father have been on the run, always one step ahead of dangerous forces that she doesn't fully understand, Now on the eve of her 18th birthday, plagued by horrific nightmares and the disappearance of her father, Heather discovers she's not who she thinks she is. The revelation leads her deeper into a demonic world that threatens to trap her forever.
1h 34m
Director, Writer: M.J. Bassett
Characters: Masahiro Itô
Thriller Horror Mystery
A group of teenagers fear for their lives in the swamps of Louisiana, chased by Mr. Jangles, a man possessed by 13 evil souls, and now relentless in his pursuit of new victims.
1h 25m
Director: Jim Gillespie
Screenplay: Brandon Boyce
Screenplay: John Zuur Platten
Screenplay: Flint Dille
Horror Thriller
explore
Check out more list from our community