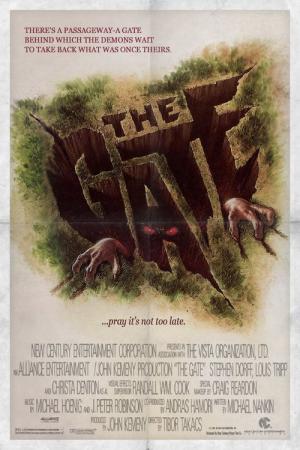 13 Best Movies Like The Gate ...
If you liked this movie , you will for sure love these too! In this list we highlight some of the best films that share a very similar premise to 'The Gate', and are worth checking out.
1.
Gate 2: The Trespassers (1990)
1h 50m Fantasy Action Horror
Creatures, bound by the blood of the wolf, that can kill with curses and move at lightening speed, watching the night sky for the rise of the blood-red crescent moon. They are SKINWALKERS. They feed on our flesh and thirst for the taste of human blood. The red moon signals each pack, divided by principles, hell bent to survive an ancient prophecy.
1h 46m Comedy Horror
Charley Brewster, a high school student, accidentally discovers the true and creepy nature of Jerry Dandrige, his dashing and enigmatic new neighbor; but no one seems willing to believe him.
4.
Thir13en Ghosts (2001)
1h 31m Horror Thriller
Arthur and his two children, Kathy and Bobby, inherit his Uncle Cyrus's estate: a glass house that serves as a prison to 12 ghosts. When the family, accompanied by Bobby's Nanny and an attorney, enter the house they find themselves trapped inside an evil machine "designed by the devil and powered by the dead" to open the Eye of Hell. Aided by Dennis, a ghost hunter, and his rival Kalina, a ghost rights activist out to set the ghosts free, the group must do what they can to get out of the house alive.
5.
Flesh for the Beast (2003)
1h 29m Horror
Six parapsychologists investigate a reputed haunted mansion and are set upon by three flesh-eating succubus ladies under the control of the sinister warlock owner bent on finding a mysterious amulet to give himself more power.
6.
House II: The Second Story (1987)
1h 28m Fantasy Horror Comedy
Jesse has returned to this old family mansion after his parents were murdered when he was a baby. While going through old things in the basement, Jesse finds a picture of his great-great grandfather in front of a Mayan temple holding a crystal skull with jewels in the eyes. In the background is a man Jesse learns is Slim Razor, a former partner of his great-great grandfather turned bitter enemy after a disagreement over who would get to keep the skull.
8.
Silent Hill: Revelation 3D (2012)
1h 34m Thriller Horror Mystery
Heather Mason and her father have been on the run, always one step ahead of dangerous forces that she doesn't fully understand, Now on the eve of her 18th birthday, plagued by horrific nightmares and the disappearance of her father, Heather discovers she's not who she thinks she is. The revelation leads her deeper into a demonic world that threatens to trap her forever.
1h 56m Action Fantasy Horror
A scientific exploration in search of a new energy source unleashes a group of powerful demons who begin possessing human bodies and destroying civilization. Close friends Akira (Hisato Izaki) and Ryo (Yusuke Izaki) wind up on different sides of this epic struggle. Akira's inner strength allows him to maintain his identity and fight for good, but the weaker Ryo is completely overtaken by Satan himself.
1h 35m Horror Fantasy
When young Joshua learns that he will be going on vacation with his family to a small town called Nilbog, he protests adamantly. He is warned by the spirit of his deceased grandfather that goblins populate the town. His parents, Michael and Diana, dismiss his apprehensions, but soon learn to appreciate their son's warnings. Guided by his grandfather's ghost, will Joshua and his family stand a chance in fighting off these evil beings?
11.
A Nightmare on Elm Street 5: The Dream Child (1989)
1h 29m Horror Thriller
Alice, having survived the previous installment of the Nightmare series, finds the deadly dreams of Freddy Krueger starting once again. This time, the taunting murderer is striking through the sleeping mind of Alice's unborn child. His intention is to be "born again" into the real world. The only one who can stop Freddy is his dead mother, but can Alice free her spirit in time to save her own son?
12.
Puppet Master 5: The Final Chapter (1994)
1h 19m Horror Thriller Comedy
A group of college students break into an abandoned convent and become possessed by demonic spirits.
explore
Check out more list from our community