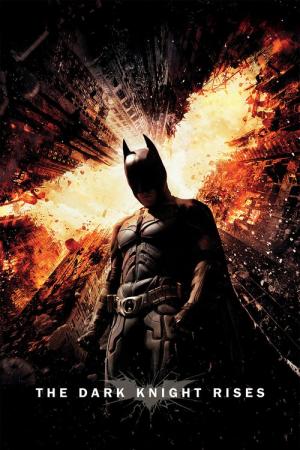 12 Best Movies Like The Dark Knight Rises ...
If you liked this movie , you will probably love these too! In this selection we highlight some of the best films that share a very similar premise to 'The Dark Knight Rises', and are worth checking out.
1h 57m Science Fiction Action Adventure
Armed with the astonishing ability to shrink in scale but increase in strength, master thief Scott Lang must embrace his inner-hero and help his mentor, Doctor Hank Pym, protect the secret behind his spectacular Ant-Man suit from a new generation of towering threats. Against seemingly insurmountable obstacles, Pym and Lang must plan and pull off a heist that will save the world.
2.
Terminator Salvation (2009)
1h 55m Action Science Fiction Thriller
All grown up in post-apocalyptic 2018, John Connor must lead the resistance of humans against the increasingly dominating militaristic robots. But when Marcus Wright appears, his existence confuses the mission as Connor tries to determine whether Wright has come from the future or the past -- and whether he's friend or foe.
3.
X-Men: First Class (2011)
2h 12m Action Science Fiction Adventure
Before Charles Xavier and Erik Lensherr took the names Professor X and Magneto, they were two young men discovering their powers for the first time. Before they were arch-enemies, they were closest of friends, working together with other mutants (some familiar, some new), to stop the greatest threat the world has ever known.
4.
Mission: Impossible - Rogue Nation (2015)
2h 11m Action Adventure
Ethan and team take on their most impossible mission yet—eradicating 'The Syndicate', an International and highly-skilled rogue organisation committed to destroying the IMF.
5.
X-Men Origins: Wolverine (2009)
1h 47m Adventure Action Thriller Science Fiction
After seeking to live a normal life, Logan sets out to avenge the death of his girlfriend by undergoing the mutant Weapon X program and becoming Wolverine.
6.
The Amazing Spider-Man (2012)
2h 16m Action Adventure Fantasy
Peter Parker is an outcast high schooler abandoned by his parents as a boy, leaving him to be raised by his Uncle Ben and Aunt May. Like most teenagers, Peter is trying to figure out who he is and how he got to be the person he is today. As Peter discovers a mysterious briefcase that belonged to his father, he begins a quest to understand his parents' disappearance – leading him directly to Oscorp and the lab of Dr. Curt Connors, his father's former partner. As Spider-Man is set on a collision course with Connors' alter ego, The Lizard, Peter will make life-altering choices to use his powers and shape his destiny to become a hero.
7.
Mad Max: Fury Road (2015)
2h 1m Action Adventure Science Fiction
An apocalyptic story set in the furthest reaches of our planet, in a stark desert landscape where humanity is broken, and most everyone is crazed fighting for the necessities of life. Within this world exist two rebels on the run who just might be able to restore order.
8.
G.I. Joe: The Rise of Cobra (2009)
1h 58m Adventure Action Thriller Science Fiction
From the Egyptian desert to deep below the polar ice caps, the elite G.I. JOE team uses the latest in next-generation spy and military equipment to fight the corrupt arms dealer Destro and the growing threat of the mysterious Cobra organization to prevent them from plunging the world into chaos.
9.
The Amazing Spider-Man 2 (2014)
2h 22m Action Adventure Fantasy
For Peter Parker, life is busy. Between taking out the bad guys as Spider-Man and spending time with the person he loves, Gwen Stacy, high school graduation cannot come quickly enough. Peter has not forgotten about the promise he made to Gwen's father to protect her by staying away, but that is a promise he cannot keep. Things will change for Peter when a new villain, Electro, emerges, an old friend, Harry Osborn, returns, and Peter uncovers new clues about his past.
10.
Batman & Robin (1997)
2h 23m Action Adventure Fantasy Science Fiction
A young boy learns that he has extraordinary powers and is not of this earth. As a young man, he journeys to discover where he came from and what he was sent here to do. But the hero in him must emerge if he is to save the world from annihilation and become the symbol of hope for all mankind.
2h 1m Fantasy Action
After being bitten by a genetically altered spider, nerdy high school student Peter Parker is endowed with amazing powers to become the Amazing superhero known as Spider-Man.
explore
Check out more list from our community