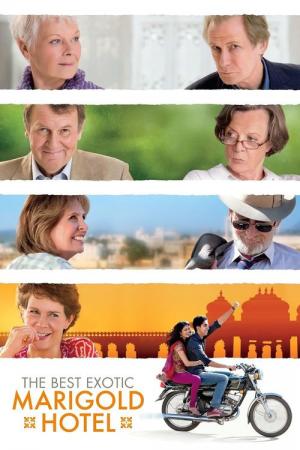 13 Best Movies Like The Best Exotic Marigold Hotel ...
If you liked this movie , you will definitely love these too! In this collection we highlight some of the best films that share a very similar mood to 'The Best Exotic Marigold Hotel', and are worth checking out.
1h 12m Comedy
Russell's last DVD and CD, Outsourced, was taped before a sold out audience at the Warfield Theatre in San Francisco, and gives viewers and listeners an excellent overview of Russell's comedic genius.
2.
The Secret Life of Walter Mitty (2013)
1h 54m Adventure Comedy Drama Fantasy
A timid magazine photo manager who lives life vicariously through daydreams embarks on a true-life adventure when a negative goes missing.
4.
Salmon Fishing in the Yemen (2011)
5.
Monsoon Wedding (2001)
1h 54m Comedy Drama Romance
As the romantic monsoon rains loom, the extended Verma family reunites from around the globe for a last-minute arranged marriage in New Delhi. This film traces five intersecting stories, each navigating different aspects of love as they cross boundaries of class, continent and morality.
1h 38m Drama Comedy Romance
The directorial debut of Dustin Hoffman, Quartet is a high-drama comedy about temperamental divas and old grudges, passion and pride, romance and Rigoletto. At a home for retired musicians, the annual concert to celebrate Verdi's birthday is disrupted by the arrival of Jean, an eternal diva and former wife of one of the residents. Expect poignancy and plenty of laughs.
7.
The Second Best Exotic Marigold Hotel (2015)
2h 2m Drama Comedy
As the Best Exotic Marigold Hotel has only a single remaining vacancy - posing a rooming predicament for two fresh arrivals - Sonny pursues his expansionist dream of opening a second hotel.
8.
Under the Tuscan Sun (2003)
1h 53m Romance Comedy
After a rough divorce, Frances, a 35 year old book editor from San Francisco takes a tour of Tuscany at the urgings of her friends. On a whim she buys Bramasole, a run down villa in the Tuscan countryside and begins to piece her life together starting with the villa and finds that life sometimes has unexpected ways of giving her everything she wanted.
1h 34m Comedy Drama Romance
A self-centered realtor enlists the help of his neighbor when he's suddenly left in charge of the granddaughter he never knew existed until his estranged son drops her off at his home.
2h 8m Comedy Drama
Viktor Navorski is a man without a country; his plane took off just as a coup d'etat exploded in his homeland, leaving it in shambles, and now he's stranded at Kennedy Airport, where he's holding a passport that nobody recognizes. While quarantined in the transit lounge until authorities can figure out what to do with him, Viktor simply goes on living – and courts romance with a beautiful flight attendant.
1h 44m Drama Romance
A mistaken delivery in Mumbai's famously efficient lunchbox delivery system (Mumbai's Dabbawallahs) connects a young housewife to a stranger in the dusk of his life. They build a fantasy world together through notes in the lunchbox. Gradually, this fantasy threatens to overwhelm their reality.
1h 31m Comedy Romance
Alim is a gay man living in London to escape the domineering eye of his conservative Muslim mother, Nuru, back in Canada. Alim keeps his homosexuality secret from his mother, so when she comes for a surprise visit, he and his boyfriend, Giles, must put on a straight facade to hide the truth.
1h 50m Drama Romance
Corporate downsizing expert Ryan Bingham spends his life in planes, airports, and hotels, but just as he's about to reach a milestone of ten million frequent flyer miles, he meets a woman who causes him to rethink his transient life.
explore
Check out more list from our community