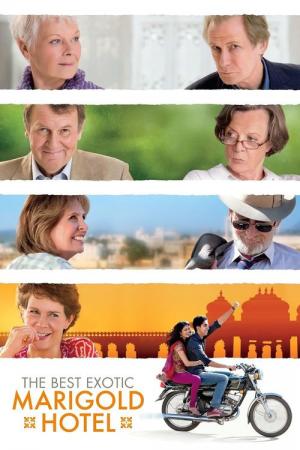 31 Best Movies Like The Best Exotic Marigold Hotel ...
If you liked this film , you will probably love these too! In this collection we highlight some of the best films that share a very similar premise to '', and are worth checking out.
1.
The Hundred-Foot Journey (2014)
2h 2m Drama
A story centered around an Indian family who moves to France and opens a restaurant across the street from a Michelin-starred French restaurant.
2.
The Second Best Exotic Marigold Hotel (2015)
2h 2m Drama Comedy
As the Best Exotic Marigold Hotel has only a single remaining vacancy - posing a rooming predicament for two fresh arrivals - Sonny pursues his expansionist dream of opening a second hotel.
1h 12m Comedy
Russell's last DVD and CD, Outsourced, was taped before a sold out audience at the Warfield Theatre in San Francisco, and gives viewers and listeners an excellent overview of Russell's comedic genius.
4.
Under the Tuscan Sun (2003)
1h 53m Romance Comedy
After a rough divorce, Frances, a 35 year old book editor from San Francisco takes a tour of Tuscany at the urgings of her friends. On a whim she buys Bramasole, a run down villa in the Tuscan countryside and begins to piece her life together starting with the villa and finds that life sometimes has unexpected ways of giving her everything she wanted.
1h 38m Drama Comedy Romance
The directorial debut of Dustin Hoffman, Quartet is a high-drama comedy about temperamental divas and old grudges, passion and pride, romance and Rigoletto. At a home for retired musicians, the annual concert to celebrate Verdi's birthday is disrupted by the arrival of Jean, an eternal diva and former wife of one of the residents. Expect poignancy and plenty of laughs.
7.
Monsoon Wedding (2001)
1h 54m Comedy Drama Romance
As the romantic monsoon rains loom, the extended Verma family reunites from around the globe for a last-minute arranged marriage in New Delhi. This film traces five intersecting stories, each navigating different aspects of love as they cross boundaries of class, continent and morality.
8.
Salmon Fishing in the Yemen (2011)
9.
A Man Called Ove (2015)
1h 56m Comedy Drama
Despite being deposed as president of his condominium association, grumpy 59-year-old Ove continues to watch over his neighbourhood with an iron fist. When pregnant Parvaneh and her family move into the terraced house opposite Ove and she accidentally back into Ove's mailbox, it sets off a series of unexpected changes in his life.
10.
Something's Gotta Give (2003)
2h 8m Drama Comedy Romance
Harry Sanborn is an aged music industry exec with a fondness for younger women like Marin, his latest trophy girlfriend. Things get a little awkward when Harry suffers a heart attack at the home of Marin's mother, Erica. Left in the care of Erica and his doctor, a love triangle starts to take shape.
11.
Don Juan DeMarco (1994)
1h 37m Romance Drama Comedy
John Arnold DeMarco is a man who believes he is Don Juan, the greatest lover in the world. Clad in a cape and mask, DeMarco undergoes psychiatric treatment with Dr. Jack Mickler to cure him of his apparent delusion. But the psychiatric sessions have an unexpected effect on the psychiatric staff and, most profoundly, Dr Mickler, who rekindles the romance in his complacent marriage.
1h 41m Drama Comedy Romance
Will Freeman is a good-looking, smooth-talking bachelor whose primary goal in life is avoiding any kind of responsibility. But when he invents an imaginary son in order to meet attractive single moms, Will gets a hilarious lesson about life from a bright, but hopelessly geeky 12-year-old named Marcus. Now, as Will struggles to teach Marcus the art of being cool, Marcus teaches Will that you're never too old to grow up.
13.
The Secret Life of Walter Mitty (2013)
1h 54m Adventure Comedy Drama Fantasy
A timid magazine photo manager who lives life vicariously through daydreams embarks on a true-life adventure when a negative goes missing.
14.
And So It Goes (2014)
1h 34m Comedy Drama Romance
A self-centered realtor enlists the help of his neighbor when he's suddenly left in charge of the granddaughter he never knew existed until his estranged son drops her off at his home.
15.
Crazy, Stupid, Love. (2011)
1h 58m Comedy Drama Romance
Cal Weaver is living the American dream. He has a good job, a beautiful house, great children and a beautiful wife, named Emily. Cal's seemingly perfect life unravels, however, when he learns that Emily has been unfaithful and wants a divorce. Over 40 and suddenly single, Cal is adrift in the fickle world of dating. Enter, Jacob Palmer, a self-styled player who takes Cal under his wing and teaches him how to be a hit with the ladies.
16.
Definitely, Maybe (2008)
1h 52m Comedy Romance
When Will decides to tell his daughter the story of how he met her mother, he discovers that a second look at the past might also give him a second chance at the future.
17.
Calendar Girls (2003)
1h 48m Drama Comedy
Members of a Yorkshire branch of the Women's Institute cause controversy when they pose nude for a charity calendar.
1h 40m Drama Comedy Romance
After thirty years of marriage, a middle-aged couple attends an intense, week-long counseling session to work on their relationship.
1h 44m Drama Romance
A mistaken delivery in Mumbai's famously efficient lunchbox delivery system (Mumbai's Dabbawallahs) connects a young housewife to a stranger in the dusk of his life. They build a fantasy world together through notes in the lunchbox. Gradually, this fantasy threatens to overwhelm their reality.
20.
I'll See You in My Dreams (2015)
40m Soap Drama
We don't have an overview translated in English. Help us expand our database by adding one.
24m Animation Sci-Fi & Fantasy Comedy Action & Adventure
Mamoru has a far-from-normal high school life with girlfriend Ayako, who possess magical powers.
1h 50m Drama Romance
Corporate downsizing expert Ryan Bingham spends his life in planes, airports, and hotels, but just as he's about to reach a milestone of ten million frequent flyer miles, he meets a woman who causes him to rethink his transient life.
24.
Unfinished Song (2012)
1h 33m Music Comedy Romance Drama
Arthur is a grumpy pensioner who can't understand why his wife Marion would want to embarrass herself singing silly songs with her unconventional local choir. But choir director Elizabeth sees something special in the reluctant Arthur and refuses to give up on him. As she coaxes him out of his shell, Arthur realizes that it is never too late to change.
2h 8m Comedy Drama
Viktor Navorski is a man without a country; his plane took off just as a coup d'etat exploded in his homeland, leaving it in shambles, and now he's stranded at Kennedy Airport, where he's holding a passport that nobody recognizes. While quarantined in the transit lounge until authorities can figure out what to do with him, Viktor simply goes on living – and courts romance with a beautiful flight attendant.
1h 31m Comedy Romance
Alim is a gay man living in London to escape the domineering eye of his conservative Muslim mother, Nuru, back in Canada. Alim keeps his homosexuality secret from his mother, so when she comes for a surprise visit, he and his boyfriend, Giles, must put on a straight facade to hide the truth.
1h 56m Drama Comedy
The film centres on a retired, widowed professor living in Paris who develops a special relationship with a younger French woman.
20m
Magic for Beginners examines the mythologies found in fan culture, from longing to obsession to psychic connections. The need for such connections (whether real or imaginary) as well as the need for an emotional release that only fantasy can deliver are explored.
1h 57m Drama Romance
Henry Hart is a young gay artist living in New York City. When his grandfather has a stroke, Henry puts his career on hold and returns home to the small town of Big Eden, Montana, to care for him. While there, Henry hopes to strike up a romance with Dean Stewart, his high-school best friend for whom he still has feelings. But he's surprised when he finds that Pike, a quiet Native American who owns the local general store, may have a crush on him.
explore
Check out more list from our community