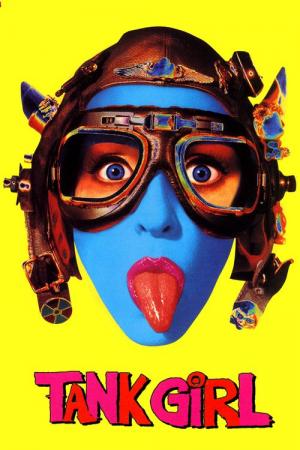 11 Best Movies Like Tank Girl ...
If you liked this film , you will probably love these too! In this collection we highlight some of the best films that share a very similar mood to 'Tank Girl', and are worth checking out.
1.
Six-String Samurai (1998)
1h 31m Action Adventure Science Fiction
In a post-apocalyptic world where the Russians have taken over a nuked USA and Elvis is king of Lost Vegas, Buddy is a '50s rocker and wandering warrior rolled into one, too-cool package. Armed with his six-string in one hand and his sword in the other, Buddy is on his way to Vegas to succeed Elvis as King. Along the way, he saves an orphan who decides to tag along.
1h 27m Action Science Fiction
In a brutal, radioactive future, fearless warrior Dow is humanity's last hope against the Warlord and his mutant hordes. With the gorgeous, deadly Danny and the strange Ammo at his side, Dow makes desperate war on the fierce desert savages who threaten to overrun the world. Courage and resourcefulness on an heroic scale lead to a final, bitter triumph in this epic action lead to a final, bitter triumph in this epic action adventure in future tense.
3.
The Blood of Heroes (1989)
1h 40m Action Adventure Science Fiction
Set in a futuristic world where the only sport that has survived in a wasted society is the brutal game known as jugging. Sallow, the leader of a rag-tag team, has played in the main Leagues before, but was cast out because of indiscretions with a lady. However now joined by a talented newcomer, Kidda, an ambitious young peasant girl he and his team find they have one last chance for glory
4.
Battle Beyond the Stars (1980)
1h 44m Science Fiction
A young farmer assembles a band of diverse mercenaries to defend his peaceful planet from an evil tyrant.
1h 54m Science Fiction Action Drama Thriller
Two cops, R and Noma, hunt down renegade cyborgs. Cyborgs are used as commandos by the military, as lust objects and for companionship. Normaly they have a limited lifespan of three years but black market technology is being developed to be able to transfer a cyborg's artificial intelligence into human host. This drives R to find a suitable host for his expiring cyborg Ria.
1h 11m Science Fiction Action Horror
Three women and one man - with an assortment of weaponry - wage war against giant mutant sandwhales in a barren digital landscape, all to achieve points within the virtual reality video game called Avalon.
1h 26m Science Fiction Action
A martial artist hunts a killer in a plague-infested urban dump of the future.
8.
Spacehunter: Adventures in the Forbidden Zone (1983)
1h 30m Adventure Science Fiction
Three women makes an emergency landing on a planet plagued with a fatal disease, but are captured by dictator Overdog. Adventurer Wolff goes there to rescue them and meets Niki, the only Earthling left from a medical expedition. Combining their talents, they try to rescue the women.
1h 39m Action Adventure Comedy Science Fiction
When successful businessman Sam Treadwell finds that his android wife, Cherry model 2000 has blown a fuse, he hires sexy renegade tracker E. Johnson to find her exact duplicate. But as their journey to replace his perfect mate leads them into the treacherous and lawless region of 'The Zone', Treadwell learns the hard way that the perfect woman is made not of computer chips and diodes.
2h 1m Adventure Fantasy Action Comedy Science Fiction
When Champion City's hero Captain Amazing is kidnapped by the recently paroled supervillain Casanova Frankenstein, a trio of average, everyday superheroes -- Mr. Furious, the Shoveler and the Blue Raja -- assemble a new super team to save him.
11.
Phoenix the Warrior (1988)
1h 25m Action Fantasy Science Fiction
Big hair, big guns, big personalities, and a serious lack of wardrobe. She-Wolves of the Wasteland, a post-apocalyptic story that features women--lots and lots of women--who leave little to the imagination as they battle each other in various junkyards and gravel pits to determine the fate of the entire world.
explore
Check out more list from our community