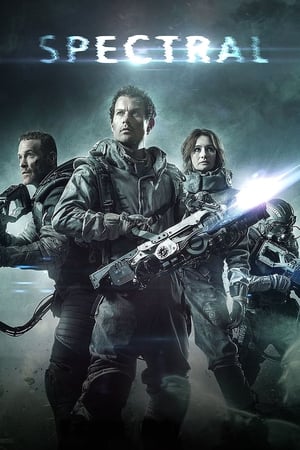 14 Best Movies Like Spectral ...
If you liked this film , you will for sure love these too! In this collection we highlight some of the best films that share a very similar premise to 'Spectral', and are worth checking out.
1.
Mutant Chronicles (2008)
1h 51m Action Adventure Horror Science Fiction
It's the year 2707. Earth's natural resources have all but been exhausted by mankind. Battles rage for the remainder between the competing Corporations. During one such battle the seal is broken and awakens an ancient and deadly machine that was once defeated thousands of years ago. The order that awaited its return must now lead a small group of soldiers to destroy it once and for all.
1h 39m Action Horror Science Fiction
Set in a near future, technology-reliant society that pits man against killing machines. Against this backdrop an elite army unit is helicoptered to a remote, off-the-grid island training facility. What starts out as a simple training exercise for Captain Bukes and his tight-knit unit, descends into a terrifying battle to the death, as the marines discover the island is overrun by an enemy that transcends the human concept of evil.
3.
The Hunger Games: Mockingjay - Part 1 (2014)
2h 3m Science Fiction Adventure Thriller
Katniss Everdeen reluctantly becomes the symbol of a mass rebellion against the autocratic Capitol.
4.
Edge of Tomorrow (2014)
1h 53m Action Science Fiction
Major Bill Cage is an officer who has never seen a day of combat when he is unceremoniously demoted and dropped into combat. Cage is killed within minutes, managing to take an alpha alien down with him. He awakens back at the beginning of the same day and is forced to fight and die again... and again - as physical contact with the alien has thrown him into a time loop.
5.
Independence Day (1996)
2h 25m Action Adventure Science Fiction
On July 2, a giant alien mothership enters orbit around Earth and deploys several dozen saucer-shaped 'destroyer' spacecraft that quickly lay waste to major cities around the planet. On July 3, the United States conducts a coordinated counterattack that fails. On July 4, a plan is devised to gain access to the interior of the alien mothership in space, in order to plant a nuclear missile.
2h 11m Thriller Action Adventure Science Fiction
When mankind beams a radio signal into space, a reply comes from 'Planet G', in the form of several alien crafts that splash down in the waters off Hawaii. Lieutenant Alex Hopper is a weapons officer assigned to the USS John Paul Jones, part of an international naval coalition which becomes the world's last hope for survival as they engage the hostile alien force of unimaginable strength. While taking on the invaders, Hopper must also try to live up to the potential that his brother, and his fiancée's father—an Admiral—expect of him.
1h 47m Science Fiction Action Adventure Thriller
Dutch and his group of commandos are hired by the CIA to rescue downed airmen from guerillas in a Central American jungle. The mission goes well but as they return they find that something is hunting them. Nearly invisible, it blends in with the forest, taking trophies from the bodies of its victims as it goes along. Occasionally seeing through its eyes, the audience sees it is an intelligent alien hunter, hunting them for sport, killing them off one at a time.
8.
Masters of the Universe (1987)
1h 46m Action Fantasy Science Fiction Adventure Thriller
The world of Eternia in the aftermath of Skeletor's war on Castle Grayskull, which he has won after seizing Grayskull and the surrounding city using a cosmic key developed by the locksmith Gwildor. The Sorceress is now Skeletor's prisoner and he begins to drain her life-force as he waits for the moon of Eternia to align with the Great Eye of the Universe that will bestow god-like power upon him.
9.
Mad Max: Fury Road (2015)
2h 1m Action Adventure Science Fiction
An apocalyptic story set in the furthest reaches of our planet, in a stark desert landscape where humanity is broken, and most everyone is crazed fighting for the necessities of life. Within this world exist two rebels on the run who just might be able to restore order.
10.
The Scorch Trials (2015)
2h 11m Science Fiction Action Thriller
Thomas and his fellow Gladers face their greatest challenge yet: searching for clues about the mysterious and powerful organization known as WCKD. Their journey takes them to the Scorch, a desolate landscape filled with unimaginable obstacles. Teaming up with resistance fighters, the Gladers take on WCKD's vastly superior forces and uncover its shocking plans for them all.
1h 41m Action Fantasy
For nine generations an evil sorcerer has been victorious in hand-to-hand battle against his mortal enemies. If he wins a tenth Mortal Kombat tournament, desolation and evil will reign over the multiverse forever. To save Earth, three warriors must overcome seemingly insurmountable odds, their own inner demons, and superhuman foes in this action/adventure movie based on one of the most popular video games of all time.
2h 12m Action Adventure Science Fiction
John Carter is a war-weary, former military captain who's inexplicably transported to the mysterious and exotic planet of Barsoom (Mars) and reluctantly becomes embroiled in an epic conflict. It's a world on the brink of collapse, and Carter rediscovers his humanity when he realizes the survival of Barsoom and its people rests in his hands.
13.
Independence Day: Resurgence (2016)
2h Action Adventure Science Fiction
We always knew they were coming back. Using recovered alien technology, the nations of Earth have collaborated on an immense defense program to protect the planet. But nothing can prepare us for the aliens' advanced and unprecedented force. Only the ingenuity of a few brave men and women can bring our world back from the brink of extinction.
1h 40m Science Fiction Action Adventure
One thousand years after cataclysmic events forced humanity's escape from Earth, Nova Prime has become mankind's new home. Legendary General Cypher Raige returns from an extended tour of duty to his estranged family, ready to be a father to his 13-year-old son, Kitai. When an asteroid storm damages Cypher and Kitai's craft, they crash-land on a now unfamiliar and dangerous Earth. As his father lies dying in the cockpit, Kitai must trek across the hostile terrain to recover their rescue beacon. His whole life, Kitai has wanted nothing more than to be a soldier like his father. Today, he gets his chance.
explore
Check out more list from our community