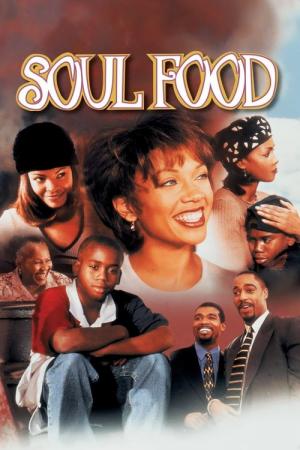 14 Best Movies Like Soul Food ...
If you liked this movie , you will definitely love these too! In this list we highlight some of the best films that share a very similar premise to 'Soul Food', and are worth checking out.
1.
Nothing in Common (1986)
1h 58m Drama Comedy Romance
On his way up the corporate ladder, David Basner confronts his greatest challenge: his father.
2.
What's Cooking? (2000)
2h 10m Drama Horror Mystery Thriller
When Claire Spencer starts hearing ghostly voices and seeing spooky images, she wonders if an otherworldly spirit is trying to contact her. All the while, her husband tries to reassure her by telling her it's all in her head. But as Claire investigates, she discovers that the man she loves might know more than he's letting on.
3.
The Year of Getting to Know Us (2008)
1h 30m Comedy Drama
A commitment-phobic man reunites with his estranged, ailing father and comes to terms with his own childhood.
30m Comedy
Major Dad is an American sitcom created by Richard C. Okie and John G. Stephens, developed by Earl Pomerantz, that originally ran from 1989 to 1993 on CBS, starring Gerald McRaney as Major John D. MacGillis and Shanna Reed as his wife Polly. The cast also includes Beverly Archer, Matt Mulhern, Jon Cypher, Marisa Ryan, Nicole Dubuc and Chelsea Hertford.
1h 49m Comedy Drama
Earl Pilcher Jr., runs an equipment rental outfit in Arkansas, lives with his wife and kids and parents, and rarely takes off his gimme cap. His mother dies, leaving a letter explaining he's not her natural son, but the son of a Black woman who died in childbirth; plus, he has a half brother Ray, in Chicago, she wants him to visit. Earl makes the trip, initially receiving a cold welcome from Ray and Ray's son, Virgil. His birth mother's sister, Aunt T., an aged and blind matriarch, takes Earl in tow and insists that the family open up to him.
6.
Crimes of the Heart (1986)
1h 45m Drama Family
Three sisters with quite different personalities and lives reunite when the youngest of them, Babe, has just shot her husband. The oldest sister, Lenny, takes care of their grandfather and is turning into an old maid, while Meg, who tries to make it in Hollywood as a singer/actress, has had a wild life filled with many men. Their reunion causes much joy, but also many tensions.
1h 34m Comedy Drama
When her husband keels over from a stroke, Raynelle Slocumb calls the entire clan together to remember their dearly departed. Family tensions reach a comedic boil as the wildly dysfunctional Slocumbs squabble and fight their way to the funeral.
8.
Jumping the Broom (2011)
1h 52m Comedy
Two very different families converge on Martha's Vineyard one weekend for a wedding.
9.
Something to Talk About (1995)
1h 46m Comedy Drama
Grace Bichon, who is managing her father's riding-stable, discovers that her husband Eddie is deceiving her with another woman. After confronting him in the middle of the night on the streets of their small home town, she decides to stay at her sister Emma Rae's house for a while to make up her mind. Breaking out of her everyday life, she starts to question the authority of everyone.
11.
The Story of Us (1999)
1h 35m Comedy Drama Romance
Ben and Katie Jordan are a married couple who go through hard times in fifteen years of marriage.
1h 42m Comedy Drama
A woman constantly runs from town to town with her 12 year old daughter to escape failed relationships. The film opens with one escape and the shift into a new start in San Diego. There Mom takes up with a controlling trucker and fights with her weirdo boss. Meanwhile, the daughter, used to making the constant shifts, finds a fit at school including getting chosen for a play lead.
13.
The Four Seasons (1981)
1h 47m Comedy Drama Romance
Three middle-aged wealthy couples take vacations together in Spring, Summer, Autumn and Winter. Along the way we are treated to mid-life, marital, parental and other crises.
2h Drama Comedy
Harper, a writer who's about to explode into the mainstream leaves behind his girlfriend Robin and heads to New York City to serve as best man for his friend Lance's wedding. Once there, he reunites with the rest of his college circle.
explore
Check out more list from our community